Wearable technology in business offers significant benefits, including increased productivity and improved workplace safety. In this digital age, businesses are leveraging wearable devices to streamline operations and enhance performance.
From smartwatches to smart glasses, these devices provide real-time data and seamless communication that allows employees to stay connected and make informed decisions. Wearable technology also promotes a more efficient workflow by automating tasks, tracking employee performance, and facilitating collaboration.
Furthermore, these devices enhance workplace safety by monitoring environmental conditions and alerting workers to potential hazards. With the integration of wearable technology, businesses can optimize their processes, enhance employee productivity, and create a safer work environment.
Enhancing Productivity And Efficiency In The Workplace
Wearable technology offers a range of benefits for businesses, enhancing productivity and efficiency in the workplace. From smartwatches that streamline communication to fitness trackers that promote employee wellness, these devices provide real-time data and insights that improve decision-making and streamline workflows.
With wearable technology, businesses can optimize operations, increase employee satisfaction, and drive overall business success.
Streamlining Work Processes With Wearable Technology
Wearable technology offers numerous benefits for streamlining work processes in the workplace:
Instant access to information: Employees can access important data and information right at their fingertips, eliminating the need for constant manual searching or reliance on stationary computers. This leads to significant time savings and improved efficiency.
Real-time notifications and alerts: Wearable devices can send real-time notifications and alerts, ensuring employees stay informed about important updates, deadlines, and task reminders. This helps to keep everyone on track and maximizes productivity.
Hands-free operation: With wearable devices such as smartwatches or smart glasses, employees can operate hands-free, enabling them to multitask and perform tasks more efficiently. This is particularly beneficial for roles that require regular physical movement or involve working with both hands.
Process automation: Wearable technology can integrate with existing systems and automate repetitive tasks, eliminating the need for manual inputs. This allows employees to focus on more important and complex tasks, strengthening productivity.
Improved task management: Wearable devices equipped with advanced task management features enable employees to prioritize and manage their tasks more effectively. They can set reminders, create to-do lists, and track their progress in real-time, resulting in enhanced organization and productivity.
class="wp-block-heading">Improving Communication And Collaboration
Wearable technology also enhances communication and collaboration within the workplace:
Instant communication: With wearable devices, employees can easily communicate with colleagues, supervisors, or teams instantly, without the need for physically searching or waiting for a response via traditional communication tools. This promotes quick decision-making and teamwork.
Seamless collaboration: Wearable devices can facilitate seamless collaboration among employees, especially in industries that require teamwork or remote work. Employees can share documents, exchange ideas, and work together on projects in real-time, regardless of their physical location.
Hands-free communication: Wearable devices with built-in voice recognition capabilities enable hands-free communication, allowing employees to make calls, dictate messages, or participate in conference calls while keeping their hands free for other tasks. This significantly improves efficiency and productivity.
Enhanced remote communication: For businesses with remote workers or employees located in different geographical regions, wearable technology provides an effective means of communication. It ensures remote employees stay connected, participate in meetings, and collaborate with their colleagues effortlessly.
Tracking And Analyzing Employee Performance
Wearable technology offers valuable insights into employee performance and allows for data-driven decision-making:
Performance tracking: Wearable devices equipped with sensors can track various aspects of employee performance, such as physical activity, stress levels, and sleep patterns. This data can help employers understand how employee well-being impacts their productivity and make necessary improvements.
Objective performance evaluation: Wearable devices can provide objective data for performance evaluations. Employers can track metrics such as work completion time, customer interactions, and productivity levels, which helps provide a fair and accurate assessment of employee performance.
Personalized coaching and training: By tracking individual employee data, wearable devices can identify areas for improvement and provide personalized coaching and training recommendations. This helps employees enhance their skills, leading to increased productivity and efficiency.
Data-driven decision-making: Wearable technology generates significant amounts of data that can be analyzed to identify patterns, trends, and opportunities for optimization. Employers can make informed decisions based on this data, leading to continuous improvement and increased performance across the organization.
Wearable technology has the potential to greatly enhance productivity and efficiency in the workplace. By streamlining work processes, improving communication and collaboration, and tracking and analyzing employee performance, businesses can harness the power of wearable devices to drive success and achieve their goals.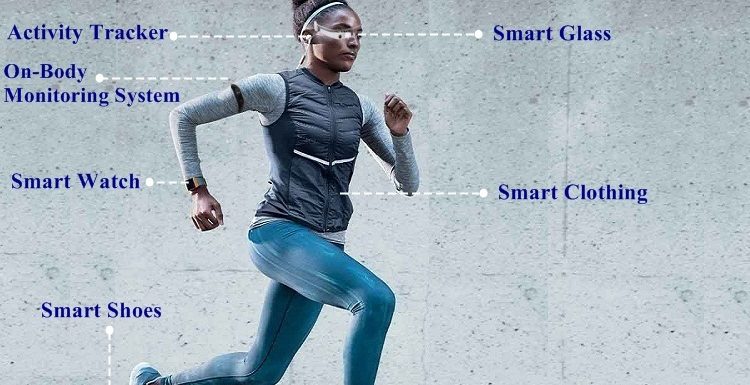 Credit: www.techwebspace.com
Empowering Employees For Better Decision Making
Empower your employees with wearable technology for better decision-making and boost productivity in your business. Explore the numerous benefits of incorporating this advanced technology, such as improved efficiency, real-time data analysis, and streamlined communication. Stay ahead of the competition and enhance your employees' capabilities with wearable tech.
Real-Time Data Access And Analysis
Wearable technology allows employees to access and analyze data in real-time, providing them with instant insights and information to make better decisions.
By having access to real-time data, employees can quickly and accurately assess the current state of affairs, enabling them to react promptly and effectively.
It empowers employees to make data-driven decisions on the spot, without the need to wait for reports or updates from other departments.
The ability to access and analyze data in real-time enhances employees' understanding of the business landscape, enabling them to act proactively and adapt to changing circumstances.
Enhancing Situational Awareness
Wearable technology enhances situational awareness by providing employees with instant access to relevant information and alerts.
Employees can receive real-time updates and notifications, ensuring they stay informed about critical developments in their working environment.
It enables employees to have a broader perspective by receiving data and insights from multiple sources simultaneously.
With enhanced situational awareness, employees can make informed decisions, anticipate potential challenges, and respond effectively to opportunities as they arise.
Simplifying Task Management And Organization
Wearable technology simplifies task management and organization by streamlining workflows and providing employees with efficient tools.
It enables employees to receive task notifications, reminders, and updates directly on their wearable devices, reducing the likelihood of missed deadlines or overlooked tasks.
Employees can easily prioritize and track their tasks using wearable technology, helping them stay organized and focused.
Wearable devices can integrate with existing task management platforms and tools, further simplifying the overall process and ensuring seamless collaboration among team members.
In today's fast-paced business environment, wearable technology empowers employees with real-time data access and analysis capabilities, enhancing their decision-making process. This technology enables employees to access and analyze data in real-time, providing them with instant insights to make better decisions on the spot.
Additionally, it enhances situational awareness by delivering relevant information and alerts, ensuring employees stay informed and can respond effectively to changing circumstances. Furthermore, wearable technology simplifies task management and organization by streamlining workflows, providing employees with efficient tools to prioritize and track their tasks.
Ultimately, integrating wearable technology into business processes can lead to improved employee productivity, efficiency, and overall business success.
Boosting Customer Experience And Satisfaction
Wearable technology offers numerous benefits for businesses, enhancing customer experience and satisfaction. By providing real-time data and personalized interactions, wearables improve communication, streamline processes, and boost overall efficiency, resulting in higher customer engagement and loyalty.
Wearable technology has become increasingly popular in recent years, with its ability to enhance various aspects of our lives. In the business world, wearable technology offers numerous benefits, particularly when it comes to boosting customer experience and satisfaction. From personalized customer interactions to seamless customer service and support, and gaining insights through user behavior analytics, wearable technology proves to be a valuable tool for businesses.
Let's explore these benefits in more detail.
Personalized Customer Interactions
Wearable technology enables businesses to provide personalized interactions with their customers, enhancing the overall experience.
Through wearable devices, businesses can collect and analyze customer data, such as preferences and purchase history.
This data can be used to tailor personalized recommendations, offers, and promotions, creating a more targeted and relevant experience for customers.
By understanding individual customer needs and preferences, businesses can provide a more personalized and proactive approach to customer service.
Seamless Customer Service And Support
Wearable gadgets like smartwatches or AR glasses facilitate seamless customer service and support.
Customer queries and concerns can be addressed in real-time, as wearable devices provide instant access to information and communication channels.
Customer support representatives can communicate directly through wearables, enhancing response times and resolving issues more efficiently.
This leads to improved customer satisfaction and loyalty, as customers feel valued and supported throughout their experience with the business.
Gaining Insights Through User Behavior Analytics
Wearable technology offers businesses valuable insights into customer behavior and preferences.
Through wearable devices, businesses can gather data on customer interactions, including browsing patterns and product usage.
User behavior analytics enable businesses to identify trends, preferences, and pain points, allowing for targeted improvements in products and services.
With this data, businesses can refine their marketing strategies, optimize user experience, and stay ahead of the competition.
Wearable technology presents significant opportunities for businesses to enhance customer experience and satisfaction. By leveraging personalized customer interactions, providing seamless customer service and support, and gaining insights through user behavior analytics, businesses can foster stronger customer relationships and drive long-term success.
Embracing wearable technology in business operations can ultimately lead to improved customer loyalty, brand reputation, and overall growth.
Frequently Asked Questions Of What Are The Benefits Of Wearable Technology In Business?
What Are 5 Benefits Of Wearable Technology?
Wearable technology offers five key benefits: convenience, improved health tracking, seamless connectivity, enhanced productivity, and personalized data insights.
How Does Wearable Computing Affect Business?
Wearable computing impacts businesses by enhancing productivity, improving communication, and enabling real-time data analysis.
What Kinds Of Businesses Are Most Likely To Benefit From Wearable Technology?
Businesses in industries like healthcare, fitness, logistics, and manufacturing are likely to benefit from wearable technology.
What Do You Think Will Be The Impact Of Wearable Technology In The Workplace?
Wearable technology will greatly impact the workplace by enhancing productivity and enabling seamless communication.
Conclusion
Overall, the benefits of wearable technology in business are vast and promising. It provides real-time data, enhances productivity, improves communication, and promotes employee health and safety. Incorporating wearables into the workplace can streamline operations, optimize performance, and stay ahead of the competition.
With wearable devices, businesses can gain valuable insights into their operations and make informed decisions. Employees can improve their efficiency and effectiveness through seamless connectivity and access to relevant information. Furthermore, wearables can contribute to a healthier workforce, reducing healthcare costs and absenteeism.
As technology continues to advance, wearable devices will only become more beneficial and accessible, supporting businesses in achieving their goals. Embracing wearable technology allows organizations to stay agile, innovative, and connected, leading to increased success and growth. So, don't wait any longer to embrace wearable technology in your business—it's time to start reaping the rewards.