Welcome to the world of smart transportation! In this article, we'll explore how technology is revolutionizing the way we move from one place to another.
If you've ever wondered what it means to have "smart" transportation, you're in the right place. Smart transportation refers to the use of advanced technologies to make our journeys safer, more efficient, and more convenient.
Imagine a future where self-driving cars zip through traffic seamlessly, buses run on electric power, and public transportation systems are interconnected and easily accessible. It's an exciting world where technology is transforming how we travel, and we're here to give you a front-row seat. So fasten your seat belts, and let's dive into the world of smart transportation together!
Smart Transportation is revolutionizing the way we travel. With advanced technologies and interconnected systems, it offers numerous benefits like reducing traffic congestion, improving safety, and lowering emissions. From autonomous vehicles to smart traffic management, the future of transportation is here. Embrace this innovative ecosystem and experience the convenience, efficiency, and sustainability it brings. Say goodbye to traditional transportation and embrace the future with smart solutions that will transform the way we move.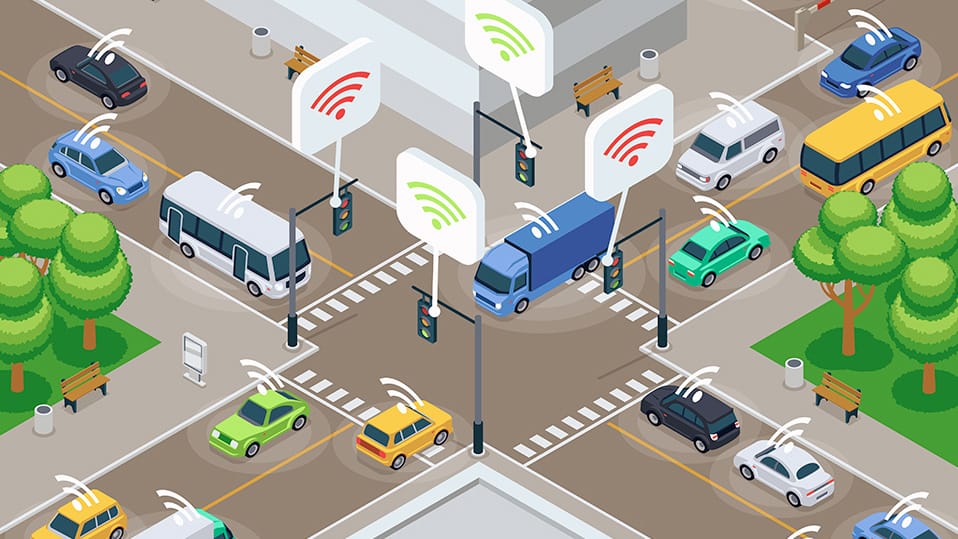 Smart Transportation: Transforming the Way We Travel
In today's fast-paced world, transportation plays a crucial role in our everyday lives. The emergence of smart transportation has revolutionized the way we travel, making it more efficient, convenient, and sustainable. From smart cars to intelligent traffic management systems, this article explores the various aspects of smart transportation and its impact on our society.
The Rise of Connected Vehicles
The advent of connected vehicles has transformed the automotive industry. These vehicles are equipped with advanced technologies that enable seamless communication between cars, infrastructure, and the internet. Connected vehicles leverage sensors, cameras, and GPS to collect data and exchange information, improving safety, efficiency, and reducing traffic congestion. Real-time traffic updates, autonomous driving capabilities, and predictive maintenance are just a few examples of how connected vehicles are shaping the future of transportation.
Connected vehicles are also playing a crucial role in the development of smart cities. They enable intelligent transportation systems to monitor and manage traffic patterns efficiently. By analyzing data from connected vehicles, traffic management systems can make informed decisions, optimize traffic flow, and reduce travel times. This not only improves the overall commuting experience but also contributes to lower greenhouse gas emissions, creating a more sustainable transport ecosystem.
Furthermore, connected vehicles have the potential to revolutionize the concept of shared mobility. By leveraging connectivity and advanced ride-sharing platforms, users can optimize travel routes, reduce empty vehicle miles, and decrease the number of vehicles on the road. This results in reduced traffic congestion, lower carbon emissions, and a more efficient use of transportation resources.
The Role of Artificial Intelligence in Transportation
Artificial intelligence (AI) is a key enabler of smart transportation. With its ability to analyze vast amounts of data and make intelligent decisions, AI technology is transforming the way we move. Intelligent traffic management systems use AI algorithms to predict traffic patterns, optimize traffic flow, and dynamically adapt signals based on real-time conditions.
In addition to traffic management, AI-powered systems are revolutionizing the way we navigate and plan our journeys. Virtual personal assistants, integrated into vehicles and smartphones, leverage AI algorithms to provide personalized recommendations for the most efficient routes, taking into account real-time traffic, weather conditions, and user preferences. By providing real-time insights and suggestions, AI is enabling commuters to make informed decisions and save time on their journeys.
Moreover, AI technology is playing a critical role in autonomous vehicles. Self-driving cars rely heavily on AI algorithms to perceive the environment, process sensor data, and make decisions in real-time. By eliminating human error and optimizing driving behavior, autonomous vehicles have the potential to reduce accidents, improve road safety, and enhance overall transportation efficiency.
Smart Transportation Infrastructure for Sustainable Mobility
Smart transportation infrastructure is a vital component of the future of mobility. It encompasses a wide range of technologies, including intelligent traffic signal systems, smart parking solutions, and electric vehicle charging networks. By integrating these technologies, cities can create a more sustainable and efficient transportation ecosystem.
Intelligent traffic signal systems leverage real-time data and AI algorithms to optimize traffic flow at intersections. By dynamically adjusting signal timings based on traffic patterns, these systems reduce congestion, improve fuel efficiency, and minimize travel times. Similarly, smart parking solutions use sensors and real-time data to guide drivers to available parking spaces, reducing the time spent searching for parking and alleviating congestion in urban areas.
Another critical aspect of smart transportation infrastructure is the deployment of electric vehicle charging networks. As the world shifts toward sustainable energy sources, the adoption of electric vehicles is on the rise. To support this transition, cities and governments are investing in the development of widespread charging infrastructure. By providing convenient and accessible charging stations, smart transportation infrastructure promotes the use of electric vehicles, reduces dependence on fossil fuels, and helps combat climate change.
Smart Transportation and the Future
As technology continues to advance, the possibilities for smart transportation are expanding. Innovations such as hyperloop transportation systems, flying taxis, and drone deliveries are already being explored. These advancements have the potential to revolutionize the way we travel, further enhancing efficiency, reducing congestion, and minimizing our environmental impact.
The Future of Public Transportation
Public transportation is an integral part of smart transportation systems. As cities become more connected and technologically advanced, the future of public transportation will see significant changes. Autonomous buses and trains, equipped with AI algorithms and advanced safety features, will provide efficient and reliable transportation options. Real-time updates and seamless integration with other modes of transport will offer commuters a seamless and convenient travel experience. With the integration of smart payment systems, ticketing processes will become more streamlined, further enhancing the efficiency and accessibility of public transportation.
Additionally, the rise of micro-mobility solutions such as electric scooters and bike-sharing programs will continue to play a significant role in the future of urban transportation. These options provide a sustainable and efficient means of travel for shorter distances, reducing congestion and promoting healthier lifestyles.
The Role of Data in Smart Transportation
Data will be at the heart of smart transportation systems in the future. The collection and analysis of vast amounts of data will enable transportation networks to make informed decisions, optimize operations, and improve the overall travel experience. With the advancement of Internet of Things (IoT) technology, vehicles, infrastructure, and wearable devices will generate enormous amounts of data that can be utilized to enhance transportation systems. This data-driven approach will enable predictive maintenance, personalized travel recommendations, and seamless integration of various modes of transport.
Furthermore, data sharing between different stakeholders in the transportation ecosystem will facilitate collaborations and the development of integrated mobility solutions. By sharing data, cities, transportation providers, and technology companies can work together to create more efficient and sustainable transportation networks that benefit everyone.
The Importance of Partnerships and Collaboration
Building smart transportation systems requires collaboration between various stakeholders, including governments, transportation agencies, technology companies, and citizens. Partnerships and collaboration are crucial in developing integrated, scalable, and sustainable solutions that address the challenges of modern transportation.
By working together, these stakeholders can leverage each other's expertise, resources, and knowledge to create a more connected and efficient transportation ecosystem. Public-private partnerships can play a vital role in funding and implementing smart transportation projects, while citizen engagement and feedback are crucial in understanding the needs and expectations of the community.
Ultimately, the success of smart transportation lies in the collaboration and partnership between all stakeholders involved. By working together, we can create a future where transportation is seamless, sustainable, and enhances the quality of life for everyone.
Smart Transportation: A Promising Future
Smart transportation is not just about getting from point A to point B; it represents a paradigm shift in the way we travel. With advanced technologies, data-driven solutions, and collaboration between various stakeholders, smart transportation has the potential to transform our cities, reduce congestion, and create a more sustainable and efficient transport ecosystem.
As we embrace the benefits of smart transportation, it's essential to ensure that these advancements are accessible to all members of society, regardless of their socio-economic status or geographic location. By prioritizing equitable access and addressing potential challenges such as data privacy and cybersecurity, we can build a future where smart transportation benefits everyone.
Key Takeaways: Smart Transportation
Smart transportation refers to the use of advanced technologies to improve the efficiency, safety, and sustainability of transportation systems.
It involves the integration of digital platforms, sensors, and data analytics to optimize traffic flow and reduce congestion.
Smart transportation solutions can improve public transportation, promote shared mobility, and enable autonomous vehicles.
Benefits of smart transportation include reduced travel time, lower fuel consumption, and decreased carbon emissions.
Adopting smart transportation can lead to smarter cities that are more connected and environmentally friendly.
Frequently Asked Questions
Welcome to our frequently asked questions section on smart transportation! Here, we'll be exploring some common queries related to this innovative field. From autonomous vehicles to intelligent traffic systems, we'll provide you with insightful answers that demystify the world of smart transportation. So, let's dive in!
1. How does smart transportation improve traffic flow?
Smart transportation utilizes advanced technologies to improve traffic flow in various ways. Firstly, it gathers real-time data from sensors, cameras, and traffic management systems, allowing for accurate monitoring of traffic patterns and congestion hotspots. This information is then processed and analyzed to optimize traffic signal timings based on current conditions.
Smart transportation also leverages intelligent algorithms to predict traffic patterns and adjust signal timings proactively. By making these adjustments in real-time, it can reduce congestion, minimize delays, and improve overall traffic flow in cities. Additionally, smart transportation systems may provide connected vehicle technology, allowing vehicles to communicate with each other and with traffic management systems, further enhancing traffic flow.
2. What are the benefits of using autonomous vehicles in smart transportation?
Autonomous vehicles play a vital role in smart transportation, offering numerous benefits. Firstly, they have the potential to significantly improve road safety. With advanced sensors and artificial intelligence, autonomous vehicles can detect and respond to their surroundings in real-time, minimizing the risk of human error.
Moreover, autonomous vehicles can enhance traffic efficiency by optimizing acceleration, deceleration, and speed control. They can also communicate with other vehicles and infrastructure, enabling smoother coordination and reducing traffic congestion. Additionally, autonomous vehicles have the potential to increase accessibility for individuals who cannot drive due to physical limitations, providing them with newfound mobility opportunities.
3. How does smart transportation contribute to sustainability?
Smart transportation plays a crucial role in promoting sustainability on multiple fronts. By optimizing traffic flow and reducing congestion, it helps minimize fuel consumption and greenhouse gas emissions from vehicles stuck in traffic. Furthermore, smart transportation systems often prioritize public transportation and non-motorized modes like cycling and walking, encouraging eco-friendly travel options.
Additionally, smart transportation can facilitate the transition to electric vehicles by deploying electric charging infrastructure and integrating it with grid management systems. This enables efficient charging, grid balancing, and the utilization of renewable energy sources, reducing reliance on fossil fuels and mitigating environmental impacts. Smart transportation also supports the development of shared mobility services like ride-sharing and bike-sharing, promoting efficient resource use and reducing the number of private vehicles on the road.
4. What role does data analytics play in smart transportation?
Data analytics is a fundamental aspect of smart transportation. It involves collecting and analyzing vast amounts of data from various sources, such as sensors, GPS devices, and social media platforms. This data provides valuable insights into transportation patterns, congestion, user behavior, and infrastructure performance.
Through data analytics, smart transportation systems can identify and predict traffic patterns, optimize routes, and manage traffic flow efficiently. Data analysis can also help identify areas where infrastructure improvements are needed, allowing for better planning and development. Additionally, data analytics can assist in designing personalized travel experiences, providing users with real-time information on the most efficient and convenient travel options available.
5. What are the potential challenges in implementing smart transportation?
While smart transportation offers numerous benefits, there are some challenges to consider. One significant challenge is the high cost of implementing and maintaining smart transportation infrastructure and technologies. Building and upgrading transportation systems with the necessary sensors, cameras, communication networks, and data processing capabilities can be financially demanding.
Another challenge is ensuring data privacy and security. Smart transportation systems rely heavily on data collection and utilization, raising concerns about the privacy and security of personal information. Robust measures need to be in place to protect data from unauthorized access and misuse. Additionally, ensuring interoperability between different smart transportation systems and technologies can be a challenge, as seamless integration is crucial for maximizing the potential benefits.
Intelligent Transportation Systems: At A Glance
Summary
Smart transportation is all about using technology to make our travel easier and more efficient. It involves things like using apps to find the fastest routes, electric cars to reduce pollution, and even self-driving cars.
Smart transportation can help reduce traffic congestion, save time and energy, and decrease air pollution. It is an exciting advancement that aims to improve the way we move around and make our cities cleaner and more sustainable. So, get ready for a future where transportation is smart and environmentally friendly!