Augmented reality goggles are devices resembling eyeglasses that display augmented reality imagery either through eyepieces or projection onto lens surfaces. These goggles intercept the user's real-world view and enhance it with digital information.
Augmented reality (AR) bridges the digital and physical worlds, allowing users to experience and interact with computer-generated content overlaid onto their surroundings. The market offers various options for augmented reality goggles, with different features and price ranges. Now, let's explore the benefits and applications of augmented reality goggles in more detail.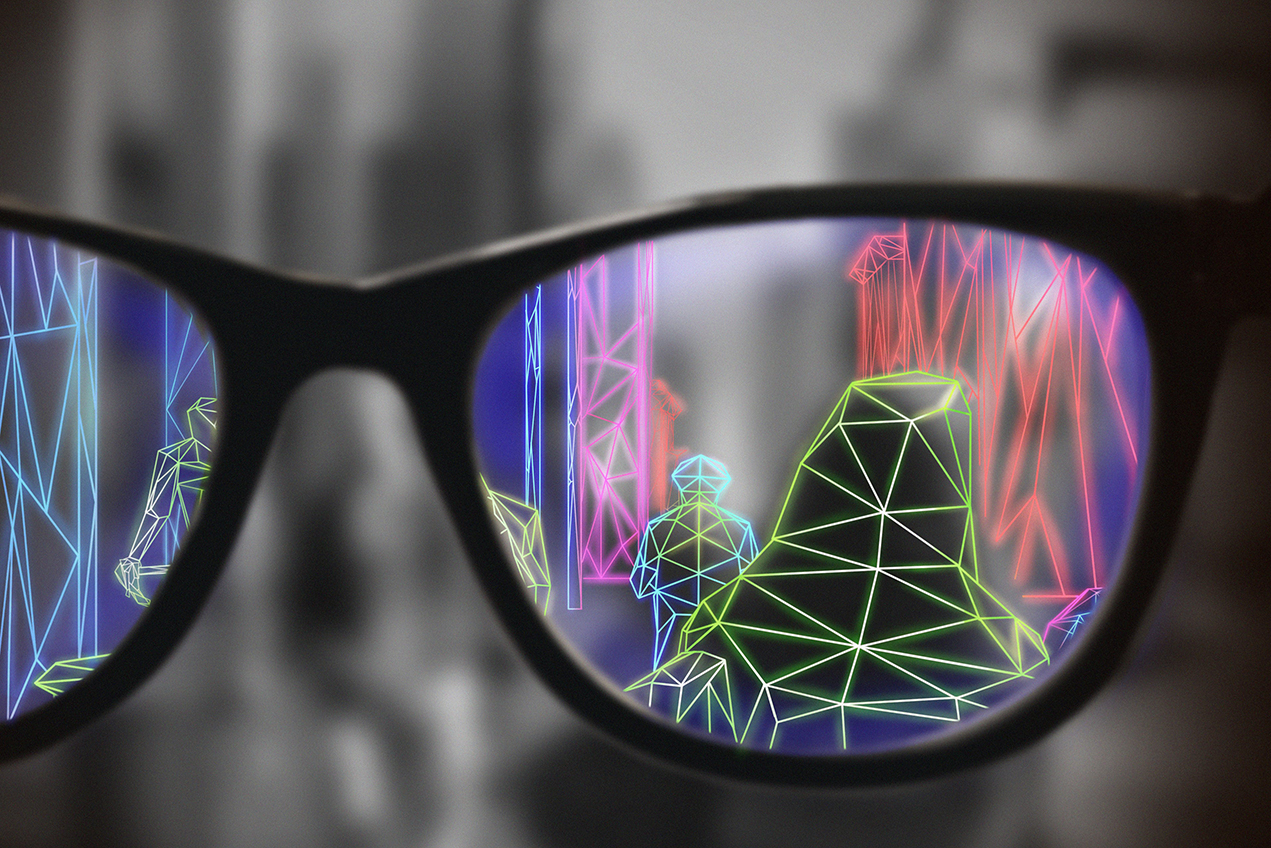 Credit: hscnews.usc.edu
Understanding Augmented Reality Goggles
Discover the world of Augmented Reality Goggles, a cutting-edge technology that overlays digital information onto the real world. With features like camera interceptions and projected imagery, these eyewear devices offer a truly immersive experience.
Definition Of Augmented Reality Goggles
Augmented Reality (AR) goggles are futuristic devices that overlay virtual objects onto the real world, creating an enhanced and interactive experience for the wearer. By combining computer-generated data with the wearer's real-time environment, these goggles provide a unique and immersive visual display.
AR goggles consist of eyewear equipped with cameras, sensors, and display technology, allowing users to see digital content seamlessly integrated into their surroundings.
How Ar Displays Are Rendered On Eyewear
AR displays on eyewear are enabled through a complex process that involves the following steps:
Capturing real-world data: AR goggles use built-in cameras and sensors to capture the wearer's surroundings, including objects, features, and movements.
Tracking and mapping: The captured data is processed in real-time to track the wearer's position and movements accurately. This information is then mapped onto a virtual coordinate system.
Rendering virtual content: Using the mapped data and the wearer's position, AR goggles render virtual content, such as images, videos, and 3D objects, onto transparent displays positioned in front of the wearer's eyes.
Displaying the augmented reality: The rendered virtual content is overlaid onto the real-world view, creating a seamless blend of the virtual and physical worlds.
Types Of Augmented Reality Glasses
There are several types of augmented reality glasses available in the market, each catering to different needs and use cases. Some common types include:
Optical see-through: These glasses feature transparent displays, allowing users to see both the virtual content and the real-world simultaneously. Examples include Microsoft HoloLens and Magic Leap One.
Video see-through: These glasses use cameras to capture the user's surroundings and display them on opaque screens. The virtual content is then rendered on top of the captured video feed. Examples include Vuzix Blade and Google Glass.
Projection-based: These glasses project virtual images directly onto the user's retina or a specialized lens, creating a crisp and immersive experience. Examples include Rokid Max and Xreal Air AR glasses.
Exploring The Benefits Of Ar Goggles
Augmented Reality goggles offer numerous benefits across various industries and applications. Here are some key advantages:
Enhanced visualization: AR goggles provide an immersive visual experience, allowing users to see and interact with digital content in their real-world environment.
Improved productivity: In industries like manufacturing and logistics, AR goggles can provide hands-free access to information, instructions, and real-time data overlays, thereby increasing efficiency and accuracy.
Training and education: AR goggles enable interactive and realistic simulations, making them ideal for training and educational purposes. They can simulate complex scenarios and allow users to practice and learn in a safe virtual environment.
Entertainment and gaming: AR goggles offer exciting gaming experiences by blending virtual elements with the real world, creating interactive and immersive gameplay.
Overview Of The Technology Behind Ar Glasses
The technology behind AR glasses combines hardware components and advanced software algorithms to deliver the augmented reality experience. Some key components and technologies involved are:
Cameras: Built-in cameras capture the wearer's surroundings, enabling real-time data acquisition.
Sensors: Various sensors, such as accelerometers, gyroscopes, and depth sensors, track the wearer's position, movements, and environmental conditions.
Display technology: Transparent or opaque displays, often utilizing microdisplays or projection systems, overlay virtual content onto the wearer's field of view.
Processing power: High-performance processors handle the complex computational tasks required for real-time data processing, tracking, and rendering.
Software algorithms: Advanced algorithms analyze the captured data, track the wearer's movements, and render virtual content seamlessly onto the real world.
With constant advancements in technology, augmented reality goggles continue to evolve, offering increasingly sophisticated and captivating experiences to users in various domains.
The Top Augmented Reality Goggles In The Market
Discover the top augmented reality goggles currently available in the market. These innovative AR goggles offer a variety of features and functionalities that allow users to experience an immersive augmented reality experience. From XREAL Air AR Glasses to Rokid Max AR Glasses, these devices provide a futuristic and cutting-edge way to interact with the digital world.
Rokid Max Ar Glasses: An Immersive Visual Experience At An Affordable Price
Lightweight and comfortable design.
High-resolution display for stunning visuals.
Wide field of view for an immersive experience.
Advanced tracking technology for accurate movement.
Voice control feature for hands-free operation.
Affordable price point compared to other high-end AR glasses.
class="wp-block-heading">Xreal Air Ar Glasses: A Futuristic Yet Practical Choice For Tech Enthusiasts
Sleek and modern design.
Cutting-edge display technology for crisp visuals.
Built-in sensors for precise tracking and motion detection.
Wireless connectivity for a seamless experience.
Comfortable fit for long periods of use.
Advanced gesture recognition for intuitive interaction.
Merge Vr Goggles: A Budget-Friendly Option Without Compromising On Quality
Durable and lightweight construction.
Compatible with a wide range of smartphones.
Adjustable lenses for a customized viewing experience.
Comfortable foam padding for extended wear.
Many compatible apps and games available.
Affordable price point for those on a tight budget.
Lenovo Ar Headset: High-End Ar Glasses For Professional Applications
Premium build quality and stylish design.
High-resolution display for detailed visuals.
Precise tracking and motion control for professional use.
Comfortable fit for long hours of wear.
Wide field of view for an immersive experience.
Ideal for architects, designers, and other professionals.
Dream Glass: An All-In-One Ar Headset For A Truly Immersive Experience
Lightweight and portable design.
Crystal-clear display with high resolution.
Advanced tracking technology for precise movement.
Immersive audio for a complete sensory experience.
Wide compatibility with various devices and platforms.
All-in-one functionality eliminates the need for additional accessories.
Remember, these H3 headings provide concise information about each AR goggles, while keeping the content engaging and easy to read.
Applications And Use Cases Of Augmented Reality Goggles
Augmented reality goggles have a wide range of applications and use cases. From gaming and entertainment to industrial training and remote assistance, these goggles offer immersive experiences and enhance productivity in various fields. Whether it's exploring virtual worlds or overlaying digital information onto the real world, augmented reality goggles are revolutionizing the way we interact with technology.
Augmented Reality Goggles: Applications And Use Cases
Augmented Reality (AR) goggles have opened up a world of possibilities, revolutionizing various industries with their immersive and interactive experiences. From gaming to healthcare, education to design, these advanced gadgets have created a new dimension in technology. Let's explore the diverse applications and use cases of augmented reality goggles:
Augmented Reality Gaming: Taking Gaming To A Whole New Level
AR gaming blends the virtual and real worlds, creating an interactive and engaging gaming experience.
Players can enjoy a more immersive gameplay by seeing virtual objects overlaid onto their actual surroundings.
In multiplayer AR games, players can collaborate and compete in a shared virtual environment.
It offers endless opportunities for innovative game concepts and storytelling.
Ar In Education: Enhancing Learning Experiences For Students
AR is transforming education by providing interactive and visual learning experiences.
Students can explore complex subjects through virtual objects and simulations, making learning more engaging and memorable.
AR enables students to visualize and manipulate 3D models, enhancing their understanding of abstract concepts.
It also allows for remote learning and collaboration, bringing classrooms together regardless of geographical boundaries.
Ar In Healthcare: Revolutionizing Medical Training And Patient Care
AR has revolutionized medical training, allowing students and healthcare professionals to practice in simulated environments.
Surgeons can use AR goggles to overlay medical information, such as patient scans, during surgeries, increasing precision and efficiency.
AR technology helps in diagnosing medical conditions by providing real-time data and visualizations.
It improves patient outcomes by facilitating accurate and personalized treatment plans.
Ar For Remote Collaboration: Breaking Barriers In Communication
AR goggles enable remote collaboration by overlaying virtual objects into the real world, creating a shared augmented environment.
It enhances communication between teams by enabling them to see and interact with virtual data simultaneously.
In industries like architecture and design, professionals can visualize and discuss projects in real-time, regardless of their physical location.
Remote collaboration through AR enhances productivity, reduces travel costs, and fosters efficient decision-making.
Ar In Design And Manufacturing: Streamlining Processes And Improving Efficiency
Designers and manufacturers can use AR goggles to visualize and analyze virtual prototypes, reducing errors and iterations.
AR-assisted assembly instructions overlay step-by-step guidance onto real objects, improving the efficiency of manufacturing processes.
It enables real-time monitoring of production lines, highlighting potential bottlenecks or quality control issues.
AR in design and manufacturing optimizes processes, minimizes costs, and accelerates time-to-market.
Augmented reality goggles are transforming industries and pushing the boundaries of what is possible. As the technology continues to evolve, we can expect even more exciting applications and advancements in the near future. Get ready to experience a world where the virtual seamlessly blends with the real, thanks to the power of AR goggles.
Exploring The Future Of Augmented Reality Goggles
Discover the future of augmented reality goggles, innovative eyewear that brings digital elements into the real world. Experience immersive AR displays and explore new possibilities with these cutting-edge devices.
class="wp-block-heading">Advancements In Ar Technology: What Lies Ahead?
AR technology is continually evolving, with exciting advancements on the horizon.
Some of the areas where we can expect to see progress include:
Improved visual quality and resolution of AR displays
Enhanced tracking capabilities for more seamless integration of virtual elements into the real world
Smaller, lighter, and more comfortable AR goggles
Longer battery life to support extended use
Integration of AI algorithms for more personalized and context-aware experiences
Potential Applications Of Ar Glasses In Various Industries
AR goggles have the potential to revolutionize numerous industries by offering new and immersive experiences. Some possible applications include:
Healthcare: Assisting surgeons during complex procedures or providing real-time patient data overlays for medical professionals.
Education: Enhancing learning experiences by providing interactive 3D models and simulations.
Manufacturing: Improving worker productivity and safety by overlaying instructions or highlighting potential hazards.
Retail: Allowing customers to virtually try on clothes and accessories or visualize furniture in their homes.
Gaming and entertainment: Creating immersive experiences by blending virtual elements with the real world.
Challenges And Limitations Of Ar Goggles
Despite their promise, AR goggles still face several challenges and limitations that need to be overcome, including:
Limited field of view: The current generation of AR goggles has a limited field of view, which can hinder immersion and usability.
Battery life: AR goggles require significant processing power and battery life, making it challenging to achieve long usage times.
Cost: AR goggles can be expensive, limiting their accessibility to a broader audience.
Social acceptance: Widespread adoption of AR goggles may face resistance due to privacy concerns and social impact.
Impact Of Ar Glasses On Everyday Life
AR glasses have the potential to profoundly impact our daily lives in numerous ways, including:
Improved productivity: By overlaying relevant information and notifications, AR glasses can enhance productivity and multitasking.
Enhanced communication: AR glasses can enable seamless video calls, real-time language translation, and social media integration.
Augmented experiences: From interactive guided tours to immersive gaming, AR glasses can provide unique and engaging experiences.
Accessibility and inclusivity: AR glasses can assist individuals with disabilities, providing visual and auditory support.
Predictions For The Future Of Augmented Reality Goggles
Looking ahead, several predictions can be made regarding the future of AR goggles, including:
Greater integration with smartphones: AR glasses will likely become an extension of our smartphones, providing enhanced functionality.
Wearables becoming mainstream: As technology advances and prices decrease, AR glasses may become a common sight in everyday life.
Seamless integration with IoT devices: AR glasses will likely connect with other IoT devices, providing a more immersive and interconnected experience.
Personalized and adaptive experiences: AR goggles will leverage AI to understand user preferences and adapt the virtual content accordingly.
Revolutionary applications: As development continues, AR glasses may enable groundbreaking applications in fields such as medicine, architecture, and transportation.
The future of augmented reality goggles holds immense potential for advancements and transformative applications across various industries. While challenges and limitations exist, the impact on everyday life can be revolutionary, enriching our experiences and improving productivity. With continued innovation, AR glasses are poised to become a mainstream technology that seamlessly integrates into our daily routines, offering personalized and adaptive experiences.
Frequently Asked Questions Of Augmented Reality Goggles
What Is An Augmented Reality Goggles?
Augmented reality goggles are devices that display digital images on glasses-like eyewear, allowing users to see an augmented view of the real world.
Can I Buy Augmented Reality Glasses?
Yes, you can buy augmented reality glasses.
Are Ar Headsets Worth It?
AR headsets offer a cool and futuristic experience, but they may not be worth the investment for everyone.
What Is The Alternative To Xreal Glasses?
The alternative to Xreal glasses includes options such as WIN Reality, Rokid Max AR Glasses, Merge VR Goggles, and ActiveLook Enterprise Smart Augmented Reality glasses.
Conclusion
In the world of technology, augmented reality goggles have emerged as a game-changer. These innovative devices, resembling normal eyeglasses, have the power to display augmented reality (AR) imagery seamlessly. AR goggles utilize cameras to intercept the real world view and display an augmented version through the eyepieces.
Additionally, some devices project AR imagery through or reflect it off the surfaces of the lens pieces. This groundbreaking technology has captured the attention of consumers and businesses alike, offering endless possibilities for gaming, design, and even industry applications. With a wide range of options available in the market, including the XREAL Air AR Glasses and the Merge VR Goggles, individuals can choose the perfect AR goggles that suit their needs and preferences.
As the field of augmented reality continues to evolve, these goggles are becoming an essential tool for those seeking to bridge the gap between the digital and physical worlds. Embrace the future with augmented reality goggles and explore a whole new dimension of possibilities.