Common challenges for remote workers include communication difficulties, work-life balance struggles, feelings of isolation, and lack of team collaboration. Remote work presents unique obstacles that can impact productivity and well-being.
It is important for remote workers to find effective ways to stay connected and engaged with colleagues, manage their time and boundaries, and prioritize self-care. We will explore in more detail the common challenges faced by remote workers and provide practical tips to overcome these obstacles.
By understanding and addressing these challenges, remote workers can thrive in their professional lives while enjoying the benefits of working from anywhere.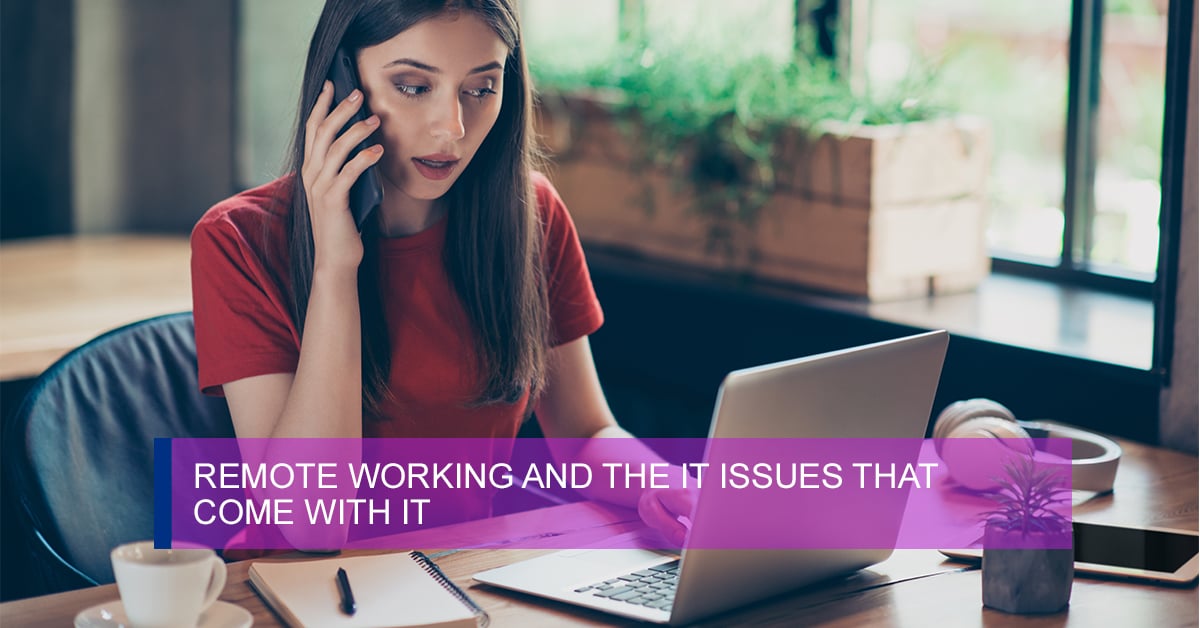 Credit: www.vabusinesssystems.com
The Impact Of Remote Work On Work-Life Balance
Remote work has had a significant impact on work-life balance, presenting common challenges for remote workers. These include difficulties in maintaining boundaries between work and personal life, increased feelings of isolation, and challenges in managing time effectively. Nonetheless, by implementing effective strategies and setting clear boundaries, remote workers can successfully navigate these challenges and achieve a healthy work-life balance.
Remote work offers flexibility and freedom, allowing individuals to break away from the conventional office setting. However, it also poses several challenges to achieving a healthy work-life balance. Let's delve into the key areas affected by the shift to remote work.
Maintaining Boundaries Between Work And Personal Life
Blurring of boundaries: Working from home can result in a fusion of personal and professional lives, making it challenging to separate the two.
Distractions at home: With household chores, family members, and other non-work-related responsibilities, it becomes essential to establish clear boundaries to maintain focus and productivity.
Lack of physical separation: Absence of a dedicated workspace can make it difficult to mentally switch between work and personal life.
Difficulty In Disconnecting From Work
Always-on mentality: Without the clear distinction of work hours, remote workers often find themselves constantly available, leading to burnout and an inability to unwind.
Technology overload: The persistent presence of technology, such as emails and notifications, makes it challenging to disconnect and relax, blurring the line between work and personal time.
Feeling obligated to be constantly available: Remote workers may feel pressured to be readily accessible, causing them to struggle with setting boundaries and taking breaks.
class="wp-block-heading">Impact On Relationships And Family Dynamics
Interference with personal time: The merging of work and personal life can encroach on valuable time spent with family and loved ones.
Strain on relationships: The absence of physical separation between work and personal life may lead to conflicts and strained relationships, as work-related stress spills over into personal interactions.
Overworking: Remote work can blur the lines between leisure and work, resulting in longer and irregular working hours, adversely affecting family dynamics.
Finding a healthy work-life balance while working remotely is crucial for overall well-being. Setting boundaries, creating a dedicated workspace, and establishing clear working hours can help mitigate these challenges and foster a harmonious integration of work and personal life.
Communication And Collaboration Challenges
Remote workers often experience communication and collaboration challenges, such as difficulty in coordinating tasks, maintaining consistent communication, and fostering teamwork, resulting in decreased productivity and efficiency.
Lack Of Face-To-Face Interaction Leading To Miscommunication
Remote workers often struggle with the lack of face-to-face interaction, which can result in miscommunication.
Without visual cues and body language, it is challenging to accurately understand the intended message.
Misinterpretation of tone or context can lead to misunderstandings and errors.
Important details might be lost in written communication, leading to confusion and delays.
Virtual meetings and video calls can help to bridge this gap, but they do not completely replicate the nuances of face-to-face conversations.
Difficulty In Building Relationships And Trust With Colleagues
Building relationships and trust can be difficult for remote workers who don't have regular in-person interactions with their colleagues.
The absence of casual conversations and spontaneous interactions can make it challenging to establish connections.
Remote workers may feel isolated and disconnected from their team, affecting collaboration and morale.
Trust can also be harder to establish without the opportunity for face-to-face interactions and non-verbal cues.
Remote workers need to find alternative ways to connect with their team, such as virtual team-building activities or regular one-on-one meetings.
Challenges In Collaboration And Teamwork
Collaboration and teamwork can be more challenging in a remote work environment.
Without physical proximity, it is harder to gauge others' availability and workload.
Communication delays can lead to slower decision-making and project progress.
There may be difficulties coordinating time zones and schedules, especially in global remote teams.
Collaborative tools and project management software can help facilitate remote collaboration, but they do not eliminate all the challenges.
Remote workers need to adapt to new ways of working together effectively and efficiently.
Managing Productivity And Motivation
Remote workers often face challenges when it comes to managing productivity and motivation. These include difficulty in maintaining a work-life balance, feeling isolated, and dealing with distractions at home. It's important for remote workers to find strategies to overcome these obstacles and stay focused and motivated in their work.
class="wp-block-heading">Struggling To Stay Focused And Avoid Distractions At Home
Remote workers often face challenges when it comes to staying focused and avoiding distractions while working from home. Here are some common issues they encounter:
Multiple distractions at home, such as household chores, pets, family members, or personal tasks, can easily divert their attention and affect productivity.
Social media platforms, online shopping sites, or news websites can be tempting time-wasters that remote workers must resist.
The lack of a structured work environment, like an office, can make it difficult to maintain concentration and stay on track with tasks.
Finding a suitable workspace free from noise and disturbances can sometimes be a challenge.
Lack Of Accountability And Supervision
Remote workers often face the challenge of lacking accountability and supervision, which can affect their work performance and productivity. Here are some key factors:
Without direct oversight or regular check-ins from supervisors, remote workers may feel a lack of direction or guidance, leading to a decrease in motivation and productivity.
Limited face-to-face interaction with colleagues makes it harder to discuss ideas, receive immediate feedback, or collaborate effectively.
The absence of co-workers' presence might lead to a decreased sense of responsibility, as there is no one physically watching them, resulting in lower productivity levels.
Without clear expectations and deadlines, remote workers might struggle to prioritize tasks and manage their time effectively.
Maintaining Motivation And Work Engagement
Remote workers often encounter challenges in maintaining motivation and work engagement, which can impact their productivity and overall job satisfaction. Here are some common difficulties they face:
The lack of a structured routine and commuting to an office can make it challenging to switch into work mode and maintain a productive mindset.
Working alone can lead to feelings of isolation and decreased motivation. Remote workers may miss the social interactions found in a traditional office setting.
Without in-person interaction and recognition, remote workers might feel a lack of appreciation and recognition for their efforts.
The blurring of boundaries between work and personal life can cause burnout and decrease motivation if not managed effectively.
By understanding and addressing these challenges, remote workers can find strategies to enhance their productivity and motivation while working from home. It is crucial to establish routines, create a dedicated workspace, set clear expectations with supervisors, and engage in regular communication with colleagues.
Remote work requires self-discipline, effective time management, and finding ways to stay motivated in a non-traditional work environment.
Isolation And Loneliness
Remote workers often face common challenges such as isolation and loneliness. The lack of social interaction and human connection can take a toll on their mental well-being, making it important for organizations to prioritize ways to alleviate these issues.
Feeling Of Disconnect From Colleagues And A Sense Of Loneliness:
Remote workers often experience a feeling of disconnect from their colleagues and may find themselves grappling with a sense of loneliness. These challenges can impact their overall well-being and productivity. To shed light on this issue, let's explore the following:
Limited communication: Without face-to-face interactions, remote workers may struggle with reduced communication, leading to a sense of detachment from their team members.
Lack of non-verbal cues: Remote work eliminates the ability to read non-verbal cues, such as body language and facial expressions, which are essential for building connections and understanding colleagues' intentions.
Decreased collaboration: The physical separation between coworkers can hinder collaborative efforts, making it harder to share ideas, solve problems, and provide and receive support.
Lack Of Social Interaction And Support Network:
In addition to feeling disconnected from colleagues, remote workers often experience a lack of social interaction and support networks. This can have a profound impact on their day-to-day work experience. Let's delve into some key aspects:
Limited informal conversations: Remote workers miss out on the casual chats and impromptu interactions that often occur in an office setting. This lack of informal conversations can result in a loss of social connection and the chance to build deeper relationships with coworkers.
Absence of shared experiences: Working remotely diminishes shared experiences such as team lunches, coffee breaks, and celebrations, creating a void in bonding opportunities and camaraderie.
Reduced access to mentors: Remote workers may find it difficult to connect with mentors who can guide and assist them in their professional growth. The absence of these support networks can be isolating and hinder career progression.
Impact On Mental Health And Well-Being:
Isolation and loneliness experienced by remote workers can significantly impact their mental health and overall well-being. Let's explore the implications:
Increased stress levels: A lack of social interaction and support may lead to heightened stress levels, as there is limited opportunity to share concerns and seek help when needed.
Negative effects on motivation: Without the energy and motivation that comes from working in a supportive team environment, remote workers may struggle to maintain high levels of drive and enthusiasm.
Feelings of burnout: Isolation and loneliness can pave the way for burnout, as remote workers may find themselves overworking to compensate for the lack of social stimulation.
These common challenges for remote workers highlight the significance of addressing isolation, loneliness, and the need for social interaction and support networks. By understanding and actively mitigating these difficulties, companies can help remote workers thrive in their roles and maintain a healthy work-life balance.
Managing Stress And Burnout
Remote workers face common challenges in managing stress and burnout due to factors like isolation, blurred work-life boundaries, lack of social interaction, excessive screen time, and difficulty in disconnecting from work. These challenges can take a toll on their mental health, productivity, and overall well-being.
It is crucial for remote workers to prioritize self-care, set boundaries, maintain a routine, and seek support to effectively manage stress and prevent burnout.
Remote work offers numerous benefits such as flexibility, autonomy, and the ability to work from anywhere. However, it also comes with its fair share of challenges. One of the common challenges faced by remote workers is managing stress and preventing burnout.
This section will explore some of the specific difficulties that remote workers encounter in this aspect and provide effective strategies to overcome them.
Difficulty In Setting Boundaries And Managing Workload:
Remote workers often struggle with defining boundaries between work and personal life. The absence of a physical office can blur the lines, leading to work creeping into personal time.
Balancing multiple responsibilities such as household chores, childcare, and work can be overwhelming for remote workers.
Lack of clear guidelines and expectations from management can make it challenging to manage workload effectively.
Increased Pressure To Always Be Available:
Remote workers may feel the need to be constantly available to prove their productivity, anxious about not being physically present in the office.
The ability to work from anywhere can lead to the expectation of immediate responses, causing remote workers to feel pressured to be constantly connected and responsive.
Finding Ways To Manage Stress And Prevent Burnout:
Establishing a dedicated workspace at home can help create a physical separation between work and personal life, enhancing focus and productivity.
Setting clear boundaries by defining specific working hours and communicating them to colleagues and family members is crucial.
Prioritizing tasks and creating a work schedule can help remote workers manage their workload effectively, reducing stress and preventing burnout.
Taking regular breaks and engaging in physical activity or relaxation techniques like meditation or yoga can help relieve stress and improve overall well-being.
Seeking support from colleagues, friends, or joining virtual communities of remote workers can provide a sense of connection and reduce feelings of isolation.
Managing stress and preventing burnout are significant challenges for remote workers. By setting boundaries, managing workload effectively, and implementing stress management strategies, remote workers can maintain a healthy work-life balance and thrive in their remote work environments.
Access To Reliable Technology And Internet
Remote workers often face challenges related to access to reliable technology and internet. These issues can hinder productivity and communication, making it essential for remote workers to have stable connections for seamless work operations.
Dependence On Stable Internet Connection For Seamless Work
Remote workers heavily rely on a stable internet connection to carry out their tasks effectively.
In a fast-paced digital world, a dependable internet connection plays a crucial role in ensuring smooth communication, accessing cloud-based software, and collaborating with team members.
Without a stable internet connection, remote workers may experience delays, disruptions, and even complete work stoppages, causing frustration and affecting productivity.
To prevent these challenges, remote workers must have access to a reliable internet service provider and consider backup options, such as mobile hotspots or neighboring wi-fi networks.
Dealing With Technical Issues And Equipment Problems
Remote work often comes with technical challenges and equipment problems that can hinder productivity and cause frustration.
Any malfunctioning equipment or technical issues can delay work and lead to missed deadlines.
Common challenges include hardware failures, software glitches, compatibility issues, and connectivity problems.
Remote workers should have a basic understanding of troubleshooting techniques and be prepared to seek professional assistance or guidance when necessary.
Maintaining regular software updates, antivirus protection, and backups can help minimize the impact of these challenges.
Ensuring Data Security And Privacy
Remote work raises concerns about data security and privacy, as sensitive information may be accessed outside the traditional office environment.
Remote workers must take proactive measures to safeguard data, including using secure networks, employing strong passwords, and securing their devices.
Utilizing vpns (virtual private networks) can create a secure connection for accessing company resources and protect data transmission.
Adhering to strict data security policies and regulations is crucial to maintaining trust and protecting both the remote worker and the company from potential breaches.
Regular training and awareness programs can empower remote workers to prioritize data security and maintain privacy protocols.
Remember, as technology continues to evolve, remote workers must continuously adapt and stay updated on the latest tools, techniques, and security practices to overcome these common challenges effectively.
Remote Team Management
Remote team management can present various challenges for workers, including effective communication, time management, and maintaining work-life balance. Adapting to remote work requires proactive strategies and technology tools to overcome these obstacles and ensure productivity and collaboration within the team.
Challenges In Coordinating And Managing A Remote Team:
Coordinating and managing a remote team comes with its own set of challenges. As team members are geographically dispersed, ensuring smooth workflow and productivity can be difficult. Here are some common challenges faced in remote team management:
Lack of face-to-face interaction: Remote teams miss out on the benefits of in-person communication, making it challenging to build rapport and maintain strong working relationships.
Different time zones: Dealing with team members in different time zones can lead to coordination issues, as scheduling meetings and ensuring everyone is available at the same time becomes a hurdle.
Cultural differences: Remote teams often consist of individuals from diverse backgrounds, which can result in different work approaches and communication styles. Bridging this gap requires understanding and adaptability.
Collaboration hurdles: Coordinating joint efforts on projects can be tricky in a remote environment. Lack of physical presence can hinder spontaneous brainstorming sessions and impromptu discussions.
Trust and accountability: Without direct supervision, ensuring that team members are accountable and completing tasks on time can be challenging. Building trust becomes crucial for effective remote team management.
Difficulty In Monitoring And Evaluating Individual Performance:
One of the primary concerns in managing remote teams is effectively monitoring and evaluating individual performance. Here are some challenges in this aspect:
Lack of visibility: Supervisors may find it challenging to assess the true progress and efforts of remote team members as they lack physical presence, leading to potential inaccuracies in performance evaluations.
Communication barriers: Remote workers may face obstacles in effectively communicating their achievements and challenges, making it difficult for supervisors to have a comprehensive understanding of their performance.
Absence of face-to-face feedback: Remote team members miss out on immediate feedback and coaching that can be delivered in person. This can result in slower development and improvement of individual performance.
Objective performance metrics: Establishing objective performance metrics that accurately measure remote workers' productivity and quality of work can be complex, as different roles and responsibilities may require personalized evaluation criteria.
Maintaining motivation: Remote workers may often work in isolation, which can impact their motivation levels. Finding effective strategies to maintain their engagement and enthusiasm becomes essential for sustained performance.
Managing and coordinating remote teams pose unique challenges in terms of collaboration, performance evaluation, and communication. Overcoming these obstacles requires a combination of effective communication tools, trust-building strategies, and clear performance evaluation frameworks tailored to the remote work environment.
Establishing A Routine And Setting Boundaries
Remote workers often face challenges in establishing a routine and setting boundaries. By creating a structured schedule and defining clear boundaries, they can maintain productivity and work-life balance.
Creating A Dedicated Workspace And Separate Work Hours
Designate a specific area in your home as your dedicated workspace. This could be a separate room, a corner in your living room, or even a desk in your bedroom. The important thing is to have a designated spot that mentally separates work from leisure.
Make your workspace comfortable and conducive to productivity. Arrange your desk, chair, and equipment in a way that promotes good posture and minimizes distractions.
Set boundaries with your family or housemates to ensure they understand that when you're in your workspace, you're in work mode. This will help minimize interruptions and create a focused environment.
Establish specific work hours, just as you would in a traditional office setting. Stick to these hours as much as possible, avoiding the temptation to work outside of them. This will help maintain a work-life balance and prevent burnout.
Setting Clear Expectations With Family And Friends
Communicate with your loved ones about your work schedule and expectations. Let them know your availability during work hours and when you need uninterrupted time.
Explain the nature of your remote work and the importance of maintaining boundaries. Help them understand that just because you're at home doesn't mean you're available for non-work related activities.
Encourage open communication and address any concerns or misunderstandings promptly. This will help prevent conflicts and frustration on both sides.
Be flexible when necessary, but also assertive in maintaining the boundaries you've set. Balancing work and personal relationships can be challenging, but clear expectations will make it easier for everyone involved.
Establishing A Consistent Daily Routine
Start your day by creating a to-do list or prioritizing tasks. This will help you stay organized and focused throughout the day.
Incorporate regular breaks into your routine to avoid burnout and maintain productivity. Use these breaks to stretch, take a walk, or engage in activities that help you recharge.
Stick to a consistent sleep schedule to ensure you're well-rested and ready to tackle the day. A regular sleep routine can improve your overall energy levels and concentration.
Find a balance between work and personal activities by scheduling time for exercise, hobbies, and self-care. Taking care of yourself outside of work hours is essential for your well-being.
Remember, establishing a routine and setting boundaries is crucial for remote workers to maintain productivity, focus, and balance. By creating a dedicated workspace, setting clear expectations with loved ones, and establishing a consistent daily routine, you can overcome the common challenges of remote work and thrive in your role.
Prioritizing Communication And Building Relationships
Remote workers often face challenges in prioritizing communication and building relationships due to the absence of face-to-face interactions. This can lead to miscommunication and feelings of isolation. However, with effective strategies like regular check-ins and using collaborative tools, these challenges can be overcome, ensuring a strong sense of connection and productive working relationships.
Effective communication and relationship building is essential for remote workers. Without the physical presence of colleagues, it becomes crucial to utilize video conferencing and other communication tools effectively, schedule regular check-ins and virtual team-building activities, and actively engage in networking and professional development opportunities.
Utilizing Video Conferencing And Other Communication Tools Effectively:
Video conferencing offers a more personal and interactive way to communicate, allowing remote workers to see facial expressions and body language, fostering better understanding and connection.
Instant messaging platforms like slack or microsoft teams can facilitate quick and efficient communication, enabling remote workers to ask questions, provide updates, and collaborate in real-time.
Email remains a valuable tool for sharing detailed information, documents, and longer messages that require careful consideration and documentation.
Scheduling Regular Check-Ins And Virtual Team-Building Activities:
Regular check-ins with team members and supervisors are vital for staying connected and ensuring everyone is on the same page. These check-ins can include individual or group meetings to discuss progress, address challenges, and provide feedback and support.
Virtual team-building activities help foster a sense of camaraderie and strengthen relationships among remote team members. Activities can include virtual coffee breaks, online team games or challenges, or even virtual happy hours.
Actively Engaging In Networking And Professional Development Opportunities:
Networking opportunities for remote workers are not limited. Online communities, industry forums, and social media platforms can offer avenues for connecting with like-minded professionals, sharing knowledge, and expanding professional networks.
Taking advantage of virtual conferences, webinars, and workshops is crucial for staying up-to-date with industry trends, acquiring new skills, and keeping professional development on track.
Remember, as a remote worker, prioritizing communication and building relationships is key to overcoming the challenges of working remotely. By utilizing video conferencing and other communication tools effectively, scheduling regular check-ins and virtual team-building activities, and actively engaging in networking and professional development opportunities, remote workers can build strong relationships and thrive in their roles.
Implementing Technology And Security Measures
Remote workers face common challenges when it comes to implementing technology and security measures, including network connectivity, data protection, and device security. These challenges require careful planning and proactive measures to ensure a secure remote work environment.
In today's digital landscape, remote work has become increasingly common. However, with this shift comes numerous challenges, particularly when it comes to implementing technology and security measures. Remote workers rely heavily on communication tools, need secure remote access to company networks, and must regularly update and maintain cybersecurity measures.
Let's explore each of these challenges in more detail:
Utilizing Reliable Communication And Project Management Tools
Collaboration made easy: Remote workers need to utilize reliable communication tools to stay connected with their team members. Tools like slack, microsoft teams, or zoom can facilitate seamless communication, enabling real-time conversations, file sharing, and video conferencing.
Streamlining project management: Effective project management is crucial for remote teams. Platforms like trello, asana, or basecamp provide remote workers with a centralized space to delegate tasks, monitor progress, and track deadlines, leading to greater productivity and efficiency.
Facilitating virtual meetings: Remote workers often rely on video conferencing tools to conduct virtual meetings. Platforms like zoom or google meet allow for face-to-face interactions, fostering collaboration and boosting team morale.
Establishing Secure Remote Access To Company Networks And Data
Virtual private network (vpn): Remote workers must establish a secure connection to their company's network. Utilizing a vpn adds an extra layer of protection by encrypting data transmissions and ensuring secure access to company resources.
Multi-factor authentication (mfa): Implementing mfa enhances security by requiring remote workers to provide multiple forms of verification, such as a password and a unique verification code. This reduces the risk of unauthorized access to company networks and data.
Access control and permissions: Granting remote workers appropriate access levels and permissions to company resources helps safeguard sensitive information. By setting up user roles and configuring access controls, companies can limit potential vulnerabilities.
Regularly Updating And Maintaining Cybersecurity Measures
Firewalls and antivirus software: Remote workers need to have robust firewalls and up-to-date antivirus software installed on their devices. These tools protect against malware, viruses, and other cyber threats that may compromise company data.
Patch management: Regularly updating operating systems, software, and applications is crucial to ensure that security patches are in place. Implementing automated patch management software can simplify the process and minimize vulnerabilities.
Employee training and awareness: Remote workers should receive regular cybersecurity training to become aware of potential threats and best practices. Educating employees about phishing scams, strong password policies, and safe browsing habits can significantly reduce the risk of security breaches.
Implementing technology and security measures is essential for remote workers to thrive in their roles while protecting their company's data and resources. By utilizing reliable communication and project management tools, establishing secure remote access, and maintaining cybersecurity measures, remote teams can overcome these challenges and work efficiently and securely.
Frequently Asked Questions Of What Are Common Challenges For Remote Workers?
What Are The Common Challenges Faced By Remote Workers?
Remote workers often face challenges such as loneliness and isolation as they lack physical interaction with colleagues. They may also struggle with maintaining a work-life balance due to the blurred boundaries between work and personal life. Additionally, communication and collaboration can be more challenging in a remote work setup.
Conclusion
Remote work can be a rewarding experience, but it does come with its fair share of challenges. From maintaining work-life balance and staying motivated to dealing with technology glitches and communication gaps, remote workers face a unique set of obstacles.
Loneliness and a lack of collaboration are also common challenges that can affect productivity and mental well-being. However, with the right strategies and mindset, these challenges can be overcome. Setting clear boundaries, establishing a consistent routine, and utilizing communication tools effectively can help remote workers navigate the difficulties of their work environment.
Flexibility and adaptability are key in order to thrive in a remote work setting. By addressing these challenges head-on and implementing effective solutions, remote workers can enjoy the benefits of flexibility, freedom, and improved work-life balance that remote work offers.