The challenges of digital inclusion include accessibility barriers and the digital divide which limit or prevent individuals from accessing and utilizing digital technologies. In today's rapidly advancing technological landscape, digital inclusion has become a pressing issue.
With an increasing reliance on digital platforms for communication, education, business, and access to essential services, those who lack digital skills or access to digital devices are at a significant disadvantage. Digital inclusion faces the challenge of overcoming accessibility barriers such as affordability, internet coverage, and digital literacy.
Additionally, the digital divide creates disparities between those who have access to technology and those who do not, exacerbating social inequalities. These challenges require concerted efforts from governments, organizations, and communities to bridge the gap and ensure equal opportunities for all in the digital world.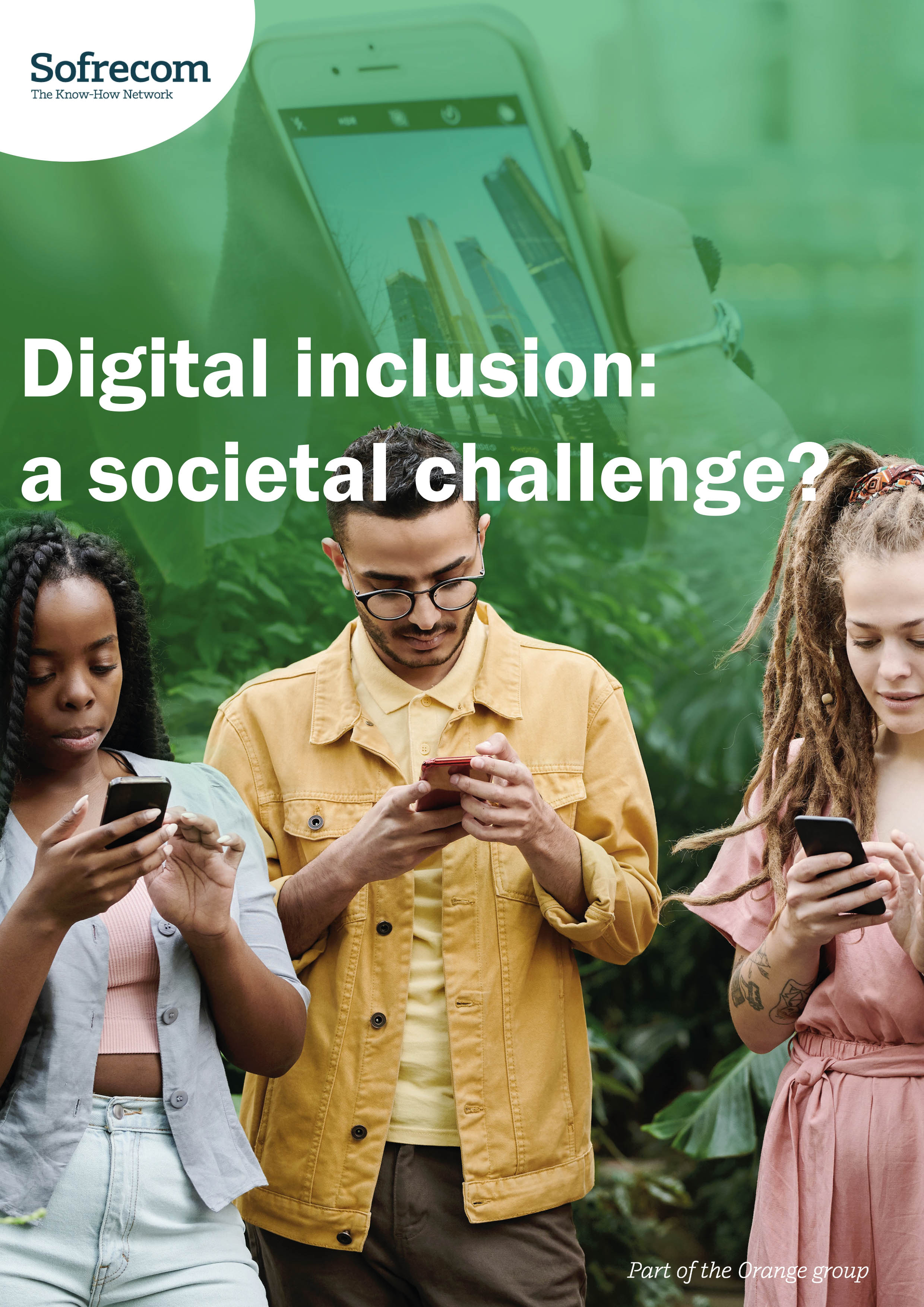 Credit: www.sofrecom.com
The Digital Divide And Its Implications
Digital inclusion presents numerous challenges in bridging the digital divide. Access to technology, internet connectivity, and digital literacy are key barriers that hinder equal participation in the digital world. Overcoming these challenges is vital to ensure that everyone has the opportunity to benefit from the advantages and opportunities provided by the digital age.
In today's digital age, where technology has become an integral part of our lives, it is crucial to address the challenges of digital inclusion. One of the key issues in this domain is the digital divide, which refers to the gap between those who have access to and can effectively use technology, and those who do not.
This divide has far-reaching implications for society and individuals, highlighting the urgent need to bridge this gap for equal opportunities.
Definition And Explanation Of The Digital Divide:
Limited access to technology: Many individuals, especially those in marginalized communities or rural areas, lack access to reliable internet connections and have limited ownership of smartphones or computers.
Technological literacy: Even if individuals have access to technology, they may lack the necessary skills and knowledge to navigate the digital landscape effectively.
Affordability: Cost barriers can hinder access to technology, as devices and internet packages may be too expensive for some individuals or families to afford.
class="wp-block-heading">Impact Of The Digital Divide On Society And Individuals:
Education: The digital divide can exacerbate educational disparities, as students without access to technology may struggle to keep up with online learning platforms and miss out on valuable educational resources.
Employment opportunities: Limited digital skills and access to technology can restrict individuals from accessing job opportunities and participating in the digital job market, leading to economic disadvantages.
Social and political participation: With more activities moving online, those on the wrong side of the digital divide may face difficulties in engaging in their communities, accessing government services, or participating in political processes, leading to an exclusion from important societal realms.
The Importance Of Bridging The Digital Divide For Equal Opportunities:
Education equality: Bridging the digital divide ensures that all students have access to online educational resources and tools, creating a level playing field for learning.
Economic empowerment: Equal access to technology and digital skills training can unlock economic opportunities, enabling individuals to pursue and succeed in a wide range of careers.
Social inclusion: By bridging the digital divide, we can ensure that everyone has the ability to connect, communicate, and participate in social and civic activities, reducing social isolation and promoting community engagement.
Bridging the digital divide is essential for creating a more inclusive and equitable society. By addressing the challenges of digital inclusion and working towards equal opportunities for all, we can pave the way for a brighter future, where technology serves as a tool for empowerment rather than a barrier to progress.
Accessibility And Usability Barriers
Digital inclusion faces challenges in accessibility and usability barriers. Overcoming these obstacles is crucial for ensuring equal access to technology and online resources for all individuals.
Digital inclusion is the goal of ensuring that everyone has equal access to and can benefit from the opportunities provided by technology. However, there are several challenges that hinder this goal. Accessibility and usability barriers encompass various factors that limit individuals from fully participating in the digital world.
Let's explore some of these challenges:
Physical Barriers To Digital Access
Lack of infrastructure: Insufficient or non-existent internet connectivity and limited access to technological resources can prevent individuals from accessing digital information and services.
Geographical limitations: People in remote or rural areas may face difficulties in accessing the internet due to a lack of network coverage or limited availability of physical infrastructure.
Technological Barriers
Outdated devices: People using old or incompatible devices may encounter difficulties in accessing websites or using certain applications that require more advanced technology.
Slow internet: Limited internet bandwidth or slow internet speeds can lead to frustrating user experiences, particularly when attempting to engage with multimedia content or conduct real-time interactions.
Cognitive And Literacy Barriers
Digital skills gap: Many individuals lack the necessary digital skills and knowledge to navigate technology effectively. This includes tasks such as using search engines, understanding online security, or utilizing online tools and applications.
Limited literacy levels: Difficulty in reading, understanding, or comprehending digital content can be a major obstacle, particularly for individuals with low literacy skills or non-native speakers of the language used online.
Addressing accessibility and usability for diverse populations:
Designing inclusive interfaces: Websites and applications should be designed with accessibility in mind, considering factors such as screen reader compatibility, color contrast, keyboard navigation, and alternative text for images.
Providing assistive technologies: Offering assistive technologies like screen readers, captioning, and specialized hardware can enhance the user experience for individuals with sensory impairments or disabilities.
Promoting digital skills training: Investing in digital literacy programs and training initiatives can empower individuals with the skills needed to effectively navigate the online world.
Multi-language support: Ensuring that digital content is available in multiple languages can expand access to diverse populations, including non-native speakers and individuals from different linguistic backgrounds.
Digital inclusion faces accessibility and usability barriers that span physical, technological, cognitive, and literacy aspects. However, by addressing these challenges and implementing inclusive solutions, we can foster a more inclusive digital environment where everyone can benefit and participate fully.
Social And Economic Factors
Digital inclusion presents challenges in terms of social and economic factors that hinder access and adoption of technology. These obstacles include affordability, accessibility, and digital skills gaps, which must be addressed to ensure equal opportunities for all.
With digital technologies becoming increasingly prevalent in our lives, it is crucial to address the challenges of digital inclusion. One of the key factors that influence digital inclusion is socioeconomic disparities. Access to the digital world is not evenly distributed across communities, and individuals from disadvantaged backgrounds often face barriers to digital inclusion.
Let's explore the social and economic factors that play a significant role in this context:
Socioeconomic Disparities And Their Influence On Digital Inclusion:
Limited access to technology: Individuals from low-income households may struggle to afford internet connectivity, computers, or smartphones.
Affordability of internet services: High subscription costs and limited availability of affordable internet services make it challenging for economically disadvantaged individuals to access the digital realm.
Lack of digital skills: People from marginalized communities often have limited exposure to digital technologies, resulting in a knowledge gap in using digital tools effectively.
Language and literacy barriers: Digital content primarily caters to english speakers, making it difficult for non-english speakers to engage fully.
Internet infrastructure: Rural areas may lack adequate internet infrastructure, limiting connectivity options for people living in such communities.
The Role Of Education And Income Levels In Digital Access:
Education's impact on digital literacy: Higher levels of education are closely linked to better digital competency, as individuals with more education tend to have a stronger foundation in technology.
Income gaps and access: Higher income tends to correlate with better internet access, computers, and smartphones, widening the digital divide for low-income individuals.
Impact Of Digital Exclusion On Economic Opportunities And Employment:
Limited job prospects: Many job applications are submitted online, and digital exclusion can hinder individuals' ability to access and apply for available opportunities.
Skills mismatch: Rapid technological advancements mean that digital skills are becoming increasingly necessary in the workforce. Digital exclusion limits individuals from gaining the skills needed for in-demand jobs.
Economic inequality: The digital divide exacerbates existing economic inequalities, as those who lack digital access and skills may struggle to compete in the job market or start and grow businesses.
Strategies For Promoting Digital Inclusion In Disadvantaged Communities:
Affordable broadband options: Government and private sector initiatives can focus on providing affordable internet connectivity options to low-income communities.
Digital literacy programs: Community-based initiatives, educational institutions, and non-profit organizations can offer training programs to enhance digital skills and bridge the knowledge gap.
Access to technology: Efforts should be made to ensure that individuals from disadvantaged backgrounds have access to computers, smartphones, and other necessary hardware.
Multilingual digital content: Creating and promoting digital content in multiple languages can help overcome language barriers and cater to a broader audience.
Collaboration and partnerships: Collaboration between government, non-profit organizations, and private entities is crucial to address digital inclusion challenges collectively.
These are just a few of the social and economic factors associated with digital inclusion and the challenges faced by disadvantaged communities. By understanding these issues and implementing targeted strategies, we can work towards creating a more inclusive digital environment for everyone.
class="wp-block-heading">Privacy And Security Concerns
Privacy and security concerns pose significant challenges in achieving digital inclusion. These issues undermine trust in online platforms, hinder data sharing, and limit accessibility for marginalized communities, thereby impeding the goal of inclusivity in the digital age.
Risks And Challenges Related To Online Privacy
Online privacy is a critical concern when it comes to digital inclusion. Individuals, especially those from marginalized communities, face several risks and challenges in maintaining their privacy online. Here are some key points to understand:
Data breaches and identity theft: Malicious actors are constantly seeking to exploit vulnerabilities and gain unauthorized access to sensitive information. This puts individuals at risk of having their personal data exposed, leading to identity theft and potential financial loss.
Lack of control over personal information: Users often provide personal information while accessing online services or platforms. However, they may not have full control over how this information is used, shared, or stored by service providers.
Invasive surveillance and tracking: Online activities can be closely monitored and tracked, violating individuals' privacy and creating a sense of constant surveillance. This is particularly concerning for marginalized groups already facing discrimination or social stigmatization.
Phishing and online scams: Cybercriminals use fraudulent methods, such as phishing emails or fake websites, to deceive users and extract sensitive information. This can result in financial loss, identity theft, or exposure to other online threats.
Exposure of personal information through social media: Many individuals share personal content on social media platforms without fully considering the potential risks. This can lead to unintended consequences, such as reputational damage or targeted advertising.
To minimize these risks and challenges, individuals and organizations must prioritize digital privacy and security. By implementing robust security measures and promoting awareness, we can foster trust and inclusivity in the digital world.
Digital Threats And Cybercrime Affecting Marginalized Groups
Digital inclusion is crucial for all members of society, but marginalized groups often face increased vulnerability to digital threats and cybercrime. Here are some important aspects to consider:
Targeted cyber attacks: Marginalized groups, such as lgbtq+ communities, ethnic minorities, or people with disabilities, may be specifically targeted by hate groups or individuals seeking to cause harm online. This can range from cyberbullying to more sophisticated cyber attacks.
Limited access to resources and education: Marginalized communities often lack access to resources and education that can help them navigate online threats effectively. This knowledge gap can leave them more susceptible to scams, misinformation, and other cyber threats.
Online harassment and discrimination: People from marginalized groups frequently experience online harassment and discrimination, which can have severe psychological, emotional, and even physical consequences. The anonymity of the internet can amplify the impact of such behaviors.
Bias in algorithms and technology: Algorithms and digital systems are not immune to bias. Marginalized communities can face discrimination due to biased algorithms, facial recognition technology, or other forms of digital surveillance, which further perpetuates inequality.
Addressing these challenges requires a multifaceted approach that includes improving digital literacy, implementing inclusive policies and regulations, and actively combating online harassment and cybercrime. By prioritizing the protection and empowerment of marginalized groups, we can create a more equitable and secure digital space for all.
Limited Digital Literacy And Skills
Digital inclusion faces challenges due to limited digital literacy and skills. This hinders individuals from fully participating in the digital world and accessing its benefits.
Importance Of Digital Literacy For Full Participation
In today's digital age, having digital literacy and skills is crucial for full participation in various aspects of life. Whether it's navigating the internet, using online services, or engaging with digital content, individuals need the necessary knowledge and abilities to make the most of what the digital world has to offer.
Let's explore the importance of digital literacy and the challenges faced by individuals lacking these skills:
Challenges Faced By Individuals Lacking Digital Skills
Without adequate digital literacy and skills, individuals may encounter various challenges when it comes to fully participating in the digital realm. These challenges include:
Limited access to information: Lacking digital skills can limit access to a vast amount of information available online. This can hinder individuals from staying informed, acquiring knowledge, and keeping up with current trends.
Communication barriers: Digital skills are essential for effective communication through platforms like email, social media, and video conferencing. Without these skills, individuals may struggle to connect with others, miss out on important opportunities, and find it challenging to engage in online communities.
Employment opportunities: In today's job market, digital literacy is highly valued by employers. Without these skills, individuals may struggle to find employment or miss out on job opportunities that require digital proficiency.
Financial exclusion: Many financial services and transactions are now conducted online. Individuals lacking digital skills may face difficulties in managing their finances, accessing online banking services, and utilizing digital payment methods.
Social exclusion: The digital world offers a plethora of social interactions, from connecting with friends and family on social media platforms to participating in online communities. Without digital skills, individuals may feel isolated and excluded from these digital social networks.
Promoting Digital Literacy Through Education And Training Programs
To bridge the gap in digital literacy, it is crucial to promote education and training programs that enhance digital skills. By providing opportunities to learn and develop these skills, individuals can overcome the challenges they face. Some initiatives to promote digital literacy include:
Integrating digital literacy courses: Digital literacy courses should be integrated into formal education systems to ensure that individuals develop the necessary skills from an early age.
Community centers and libraries: Establishing community centers and libraries as digital learning hubs can provide resources, training, and support to individuals seeking to improve their digital skills.
Non-profit organizations: Non-profit organizations can play a vital role in providing digital literacy training programs targeted at vulnerable and disadvantaged populations.
Public-private partnerships: Collaborations between public and private sectors can facilitate the development of comprehensive digital literacy programs, ensuring a wider reach and availability of resources.
By prioritizing the promotion of digital literacy through these initiatives, we can empower individuals to fully participate in the digital world and overcome the challenges posed by limited digital literacy and skills.
Inclusion Of Marginalized Communities
Marginalized communities face numerous challenges in achieving digital inclusion, including limited access to technology, lack of digital literacy skills, and systemic barriers. This hinders their ability to fully participate in the digital world and exacerbates existing inequalities.
Marginalized communities face numerous challenges when it comes to accessing and using digital technologies. This lack of inclusion can further perpetuate existing social inequalities and exacerbate the digital divide. However, there are strategies that can be implemented to ensure the representation and inclusivity of marginalized communities online.
Let's explore these challenges and strategies further:
Barriers Faced By Minority Groups In Accessing And Using Digital Technologies
Lack of digital infrastructure: Many marginalized communities lack access to reliable internet connections, computers, and other digital devices.
Affordability: The cost of digital technology can be prohibitive for individuals living in poverty or low-income communities.
Limited digital literacy: Some minority groups may have limited knowledge or skills when it comes to effectively using digital technologies. This can impede their ability to fully participate in the digital world.
Language and cultural barriers: Content and interfaces that are not available in their native language or relevant to their cultural context can create barriers for marginalized communities.
Intersectionality And The Digital Divide
Intersectionality in digital exclusion: The concept of intersectionality highlights the interconnection of different forms of social disadvantage. This means that individuals who belong to multiple marginalized groups may face compounded barriers when it comes to digital inclusion.
Gender-based digital divide: Women, especially those from marginalized communities, often face unique challenges in accessing and utilizing digital technologies due to gender-based inequalities.
Racial and ethnic disparities: Minority racial and ethnic groups may experience disparities in digital inclusion due to systemic racism and discrimination.
Strategies For Inclusivity And Representation Of Marginalized Communities Online
Increasing accessibility and digital infrastructure: Ensuring equal access to affordable and reliable internet services as well as providing access to digital devices can help bridge the digital divide.
Digital literacy programs: Implementing programs that provide training and support in digital literacy can empower marginalized communities to navigate and utilize digital technology effectively.
Culturally sensitive content: Creating online content that is inclusive of diverse cultures and languages can help marginalized communities feel represented and engaged.
Collaboration and partnerships: Collaborating with community organizations and stakeholders can aid in identifying and addressing the specific challenges faced by marginalized communities.
Empowering marginalized voices: Promoting platforms and initiatives that amplify the voices and perspectives of marginalized communities can help ensure their meaningful participation in the digital sphere.
By recognizing and addressing the barriers faced by marginalized communities, we can work towards a more inclusive digital landscape that benefits everyone.
Government And Policy Initiatives
Digital inclusion poses a range of challenges for government and policy initiatives. Ensuring affordable access, promoting digital literacy, bridging the digital divide, and addressing privacy and security concerns are key obstacles that need to be addressed.
Role Of Government In Promoting Digital Inclusion
Government plays a crucial role in promoting digital inclusion, ensuring that every individual and community has equal access to digital resources. Through various policy initiatives and funding, governments aim to bridge the digital divide and create a more inclusive digital society.
Here are some ways in which governments contribute to digital inclusion:
Regulating and incentivizing: Governments create regulations and incentives to encourage internet service providers (isps) to expand their coverage and offer affordable internet access to underserved areas.
Broadband infrastructure development: Governments invest in the development of broadband infrastructure, such as fiber-optic networks, to ensure high-speed internet access is available to all. This includes targeting rural and remote areas that may have limited connectivity.
Digital skills training and education: Governments facilitate digital skills training programs, partnering with community organizations, schools, and businesses to provide free or low-cost training on digital literacy, online safety, and using digital tools and technologies.
Public access to digital resources: Governments establish public libraries, community centers, and other public spaces equipped with computers and internet access, providing opportunities for individuals who lack access at home to utilize digital resources.
Affordable devices and connectivity: Governments work with technology providers and community organizations to facilitate programs that offer affordable devices, such as computers or tablets, and discounted internet plans to low-income households.
Digital inclusion awareness campaigns: Governments run public awareness campaigns to educate the general public about the benefits of digital inclusion, encourage individuals to adopt digital technologies, and promote the availability of resources and support.
Policy Initiatives And Funding To Bridge The Digital Divide
To bridge the digital divide, governments implement various policy initiatives and allocate funding to support digital inclusion efforts. Here are some key policy initiatives and funding mechanisms:
Universal service fund (usf): Governments establish usfs to collect fees from telecommunication providers and allocate funds to expand broadband access in underserved areas. These funds may be used to build infrastructure, subsidize connectivity costs for low-income households, or finance digital skills training programs.
Digital inclusion grants: Governments provide grants to community organizations, nonprofits, and educational institutions to develop and implement projects that promote digital inclusion. These grants might support initiatives such as establishing computer labs, delivering training programs, or creating digital literacy resources.
Digital infrastructure grants: Governments offer grants to isps and organizations to invest in the development or enhancement of digital infrastructure, particularly in regions with limited connectivity. These grants aim to incentivize private sector involvement and expand access to underserved areas.
Digital skills initiatives: Governments collaborate with educational institutions, industry associations, and training providers to create digital skills initiatives. These initiatives may involve developing curriculum, organizing training workshops, and offering certifications to improve digital literacy and skills among the population.
Public-private partnerships: Governments form partnerships with private sector entities, such as technology companies or internet service providers, to jointly invest in digital inclusion projects. These partnerships leverage the expertise, resources, and networks of both parties to accelerate progress in bridging the digital divide.
By implementing these policy initiatives and providing funding, governments aim to ensure that digital inclusion becomes a reality, enabling all individuals to participate in the increasingly digital world we live in.
Role Of Businesses And Nonprofits
Businesses and nonprofits face significant challenges when it comes to achieving digital inclusion, in terms of bridging the digital divide and ensuring equal access to technology and resources. This necessitates proactive measures to address issues such as affordability, digital literacy, and infrastructure gaps.
Corporate Responsibility In Advancing Digital Inclusion:
Many businesses are recognizing the role they play in advancing digital inclusion and are taking responsibility for bridging the digital divide.
Businesses are leveraging their resources, expertise, and influence to ensure that everyone has access to digital technology and the skills to use it effectively.
Corporate responsibility in advancing digital inclusion involves initiatives, policies, and actions aimed at promoting equitable access to technology and closing the digital gap.
By investing in digital inclusion efforts, businesses can not only contribute to societal well-being but also make a positive impact on their bottom line.
Partnerships Between Businesses And Nonprofits For Digital Inclusion:
Collaborations between businesses and nonprofits are crucial for addressing the challenges of digital inclusion.
By joining forces, businesses and nonprofits can leverage their respective strengths and resources to create impactful initiatives and programs.
These partnerships can help businesses gain insights into the needs of underserved communities and develop tailored solutions for bridging the digital divide.
Nonprofits bring important community connections and specialized expertise, while businesses provide financial resources, technology, and strategic support.
Best Practices In Corporate Social Responsibility For Digital Access:
Foster strategic collaborations: Identify and establish partnerships with nonprofits, government agencies, and community organizations to combine efforts and resources for maximum impact.
Empower employees as digital ambassadors: Encourage employees to volunteer their time and skills to support digital inclusion initiatives and serve as mentors and trainers.
Invest in digital infrastructure: Allocate resources to provide affordable internet access, devices, and software to underserved communities.
Support digital literacy and skills training: Develop and implement programs that equip individuals with the necessary skills and knowledge to thrive in the digital world.
Measure and evaluate impact: Regularly assess the effectiveness of digital inclusion initiatives, collect data on outcomes, and make informed adjustments to maximize results.
Advocate for policy changes: Engage in advocacy efforts to influence policymakers to prioritize digital inclusion, promote regulatory changes, and allocate funding for bridging the digital divide.
Remember, digital inclusion is not just a responsibility shared between businesses and nonprofits but also involves collaboration with governments, educational institutions, and individuals. By working together, we can overcome the challenges of digital inclusion and create a more inclusive and equitable digital society.
Global Perspectives On Digital Inclusion
Digital inclusion presents a multitude of challenges in today's global perspective. From limited access and affordability to skills and literacy gaps, addressing these obstacles is crucial for achieving a more inclusive digital society.
Challenges Faced By Developing Countries In Achieving Digital Inclusion:
Limited infrastructure: Developing countries often lack the necessary infrastructure, such as stable internet connections and electricity, which hinders access to digital devices and online platforms.
Affordability: High costs associated with digital technologies, including internet access, devices, and software, pose a significant challenge for individuals and communities with limited financial resources.
Lack of digital literacy: Many individuals in developing countries have limited knowledge and skills to use digital technologies effectively, preventing them from fully benefiting from online resources and services.
Language barriers: The predominance of english content online creates barriers for individuals in non-english-speaking countries, limiting their access to information and opportunities.
Socio-economic disparity: The digital divide is often exacerbated by existing social and economic inequalities, as marginalized groups may face additional barriers in accessing and utilizing digital technologies.
International Efforts And Collaborations For Global Digital Inclusion:
United nations sustainable development goals: The un has recognized the importance of digital inclusion and aims to promote universal internet access as part of its development agenda.
Public-private partnerships: Collaborations between governments, ngos, and private companies have helped bridge the digital divide by providing resources, funding, and expertise to support digital inclusion initiatives.
Connectivity initiatives: Various projects, such as the world bank's global infrastructure facility and google's project loon, aim to extend internet connectivity to remote and underserved areas.
Digital skills training programs: International organizations and governments have launched initiatives to enhance digital literacy skills, providing training and resources to empower individuals in utilizing digital technologies effectively.
Sharing best practices: Knowledge sharing platforms and forums facilitate the exchange of successful strategies and lessons learned in promoting digital inclusion globally.
Importance Of Cultural And Language Diversity In Digital Inclusion Efforts:
Tailored content and services: Recognizing cultural and linguistic diversity is essential in creating inclusive digital environments. Customizing content, interfaces, and services to local languages and cultural contexts ensures greater accessibility and engagement.
Overcoming language barriers: Translating and localizing online content can enable individuals with limited english proficiency to access information, education, and employment opportunities, promoting socio-economic development.
Cultural relevance: Incorporating cultural perspectives in digital inclusion efforts helps address specific needs and preferences of diverse communities, fostering inclusivity and promoting equitable access to digital resources.
Empowering indigenous communities: Digital inclusion initiatives should consider the unique circumstances and challenges faced by indigenous communities, preserving and promoting their cultural heritage and knowledge through digital platforms.
Collaboration and participation: Encouraging diverse voices to actively contribute to the design and implementation of digital inclusion initiatives ensures that solutions are contextually relevant and inclusive.
By addressing the challenges faced by developing countries, fostering international collaborations, and embracing cultural and language diversity, we can work towards narrowing the digital divide and achieving global digital inclusion.
Future Trends And Innovations
Digital inclusion presents a series of challenges in the future trends and innovations of technology. Ensuring equal access and bridging the digital divide are crucial tasks that need to be addressed for a more inclusive and connected world.
Digital inclusion has become an increasingly important topic in today's connected world. As technology advances, it is vital to ensure that everyone, regardless of their background or location, has equal access to the digital world. While progress has been made, there are still many challenges to overcome.
In this section, we will explore some future trends and innovations in digital inclusion, focusing on emerging technologies, innovations in digital access for remote and underserved areas, and anticipated challenges and opportunities.
Emerging Technologies And Their Potential Impact On Digital Inclusion:
Artificial intelligence (ai) and machine learning: These technologies have the potential to make digital services more accessible by providing customized assistance to users with different abilities and needs.
Virtual and augmented reality (vr/ar): Vr/ar can bridge the gap between physical and digital worlds, allowing individuals to participate in online activities that were previously inaccessible.
Internet of things (iot): Iot devices can enhance accessibility by connecting various devices, enabling seamless integration, and providing new ways for individuals with disabilities to interact with the digital world.
5g connectivity: Faster and more reliable internet connections through 5g can improve digital access in remote areas and underserved communities.
Innovations In Digital Access For Remote And Underserved Areas:
Low earth orbit (leo) satellite internet: Companies like spacex are working on launching a network of satellites that can provide high-speed internet access to even the most remote locations.
Wireless mesh networks: These networks allow communities to create their own internet connectivity by connecting devices directly to each other, bypassing the need for traditional infrastructure.
Offline digital content: Innovations in offline content storage and distribution can enable individuals without internet access to benefit from educational resources and other digital services.
Community-driven initiatives: Local organizations and governments are working on initiatives to provide affordable internet access and digital literacy programs in underserved areas.
Anticipated Challenges And Opportunities In The Future Of Digital Inclusion:
Privacy and security concerns: As the digital world expands, it is crucial to ensure that user data is protected and that individuals have control over their personal information.
Closing the digital skills gap: Despite increased digital access, there is still a significant gap in digital skills among different populations. Efforts are needed to provide training and education to empower individuals with the necessary skills for the digital age.
Affordability and accessibility: Making digital devices and internet services more affordable and accessible for all is essential in achieving digital inclusion.
Global collaboration: Building partnerships between governments, technology companies, and nonprofits is crucial for addressing the challenges of digital inclusion on a global scale.
As we navigate the future of digital inclusion, emerging technologies, innovations in digital access, and anticipated challenges offer opportunities for creating a more inclusive digital world. By embracing these trends and working collaboratively, we can bridge the digital divide and ensure that no one is left behind in the digital age.
Frequently Asked Questions
What Is Digital Inclusion And Why Is It Important?
Digital inclusion refers to ensuring that everyone, regardless of their background or ability, has equal access to and use of digital technologies. It is important because it promotes social and economic equality, empowers individuals, and enables participation in today's digital society.
What Are The Challenges Of Digital Inclusion?
The challenges of digital inclusion include limited access to technology and internet connectivity, lack of digital skills and literacy, affordability issues, and exclusion of certain marginalized groups. These challenges can hinder individuals from fully participating in the digital world and accessing its benefits.
How Does Digital Exclusion Impact Society?
Digital exclusion can exacerbate existing social inequalities, widening the gap between the digitally included and excluded. It limits access to education, employment opportunities, healthcare information, government services, and social connections. This can harm individuals and communities, hindering their potential for growth and development.
What Initiatives Are Being Taken To Promote Digital Inclusion?
Various initiatives are being taken to promote digital inclusion, such as providing affordable internet access, offering digital skills training and resources, fostering collaborations between governments, businesses, and nonprofits, and addressing barriers and biases that hinder inclusion. These efforts aim to bridge the digital divide and create a more inclusive digital society.
How Can Individuals Contribute To Digital Inclusion?
Individuals can contribute to digital inclusion by supporting initiatives that promote equal access and opportunities for all. This can include volunteering to teach digital skills, donating devices or funds to organizations working towards digital inclusion, advocating for policies that prioritize accessibility and affordability, and being mindful of digital exclusion when designing and sharing content.
Conclusion
Digital inclusion may bring numerous advantages, but it also presents a set of challenges that needs to be addressed. Firstly, the accessibility gap persists, limiting the opportunities available to individuals without internet access or digital skills. Bridging this gap requires efforts from both governments and organizations to provide affordable and reliable connectivity, as well as digital literacy programs.
Secondly, issues of privacy and security arise as more personal information is shared online. Educating individuals on privacy best practices and implementing robust security measures are crucial in fostering trust in the digital realm. Lastly, the rapid pace of technological advancements poses a challenge, as it can lead to a digital divide between those who can keep up and those who cannot.
Regular updates to digital infrastructure and ongoing training programs are necessary to ensure equal digital opportunities for all. Overcoming these challenges will require collaboration, innovation, and a commitment to digital equity. By inclusively addressing these hurdles, we can create a more equitable and connected digital world for everyone.