To convert leads into sales effectively, establish clear communication and build trust by understanding the needs of your prospects and offering tailored solutions. Today's business landscape is highly competitive, and conversion rates can make or break a company's success.
Generating leads is just the beginning; the real challenge lies in converting those leads into sales. The process of turning leads into customers requires a strategic approach that goes beyond making sales pitches. Instead, it involves building relationships, understanding customer pain points, and providing personalized solutions.
Through effective communication and nurturing, businesses can build trust, demonstrate value, and ultimately convert leads into loyal customers. We will explore proven strategies to maximize your lead conversion rates and drive business growth.
Understanding The Sales Funnel
Understanding the sales funnel is crucial to effectively converting leads into sales. By mapping out the customer journey and implementing targeted strategies at each stage, businesses can optimize their sales process and increase conversion rates.
How the sales funnel works in converting leads into sales:
The sales funnel is a visual representation of the customer journey from the moment they become aware of your product or service to the point of making a purchase. It is a crucial concept to understand in order to effectively convert leads into sales.
The sales funnel consists of various stages, each requiring a different approach to engage and nurture potential customers. By strategically guiding leads through the funnel, you can increase the chances of converting them into loyal customers.
Key stages of the sales funnel:
Awareness: At the top of the funnel, leads become aware of your brand, product, or service. They may have stumbled upon your website, social media posts, or heard about you through word-of-mouth. The goal during this stage is to capture their attention and generate interest.
Interest: Once leads are aware of your business, they move into the interest stage. They begin to actively seek more information about what you offer and start evaluating whether it aligns with their needs. This is an opportunity to showcase your unique selling propositions and provide valuable content that educates and convinces potential customers.
Decision: In the decision stage, leads are on the verge of becoming paying customers. They are comparing your offerings with your competitors and deciding whether or not to make a purchase. It is crucial to provide clear information, address any objections or concerns, and offer incentives to persuade leads to choose your product or service.
Action: The final stage of the sales funnel involves converting leads into sales. This is where potential customers make the decision to purchase from you. It is important to make the buying process as seamless as possible, offering various payment options, and providing excellent customer service. Follow-up actions such as thank-you emails or post-purchase offers can further enhance the customer experience and increase the likelihood of repeat business.
Importance of understanding the customer journey within the sales funnel:
Tailored Approach: By understanding the customer journey, you can create targeted strategies and messaging for each stage of the funnel. This allows you to address specific needs and pain points, ultimately increasing engagement and conversion rates.
Personalized Experience: A customer-centric approach is key in converting leads into sales. Understanding the customer journey enables you to deliver a personalized experience, making potential customers feel valued and understood. This can significantly enhance the chances of closing a sale.
Optimization Opportunities: Analyzing the customer journey within the sales funnel provides valuable insights into potential bottlenecks or areas that need improvement. By identifying these opportunities, you can optimize your sales process, remove hurdles, and enhance the overall customer experience.
Repeat Business and Advocacy: Understanding the customer journey doesn't end at the point of purchase. By nurturing relationships post-sale, you can turn customers into loyal advocates. Satisfied customers are more likely to provide positive reviews, refer others to your business, and become repeat buyers themselves.
Understanding the sales funnel and the customer journey within it is crucial for effectively converting leads into sales. By implementing strategies that align with each stage of the funnel, you can engage and nurture potential customers, ultimately increasing your conversion rates and building long-term relationships with your target audience.
Generating High-Quality Leads
Discover effective strategies to convert leads into sales with our high-quality lead generation techniques. Learn how to optimize your marketing efforts and attract potential customers who are more likely to make a purchase, ultimately boosting your sales revenue.
Effective Lead Generation Strategies For Acquiring Qualified Leads:
Offer relevant and valuable content: Create and share high-quality content that addresses the pain points and needs of your target audience. This can be in the form of blog posts, e-books, whitepapers, or video content. By providing valuable information, you can attract and engage potential leads.
Optimize your website for search engines: Implement SEO strategies such as keyword research, on-page optimization, and link building to improve your website's visibility in search engine results. This will help drive organic traffic to your site and generate leads who are actively searching for the products or services you offer.
Leverage social media platforms: Establish a strong presence on popular social media platforms like Facebook, Twitter, and LinkedIn. Share compelling content, interact with your audience, and run targeted ads to reach a wider audience. This can help you generate leads and build brand awareness.
Develop referral programs: Encourage your existing customers to refer your products or services to their networks by offering incentives such as discounts or rewards. Word-of-mouth referrals can be highly effective in generating high-quality leads.
Utilize email marketing: Build an email list of interested prospects and regularly send them targeted, personalized emails. Provide valuable content, share updates about your products or services, and include call-to-action buttons that drive recipients to take the next step in the buying process.
Techniques For Capturing Leads Through Various Channels:
Create compelling landing pages: Design landing pages that are specifically tailored to capture leads. Use persuasive copy, clear call-to-actions, and lead capture forms to gather contact information from your visitors.
Implement lead magnets: Offer valuable incentives, such as e-books, templates, or free trials, in exchange for visitors' contact information. This tactic can significantly increase lead conversion rates.
Run targeted PPC campaigns: Utilize pay-per-click advertising platforms like Google Ads or social media ads to target specific keywords or demographics relevant to your business. By directing traffic to optimized landing pages, you can capture leads effectively.
Use webinars or live events: Organize webinars or attend industry events to connect with your target audience directly. Gain their contact information by requiring registration or offering exclusive content during these events.
Optimizing Lead Generation Campaigns For Maximum Results:
Analyze and optimize conversion funnels: Track the performance of your lead generation campaigns using tools like Google Analytics. Identify areas of improvement in your conversion funnels and optimize them to maximize lead conversion rates.
A/B test landing pages and email campaigns: Test different variations of your landing pages and email campaigns to determine which ones perform best. Make data-driven decisions to optimize your lead generation efforts.
Continuously refine your target audience: Review and refine your buyer persona regularly based on the insights gained from your lead generation campaigns. By targeting the right audience, you can increase the chances of converting leads into sales effectively.
Nurture leads with personalized follow-ups: Implement lead nurturing strategies by sending personalized follow-up emails or retargeting ads. This helps keep your brand top-of-mind and builds trust with potential customers over time.
Monitor and optimize lead quality: Regularly review the quality of your leads and analyze their conversion rates. Refine your lead generation strategies to attract higher-quality leads, ultimately increasing sales effectiveness.
Remember, implementing effective lead generation strategies, capturing leads through various channels, and optimizing campaigns for maximum results are crucial steps in converting leads into sales effectively. By continually refining these processes, you can improve your sales pipeline and drive business growth.
Utilizing Seo For Lead Generation
Discover how to effectively convert leads into sales by leveraging the power of SEO for lead generation. Enhance your strategies and optimize your website's visibility to attract qualified leads and boost your conversion rates. Harness the potential of SEO to drive growth and achieve sales success.
Importance Of Seo In Driving Organic Traffic And Generating Leads:
SEO (Search Engine Optimization) plays a crucial role in driving organic traffic to a website and generating valuable leads. It ensures that your website appears in search engine results when potential customers search for relevant keywords or phrases. Here's why SEO is important for effective lead generation:
Enhanced visibility: By optimizing your website with SEO techniques, you increase its visibility in search engine rankings. This higher visibility leads to more organic traffic and exposure to potential leads.
Targeted traffic: SEO helps attract the right audience to your website. By optimizing your content with relevant keywords and phrases, you ensure that your website appears in front of individuals who are actively looking for the products or services you offer. This targeted traffic increases the chances of converting leads into sales.
Credibility and trust: Appearing in top search engine results boosts your website's credibility and trustworthiness. Internet users tend to trust websites displayed on the first page of search results. By implementing SEO strategies, you can establish your brand as an authority and gain the trust of potential leads.
Cost-effective lead generation: SEO is a cost-effective method for lead generation as it targets individuals actively searching for products or services. Compared to traditional advertising methods, SEO allows you to reach a larger audience at a lower cost, resulting in a higher return on investment (ROI).
Optimizing Website Content With Relevant Keywords To Attract Leads:
Keyword optimization is a fundamental aspect of SEO that helps attract leads to your website. By incorporating relevant keywords into your website content, you increase the chances of reaching potential customers. Here's why optimizing website content with keywords is essential for lead generation:
Understanding customer intent: Through keyword research, you gain insights into the terms and phrases potential customers use when searching for products or services. By aligning your content with these keywords, you can meet the intent of your target audience and provide them with valuable information.
Improved search engine rankings: By strategically including keywords in your website content, meta tags, headings, and URLs, you improve your chances of ranking higher in search engine results. Higher rankings result in greater visibility, ultimately attracting more leads.
Relevant and targeted content: Optimizing your content with keywords ensures that it is relevant to your target audience. By addressing their specific needs and concerns, you increase the likelihood of capturing their attention and encouraging them to become leads.
Long-tail keywords: In addition to primary keywords, incorporating long-tail keywords in your content helps attract leads with specific search queries. Long-tail keywords tend to have lower competition and higher conversion rates, making them valuable for lead generation.
Implementing On-Page And Off-Page Seo Tactics To Improve Lead Generation:
Effective lead generation through SEO requires the implementation of both on-page and off-page tactics. These strategies work together to optimize your website and attract relevant leads. Here's how you can leverage on-page and off-page SEO tactics for improved lead generation:
On-page SEO tactics:
Keyword optimization: Incorporate relevant keywords in your website content, meta tags, headings, and URLs.
Quality content: Create informative and engaging content that addresses the needs of your target audience.
User-friendly website: Ensure your website is easy to navigate, loads quickly, and provides a seamless user experience.
Internal linking: Link relevant pages within your website to improve navigation and enhance the user experience.
Meta descriptions: Write compelling meta descriptions that entice users to click on your website in search engine results.
Off-page SEO tactics:
Link building: Acquire high-quality backlinks from reputable websites to improve your website's authority and visibility.
Social media marketing: Utilize social media platforms to promote your content, engage with your audience, and attract leads.
Online directories: Submit your website to relevant online directories to increase your online presence and attract leads.
Influencer collaborations: Collaborate with influencers or industry experts to leverage their audience and gain exposure to potential leads.
Nurturing Leads For Conversion
Discover effective techniques for converting leads into sales and nurturing potential customers throughout their journey. With strategic lead nurturing strategies, you can optimize conversions by engaging and guiding leads towards making a purchase.
Building Relationships With Leads Through Effective Communication
Building strong relationships with your leads is crucial in converting them into loyal customers. Effective communication plays a vital role in nurturing leads and guiding them through their buyer's journey. Here are some key strategies to implement:
Listen actively: Take the time to understand your leads' pain points, challenges, and goals. Actively listen to their needs and concerns to build trust and establish a solid foundation for communication.
Respond promptly: Prompt and timely responses show your leads that you value their time and are committed to their success. Whether it's answering queries, addressing concerns, or providing support, timely communication fosters trust and engagement.
Personalize your approach: Tailor your communication to the specific needs and preferences of your leads. Use their names, reference their interests or previous interactions, and offer personalized recommendations. By doing so, you demonstrate that you value them as individuals.
Be empathetic: Empathy is a powerful tool for building rapport with your leads. Put yourself in their shoes and understand the challenges they face. Show genuine concern and offer support to build a strong emotional connection.
Provide valuable content: Delivering valuable, informative content is an effective way to nurture leads. Share relevant blog posts, eBooks, case studies, or industry reports to position yourself as a trusted authority and keep leads engaged throughout their buyer's journey.
Leveraging Email Marketing And Automation To Nurture Leads
Email marketing remains a highly effective channel for nurturing leads and turning them into customers. It allows you to automate communication while maintaining a personal touch. Here's how you can leverage email marketing and automation effectively:
Create targeted email campaigns: Segment your leads based on their interests, behaviors, or demographics. Customizing your message to each segment ensures that your emails are relevant and resonate with your leads, increasing the chances of conversion.
Craft compelling subject lines: A catchy subject line is crucial in grabbing your leads' attention and encouraging them to open your email. Use persuasive language, ask intriguing questions, or offer exclusive incentives to entice your leads.
Provide valuable content in emails: Just like with other communication channels, the content you deliver via email should be valuable and engaging. Share industry insights, tips, or exclusive offers that align with your leads' interests and needs.
Use automation wisely: Set up automated emails triggered by specific actions, such as a lead downloading an eBook or signing up for a webinar. Automating certain processes saves time and ensures consistent communication to nurture leads at various stages of their journey.
Track metrics and optimize: Monitor open rates, click-through rates, and conversion rates to gauge the effectiveness of your email campaigns. Analyze the data and make necessary optimizations to improve your email marketing strategies.
Segmenting Leads And Tailoring Content To Their Specific Needs And Interests
Segmenting your leads based on their specific needs and interests allows you to deliver highly targeted content that resonates with them. Personalization enhances engagement and conversion rates. Here's how you can effectively segment leads and tailor content:
Gather relevant data: Collect pertinent information about your leads, including demographics, purchase history, browsing behavior, and engagement patterns. This data will provide valuable insights for effective segmentation.
Identify key segments: Analyze the collected data to identify common characteristics or patterns among your leads. Segment them into groups based on their shared interests, preferences, or needs.
Create targeted content: Develop content that addresses the specific pain points, challenges, and interests of each segment. Tailor your messages, visuals, and offers to resonate with their individual needs, increasing the chances of conversion.
Personalize landing pages and call-to-actions: Customize landing pages and call-to-action buttons to align with the interests of each segment. A personalized experience increases engagement and encourages leads to take the desired actions.
Track and analyze results: Measure the effectiveness of your segmented content by tracking metrics such as click-through rates, conversion rates, and engagement levels. Use the data to refine your segmentation strategies and improve your conversion rates.
By building relationships through effective communication, leveraging email marketing and automation, and segmenting leads for personalized content, you can effectively nurture leads and increase the likelihood of converting them into loyal customers. Start implementing these strategies today and watch your sales soar.
Personalized Content Strategies
Transform your leads into sales effectively with personalized content strategies that engage and convert. Craft tailored messages, target specific pain points, and create compelling calls-to-action to maximize your sales potential. Don't miss out on the opportunity to connect with your audience and drive conversions.
Creating Targeted And Personalized Content To Engage And Convert Leads:
Understand your target audience: Conduct thorough research to identify your target audience's preferences, pain points, and motivations. This will help you create content that resonates with their needs and interests.
Segment your leads: Categorize your leads based on demographics, behavior, and other relevant factors. This segmentation will allow you to personalize your content more effectively.
Craft compelling headlines: Grab your leads' attention with catchy and intriguing headlines that clearly communicate the value they can gain from your content.
Write audience-focused content: Tailor your content to address your leads' specific pain points, challenges, or aspirations. Use language and tone that resonate with them.
Personalize call-to-actions (CTAs): Customize CTAs based on each lead's stage in the buying journey, preferences, and past interactions. This will increase the likelihood of them taking the desired action.
Utilize buyer personas: Develop detailed buyer personas representing different segments of your target audience. By understanding their motivations, challenges, and preferences, you can create content that speaks directly to them.
Utilizing Customer Data To Deliver Relevant Messages And Offers:
Collect and analyze customer data: Gather data from various sources, such as website analytics, CRM systems, and surveys, to gain insights into your customers' preferences, behavior patterns, and purchase history.
Customize content based on data insights: Leverage the data you have collected to deliver personalized messages and offers that align with each customer's interests, preferences, or past interactions.
Implement marketing automation tools: Utilize marketing automation platforms to create dynamic workflows that send targeted messages, offers, or recommendations based on customer actions or behavioral triggers.
Continuously optimize your approach: Regularly review and update your customer data to ensure relevance. This ongoing analysis will help you refine your messaging and offers over time, increasing your chances of converting leads into sales.
Implementing Dynamic Content To Enhance The User Experience:
Use dynamic content blocks: Employ dynamic content blocks on your website or email campaigns to display personalized content based on individual customer preferences or behavioral data.
Adapt content based on device and location: Optimize your content to cater to different devices and adapt it based on the user's location for a more personalized experience.
Test and optimize user journeys: Monitor user behavior and conduct A/B testing to optimize the user journey. This will help you uncover opportunities to provide more targeted and relevant content at each touchpoint.
Incorporate interactive elements: Including interactive elements like quizzes, calculators, or polls in your content can increase engagement and provide personalized experiences.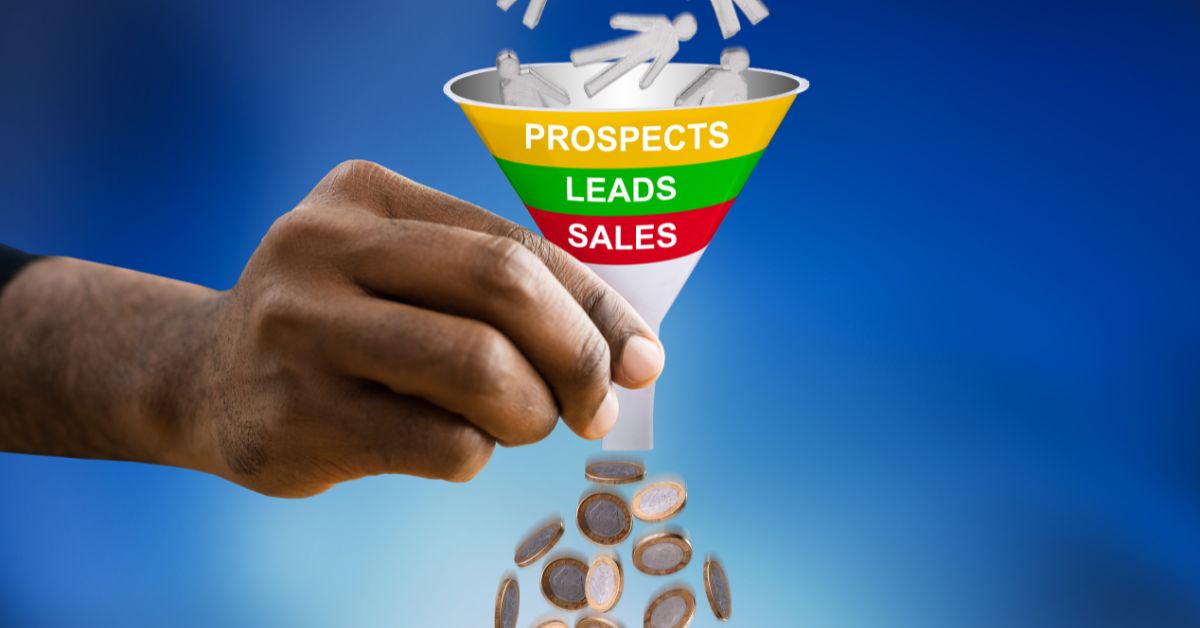 Credit: getjoys.net
Effective Lead Scoring And Qualification
Effective lead scoring and qualification are essential for converting leads into sales more effectively. By carefully evaluating and prioritizing leads based on their potential interest and likelihood of conversion, businesses can focus their efforts on the most promising leads, improving their chances of closing the deal.
Developing A Lead Scoring System To Prioritize High-Quality Leads
Definition: Lead scoring is a method used by businesses to assess the value and potential of leads, and to prioritize them based on their likelihood to convert into a sale. Implementing a lead scoring system enables businesses to focus their time and resources on leads that are most likely to result in a successful sale.
Identification of Key Lead Attributes: A successful lead scoring system relies on identifying the key attributes that indicate a high-quality lead. These attributes could include demographic information, engagement level, buying signals, or past interactions with your company.
Assigning Point Values: Each attribute is assigned a point value based on its importance in predicting lead quality. More significant attributes receive higher point values to reflect their higher impact on the lead's potential to convert.
Scoring Methodology: Once the attributes and their corresponding point values are determined, a scoring methodology is established. This methodology assigns and aggregates the points based on the presence or absence of each attribute in a lead's profile.
Defining Lead Categories: The lead scoring system categorizes leads into different segments based on their scores. For example, leads with high scores may be labeled as "hot" and prioritized for immediate follow-up, while leads with lower scores may be categorized as "warm" or "cold" for further nurturing or qualification.
Continuous Refinement: A lead scoring system is not set in stone. It requires continual monitoring and refinement based on feedback and performance analysis. Regularly reviewing and adjusting the scoring criteria ensures the system remains effective in identifying high-quality leads.
Using Lead Qualification Techniques To Identify Ready-To-Buy Leads
Determining Buying Intent: Lead qualification involves assessing the readiness of a lead to make a purchase. This requires identifying buying intent signals exhibited by the lead, such as explicit requests for information, specific product inquiries, or urgency in their communication.
Establishing Budget and Authority: Qualifying leads means determining if they have the financial resources and decision-making authority to move forward with a purchase. Engaging in conversations that explore their budget range and the decision-making process helps filter out leads who may not be ready to buy.
Evaluating Fit and Need: Understanding how well your product or service aligns with the lead's needs is crucial in lead qualification. By asking targeted questions and actively listening to their pain points, you can assess if your offering is a suitable solution, increasing the chances of conversion.
Addressing Potential Objections: Qualified leads might have concerns, objections, or hesitations that need addressing before they will proceed with a purchase. By providing relevant information, addressing objections, and offering personalized solutions, you can overcome these obstacles and gain their trust and commitment.
Incorporating Automation Tools To Streamline Lead Scoring And Qualification Process
Automated Lead Scoring: Utilizing automation tools to score leads can significantly improve efficiency. By setting up predefined rules and algorithms, these tools can instantly score and categorize leads based on their attributes, sparing you manual effort and ensuring consistency.
Lead Qualification Workflows: Automation tools can be integrated into lead qualification workflows, streamlining the process and ensuring that leads are automatically progressed through various stages. Customizable workflows allow you to define specific actions, such as sending targeted content or assigning follow-up tasks based on lead qualification results.
Integration with CRM Systems: Connecting automation tools with CRM systems provides a seamless flow of lead information, enabling you to access comprehensive lead profiles, track interactions, and update lead scores in real-time. This integration improves collaboration between marketing and sales teams.
Personalized Communication: Automation tools can facilitate personalized communication with leads by leveraging data and behavioral insights. By triggering automated email sequences or personalized content based on lead attributes and actions, you can nurture leads more effectively and increase the chances of conversion.
Performance Tracking and Analysis: Automated lead scoring and qualification tools often come with built-in analytics and reporting features. These provide valuable insights into the effectiveness of your lead management strategies, allowing you to identify areas for improvement and refine your approach.
Incorporating effective lead scoring and qualification techniques, along with automation tools, can significantly enhance your lead conversion process. By prioritizing high-quality leads, identifying ready-to-buy prospects, and streamlining the overall process, you can maximize your sales efforts and drive business growth.
Converting Leads Into Customers
Learn the best strategies to effectively convert leads into customers and increase your sales. Discover proven techniques, such as lead nurturing, personalized communication, and targeted follow-ups, to maximize your conversion potential.
Leveraging Persuasive Copywriting Techniques To Drive Conversions:
The power of persuasive copywriting should never be underestimated when it comes to converting leads into customers. By employing the right techniques, you can effectively engage your audience and inspire them to take action. Here are some key strategies to consider:
Utilize storytelling: Craft compelling narratives that resonate with your target audience and demonstrate how your product or service can solve their problems.
Highlight benefits: Focus on the unique benefits and value your product or service offers. Clearly communicate how it can improve the lives of your potential customers.
Create a sense of urgency: Encourage immediate action by emphasizing limited-time offers, exclusive deals, or any other time-sensitive incentives.
Incorporate social proof: Mention positive feedback, testimonials, or case studies to reinforce the credibility and trustworthiness of your brand.
Implement emotional triggers: Appeal to your audience's emotions by using language that sparks desire, excitement, or curiosity.
Address concerns and objections: Anticipate any potential reservations your leads may have and address them head-on. Show empathy and provide reassurance.
Use clear and concise language: Keep your messaging simple, direct, and easy to understand. Avoid jargon or technical terms that may confuse or alienate your audience.
Implementing Effective Call-To-Action Strategies To Encourage Action:
A well-crafted call-to-action (CTA) is crucial for converting leads into paying customers. To maximize conversions, consider the following tips:
Make it prominent: Place your CTA in a highly visible location on your website or landing page. Use contrasting colors and bold fonts to draw attention to it.
Use action-oriented language: Instead of generic phrases like "Click here," use strong verbs that inspire action, such as "Start your free trial now" or "Get instant access."
Provide a clear value proposition: Clearly communicate what your leads will gain by taking the desired action. Highlight benefits and rewards to motivate them.
Create a sense of urgency: Encourage immediate action by incorporating time-limited offers or limited availability of your product or service.
Use persuasive design elements: Graphics, arrows, and visual cues can guide your leads' attention towards the CTA button. Ensure it stands out within the layout.
Test and optimize: Conduct A/B tests to determine which CTAs perform best. Continually refine and improve based on data and user feedback.
Utilizing Social Proof And Customer Testimonials To Build Trust And Credibility:
Social proof is a powerful tool for building trust and credibility, as people tend to rely on the experiences and opinions of others. Here's how you can utilize social proof effectively:
Display customer testimonials: Share positive feedback, reviews, or testimonials from satisfied customers. Be specific and highlight tangible results whenever possible.
Showcase endorsements: If your product or service has received accolades or endorsements from industry experts or influencers, prominently display them on your website.
Leverage user-generated content: Encourage your customers to share their experiences through reviews, ratings, or social media posts. Curate and feature this content to showcase authenticity.
Highlight case studies: Demonstrate how your product or service has helped a customer overcome challenges or achieve success. Provide concrete examples and measurable outcomes.
Display trust icons and certifications: Use recognized trust symbols, security badges, or certifications to instill confidence in your leads regarding data privacy and secure transactions.
Show social media engagement: Display high numbers of followers, likes, shares, or comments on your social media platforms. This demonstrates an engaged and active community.
By implementing these techniques, you can enhance your lead conversion strategies and increase your chances of turning potential customers into loyal buyers. Remember to continuously analyze data, experiment, and refine your approach to achieve optimal results.
Analyzing And Optimizing Conversion Rates
Learn how to effectively convert leads into sales by analyzing and optimizing your conversion rates. Discover the strategies and techniques that can help you maximize your conversion potential and boost your business's success.
When it comes to converting leads into sales effectively, analyzing and optimizing conversion rates is a crucial step. By tracking and measuring conversion rates, you can identify areas for improvement and take necessary actions to enhance your sales performance. Here are some strategies to help you optimize your conversion rates:
Tracking And Measuring Conversion Rates To Identify Areas For Improvement
Regularly track your conversion rates across different marketing channels to identify which sources are bringing in the most leads and conversions.
Use analytics tools to measure important metrics like conversion rates, bounce rates, and average time on page.
Analyze the different stages of your sales funnel to identify drop-off points and potential areas for improvement.
Split your leads into different segments based on demographics, behaviors, or sources to gain deeper insights into their conversion patterns.
A/B Testing And Optimizing Landing Pages For Higher Conversions
Perform A/B testing on your landing pages by creating different versions with varying elements such as headlines, visuals, button placements, and calls-to-action.
Monitor the performance of each variation by tracking conversion rates, click-through rates, and bounce rates.
Optimize your landing pages by making data-driven decisions based on the results of your A/B tests.
Continuously iterate and improve your landing pages to maximize conversions.
Utilizing Analytics Tools To Gain Insights And Make Data-Driven Decisions
Utilize analytics tools such as Google Analytics to collect and analyze data on your website's traffic, user behavior, and conversion rates.
Identify trends and patterns from the data to gain insights into your customers' preferences and behaviors.
Make data-driven decisions based on the insights gained, rather than relying solely on guesswork or assumptions.
Use the data to identify any potential roadblocks or areas of improvement in your sales funnel and take immediate actions to address them.
Remember, analyzing and optimizing conversion rates is an ongoing process. By continually monitoring and optimizing your strategies, you can effectively convert more leads into sales and drive the growth of your business. So, leverage the power of data and make informed decisions to enhance your conversion rates.
Frequently Asked Questions For How To Convert Leads Into Sales Effectively?
What Is A Successful Strategy You Used To Convert Leads Into Customers?
A successful strategy I use to convert leads into customers is by creating personalized email campaigns to engage with potential customers and offer exclusive promotions.
What Is The Conversion Rate Of Leads To Sales?
The conversion rate of leads to sales refers to the percentage of leads that result in a purchase.
How Can I Effectively Convert Leads Into Sales?
To effectively convert leads into sales, you can optimize your sales funnel by providing valuable content, nurturing leads through email marketing, using persuasive call-to-actions, and personalizing your approach based on the lead's needs and preferences. By building trust and addressing pain points, you can increase your chances of closing the sales successfully.
What Are The Key Steps In Converting Leads Into Sales?
The key steps in converting leads into sales include identifying and qualifying leads, nurturing them through targeted marketing campaigns, engaging with personalized content, addressing objections, and providing a smooth and streamlined purchasing process. By consistently following these steps, you can improve your conversion rate and boost your sales.
Conclusion
As we wrap up this discussion on how to convert leads into sales effectively, it is evident that a strategic and customer-oriented approach is key. By understanding your target audience, harnessing the power of data, personalizing your messaging, and building relationships, you can convert leads into loyal customers.
Remember to keep your website and landing pages optimized for search engines, provide valuable content, and leverage social media platforms. Utilize various conversion tactics such as compelling calls-to-action, effective lead nurturing, and thoughtful follow-ups. Always monitor and analyze your sales funnel to identify areas of improvement and implement necessary changes.
By implementing these strategies, you can cultivate a thriving business and achieve desirable sales results. So, incorporate these tips into your marketing strategy, and watch your leads transform into loyal customers who keep coming back for more.