The Internet is a valuable tool for communication, education, and entertainment, but it's important to use it safely and responsibly. Cyber safety is an ongoing effort, as the digital landscape continues to evolve with new technologies and threats. By staying informed and implementing best practices, you can significantly reduce the chances of falling victim to cybercrimes and ensure a safer online experience.
What is cyber safety?
Cyber safety, also known as online safety or internet safety, refers to the practice of protecting yourself, your information, and your digital devices from various online threats and risks. It encompasses a range of strategies and practices aimed at ensuring a secure and responsible online experience. Cyber safety involves understanding potential dangers, implementing protective measures, and making informed decisions while using the internet and digital technologies.
Key aspects of cyber safety include:
Protecting Personal Information: This involves being cautious about sharing personal details such as your full name, address, phone number, and financial information online. Cybercriminals often target such information for identity theft and fraud.
Using Strong and Unique Passwords: Creating strong and unique passwords for your online accounts helps prevent unauthorized access. Using a combination of letters, numbers, and special characters can enhance the security of your accounts.
Regularly Updating Software and Applications: Keeping your operating system, software, and apps up-to-date ensures that you have the latest security patches and fixes to protect against vulnerabilities.
Avoiding Suspicious Links and Emails: Be cautious of clicking on links or downloading attachments from unknown sources. Phishing emails and malicious links can lead to malware infections or attempts to steal your sensitive information.
Using Secure Wi-Fi Connections: When connecting to public Wi-Fi networks, use a virtual private network (VPN) to encrypt your internet traffic and protect your data from potential eavesdropping.
Practicing Safe Social Media Usage: Be mindful of the information you share on social media platforms, as it can be used by cybercriminals for various purposes. Adjust privacy settings to limit who can see your posts and information.
Educating Yourself and Others: Staying informed about the latest online threats and trends is crucial. Educate yourself and your family members about online safety practices to ensure a safer digital environment for everyone.
Securing Devices: Use security software, such as antivirus and anti-malware programs, to safeguard your devices against viruses, ransomware, and other malicious software.
Being Cautious with Online Transactions: Only use trusted and secure websites for online shopping and financial transactions. Look for the "https://" and padlock icon in the address bar to verify the website's security.
Teaching Children about Online Safety: Help children understand the potential risks of the internet and guide them in making responsible online choices. Set appropriate boundaries and supervise their online activities.
Top 10 Internet Safety Rules
The internet is a powerful tool, but it's important to use it safely and responsibly. Here are the top 10 internet safety rules to help protect yourself and your loved ones online:
1. Fortify with Unbreakable Passwords
Rule: Use strong and unique passwords for all your accounts.
Explanation: Your passwords are the first line of defense against unauthorized access. Avoid using easily guessable information like birthdays or names. Create complex passwords by combining uppercase and lowercase letters, numbers, and special characters. Utilize a password manager to generate and securely store your passwords, making it easier to maintain strong passwords for various accounts.
2. Double Up with Two-Factor Authentication (2FA)
Rule: Enable two-factor authentication (2FA) whenever it is available.
Explanation: 2FA adds an extra layer of security by requiring a second form of verification in addition to your password. This could be a code sent to your phone or email. Even if someone obtains your password, they won't be able to access your accounts without the secondary code. This greatly enhances the security of your online accounts.
3. Stay Current: Update Software and Devices
Rule: Keep your software and devices up to date.
Explanation: Cybercriminals often exploit vulnerabilities in outdated software to launch attacks. Regularly update your operating system, web browsers, and other software to the latest versions. Enable automatic updates whenever possible. Additionally, run scans on your computer or devices to detect and remove any malicious software that might have infiltrated your system.
4. Think Before You Click: Email and Links
Rule: Be cautious when opening emails and clicking links.
Explanation: Phishing attacks are a common tactic used by cybercriminals to trick users into revealing personal information. Avoid opening emails or clicking links from unknown senders. Be skeptical of urgent or threatening language, and never share personal information through email. Hover over links to preview the URL before clicking to ensure they lead to legitimate websites.
5. Guard Your Personal Information
Rule: Protect your personal information online.
Explanation: Be cautious about sharing personal details on the internet, as they can be exploited by malicious actors. Avoid oversharing on social media platforms and only provide sensitive information to trusted and verified sources. Be mindful of the information you share in online forums and communities. Safeguarding your personal information helps reduce the risk of identity theft and fraud.
6. Shop Smart: Secure Websites Only
Rule: Use secure websites when entering sensitive information online.
Explanation: When entering personal or financial information online, ensure the website is secure by looking for "https" in the URL and a padlock icon. These indicate encrypted connections, safeguarding your data from potential interception by cybercriminals. Stick to purchasing from websites with secure connections for safe online shopping.
7. Armor Your Devices: Security Software Essentials
Rule: Protect your devices with security software.
Explanation: Strengthen your devices' defenses by installing reliable antivirus and firewall software. These tools help guard against malware, viruses, and other cyber threats that could compromise your data and privacy.
8. Verify Before Sharing: Guard Personal Information
Rule: Never give out personal information online without verification.
Explanation: Prioritize caution when sharing personal information. Verify the identity of recipients before divulging sensitive data like your full name, address, phone number, email, birthdate, and social security number. Be prudent on social media and other websites, as well as when interacting with others online.
9. Wise Wi-Fi Use: Employ a VPNRule:
Use a virtual private network (VPN) when connected to public Wi-Fi.
Explanation: Shield your online activities from prying eyes by utilizing a VPN on public Wi-Fi networks. VPNs encrypt your connection, thwarting potential eavesdroppers. Be cautious on public networks, as they are vulnerable to hackers. Whenever possible, connect only to trusted networks when handling sensitive data.
10. Backup and Encrypt: Data Protection Strategy
Rule: Back up your important data. Encrypt sensitive data before sending.
Explanation: Safeguard your vital files by regularly backing them up. This practice ensures you're prepared in case of data loss due to cyber threats. Additionally, when sharing sensitive data electronically, encrypt it first. This is especially crucial for financial information like credit card numbers and banking details.
By adhering to these top internet safety rules, you'll pave the way for a secure and confident online journey, keeping your data and privacy intact.
Following these top 5 internet safety rules will empower you to navigate the online world with confidence and ensure a safer digital experience for you and your loved ones.
There is no one-size-fits-all answer to the question of what are 10 Cyber Safety Rules, as the rules will vary depending on individual circumstances. However, there are some general principles that can be followed in order to stay safe online. Here are more Cyber Safety Rules to help you stay safe online:
a ) Log out completely and close browser windows when finished using internet-connected devices.
b ) Monitor your activity regularly for any suspicious activity. Reviewing your credit card and bank statements, as well as periodic credit reports, can help you catch any unauthorized charges quickly. Following these cyber safety rules can help keep you safe while surfing the web!
c) Protect your mobile devices just as carefully as you would your desktop computer or laptop Mobile devices are just as vulnerable to attack as traditional computers, so take steps to protect them accordingly Install security software and keep it up -to -date Just like with traditional computers, mobile devices need comprehensive security software in order to be protected against viruses, spyware, Trojans, and other malicious code Lock down your device Most mobile devices have some form of built-in security features like pattern locks or PIN codes Use these features!
Internet Safety Rules for Students
Most students these days are Internet-savvy, which is both good and bad. On the one hand, they can easily access a wealth of information and resources. On the other hand, they are also more vulnerable to online predators and cyberbullies.

That's why it's important for parents and educators to teach kids about internet safety rules. Here are some basic rules that every student should follow:
1. Never give out personal information online without parental permission. This includes your name, address, phone number, email address, or social media username.
2. Be cautious about what you post online. Once something is posted, it's out there forever – even if you delete it later. Think twice before posting anything that could be embarrassing or hurtful to others.
3. Don't respond to mean comments or messages from bullies. It will only make the situation worse – and may even lead to real-life confrontations. Instead, save or print out any abusive messages as evidence and tell a trusted adult immediately so they can help you deal with the problem in a constructive way.
4 . Be aware of fake news stories and scams. Just because something is on the Internet doesn't mean it's true! Be skeptical of anything you see online, especially if it seems too good to be true ( like an offer for free stuff ). If you're not sure whether something is real or fake, ask a parent or teacher before clicking on any links.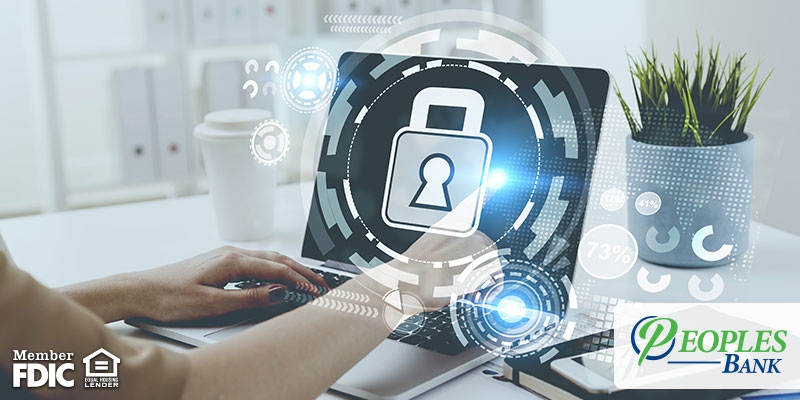 Credit: www.mypeoples.bank
What is the First Rule of Cyber Safety?
The first rule of cyber safety is to use strong and unique passwords for all of your online accounts. Using strong passwords is one of the most effective ways to protect your online accounts from being hacked or accessed by unauthorized users. A strong password is one that is difficult for others to guess or crack, and it should be different from the passwords you use for other accounts.
Here are some tips for creating strong and unique passwords:
Use a combination of letters, numbers, and special characters.
Use a passphrase instead of a single word. For example, "I l0ve t0 t@lk t0 my f@mily!" is stronger than "family".
Use a password manager to generate and store unique passwords for all of your accounts.
Enable two-factor authentication (2FA) on your accounts whenever possible. This adds an extra layer of security by requiring you to enter a code sent to your phone or email in addition to your password when logging in.
By following these tips and using strong and unique passwords, you can help protect your online accounts and keep your personal information safe.
Conclusion
There are ten cyber safety rules that everyone should follow in order to stay safe online. These rules include never sharing personal information, never meeting someone you met online in person, not clicking on links from strangers, and more. By following these simple rules, you can help keep yourself and your family safe from harm while enjoying the many benefits of the internet.