Digital signage improves bank branches by keeping visitors updated and engaged, creating interactional opportunities, providing personalized experiences, and improving employee communication. Additionally, it is an eco-friendly alternative to traditional paper-based advertising.
With digital signage, banks can market their services and display real-time information on a market wall. This technology improves customer satisfaction, increases sales, and enhances the overall banking experience. Digital signage improves bank branches in several ways. Firstly, it keeps visitors updated and engaged by providing real-time information and dynamic content.
This allows banks to display important announcements, promotions, and interest rates, ensuring customers are well-informed. Secondly, digital signage creates interactional opportunities by integrating touchscreens or QR codes, enabling customers to access additional information or complete transactions. Furthermore, personalized digital signage experiences can be created by tailoring content based on customer preferences and demographics. Additionally, digital signage improves employee experiences by facilitating internal communication and training programs. Lastly, digital signage is an eco-friendly solution that reduces the need for paper-based advertising, saving resources and reducing waste. Overall, digital signage enhances the customer experience, promotes sales, and demonstrates a bank's commitment to modern technology and sustainability.
Enhancing Customer Experience
Digital signage enhances customer experience in bank branches by providing real-time information, interactive opportunities, and personalized experiences. It improves employee communication and saves paper, while also acting as a marketing tool with up-to-date information. Overall, digital signage improves engagement and keeps visitors informed.
Digital signage has revolutionized the way banks interact with their customers. By leveraging the power of visual displays, interactive touchscreens, and real-time information updates, banks can significantly enhance the customer experience. Let's dive deeper into each of these aspects:
Engaging Visual Displays:
Digital signage creates eye-catching displays that immediately capture the attention of customers.
Utilizing high-resolution screens, banks can showcase promotional offers, financial education materials, or even live financial news.
The dynamic nature of digital signage allows for easy updates, ensuring that content remains fresh and relevant.
Interactive Touchscreens:
Interactive touchscreens enable customers to navigate through banking services and information at their own pace.
Customers can easily access account information, perform transactions, or explore banking products and services.
These touchscreens provide a more intuitive and personalized experience, promoting engagement and satisfaction.
Real-Time Information Updates:
Digital signage allows for real-time updates, ensuring that customers receive the latest information regarding interest rates, exchange rates, or market updates.
Banks can display personalized messages based on the customer's profile, promoting relevant products or services.
By delivering up-to-date information, banks create a sense of trust and transparency, enhancing the overall customer experience.
Digital signage has revolutionized the banking industry by enhancing the customer experience through engaging visual displays, interactive touchscreens, and real-time information updates. By leveraging these technologies, banks can create a more personalized and engaging environment, resulting in increased customer satisfaction and loyalty.
Increasing Operational Efficiency
Digital signage enhances operational efficiency in bank branches by providing real-time updates, interactive opportunities, personalized experiences, improved communication, eco-friendly solutions, and market walls with up-to-date information. This technology streamlines processes, engages visitors, and reduces the need for traditional paper-based methods, ultimately improving the overall efficiency of bank operations.
Streamlining Queue Management
Digital signage in bank branches can significantly improve operational efficiency by streamlining queue management processes. Here are some ways in which digital signage enhances queue management:
Dynamic Queue Information: Digital signage displays real-time information about queue status, enabling customers to have a clear understanding of their position in line and estimated wait times.
Ticketing Systems: Interactive kiosks equipped with digital signage allow customers to take a ticket and receive updates on their queue status, minimizing confusion and reducing customer frustration.
Service Notifications: Digital signage can notify customers when their turn is approaching or direct them to the designated service area, ensuring a smooth flow of customers and minimizing waiting times.
Advertising Opportunities: While customers are waiting in the queue, digital signage can display engaging and relevant advertisements, contributing to a more pleasant experience and potential cross-selling opportunities.
Digital Transaction Assistance
Digital signage plays a crucial role in supporting digital transactions within bank branches, enhancing the speed and convenience of banking services. Here's how it improves digital transaction assistance:
Self-Service Options: Digital signage provides step-by-step instructions for customers to perform various digital transactions, such as depositing checks, transferring funds, or making bill payments, empowering customers to complete transactions independently.
Real-Time Exchange Rates: By displaying real-time currency exchange rates, digital signage enables customers to make informed decisions when performing international transactions.
Contactless Payment Promotions: Digital signage can promote contactless payment options and educate customers on the benefits of using mobile wallets or contactless cards, facilitating faster and more secure transactions.
Employee Communication And Training
Digital signage is not just beneficial for customers; it also enhances internal communication and training for bank employees. Below are the advantages of digital signage for employee communication and training:
Important Announcements: Digital signage displays important announcements, updates, and news relevant to employees, ensuring they stay informed about the latest policies, procedures, and organizational changes.
Training Materials: By utilizing digital signage screens, banks can deliver training materials, videos, and interactive modules, making it easier for employees to access training resources and enhance their knowledge and skills.
Employee Recognition: Digital signage can be used to showcase employee achievements, recognize top performers, and boost motivation and morale within the bank branches.
Digital signage is a valuable tool that improves the operational efficiency of bank branches. Through streamlining queue management, assisting digital transactions, and enhancing employee communication and training, banks can provide better services, increase customer satisfaction, and optimize their overall operations.
Boosting Marketing And Branding Efforts
Digital signage greatly improves marketing and branding efforts in bank branches by keeping visitors updated and engaged, creating interactive opportunities, and providing personalized experiences. It enhances employee communication, saves paper, and allows for real-time market wall information.
With the rapid advancements in technology, digital signage has emerged as a powerful tool for enhancing various aspects of bank branches. One significant area where digital signage proves highly effective is boosting marketing and branding efforts. By combining captivating visuals, dynamic content, and targeted messaging, digital signage adds a new dimension to traditional marketing strategies.
Let's explore how digital signage improves bank branches in terms of promoting new products and services, cross-selling and upselling opportunities, and consistent brand messaging and image.
Promoting New Products And Services
Digital signage provides an engaging platform to highlight and promote new products and services offered by banks. It allows banks to display attractive visuals, compelling advertisements, and informational content about the latest offerings. Here's how digital signage aids in promoting new products and services:
Eye-catching displays: Digital signage screens can be strategically placed throughout the bank branch, grabbing customers' attention and piquing their curiosity about new offerings.
Dynamic content: With the flexibility of digital signage, banks can easily update and showcase new products or services in real-time, ensuring customers are always aware of the latest offerings.
Informative messages: Banks can create engaging content that educates customers about the benefits, features, and value proposition of new products and services, increasing their interest and likelihood of adoption.
Cross-Selling And Upselling Opportunities
Digital signage plays a crucial role in creating cross-selling and upselling opportunities within bank branches. By leveraging targeted messaging and intelligent content placement, banks can effectively promote additional products and services to their existing customers. Here's how digital signage enhances cross-selling and upselling opportunities:
Personalized recommendations: Digital signage can be integrated with customer data to deliver personalized recommendations based on an individual's banking history and preferences.
Contextual displays: By strategically placing digital signage screens near relevant banking services or areas, banks can capture customers' attention and promote complementary products or services.
Interactive experiences: Interactive digital signage allows customers to explore and learn about additional offerings, making the cross-selling and upselling process more engaging and effective.
Consistent Brand Messaging And Image
Maintaining a consistent brand messaging and image is crucial for banks to build trust, loyalty, and recognition among their customers. Digital signage facilitates the delivery of a cohesive brand experience throughout bank branches. Here's how digital signage ensures consistent brand messaging and image:
Unified visual identity: Digital signage enables banks to display consistent branding elements, such as logos, colors, and typography, across all screens, reinforcing brand recognition.
Tailored messaging: Banks can customize their digital signage content to align with their brand voice and values, ensuring a consistent tone and message throughout the branch.
Timely updates: With digital signage, banks can easily update and synchronize messaging across all branches, ensuring consistent communication of promotions, offers, and important information.
Digital signage is a game-changer when it comes to boosting marketing and branding efforts within bank branches. By promoting new products and services, creating cross-selling and upselling opportunities, and maintaining a consistent brand messaging and image, digital signage helps banks connect with their customers in a dynamic and engaging way.
Incorporating digital signage into banking strategies is a proactive approach that enhances the overall customer experience and drives business growth.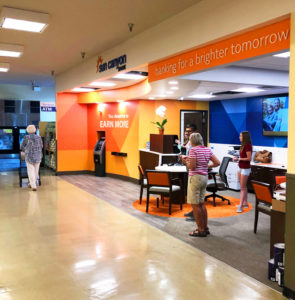 Credit: www.signshop.com
Frequently Asked Questions On How Digital Signage Improves Bank Branches?
What Are The Benefits Of Digital Signage In Banking?
Digital signage in banking provides the following benefits: – Keeps visitors updated and engaged – Creates interactive opportunities – Offers personalized signage experiences – Improves employee communication and experiences – Saves paper and is eco-friendly – Markets the bank with real-time information.
How Can Digital Signage Improve Your Business?
Digital signage improves your business by promoting products in an engaging way, increasing impulse purchases and driving sales. It is a cost-effective advertising solution compared to traditional methods.
What Is A Digital Signage Solution For Banks?
Digital signage solutions offer a centralized control system for all screen-based communications in banks.
How Does Digital Transformation Affect The Banking Industry?
Digital transformation significantly impacts the banking industry by introducing technological advancements and improving customer experiences. It enhances efficiency, accessibility, and security in banking operations. Digital transformation empowers banks to offer online banking services, mobile banking applications, and digital payment solutions.
It also allows for personalized customer experiences, data-driven insights, and improved risk management. Moreover, digital transformation enables banks to streamline processes, reduce costs, and stay competitive in the digital era.
Conclusion
Digital signage has proven to be an effective tool in improving bank branches and enhancing customer experiences. By keeping visitors updated and engaged, digital signage creates a dynamic environment that captures attention and promotes brand messaging. The interactive features of digital signage allow for personalized experiences, enabling banks to deliver targeted content to different customer segments.
This technology also improves communication among employees, facilitating better teamwork and efficiency. In addition, digital signage helps banks go eco-friendly by reducing the need for paper-based marketing materials and allowing for real-time updates of information. With its ability to attract and inform customers, digital signage is a cost-effective alternative to traditional advertising methods.
By incorporating digital signage solutions, banks can create a modern and innovative atmosphere that not only attracts customers but also enhances their overall banking experience.