The hotel industry has undergone a digital transformation, revolutionizing the way hotels operate and engage with customers. This transformation encompasses various aspects such as online bookings, mobile check-ins, personalized services, and data-driven strategies, allowing hotels to improve customer experiences and operational efficiency.
The integration of technology has brought immense benefits to the industry, enabling hotels to stay competitive and relevant in the modern digital landscape. By embracing digital solutions, hotels can enhance guest satisfaction, streamline processes, and make data-informed decisions to meet the evolving needs of today's tech-savvy travelers.
As technology continues to advance, the digital transformation of the hotel industry will persist, shaping the future of hospitality.
Understanding The Impact Of Technology In The Hospitality Sector
The hotel industry, like many others, is undergoing a digital transformation, and technology is playing a pivotal role in reshaping the way hotels operate. The growing significance of technology in the hotel industry is undeniable, and it is essential for hoteliers to understand the impact it has on the hospitality sector in order to stay competitive.
Growing Significance Of Technology In The Hotel Industry
Technology has become an integral part of our lives, and its influence on the hotel industry is undeniable. From online booking platforms to automated guest check-in systems, technology has revolutionized the way guests interact with hotels. In today's fast-paced world, guests expect convenience and efficiency, and technology enables hotels to meet these expectations effectively.
With technology, hotels can streamline various operations, such as reservations, room allocations, billing, and customer service, enhancing the overall guest experience. Moreover, the use of technology allows hotels to collect and analyze large amounts of data, providing valuable insights into guest preferences and behaviors. This data-driven approach enables hotels to personalize their services and create tailored experiences for each guest, fostering customer loyalty and satisfaction.
How Digital Transformation Is Reshaping The Hospitality Sector
The digital transformation has brought about significant changes in the hospitality sector. One of the most noticeable transformations is the shift towards mobile technology. With the advent of smartphones and tablets, guests now have the ability to access hotel information, make reservations, and communicate with hotel staff at their fingertips. This mobility gives guests more control over their travel experience and allows hotels to engage with their guests in real-time.
In addition to mobile technology, the rise of social media and online review platforms has greatly impacted the hotel industry. Guests now have the power to share their experiences and opinions online, influencing the decisions of future travelers. Hotels must actively manage their online reputation and engage with guests on social media platforms to build a positive brand image and create a strong online presence.
Embracing Technology To Stay Competitive
In today's highly competitive hospitality landscape, embracing technology is crucial for hotels to stay ahead. Hoteliers must prioritize investing in the right technological solutions that can enhance their operations, improve guest experiences, and drive revenue. Automation technologies, such as chatbots and self-service kiosks, can streamline routine tasks and free up staff to focus on delivering personalized services.
Furthermore, adopting technologies that enable seamless integrations with other systems, such as property management systems and guest relationship management platforms, can enhance operational efficiency and provide a holistic view of guest data. This enables hotels to deliver personalized experiences throughout the guest journey, from pre-arrival to post-stay.
In conclusion, technology has become an indispensable part of the hotel industry, reshaping the way hotels operate and interact with their guests. The growing significance of technology in the hospitality sector necessitates hoteliers to embrace digital transformation and leverage technology to stay competitive in the fast-evolving market. By adopting the right technological solutions and focusing on guest-centric experiences, hotels can thrive in the digital age.
Enhancing Customer Experience Through Digitization
The digital transformation of the hotel industry has revolutionized the way hotels interact with their guests and has brought multitude of benefits to customer experience. With the advent of new technologies, hotels are leveraging digitization to create personalized and seamless experiences for their guests. By embracing the power of technology, hotels are streamlining the check-in and check-out process, utilizing chatbots and AI for efficient customer service, and leveraging technology to personalize guest experiences.
Leveraging Technology To Personalize Guest Experiences
Hotels are now using advanced technologies to personalize the guest experience like never before. By tracking guest preferences and behavior, hotels can now tailor their services and offerings to meet individual needs. Digital platforms allow hotels to collect and analyze data such as previous stay history, dietary preferences, and preferred amenities of their guests. With this information, hotels can create personalized offers, recommendations, and in-room services that cater to the needs and preferences of each guest.
Streamlining The Check-in And Check-out Process With Digital Solutions
Digital solutions have significantly improved the check-in and check-out process, making it faster, more convenient, and hassle-free for guests. Hotels are now offering self-service kiosks, mobile check-in, and check-out options that eliminate the need for long queues at the front desk. Guests can simply use their smartphones to check-in or check-out, select their preferences, and access their room with a digital key. This not only saves time for guests but also allows hotel staff to focus on providing personalized service and addressing specific guest needs.
Utilizing Chatbots And Ai For Efficient Customer Service
Chatbots and AI are playing a crucial role in transforming customer service in the hotel industry. Hotels are using AI-powered chatbots on their websites and mobile apps to provide instant and efficient customer support. These chatbots can handle a variety of inquiries such as room reservations, general information about the hotel, and even personalized recommendations for local attractions and dining options. By automating simple tasks, chatbots free up hotel staff to focus on more complex guest requests, resulting in faster response times and improved overall customer satisfaction.
The digital transformation of the hotel industry is improving the overall customer experience by utilizing technology in innovative ways. Hotels are now able to personalize guest experiences, streamline the check-in and check-out process, and provide efficient customer service through chatbots and AI. By embracing digitization, hotels are enhancing guest satisfaction and creating memorable experiences that keep guests coming back.
Optimizing Operations With Digital Solutions
The hotel industry has been rapidly transforming its operations through the integration of digital solutions. With advancing technology and changing customer expectations, hotels are now leveraging innovative tools to streamline processes and improve efficiency. From implementing smart hotel management systems to utilizing data analytics, the adoption of digital solutions has become crucial for businesses to stay competitive in the evolving market.
Implementing Smart Hotel Management Systems For Efficient Operations
One of the key ways hotels are optimizing their operations is by implementing smart hotel management systems. These systems comprise a range of software and hardware solutions that automate various tasks and provide real-time insights for efficient decision-making.
By utilizing smart hotel management systems, hotels can automate processes such as guest check-in and check-out, room allocation, billing, and more. These systems integrate with multiple departments, allowing seamless communication and collaboration, ultimately resulting in improved guest experiences.
Moreover, these systems enable hotels to monitor and control energy consumption, enhancing sustainability efforts. With smart sensors and intelligent automation, hotels can optimize energy usage, reduce costs, and minimize their impact on the environment. This not only aligns with the growing demand for eco-friendly accommodations but also contributes to long-term operational savings.
Enhancing Inventory Control And Logistics With Technology
Another area where digital solutions have revolutionized the hotel industry is in inventory control and logistics management. With the help of technology, hotels can now seamlessly track and manage their inventory, ensuring they have the right products available at the right time.
Incorporating barcode scanning systems and inventory management software allows hotels to streamline their procurement processes. They can easily monitor stock levels, track expiration dates, and automate replenishment, reducing the risk of stockouts or wastage. This not only improves operational efficiency but also helps maintain customer satisfaction by ensuring a smooth supply chain.
Furthermore, technology-driven logistics management enables hotels to optimize the transportation of goods and services. With real-time tracking and route optimization capabilities, hotels can ensure timely deliveries and minimize transportation costs. This not only saves time and resources but also enhances overall operational effectiveness.
Using Data Analytics To Make Informed Business Decisions
Hoteliers are increasingly relying on data analytics to gain valuable insights that drive informed business decisions. By collecting and analyzing data from various sources such as guest preferences, booking trends, and social media feedback, hotels can tailor their services to meet customer expectations and maximize profitability.
Data analytics enables hotels to identify patterns and trends, allowing them to make informed decisions regarding pricing strategies, marketing campaigns, menu offerings, and more. By understanding customer preferences and behavior, hotels can personalize guest experiences, resulting in higher guest satisfaction and loyalty.
Additionally, data analytics provides hotels with the ability to forecast demand accurately. By analyzing historical data and market trends, hotels can optimize their room rates, inventory control, and staffing levels, thus ensuring efficient resource allocation and maximizing revenue.
In conclusion, the digital transformation of the hotel industry has brought about numerous benefits in terms of optimizing operations. By implementing smart hotel management systems, enhancing inventory control and logistics with technology, and leveraging data analytics, hotels can streamline their processes, minimize costs, and deliver enhanced guest experiences. Embracing digital solutions proves to be essential for hotels looking to thrive in the modern, technology-driven marketplace.
class="wp-block-heading">Leveraging Technology For Marketing And Branding
The hotel industry is undergoing a digital transformation with the help of technology, allowing businesses to enhance their marketing and branding efforts. Technology enables hotels to reach a wider audience, personalize guest experiences, and increase customer engagement, ultimately leading to higher revenue and brand loyalty.
Addressing Challenges And Future Trends In The Digital Era
The hotel industry has witnessed a remarkable digital transformation in recent years, with technology shaping the way hotels operate and deliver services. As the industry continues to evolve, it faces unique challenges and embraces emerging trends that reshape guest experiences and streamline operations. In this blog post, we will explore three key areas that are crucial to the present and future of the hotel industry.
Overcoming Cybersecurity Challenges In The Hospitality Industry
In today's digital landscape, cybersecurity is a major concern for hotels. With an increasing reliance on online platforms and data-driven systems, the risk of cyber attacks has never been higher. Hotels must prioritize the security of their guests' personal information, payment details, and confidential data to maintain trust and protect their reputation.
To overcome cybersecurity challenges, hotels need to implement robust security measures, including:
Partnering with reputable cybersecurity firms to conduct regular audits and vulnerability assessments
Implementing strong encryption protocols and firewalls to protect sensitive guest data
Offering secure payment gateways with tokenization technology to safeguard financial transactions
Providing staff training on cybersecurity best practices to prevent human error and social engineering attacks
Embracing The Internet Of Things (iot) For Connected Guest Experiences
In the digital era, guests expect seamless and personalized experiences. The Internet of Things (IoT) technology empowers hotels to create connected environments that enhance guest satisfaction and streamline operations. By integrating various smart devices and sensors, hotels can offer a range of innovative services.
Smart room automation, allowing guests to control lighting, temperature, and entertainment systems with their smartphones
Personalized recommendations and offers based on guest preferences and behavior patterns
Real-time location tracking to provide efficient and personalized services, such as instant check-ins and room service
IoT-enabled energy management systems to optimize energy consumption and reduce environmental impact
Exploring The Potential Of Blockchain Technology In The Hotel Sector
Blockchain technology, best known for its association with cryptocurrencies like Bitcoin, has the potential to revolutionize the hotel sector by enhancing transparency, security, and efficiency. By using distributed ledger technology, hotels can improve various aspects of their operations, including bookings, payments, and loyalty programs.
Some potential applications of blockchain technology in the hotel industry include:
Efficient and tamper-proof distribution of room rates and availability across online travel agencies (OTAs)
Secure and transparent management of guest reviews and ratings to combat fraudulent practices
Seamless integration of loyalty programs across multiple hotels and service providers
Streamlined payment processes, reducing transaction fees and eliminating the need for intermediaries
In conclusion, the digital era presents both challenges and opportunities for the hotel industry. By addressing cybersecurity concerns, embracing IoT technology, and exploring the potential of blockchain, hotels can stay ahead in this ever-evolving landscape, delivering enhanced guest experiences while optimizing their operational efficiency.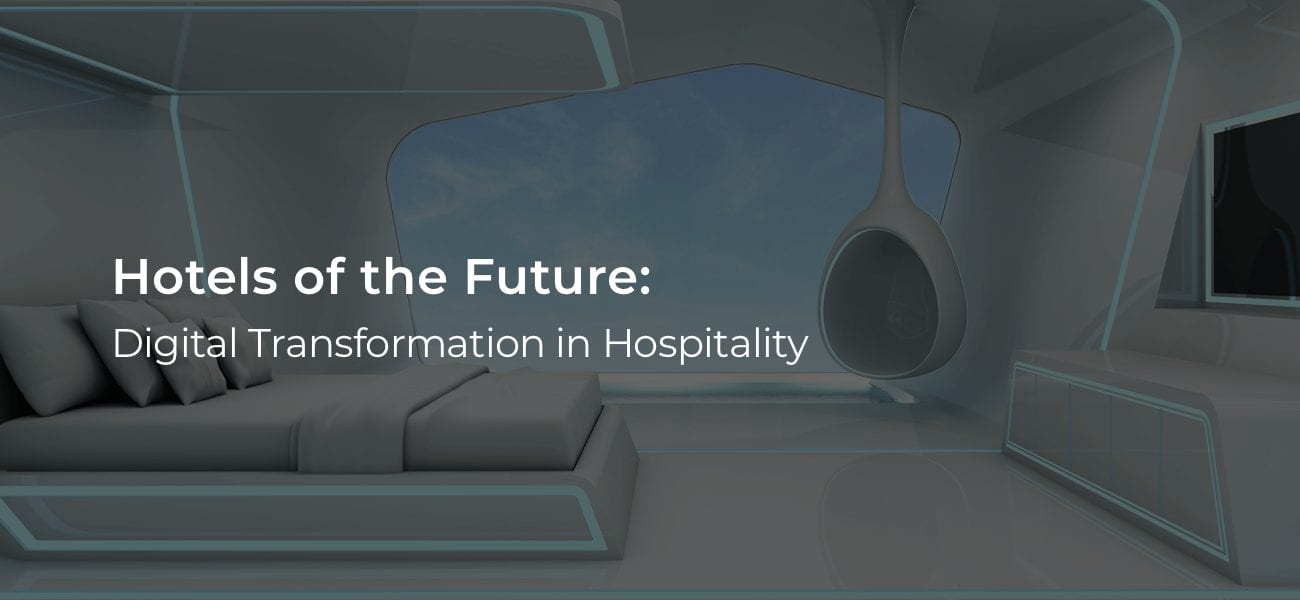 Credit: www.intellectsoft.net
Frequently Asked Questions On The Digital Transformation Of The Hotel Industry
What Is Digital Transformation In Hotel Industry?
Digital transformation in the hotel industry refers to the use of technology to improve and modernize hotel operations and guest experiences. It involves implementing digital solutions like mobile apps, automated check-in systems, and smart room technologies to enhance efficiency, convenience, and personalization for guests.
What Are The Examples Of Digital Transformation In Hotels?
Digital transformation in hotels includes implementing technology such as online booking systems, mobile check-in/out, digital concierge services, smart rooms with IoT devices, and personalized guest experiences. These advancements streamline operations, enhance guest satisfaction, and improve overall efficiency in the hospitality industry.
How Digital Transformation Affects The Hotel Industry?
Digital transformation revolutionizes the hotel industry by enhancing guest experiences, streamlining operations, and increasing productivity. Technology facilitates online bookings, check-ins, and personalized services, promoting efficiency and convenience. Mobile apps, IoT, and automation help optimize staff management and resource allocation, resulting in cost savings and improved guest satisfaction.
What Are The 4 Main Areas Of Digital Transformation?
The 4 main areas of digital transformation include strategy, technology, people, and processes. These areas are crucial in driving innovation and growth in organizations, enabling them to adapt to the rapidly changing digital landscape. Embracing digital transformation helps businesses stay competitive and meet the evolving needs of customers in today's digital era.
Conclusion
The digital transformation has revolutionized the hotel industry, shifting the way hotels operate and engage with their guests. From streamlined booking processes to personalized experiences, technology has enhanced every aspect of hospitality. As hotels embrace digital innovations such as mobile check-ins, virtual concierge services, and AI-powered guest engagement, they are able to provide a seamless and immersive stay for their guests.
In this digital age, hotels that adapt and leverage technology are setting themselves apart from the competition and meeting the evolving needs of modern travelers. Embracing the digital transformation is no longer optional – it's essential for the success of hotels in today's dynamic marketplace.