Enterprise Content Management (ECM) software systems are powerful tools that enable organizations to efficiently store, organize, manage, and retrieve their digital content. These systems streamline information management processes, improving productivity, collaboration, and compliance within an organization.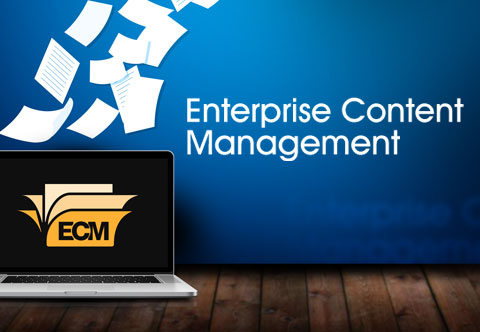 Credit: it-blocks.com
What Is Enterprise Content Management (ecm)?
Enterprise Content Management (ECM) is a powerful system that helps businesses efficiently manage their content, streamline their operations, and improve collaboration across departments. ECM encompasses a set of technologies, strategies, and tools that facilitate the creation, capture, management, and delivery of structured and unstructured content throughout an organization. In today's fast-paced and digitally-driven business landscape, ECM is becoming increasingly essential for companies to effectively manage their information assets.
Definition And Explanation
Enterprise Content Management (ECM) can be defined as a comprehensive approach to managing the entire lifecycle of digital content within an organization. It includes the processes, technologies, and strategies necessary to create, capture, organize, store, preserve, and deliver content in a secure and consistent manner. ECM systems provide a centralized platform for businesses to capture, store, retrieve, and share various types of content, including documents, images, videos, emails, and more.
Importance Of Ecm In Modern Businesses
ECM plays a crucial role in modern businesses, helping them address the challenges associated with managing large volumes of digital content. Here's why ECM is essential:
Efficient Content Organization: ECM enables businesses to categorize and organize their content in a logical and structured manner, making it easier for employees to find and access relevant information. This improves overall productivity and decision-making processes.
Enhanced Collaboration: With ECM, teams can collaborate seamlessly by accessing and working on documents simultaneously, regardless of their physical location. This fosters greater collaboration, knowledge sharing, and teamwork.
Streamlined Workflows: ECM automates and streamlines business processes, reducing manual tasks and paperwork. This improves operational efficiency, reduces errors, and accelerates business processes.
Compliance and Security: ECM systems provide robust security measures, ensuring sensitive data is protected from unauthorized access. Compliance features help organizations meet regulatory requirements and maintain data integrity.
Scalability and Growth: ECM solutions are designed to accommodate the growing needs of businesses. They can seamlessly scale to manage increasing volumes of content and adapt to evolving business requirements.
Overall, ECM empowers businesses to leverage their content as a strategic asset, enabling them to make informed decisions, enhance customer experiences, and gain a competitive edge in the market.
Key Components Of Enterprise Content Management Software Systems
Enterprise Content Management (ECM) software systems play a crucial role in managing an organization's content, allowing businesses to streamline their operations and improve productivity. With the increasing volume of digital data, enterprises are seeking efficient solutions to handle content effectively. ECM software systems provide the necessary tools to manage, organize, and access content in a structured manner.
Document Management
One of the key components of ECM software systems is document management. This feature enables businesses to store, organize, and retrieve documents in a secure and efficient manner. With document management, organizations can effortlessly create, revise, and distribute documents, ensuring that the latest versions are easily accessible to authorized users. This component provides advanced search capabilities, version control, document tracking, and metadata management, making it easier to find and manage documents across the organization.
Workflow Automation
Workflow automation is another critical component offered by ECM software systems. It simplifies complex business processes by automating manual tasks and ensuring efficient collaboration among teams. With workflow automation, businesses can create customized workflows, define business rules, and automate document routing and approval processes. This component increases operational efficiency, reduces errors, and accelerates document processing, allowing organizations to optimize their business processes and improve overall productivity.
Records Management
Effective records management is essential for organizations to maintain compliance and adhere to regulatory requirements. ECM software systems offer robust records management capabilities, allowing businesses to securely store and manage their records throughout their lifecycle. This component ensures that records are properly classified, retained, and disposed of in accordance with legal and industry standards. It also provides audit trails, access controls, and security features to protect sensitive information, helping organizations maintain data integrity and meet their governance obligations.
Collaboration Tools
Collaboration is crucial for businesses to foster teamwork and enhance productivity. ECM software systems provide collaboration tools that enable employees to work together seamlessly. These tools facilitate real-time document sharing, simultaneous editing, and version control, promoting efficient collaboration across teams and departments. Collaboration tools also include features such as discussion forums, task assignment, and notifications, allowing teams to collaborate effectively and accomplish their goals. With these features, businesses can break down communication barriers and improve collaboration, leading to better decision-making and increased efficiency.
Benefits Of Implementing Enterprise Content Management Software Systems
Implementing an enterprise content management (ECM) software system can revolutionize the way your organization stores, retrieves, and manages its valuable documents and information. With its advanced functionalities and streamlined processes, ECM software systems offer a wide range of benefits that can significantly improve your business's efficiency, productivity, security, and compliance. In this blog post, we will explore some of the key advantages of implementing ECM software systems.
Improved Efficiency And Productivity
One of the primary benefits of implementing ECM software systems is the improvement in efficiency and productivity within your organization. By leveraging advanced automation capabilities, ECM software eliminates tedious and time-consuming manual processes, allowing your employees to focus on strategic tasks and core competencies. With ECM software, you can automate tasks such as document capture, metadata extraction, indexing, and workflows, thereby speeding up processes and reducing human errors.
Furthermore, ECM software systems provide powerful search functionalities that enable users to quickly and easily retrieve the required documents and information. This eliminates the need for manual searching through multiple file cabinets or digital folders, saving significant time and effort. With the ability to access and share information more efficiently, your employees can collaborate seamlessly, make better-informed decisions, and ultimately improve overall productivity.
Enhanced Security And Compliance
Organizations deal with a vast amount of sensitive and confidential information on a daily basis. Protecting this information from unauthorized access, loss, or damage is crucial. ECM software systems offer robust security features and controls that help protect your valuable data. With capabilities like access controls, user permissions, and encryption, ECM software ensures that only authorized individuals can access and manipulate your organization's documents and information.
Moreover, ECM software systems enable organizations to meet industry-specific compliance and regulatory requirements more easily. By providing features like audit trails, version control, and records management, ECM software helps enforce proper document management practices and facilitates compliance with regulations such as HIPAA, GDPR, and Sarbanes-Oxley. This not only reduces the risk of legal and financial penalties but also enhances your organization's reputation and trustworthiness.
Streamlined Document Retrieval And Management
ECM software systems excel in providing streamlined document retrieval and management capabilities, making it easier than ever to locate, organize, and track important documents. Through advanced indexing and categorization features, ECM software allows you to assign metadata tags and keywords to your documents, ensuring easy and accurate search results.
Additionally, ECM software offers version control, ensuring that the most up-to-date version of a document is always available. With features like automated check-in/check-out, document version history, and document locking, ECM software prevents conflicts and confusion that can arise from multiple individuals working on the same document simultaneously.
Document collaboration is also enhanced with ECM software, as it enables users to work together on documents in real-time, making changes, leaving comments, and sharing feedback. This fosters better collaboration among teams, promotes efficient decision-making, and eliminates the hassle of manually merging edits from various individuals.
Benefits of Implementing Enterprise Content Management Software Systems:
– Improved efficiency and productivity
– Enhanced security and compliance
– Streamlined document retrieval and management
Factors To Consider When Choosing An Enterprise Content Management Software System
When it comes to managing the vast amounts of content produced by a modern enterprise, a reliable and efficient content management software system is crucial. With numerous options available in the market, selecting the right enterprise content management software system requires careful consideration of various factors. To help you make an informed decision, we have highlighted four key factors that should be at the forefront of your selection process: scalability and flexibility, integration with existing systems, user-friendliness and ease of adoption, and vendor reputation and support.
Scalability And Flexibility
Choosing an enterprise content management software system that can scale with your organization's growth is paramount. Scalability ensures that the system can handle increasing volumes of content without compromising performance. Consider the system's ability to manage diverse content types, such as documents, images, videos, and email, as well as its capacity to accommodate future file formats.
Finding a system that provides flexibility is equally important. The ability to customize the software to align with your organization's unique workflows and business processes can significantly enhance productivity and streamline content management. Additionally, look for a solution that offers modular functionality, allowing you to add or remove features as your requirements evolve.
Integration With Existing Systems
An enterprise content management software system should seamlessly integrate with your existing technology stack. Compatibility with your customer relationship management (CRM) system, enterprise resource planning (ERP) software, and other core business applications is crucial for data synchronization and process automation. Consider whether the software offers pre-built integrations, APIs, or connectors with popular platforms to ensure smooth data flow across systems.
User-friendliness And Ease Of Adoption
The success of an enterprise content management software system largely depends on its user adoption. It is essential to choose a solution that prioritizes user-friendliness and ease of use. Look for an intuitive interface, clear navigation, and customizable dashboards that enable users to quickly and efficiently access, manage, and collaborate on content. The software should also offer robust search capabilities, metadata tagging, and versioning, ensuring that information is easily discoverable and traceable.
An investment in training and onboarding should also be considered when evaluating user-friendliness. Implementing a system that provides comprehensive documentation, tutorials, and responsive customer support will help accelerate user adoption within your organization.
Vendor Reputation And Support
Before committing to an enterprise content management software system, carefully evaluate the vendor's reputation and support offerings. Look for established providers with a proven track record in delivering reliable and secure software solutions. Consider factors such as customer reviews, industry recognition, and the vendor's financial stability.
Equally important is the level of support provided by the vendor. Ensure that the vendor offers responsive customer support channels, such as phone, email, or chat, and has a structured system for addressing and resolving issues. Additionally, inquire about software updates and maintenance services to ensure that the system remains up-to-date and secure in the long run.
By considering these four factors – scalability and flexibility, integration with existing systems, user-friendliness and ease of adoption, and vendor reputation and support – you can make a well-informed decision when choosing an enterprise content management software system that perfectly aligns with your organization's needs and facilitates efficient content management.
Best Practices For Implementing Enterprise Content Management Software Systems
Implementing an effective enterprise content management (ECM) software system is crucial for businesses seeking to streamline their operations and enhance productivity. However, successful implementation requires careful planning, thorough understanding of business requirements, and ongoing user support. In this article, we will explore the best practices for implementing ECM software systems, ensuring a smooth transition and maximizing the benefits for your organization.
Thoroughly Assess And Understand Business Requirements
Before embarking on the implementation journey, it is imperative to thoroughly assess and understand your organization's unique business requirements. Conduct a comprehensive analysis of your current infrastructure, workflows, document types, security, and compliance needs. Take into account the specific challenges and pain points you aim to solve with an ECM system. By gaining a deep understanding of your organization's requirements, you can select the most suitable ECM solution and avoid potential setbacks in the future.
Develop A Clear Implementation Plan
Developing a clear and well-defined implementation plan is paramount to the success of your ECM software system. Outline the key objectives, milestones, and timelines that align with your business goals. Create a detailed roadmap that includes tasks such as data migration, system configuration, integration with existing software, and testing. Assign responsibilities to the relevant team members and ensure effective communication throughout the implementation process. By following a structured implementation plan, you can minimize disruptions and ensure a smooth transition to the new ECM system.
Provide Comprehensive User Training And Support
One of the critical factors in the successful adoption of an ECM software system is providing comprehensive user training and ongoing support. Conduct thorough training sessions for all users, emphasizing the system's features, functionalities, and best practices. Develop user guides, tutorials, and FAQs to facilitate self-learning and address common queries. Offer continuous support to address any challenges or concerns that may arise. By empowering your users with the necessary knowledge and support, you can optimize the utilization of the ECM system and maximize its benefits for your organization.
Regularly Review And Update Ecm System For Optimal Performance
Implementing an ECM software system is not a one-time process; it requires regular review and updates to ensure optimal performance. Periodically assess the effectiveness of your ECM system and identify areas for improvement. Stay updated with the latest software updates and take advantage of new features and enhancements. Regularly review your business requirements and make necessary adjustments to align the ECM system with your evolving needs. By keeping your ECM system up-to-date, you can ensure its continued relevance and efficiency in supporting your organization's content management needs.
Frequently Asked Questions
What Is Enterprise Content Management System?
An enterprise content management system is a software platform used to organize and manage documents, files, and digital content within an organization. It helps companies efficiently manage and store their information, allowing for easy retrieval, collaboration, and compliance with regulatory requirements.
What Are Ecm Platforms?
ECM platforms, or Enterprise Content Management platforms, are software solutions that help organizations manage and organize their digital content effectively. They provide features such as document management, workflow automation, version control, and search capabilities. ECM platforms streamline business processes, improve collaboration, and ensure compliance with regulatory requirements.
What Is An Example Of An Ecm?
One example of an ECM is the Enterprise Content Management software, which helps businesses manage and organize their digital content efficiently.
What Are The 5 Components Of Enterprise Content Management?
The five components of enterprise content management include document management, workflow automation, records management, web content management, and collaboration tools. These components work together to organize, automate, store, and distribute content within an organization.
Conclusion
Overall, implementing an enterprise content management software system is a smart move for businesses looking to optimize their document management processes. With enhanced organization, collaboration, and accessibility features, these systems streamline workflows and boost productivity. Whether you're a small business or a large corporation, investing in an ECM software system will undoubtedly enhance your operations and drive success.
So why wait? Embrace the power of ECM and propel your business towards success today.