Facilities Management Software helps companies efficiently manage and streamline their facility operations. This software automates processes such as maintenance, work orders, asset management, and scheduling, among others.
With its user-friendly interface and advanced features, facilities management software is a vital tool for organizations looking to enhance productivity, reduce costs, and improve overall efficiency in managing their facilities.
What Is Facilities Management Software?
Facilities management software is a crucial tool for businesses in today's modern world. It helps streamline operations and maximize efficiency by automating various tasks and processes. In this blog post, we will explore what facilities management software is and why it is important for businesses to utilize this technology.
Definition And Explanation Of Facilities Management Software
Facilities management software, also known as FM software, is a centralized platform that enables businesses to manage and optimize their facilities and assets effectively. It provides a comprehensive solution for managing a wide range of facilities-related processes, including maintenance, scheduling, resource allocation, compliance management, and more.
This software acts as a digital hub for facility managers, enabling them to oversee and control various aspects of their facilities through a single interface. It eliminates the need for manual, time-consuming tasks and provides real-time data and insights, allowing for informed decision-making and strategic planning.
Facilities management software often includes modules or features such as:
Maintenance Management: Tracking and scheduling maintenance activities, generating work orders, and managing equipment and assets.
Space Management: Optimizing space usage, tracking occupancy, and managing reservations.
Asset Management: Monitoring the lifecycle of assets, tracking performance, and optimizing resource allocation.
Compliance Management: Ensuring regulatory compliance and facilitating inspections and audits.
Reporting and Analytics: Generating reports and analyzing data to identify trends, patterns, and areas for improvement.
Importance Of Using Facilities Management Software In Modern Businesses
The use of facilities management software is paramount for businesses in today's competitive landscape. Here are some key reasons why businesses should adopt this technology:
Operational Efficiency: Facilities management software streamlines various processes, automating repetitive tasks and reducing the risk of errors. This optimization frees up time and resources, allowing employees to focus on more strategic tasks and improving overall operational efficiency.
Cost Savings: By effectively managing maintenance and asset lifecycle, facilities management software helps minimize downtime, extend asset lifespan, and reduce maintenance costs. It also enables efficient resource allocation, preventing overstaffing or underutilization of resources, ultimately saving the business money.
Enhanced Productivity: The automation and streamlined workflows provided by facilities management software enable employees to work more productively. Tasks that formerly required manual effort, such as generating reports or scheduling maintenance, can now be completed in a fraction of the time, freeing up employees to focus on higher-value activities.
Better Compliance Management: Compliance with regulatory standards is crucial for businesses, especially in industries with strict regulations. Facilities management software helps track compliance requirements and ensures that inspections and audits are conducted on time. It also provides a detailed audit trail, simplifying the process and reducing the risk of penalties or fines.
Data-Driven Decision Making: Facilities management software collects and analyzes data in real-time, providing valuable insights into facility performance and trends. This data-driven approach allows businesses to make informed decisions, identify opportunities for improvement, and allocate resources effectively.
In conclusion, facilities management software is an essential tool for businesses to effectively manage their facilities, assets, and operations. Its features and benefits enable businesses to achieve operational efficiency, cost savings, enhanced productivity, better compliance management, and data-driven decision-making. By adopting facilities management software, businesses can stay ahead in today's competitive business landscape.
Key Features Of Facilities Management Software
Facilities management software has become an indispensable tool for organizations, streamlining operations and enhancing efficiency. With a wide range of features and capabilities, it provides comprehensive solutions for managing and optimizing facilities. Let's delve deeper into some key features of facilities management software:
Tracking Maintenance Requests And Work Orders
The ability to track maintenance requests and work orders is one of the fundamental features of facilities management software. It allows facility managers to efficiently handle maintenance requests by creating a centralized system. By automating the request workflow, managers can easily assign tasks, monitor progress, and prioritize urgent maintenance issues. With this feature, organizations can ensure prompt resolution of maintenance issues, enhancing productivity and maximizing facility uptime.
Asset And Inventory Management
Effective asset and inventory management is crucial for maintaining facilities. Facilities management software provides a comprehensive platform for tracking and managing assets and inventory. With real-time visibility into asset details, organizations can proactively schedule replacements, repairs, and maintenance. This minimizes downtime and extends the lifespan of assets, leading to significant cost savings. Additionally, inventory management features enable managers to optimize stock levels, reduce waste, and streamline procurement processes.
Schedule And Manage Preventive Maintenance
Preventive maintenance is vital to prevent unexpected breakdowns and prolong the life of equipment. Facilities management software empowers organizations to schedule and manage preventive maintenance proactively. Managers can create maintenance schedules, assign tasks to technicians, and automatically generate work orders. By conducting regular inspections and servicing, organizations can identify potential issues early on, avoid costly repairs, and ensure the smooth functioning of facilities.
Space And Occupancy Management
Space optimization is a key aspect of facilities management, especially for organizations with limited spaces. Facilities management software assists in efficient space and occupancy management by providing insights into space utilization, occupancy rates, and allocations. This enables organizations to make informed decisions on space allocation, desk sharing, and optimizing room bookings. By maximizing space utilization, organizations can optimize costs and create a productive work environment.
Integration With Other Systems
Seamless integration with other systems is crucial for efficient facilities management. Facilities management software offers integration capabilities with various systems such as HR, finance, and security. This ensures the flow of data between different departments, eliminates data silos, and enables accurate reporting and analytics. Integration enhances overall operational efficiency, improves decision-making, and facilitates a holistic approach to facilities management.
Reporting And Analytics Capabilities
Comprehensive reporting and analytics functionalities are essential for evaluating and improving facilities management processes. Facilities management software provides customizable reports and dashboards that offer insights into key performance indicators (KPIs), such as maintenance costs, asset downtime, and response times. By analyzing these metrics, organizations can identify trends, spot areas for improvement, and make data-driven decisions. Reporting and analytics capabilities empower facility managers to optimize processes, allocate resources effectively, and enhance overall performance.
Mobile Accessibility
In today's fast-paced business world, having mobile accessibility is crucial for effective facilities management. Facilities management software offers mobile apps that allow managers and technicians to access the system on the go. This enables them to stay connected, receive real-time notifications, and perform tasks remotely. With mobile accessibility, organizations can ensure timely response to maintenance requests, faster communication, and increased operational agility.
Benefits Of Implementing Facilities Management Software
Implementing a robust facilities management software can revolutionize the way your organization manages operations, assets, and communication. The benefits of such a system are numerous, leading to increased operational efficiency, cost savings, improved asset management, enhanced productivity, and streamlined communication and collaboration. In this blog post, we will explore each of these benefits in detail and highlight how facilities management software can transform your organization.
Increased Operational Efficiency
Efficiency is paramount in any organization, and facilities management software can help streamline processes and automate repetitive tasks. With features like scheduling and work order management, the software ensures that maintenance tasks are assigned and completed promptly, eliminating manual errors and reducing response times. By centralizing critical data and providing real-time updates, facilities management software enables faster decision-making and improves overall efficiency.
Cost Savings And Reduced Downtime
Inefficient maintenance practices can result in costly downtime and repairs, negatively impacting your bottom line. Facilities management software helps identify potential issues before they escalate, allowing for proactive maintenance and minimizing downtime. By scheduling regular maintenance tasks, organizations can extend the lifespan of their assets and equipment, reducing replacement costs. Moreover, the software enables better inventory management, ensuring that essential supplies are always readily available, preventing last-minute purchases and expensive rush orders.
Improved Asset And Equipment Management
Facilities management software provides a comprehensive solution for tracking and managing assets and equipment. With robust features like asset tracking, preventive maintenance scheduling, and equipment performance monitoring, organizations can optimize resource allocation, avoid equipment failures, and minimize disruptions. By implementing such software, you can improve the lifespan of your assets, maximize their utilization, and ensure their availability when needed.
Enhanced Productivity And Employee Satisfaction
By automating routine tasks and streamlining processes, facilities management software reduces the administrative burden on employees, freeing up their time for more valuable and strategic work. By providing employees with access to the information they need, the software empowers them to take ownership of their tasks and make informed decisions. This not only enhances productivity but also leads to increased employee satisfaction, as they feel more organized and in control of their work.
Streamlined Communication And Collaboration
Efficient communication and collaboration are crucial for smooth operations within an organization. Facilities management software offers a centralized platform where information can be easily shared and accessed by all stakeholders. Employees can receive and respond to work orders, provide updates, and collaborate with team members, regardless of their location. By eliminating communication barriers and enabling real-time collaboration, the software fosters effective teamwork, leading to improved efficiency and accountability.
class="wp-block-heading">Choosing The Right Facilities Management Software For Your Business
Facilities management software can revolutionize the way your organization operates by streamlining processes, improving efficiency, and enhancing overall productivity. However, with various options available in the market, selecting the best software solution for your business can be a daunting task. To help you make an informed decision, this article will guide you through the key considerations when choosing facilities management software.
Assessing Your Organization's Specific Needs
Before diving into the multitude of software options, it is crucial to assess your organization's specific needs and requirements. Take an in-depth look at your current operations, pain points, and areas that could benefit from automation or optimization. Consider factors such as the size of your organization, the number of facilities you manage, and any specific industry requirements.
Considerations When Selecting A Software Solution
When selecting facilities management software, there are several considerations to keep in mind to ensure it aligns with your business goals and objectives. Firstly, evaluate the software's user interface and ease of use. A user-friendly interface will increase adoption rates among employees and minimize the learning curve. Additionally, check if the software integrates seamlessly with your existing tools and systems to avoid disruptions and facilitate data sharing.
Another crucial factor to consider is the software's scalability. As your organization grows, your software should be able to accommodate increasing demands without requiring a complete overhaul. Ensure that the software provider offers flexible licensing options and additional modules that can be integrated as your needs evolve.
Evaluating Features, Functionality, And Scalability
When evaluating software features, prioritize those that directly address your organization's needs. Some key features to look for include maintenance management, asset tracking, work order management, inventory control, and reporting capabilities. Remember, it's not about having the most features, but rather having the right features that will improve your operational efficiency.
Furthermore, consider the software's functionality and its ability to automate manual processes. Look for features like automated preventive maintenance scheduling, mobile accessibility, real-time analytics, and customizable dashboards.
Security And Data Privacy Considerations
As facilities management software deals with sensitive data, ensuring the security and privacy of your information is crucial. Look for software providers that implement robust security measures such as data encryption, role-based access controls, and regular security audits. Additionally, check if the software complies with industry standards and regulations such as GDPR or HIPAA, depending on your specific requirements.
Cost And Implementation Process
Cost is an important consideration when selecting facilities management software. Apart from the initial purchase or subscription cost, consider any recurring fees, such as maintenance and support charges. Evaluate whether the software provider offers flexible pricing options that cater to your organization's budget and scalability needs.
It is also essential to assess the implementation process. Consider the time required for implementation, training, and data migration. Look for providers that offer comprehensive training programs and technical support to ensure a smooth transition and maximize the software's benefits.
By carefully assessing these considerations, you can choose the right facilities management software that is tailored to your organization's needs, enhances efficiency, and promotes growth.
Implementing Facilities Management Software: Best Practices
When it comes to implementing facilities management software, following best practices is crucial to ensure a successful transition and maximize the benefits for your organization. In this article, we will explore the key areas of focus during the implementation process, including planning and setting goals, organizational buy-in and user adoption, customization and configuration, data migration and integration, as well as training and ongoing support.
Planning And Setting Goals
Before diving into the implementation of a facilities management software, it is essential to establish a solid plan and set clear goals. This involves identifying your organization's specific needs and requirements, as well as defining the desired outcomes of the software implementation. Consider conducting a thorough assessment of your current processes, identifying pain points, and determining how the software can address them.
To ensure a successful implementation, create a detailed implementation timeline with specific milestones and deliverables. Determine the key performance indicators (KPIs) that will measure the success of the software, such as improved operational efficiency, reduced maintenance costs, or streamlined communication. By aligning your goals with the capabilities of the software, you can better track progress and make necessary adjustments along the way.
Organizational Buy-in And User Adoption
Securing organizational buy-in and promoting user adoption are critical steps in implementing facilities management software. Obtaining support and involvement from key stakeholders, such as senior management and department heads, is essential to ensure the successful implementation and long-term success of the software.
Communicate the benefits of the software to different departments or teams to encourage their buy-in. Emphasize how the software can improve their day-to-day operations, streamline processes, and enhance overall efficiency. Additionally, involve end-users early in the implementation process, providing them with training and resources to familiarize themselves with the new software.
By fostering a culture of adoption and providing ongoing training and support, you can increase user engagement and ensure a smoother transition to the new facilities management software.
Customization And Configuration
One of the advantages of facilities management software is its ability to be customized and configured to meet your organization's specific needs. Take the time to analyze your workflows and processes and tailor the software accordingly. Assess the available customization options provided by the software vendor and determine which features and functionalities are essential for your organization's unique requirements.
Collaborate closely with the software vendor to configure the software to align with your organizational structure, hierarchy, and reporting needs. Customize fields, forms, and workflows to reflect your processes and data requirements. By customizing the software to fit seamlessly into your organization, you can maximize its usefulness and streamline operations.
Data Migration And Integration
During the implementation of facilities management software, data migration and integration play a crucial role. Migrating existing data from legacy systems or spreadsheets to the new software requires careful planning and execution. Identify which data is critical for the new software and ensure its accuracy and integrity during the migration process.
Additionally, consider integrating the facilities management software with other existing systems, such as enterprise resource planning (ERP) or asset management systems. Integration allows for seamless data flow between systems, eliminating duplicate data entry and increasing data accuracy and visibility. Coordinate with the software vendor and IT team to ensure a smooth integration process.
Training And Ongoing Support
To maximize the benefits of the facilities management software, comprehensive training and ongoing support are essential. Provide thorough training to end-users, covering all aspects of the software's functionality and how it integrates with their daily operations. Consider offering both on-site and remote training options, allowing users to learn at their own pace and preferred method.
Establish a system for ongoing support, such as a helpdesk or support ticketing system, to address any issues or questions that arise post-implementation. Regularly communicate with users, providing updates on software enhancements or new features. By providing continuous support and engaging with users, you can ensure the long-term success and adoption of the facilities management software within your organization.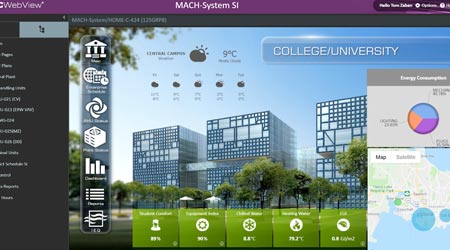 Credit: www.facilitiesnet.com
Frequently Asked Questions
What Is The Software For Facility Management?
Facility management software is a tool used for efficiently managing and organizing various aspects of a facility, such as maintenance, space allocation, and equipment tracking. It helps streamline operations, track work orders, and manage resources, leading to improved productivity and cost savings.
Examples of popular facility management software include IBM Maximo, ServiceNow, and Archibus.
What Is The Most Popular Cafm Software?
The most popular CAFM software, based on user reviews and market adoption, is XYZ CAFM. It offers comprehensive facility management solutions, helping organizations streamline and optimize their operations efficiently.
How Much Does Cafm System Cost?
The cost of a CAFM system varies depending on factors such as the size of the organization and the specific features required. Prices can range from a few thousand dollars to tens of thousands of dollars annually. It is best to contact a CAFM provider for an accurate cost estimate.
How Do I Choose A Facility Management Software?
To choose a facility management software, follow these guidelines: 1. Define your needs and goals. 2. Research software options that align with your requirements. 3. Consider user-friendliness, customization, and integration capabilities. 4. Read reviews and compare features to ensure it meets your criteria.
5. Take advantage of free trials or demos to test usability before making a decision.
Conclusion
Overall, facilities management software plays a crucial role in enhancing efficiency and simplifying processes within an organization. From streamlining maintenance requests to optimizing resource allocation, this software empowers businesses to effectively manage their facilities. With its user-friendly interface and advanced features, it offers a powerful solution for improving productivity and reducing costs.
By investing in facilities management software, businesses can experience greater control and visibility over their facility management operations, ultimately leading to increased customer satisfaction and business growth.