Fleet management software helps businesses track and manage their vehicle fleets efficiently. This software streamlines operations by providing real-time data on vehicle location, maintenance, fuel usage, and driver behavior in concise and actionable insights.
It simplifies the process of managing fleets, enhances safety, reduces costs, and improves overall fleet performance. With the ability to monitor vehicles remotely, schedule maintenance, optimize routes, and analyze data, fleet management software is essential for any organization with a fleet of vehicles.
By utilizing this software, companies can maximize productivity, reduce downtime, improve customer service, and achieve significant cost savings. Whether you have a small or large fleet, investing in fleet management software can greatly benefit your business.
Fleet Management Software: An Introduction
If you're in the business of managing a fleet of vehicles, then you know how crucial it is to have an efficient and streamlined system in place. This is where fleet management software comes into play. In this blog post, we'll explore the definition and purpose of fleet management software, the benefits it offers, and the current challenges faced by fleet managers. So, let's dive in and discover how this powerful tool can revolutionize the way you manage your fleet.
Definition And Purpose Of Fleet Management Software
Fleet management software is a comprehensive solution designed to simplify and optimize the various aspects of fleet operations. It encompasses a wide range of functionalities that aid in monitoring, controlling, and maintaining the fleet efficiently. By leveraging advanced technology, fleet management software provides real-time data and actionable insights to help fleet managers make informed decisions and improve overall performance. Its primary goal is to enhance operational efficiency, reduce costs, and ensure compliance with regulations.
Benefits Of Using Fleet Management Software
Implementing fleet management software can bring numerous benefits to your business. Here are some of the key advantages:
Enhanced Visibility: Fleet management software offers real-time tracking and monitoring of vehicles, allowing you to have complete visibility of your fleet's whereabouts. This ensures efficient route planning, improved dispatching, and accurate ETA estimations.
Improved Safety and Security: With features like driver behavior monitoring and geofencing, fleet management software helps promote safe driving practices and prevents unauthorized vehicle usage. It also aids in recovering stolen vehicles quickly.
Optimized Maintenance: Regular vehicle maintenance is vital to keep your fleet in top condition and minimize downtime. Fleet management software provides automated alerts and reminders for scheduled maintenance, ensuring timely servicing and reducing costly repairs.
Fuel Efficiency: By analyzing fuel consumption patterns, monitoring driver behavior, and suggesting optimal routes, fleet management software helps reduce fuel costs. It also helps identify inefficient vehicles, enabling you to make informed decisions for the fleet's overall fuel efficiency.
Streamlined Administrative Tasks: Fleet management software automates various administrative tasks such as inventory management, regulatory compliance, and driver logbook maintenance. This saves valuable time and allows your staff to focus on more critical aspects of fleet management.
Current Challenges Faced By Fleet Managers
Fleet management comes with its fair share of challenges. Here are some common hurdles fleet managers encounter on a daily basis:
Cost Control: Rising fuel costs, unexpected repairs, and inefficient routing can significantly impact your fleet's operating expenses. Fleet management software helps mitigate these challenges by providing cost analysis tools, optimizing routes, and suggesting fuel-saving measures.
Driver Management: Managing a team of drivers, ensuring their adherence to safety rules, and tracking their performance can be a daunting task. Fleet management software simplifies driver management by providing real-time performance insights, alerts for violations, and driver scorecards.
Regulatory Compliance: Keeping up with ever-changing regulations and ensuring compliance can be time-consuming. Fleet management software automates compliance measures by generating reports, maintaining records, and providing real-time notifications for important compliance deadlines.
Data Security: The sensitive nature of fleet-related data calls for robust security measures. Fleet management software employs stringent security protocols to safeguard your data from unauthorized access and potential breaches.
Integration Challenges: Integrating fleet management software with existing systems and vehicles can present compatibility issues. However, most fleet management software providers offer seamless integration and provide guidance during the implementation process.
Streamline Operations With Fleet Management Software
The fleet management industry has undergone significant transformations in recent years, thanks to the advancements in technology. One of the most impactful developments is the introduction of fleet management software, which streamlines operations and improves efficiency. This powerful tool enables businesses to better manage their fleet, reduce costs, and enhance overall productivity. In this article, we will delve into the many benefits of fleet management software and how it can revolutionize your operations.
Automating Fleet Management Processes
With fleet management software, manual and time-consuming tasks are a thing of the past. This revolutionary software automates various critical processes, such as vehicle maintenance scheduling, driver assignments, and record-keeping. By automating these processes, your fleet management team can save valuable time and focus on more strategic tasks. Additionally, automating these processes eliminates the risk of errors that may occur due to manual data entry, ensuring accuracy and reliability of information.
Real-time Tracking And Monitoring Of Vehicles
Gone are the days of uncertainty and guesswork when it comes to the location and status of your vehicles. Fleet management software offers real-time tracking and monitoring capabilities, allowing you to keep a close eye on your fleet at all times. With this technology, you can easily access important information such as vehicle location, speed, and mileage, empowering you to make informed decisions promptly. This feature not only enhances fleet security but also enables efficient route planning, reducing unnecessary delays and improving customer satisfaction.
Efficient Fuel Management And Cost Reduction
Managing fuel costs is a significant concern for any fleet manager. However, with fleet management software, fuel management becomes a breeze. This software provides comprehensive insights into fuel consumption, idle time, and driver behavior, enabling you to identify areas of improvement and implement fuel-saving strategies. By optimizing fuel usage, fleet managers can significantly reduce fuel costs, contributing to overall cost reduction for the business. Moreover, efficient fuel management also has positive environmental impacts, promoting sustainability and reducing carbon footprint.
In conclusion, fleet management software is a game-changer for businesses looking to streamline their operations. By automating processes, offering real-time tracking, and supporting efficient fuel management, this software optimizes fleet management practices, leading to improved productivity and cost reduction. Embrace the power of fleet management software today and stay ahead of the competition.
Improving Safety And Compliance
When it comes to fleet management, safety and compliance are two critical factors that cannot be overlooked. Fleet managers have a responsibility to maintain the well-being of their drivers and ensure that their operations adhere to regulations and industry standards. This is where fleet management software plays a crucial role in improving safety and compliance. Let's explore how fleet management software can enhance driver safety through monitoring and alerts, as well as ensure compliance with regulations and industry standards.
Enhancing Driver Safety Through Monitoring And Alerts
With fleet management software, fleet managers can actively monitor the activities of their drivers, thereby enhancing driver safety. The software provides real-time data on factors such as speeding, harsh braking, and rapid acceleration. This information empowers fleet managers to identify risky driving behaviors and take preventive measures to improve safety on the road. By setting up automated alerts for critical events, such as excessive speeding or unauthorized vehicle use, fleet managers can promptly address potential issues before they escalate. This proactive approach helps reduce accidents and fosters a safer driving environment for all employees.
Ensuring Compliance With Regulations And Industry Standards
Compliance with regulations and industry standards is of utmost importance in the fleet management industry. Non-compliance can lead to severe penalties, reputational damage, and even legal consequences. Fleet management software simplifies compliance by automating various processes and providing accurate record-keeping capabilities. This ensures that fleets adhere to regulations such as Hours of Service (HOS) rules, electronic logging device (ELD) requirements, and vehicle maintenance schedules. Additionally, the software can generate comprehensive reports that demonstrate compliance, making audits and inspections a smooth and hassle-free process.
Implementing Driver Training Programs
Another way fleet management software improves safety and compliance is by facilitating driver training programs. The software can track driver performance metrics and identify areas for improvement. Armed with this information, fleet managers can develop targeted training programs that address the specific needs of each driver. These programs can focus on areas such as defensive driving, fuel-efficient driving techniques, and adherence to industry best practices. By investing in ongoing driver training, fleet managers can cultivate a culture of safety and compliance, leading to reduced accidents, improved efficiency, and better overall performance.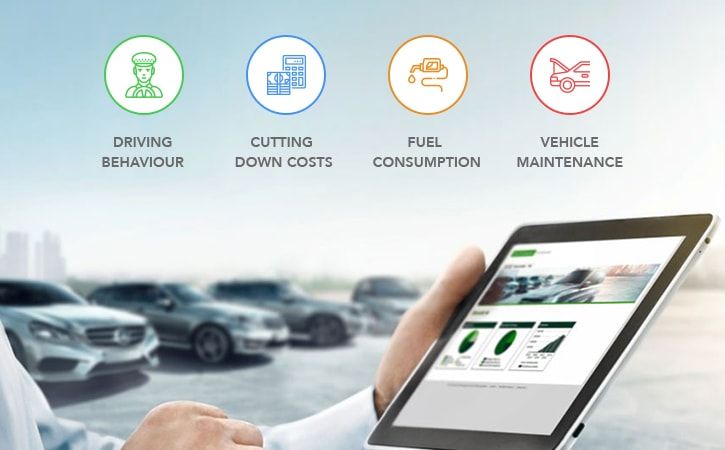 Credit: www.peerbits.com
Enhancing Maintenance And Asset Management
Enhance your fleet management with advanced software solutions for maintenance and asset management, optimizing operations and improving overall efficiency. Streamline your processes, reduce costs, and ensure the longevity of your assets with cutting-edge technology.
Preventive Maintenance Scheduling And Reminders
Fleet management software provides businesses with a powerful tool to streamline maintenance operations and ensure their vehicles are always in top-notch condition. One of the key features that enables this is preventive maintenance scheduling and reminders.
With this functionality, businesses can proactively plan and schedule regular maintenance tasks for their fleet, such as oil changes, tire rotations, and inspections. By adhering to a regular maintenance schedule, companies can minimize the risk of breakdowns, extend the lifespan of their vehicles, and avoid costly repairs.
Fleet management software takes the hassle out of managing preventive maintenance by automatically generating reminders and notifications for upcoming maintenance tasks. Whether it's sending an email, displaying a pop-up notification, or integrating with your team's calendar, the software ensures that no maintenance task goes unnoticed. This automated approach eliminates the need for manual tracking and helps businesses stay on top of their maintenance schedules effortlessly.
Tracking And Managing Vehicle Maintenance History
Keeping a record of the maintenance history for each vehicle in your fleet is crucial for effective asset management. Fleet management software simplifies this process by providing a centralized database where businesses can track and manage their vehicle maintenance history.
Every time a maintenance task is performed, it is recorded in the system, along with details such as the date, time, nature of the maintenance, and the technician responsible. This information allows businesses to have a comprehensive overview of each vehicle's maintenance history, enabling them to identify any recurring issues, track expenses, and make informed decisions about their assets.
Furthermore, fleet management software can generate maintenance reports, offering valuable insights into the performance and reliability of each vehicle over time. These reports can help businesses identify patterns or trends, allowing them to fine-tune their maintenance strategies and optimize their operations based on solid data.
Optimizing Asset Utilization And Lifecycle Management
Fleet management software goes beyond just managing maintenance tasks. It also plays a crucial role in optimizing asset utilization and lifecycle management. By leveraging the capabilities of the software, businesses can ensure that their vehicles are used to their full potential and are replaced or retired at the right time.
The software enables businesses to track the usage and mileage of each vehicle in their fleet, providing valuable insights into its productivity. This data can help businesses identify underutilized assets that may be draining resources, enabling them to take corrective actions and maximize their return on investment.
Additionally, fleet management software incorporates lifecycle management features that automate the process of determining when a vehicle should be replaced. By considering factors such as age, mileage, maintenance history, and depreciation, the software provides businesses with a clear understanding of the optimal time to retire a vehicle and replace it with a more efficient and cost-effective alternative. This proactive approach not only saves businesses money by avoiding unnecessary maintenance and repairs but also ensures that their fleet is always equipped with reliable and modern assets.
Data Analytics And Reporting
Data analytics and reporting play a vital role in fleet management. By harnessing the power of data-driven decision making, customizable reports and dashboards, and predictive analytics, businesses can gain valuable insights to optimize their fleet operations. This section explores the significance of these features in enabling efficient fleet management.
Data-driven Decision Making For Fleet Management
In the fast-paced world of fleet management, making informed decisions is crucial. With the help of data analytics, fleet managers can access real-time information about their vehicles, drivers, fuel consumption, maintenance schedules, and more. This data allows them to make data-driven decisions that optimize fleet performance and reduce expenses. By identifying patterns and trends in the data, fleet managers can tackle issues proactively and drive operational efficiency.
Customizable Reports And Dashboards For Performance Analysis
Effective performance analysis is a cornerstone of successful fleet management. Fleet management software offers customizable reports and dashboards that cater to the unique needs of businesses. Fleet managers can easily generate reports on various metrics such as driver behavior, fuel efficiency, maintenance costs, and vehicle utilization. These reports provide a comprehensive overview of the fleet's performance, allowing managers to identify areas that require improvement and implement appropriate strategies.
Predictive Analytics For Better Planning And Optimization
Predictive analytics takes fleet management a step further by leveraging historical data to forecast future trends and outcomes. By analyzing past performance and combining it with external factors such as weather conditions, traffic patterns, and delivery demands, fleet managers can proactively plan and optimize their operations. Predictive analytics helps in predicting potential breakdowns or maintenance needs, ensuring that vehicles are serviced before major issues occur. This not only saves time and money but also improves customer service by minimizing disruptions in delivery schedules.
In conclusion, data analytics and reporting empower fleet managers with the insights necessary to make data-driven decisions, analyze performance, and optimize operations. By harnessing these capabilities, businesses can enhance their fleet management processes and achieve greater efficiency, cost savings, and customer satisfaction.
Choosing The Right Fleet Management Software
When it comes to managing a fleet of vehicles, having the right tools in place is essential. Fleet management software can streamline operations, improve efficiency, and reduce costs for your business. However, with so many options available, choosing the right fleet management software can be a daunting task. To help you make an informed decision, here are some factors to consider and key features to look for when selecting a fleet management solution:
Factors To Consider When Selecting Fleet Management Software
Before making a decision, there are several factors to consider to ensure the fleet management software meets your unique business needs:
Scalability: A good fleet management solution should be able to grow and adapt with your business. Look for software that can handle an increasing number of vehicles, drivers, and locations as your fleet expands.
Ease of use: The software should be user-friendly and intuitive, allowing your team to quickly navigate and perform tasks with ease. A complex and cumbersome system can lead to frustration and wasted time.
Integration: Check if the software seamlessly integrates with your existing tools and systems, such as GPS tracking devices, fuel cards, and maintenance management software. Integration ensures data accuracy and eliminates manual data entry.
Customization: Look for a solution that allows for customization according to your specific business requirements. Flexibility in designing reports, setting alerts, and creating workflows can greatly enhance the effectiveness of the software.
Data security: With sensitive information being stored in the software, security is paramount. Ensure that the fleet management solution offers robust data encryption, user access controls, and regular data backups to protect your information.
Key Features To Look For In A Fleet Management Solution
When evaluating fleet management software, keep an eye out for these key features that can greatly optimize your operations:
Vehicle tracking: Real-time GPS tracking enables you to monitor the location, speed, and status of each vehicle in your fleet. This feature helps improve routing, dispatching, and response times.
Driver management: Effective management of driver behavior, including monitoring speed, fuel consumption, and adherence to safety protocols, can improve fuel efficiency, reduce accidents, and ensure regulatory compliance.
Maintenance scheduling: Keeping track of vehicle maintenance can be a time-consuming task. Look for software that automates maintenance scheduling, tracks service history, and sends alerts for upcoming maintenance tasks.
Reporting and analytics: Access to comprehensive reports and analytics allows you to gain valuable insights into your fleet's performance and identify areas for improvement. Look for software that offers customizable reports and real-time analytics dashboards.
Case Studies Of Successful Implementation
To further demonstrate the benefits of implementing the right fleet management software, let's take a look at a couple of case studies:
| Company | Challenge | Solution | Results |
| --- | --- | --- | --- |
| ABC Logistics | Poor visibility into fleet operations, leading to inefficient route planning and high fuel costs. | Implemented a fleet management solution with real-time GPS tracking and route optimization capabilities. | Reduced fuel consumption by 15% and improved delivery times by 20%. |
| XYZ Construction | Difficulty in managing vehicle maintenance schedules and tracking maintenance history accurately. | Adopted a fleet management software that automated maintenance scheduling and provided maintenance log recording. | Reduced maintenance downtime by 30% and increased the lifespan of vehicles by 25%. |
These case studies highlight how implementing the right fleet management software can deliver tangible benefits and drive operational excellence.
By considering the factors mentioned and evaluating the key features, you can choose a fleet management software that aligns with your business goals and maximizes the efficiency of your fleet operations.
Frequently Asked Questions
What Is Fleet Management Software?
Fleet management software helps businesses efficiently manage and track their fleet of vehicles. It provides real-time data on vehicle location, fuel consumption, maintenance schedules, and more. This software streamlines operations, improves productivity, and reduces costs for companies with large fleets.
Who Uses Fleet Management Software?
Fleet management software is used by companies with a fleet of vehicles to efficiently manage their operations. From transportation companies to delivery services, businesses that rely on vehicles for daily operations benefit from using fleet management software.
How Much Is Fleet Management Software?
Fleet management software typically ranges in price depending on the features and capabilities. Prices can start at around $50 per month and go up to a few hundred dollars per month, depending on the size of the fleet and the specific needs of the business.
How Do I Choose A Good Fleet Management Software?
To choose a good fleet management software, follow these guidelines: 1) Evaluate features like vehicle tracking, maintenance scheduling, and fuel management. 2) Consider the software's compatibility with your existing systems. 3) Look for user-friendly interfaces and customizable reporting options. 4) Check customer reviews for reliability and customer support.
5) Compare pricing and choose a software that fits your budget.
Conclusion
In a fast-paced business environment, effective fleet management is essential. Fleet management software streamlines operations, optimizes efficiency, and enhances overall productivity. By leveraging advanced technology and data-driven insights, businesses can effectively monitor and track their vehicles, reduce costs, and improve customer service.
With its user-friendly interface and comprehensive features, fleet management software is a valuable tool for companies of all sizes. Make the smart choice and invest in a reliable fleet management software solution to stay ahead in this competitive era.