Knowledge Management Software is a tool that helps organizations capture, store, and share knowledge among employees. It enhances collaboration and improves decision-making by providing a centralized platform for accessing and organizing valuable information.
This software enables businesses to increase productivity, efficiency, and innovation by making knowledge easily accessible across the organization. Effective knowledge management software promotes learning, eliminates duplication of efforts, and fosters a culture of continuous improvement. With features such as document management, knowledge sharing, and search capabilities, it enables employees to find relevant information quickly and reduces the time spent on searching for answers.
Implementing a knowledge management software can greatly benefit organizations by maximizing their intellectual capital and driving growth.
What Is Knowledge Management Software? Explained In Detail
Knowledge Management Software, or KMS, refers to a specialized tool designed to capture, organize, store, and retrieve an organization's collective knowledge. It facilitates efficient knowledge sharing and collaboration among employees, leading to improved productivity, innovation, and informed decision-making. In this section, we will delve deeper into the definition of knowledge management software, discuss its importance in organizations, explore the role it plays in facilitating knowledge sharing and collaboration, as well as highlight its key features and functionalities.
Definition Of Knowledge Management Software
The definition of knowledge management software revolves around its purpose of effectively managing an organization's knowledge assets. It serves as a centralized repository that stores and organizes a wide variety of knowledge, such as documents, files, expertise, best practices, and lessons learned. This software enables businesses to capture, standardize, and disseminate knowledge across various departments and teams, ensuring that valuable information is accessible to anyone who needs it.
Importance Of Knowledge Management In Organizations
Knowledge management plays a crucial role in organizations of all sizes and industries. By implementing a robust knowledge management strategy, companies can benefit in numerous ways:
Enhanced collaboration: Knowledge management software fosters collaboration by connecting employees from different departments and locations. It enables them to leverage shared knowledge, insights, and experiences, leading to more effective teamwork and problem-solving.
Informed decision-making: Having easy access to relevant and up-to-date knowledge empowers employees to make informed decisions. Knowledge management software provides the necessary information to evaluate different options, analyze trends, and identify opportunities, resulting in better decision-making at all levels of the organization.
Increased productivity: With knowledge readily available, employees can save time by not having to recreate solutions or search for information repeatedly. They can quickly find answers to their questions, access templates or guides, and leverage existing knowledge to complete tasks more efficiently, thereby boosting overall productivity.
Improved innovation: When knowledge is effectively managed and shared, it fuels innovation within an organization. By making valuable insights and expertise accessible, knowledge management software encourages employees to build upon existing knowledge, think creatively, and develop innovative solutions to challenges.
Role Of Knowledge Management Software In Facilitating Knowledge Sharing And Collaboration
Knowledge management software acts as a catalyst for knowledge sharing and collaboration within an organization. It breaks down silos, bridges departmental gaps, and ensures seamless communication by providing a central platform for employees to contribute, access, and share knowledge.
Encourage the creation and capture of knowledge: Employees can contribute their expertise, insights, and ideas by creating and documenting knowledge within the software. This eliminates the risk of knowledge loss due to employee turnover or retirement.
Facilitate knowledge discovery and access: Knowledge management software offers robust search capabilities, allowing employees to efficiently find the information they need. Whether it's through advanced search filters or intelligent tagging systems, employees can retrieve relevant knowledge quickly.
Promote collaboration and learning: The software enables employees to collaborate on projects and share knowledge in real-time. Whether it's through discussion forums, wikis, or collaborative document editing, knowledge management software encourages continuous learning and fosters a culture of knowledge sharing.
Measure and track knowledge effectiveness: With analytics and reporting features, knowledge management software provides insights into the usage, effectiveness, and impact of shared knowledge. This data allows organizations to identify gaps, improve knowledge delivery, and ensure continuous improvement.
Key Features And Functionalities Of Knowledge Management Software
Knowledge management software offers a wide range of features and functionalities designed to streamline knowledge management processes within organizations. Some of the key features include:
| Feature | Description |
| --- | --- |
| Document management | Allows secure storage, version control, and easy retrieval of documents and files. |
| Collaborative tools | Enables real-time collaboration, discussion forums, and shared document editing. |
| Search and retrieval | Provides advanced search filters, intelligent tagging, and quick access to knowledge. |
| Workflow automation | Automates knowledge creation, review, and approval processes, ensuring efficiency. |
| Analytics and reporting | Offers insights into knowledge usage, effectiveness, and gaps through data-driven reports. |
| Training and onboarding | Supports employee learning and onboarding through training modules and resources. |
These are just a few examples of the features and functionalities that knowledge management software can provide. The specific offerings may vary depending on the software solution chosen and the unique requirements of the organization.
Benefits Of Implementing Knowledge Management Software
Knowledge management software is an essential tool for modern businesses looking to unlock the true potential of their knowledge assets. By leveraging advanced technologies and intelligent features, this software enables organizations to streamline knowledge capture, enhance discovery and retrieval, improve collaboration and knowledge sharing, facilitate effective decision-making, and boost employee productivity and efficiency. In this article, we will delve into each of these benefits, showcasing the transformative impact that knowledge management software can have on your business.
Streamlining Knowledge Capture And Storage
One of the most significant advantages of implementing knowledge management software is its ability to streamline knowledge capture and storage. Traditional methods of documenting and storing knowledge, such as physical files or scattered digital folders, can be inefficient and time-consuming. Knowledge management software, on the other hand, provides a centralized platform that allows employees to efficiently capture, organize, and store knowledge in a structured manner.
Whether it's capturing new insights, storing important documents, or archiving best practices, the software ensures that knowledge is properly recorded and made easily accessible. Additionally, it allows for the categorization and tagging of information, facilitating quick searching and retrieval. By streamlining the knowledge capture and storage process, organizations can ensure that valuable information is not lost, and employees can easily access the knowledge they need to perform their tasks effectively.
Enhancing Knowledge Discovery And Retrieval
Knowledge management software excels at enhancing knowledge discovery and retrieval, allowing employees to find the information they need quickly and effortlessly. With advanced search capabilities and intuitive interfaces, the software enables users to search through vast amounts of data using various filters, keywords, and metadata tags.
Gone are the days of sifting through numerous folders or relying on outdated information. With knowledge management software, employees can easily locate relevant documents, articles, or even discussions, empowering them to make informed decisions and solve problems more efficiently. The enhanced knowledge discovery and retrieval capabilities of the software facilitate a collaborative and knowledge-driven culture within the organization.
Improving Collaboration And Knowledge Sharing
The collaborative nature of knowledge management software fosters a culture of shared wisdom and continuous learning within the organization. By providing a centralized platform for employees to contribute, discuss, and share knowledge, the software breaks down silos and encourages collaboration across different teams and departments.
Teams can create knowledge bases, wikis, or discussion forums, enabling them to collaboratively work on projects, share insights, and seek advice from subject matter experts. The software also allows for version control, ensuring that the most up-to-date information is available to everyone. This seamless collaboration and knowledge sharing lead to increased innovation, improved decision-making, and accelerated problem-solving.
Facilitating Effective Decision-making
Knowledge management software plays a crucial role in facilitating effective decision-making by providing access to accurate, up-to-date, and relevant information. With the software's comprehensive knowledge repository, decision-makers can access key data, reports, and insights, enabling them to make well-informed decisions that align with organizational goals and strategies.
Furthermore, the software offers features like dashboards, analytics, and visualization tools, allowing users to analyze data and trends, identify patterns, and gain actionable insights. By leveraging these capabilities, organizations can ensure that decisions are based on reliable information and thorough analysis, ultimately leading to improved outcomes and competitive advantage.
Boosting Employee Productivity And Efficiency
Implementing knowledge management software significantly boosts employee productivity and efficiency by removing barriers to information access and streamlining workflows. With the software's intuitive interface and powerful search capabilities, employees spend less time searching for information and more time executing tasks.
Knowledge management software also promotes a self-service approach, empowering employees to find answers to their questions independently rather than relying on others for support. Additionally, the software enables employees to leverage existing knowledge assets, avoiding potential duplicated efforts and reducing rework.
Ultimately, by equipping employees with the tools and resources they need to work more efficiently and make data-driven decisions, knowledge management software contributes to overall productivity and organizational success.
How To Choose The Right Knowledge Management Software For Your Organization
Choosing the right knowledge management software for your organization requires careful consideration of features, usability, and integration capabilities. Making an informed decision will enhance knowledge sharing and improve productivity within your team.
Assessing Your Organization's Knowledge Management Needs And Goals
Before selecting a knowledge management software, it is crucial to assess your organization's specific needs and goals. Take the time to understand what challenges your company is facing when it comes to managing and sharing knowledge. Consider factors such as the size of your organization, the number of employees, geographical locations, and the complexity of your knowledge base. Determine what objectives you hope to achieve with the implementation of a knowledge management software, such as improving collaboration, increasing productivity, or reducing information search time.
Identifying Key Requirements And Features To Look For In A Knowledge Management Software
Once you have assessed your organization's needs and goals, it is important to identify the key requirements and features that are essential for your knowledge management software. Consider features such as seamless content creation and updating, robust search functionality, easy-to-use interface, permission and access control, version control, and analytics capabilities. It is also crucial to ensure that the software can integrate with your existing systems and tools, such as customer relationship management (CRM) software or project management software.
Evaluating Different Knowledge Management Software Options Based On Criteria Such As Scalability, Ease Of Use, Integration Capabilities, And Security
When evaluating different knowledge management software options, it is essential to consider various criteria to ensure it aligns with your organization's needs. Scalability is an important factor to consider, as your organization may grow over time and the software should be able to accommodate that growth. Ease of use is crucial for adoption and user engagement, so prioritize software that has an intuitive interface and requires minimal training. Integration capabilities are also essential, as the software should be able to integrate with your existing systems seamlessly. Lastly, prioritize a software solution that provides robust security features to protect your sensitive data.
Considerations For On-premise Vs. Cloud-based Knowledge Management Software Solutions
Choosing between an on-premise or cloud-based knowledge management software solution is an important decision. On-premise software allows you to have complete control over your data and may be ideal for organizations with strict compliance requirements. However, it requires an initial investment in infrastructure and ongoing maintenance. Cloud-based solutions, on the other hand, offer flexibility and scalability while eliminating the need for infrastructure setup and maintenance. Consider your organization's budget, IT capabilities, and security concerns to make an informed decision between these options.
Case Studies Or Customer Stories Highlighting Successful Implementation Of Knowledge Management Software
Reading case studies or customer stories can provide valuable insights into the successful implementation of knowledge management software. Look for examples of organizations similar to yours that have achieved their desired outcomes through the use of a specific software. Pay attention to the challenges they faced, the features that proved to be most beneficial, and the overall impact on their business. These case studies can give you a better understanding of the potential benefits and pitfalls of each software option you are considering, helping you make an informed decision for your organization.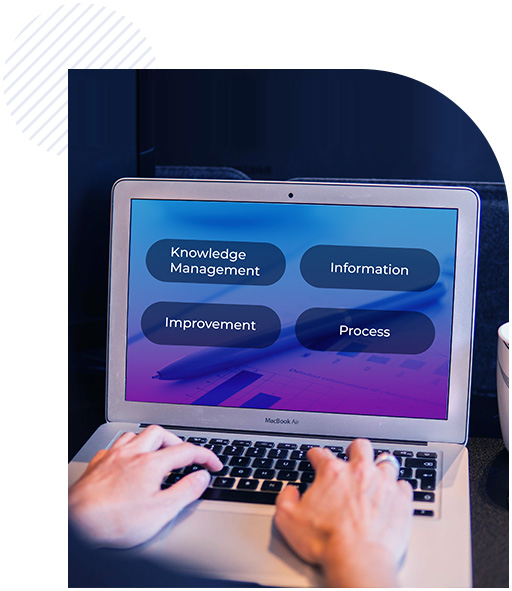 Credit: www.beyondintranet.com
Best Practices For Implementing Knowledge Management Software
Implementing effective knowledge management software is crucial for organizations to streamline their operations, enhance productivity, and foster collaboration among employees. However, without proper planning and execution, the implementation process can be challenging and overwhelming. This section explores the best practices for implementing knowledge management software, encompassing everything from defining a clear strategy to measuring its effectiveness.
Defining A Clear Knowledge Management Strategy And Goals
Before diving into the implementation process, it is vital to define a clear knowledge management strategy and set achievable goals. This involves identifying the specific areas where knowledge management software will be implemented and determining how it aligns with the organization's overall objectives. By clearly defining the strategy and goals, organizations can stay focused, prioritize their efforts, and ensure that the software implementation addresses their specific needs.
Engaging Stakeholders And Ensuring Buy-in From Employees
For a successful knowledge management software implementation, it is crucial to engage stakeholders at all levels of the organization and obtain their buy-in. This can be achieved by clearly communicating the benefits of the software, addressing any concerns or doubts, and involving stakeholders in the decision-making process. When employees understand the value of the software and actively support its implementation, they are more likely to embrace and adopt it, leading to greater success and user satisfaction.
Designing An Intuitive And User-friendly Knowledge Management System
An intuitive and user-friendly knowledge management system is key to encouraging user adoption and maximizing its benefits. When designing the system, it is essential to prioritize simplicity and ease of use. This involves organizing information in a logical and intuitive manner, providing an intuitive search functionality, and ensuring that users can easily navigate and contribute to the system. By prioritizing user experience, organizations can enhance user productivity and satisfaction.
Establishing Processes For Knowledge Capture, Validation, And Maintenance
A successful knowledge management software implementation necessitates establishing processes for capturing, validating, and maintaining knowledge. Organizations should define clear guidelines for knowledge creation and submission, implement validation mechanisms to ensure the accuracy and relevance of the knowledge, and regularly update and maintain the repository. By establishing streamlined processes, organizations can ensure the quality and reliability of the knowledge within the system.
Ensuring Continuous Training And Support For Users
Continuous training and support are essential for driving user adoption and maximizing the benefits of knowledge management software. Organizations should provide comprehensive training sessions to educate users on how to effectively navigate and utilize the system. Additionally, having readily available support resources, such as user guides or a help desk, can enable users to seek assistance whenever they encounter challenges. By investing in user training and support, organizations can empower their employees to harness the full potential of the knowledge management software.
Measuring And Evaluating The Effectiveness Of The Knowledge Management Software Implementation
Measuring and evaluating the effectiveness of the knowledge management software implementation is crucial to ensure its continuous improvement and success. Organizations should establish key performance indicators (KPIs) and regularly assess the software's impact on productivity, collaboration, and knowledge sharing within the organization. By analyzing the data and identifying areas for improvement, organizations can implement necessary modifications and enhancements to optimize the software's effectiveness.
Success Stories: Real-world Examples Of Organizations Benefiting From Knowledge Management Software
In today's fast-paced business environment, knowledge is power. Organizations that effectively manage their knowledge resources gain a significant competitive advantage. One technology that has revolutionized knowledge management is knowledge management software. Let's take a closer look at some real-world examples of companies that have experienced notable benefits by implementing knowledge management software.
Case Study 1: Company X Improves Knowledge Sharing And Collaboration With The Implementation Of Knowledge Management Software
Company X, a leading player in the technology industry, faced challenges in leveraging its vast knowledge base effectively. Siloed information, lack of collaboration, and duplication of efforts were hampering productivity and innovation. However, with the implementation of knowledge management software, Company X was able to turn the tide.
The software facilitated seamless sharing of knowledge among departments and teams, breaking down information silos and fostering collaboration. Instead of reinventing the wheel, employees could easily find and access relevant information, documents, and best practices. This led to faster decision-making, improved problem-solving, and enhanced overall efficiency. With a centralized database and powerful search capabilities, Company X experienced a significant boost in productivity and innovation.
Case Study 2: Organization Y Achieves Significant Cost Savings And Efficiency Gains Through Streamlined Knowledge Management Processes
Organization Y, a multinational conglomerate, recognized the need to streamline its knowledge management processes to stay competitive in a rapidly evolving market. The implementation of knowledge management software proved to be a game-changer for Organization Y, offering unparalleled cost savings and efficiency gains.
By organizing and categorizing their vast knowledge resources, Organization Y eliminated redundancy and wastage. The software's advanced analytics and reporting capabilities empowered the organization to identify inefficiencies, bottlenecks, and areas of improvement. With these insights, they optimized internal processes, reduced duplication of efforts, and minimized information overload.
The result? Organization Y achieved significant cost savings by eliminating unnecessary expenses and improving resource allocation. Moreover, the streamlined knowledge management processes increased overall efficiency, enabling the organization to respond promptly to changing market demands.
Case Study 3: How Company Z Leveraged Knowledge Management Software To Improve Employee Onboarding And Training
Employee onboarding and training are critical aspects of any organization's success. Company Z, a rapidly growing start-up, recognized the importance of efficient onboarding and training to nurture talent effectively. To address this need, Company Z implemented knowledge management software to streamline their onboarding and training processes.
The software provided a centralized repository of training materials, documentation, and standard operating procedures (SOPs), making it easy for new employees to access and absorb crucial information. Company Z leveraged the software's robust collaboration features to encourage interaction and knowledge-sharing among employees, fostering a culture of learning and growth.
The implementation of knowledge management software significantly improved employee onboarding and training at Company Z. New hires were able to quickly get up to speed, reducing the time and resources spent on training. The software facilitated the transfer of tacit knowledge from experienced employees, ensuring that vital institutional knowledge was captured and retained.
As demonstrated by these real-world examples, knowledge management software has the potential to transform organizations by increasing productivity, enhancing collaboration, driving cost savings, and improving employee onboarding and training. By effectively harnessing their knowledge resources, businesses can position themselves for success in today's competitive landscape.
Frequently Asked Questions
What Are The 3 Major Knowledge Management Systems?
The three major knowledge management systems are document management systems, knowledge base systems, and collaborative systems. These systems efficiently store and organize information, provide access to knowledge, and facilitate collaboration among team members.
What Are The Km Tools?
KM tools are software or systems that help organizations manage and share knowledge effectively. These tools include intranets, document management systems, and collaboration platforms. They streamline knowledge processes, enhance communication, and improve information access to boost productivity and decision-making.
What Are The 4 Types Of Knowledge Management?
The four types of knowledge management include: capturing knowledge through documentation, sharing knowledge through collaboration, organizing knowledge through categorization, and applying knowledge through decision-making and problem-solving.
What Is A Good Knowledge Management System?
A good knowledge management system is a user-friendly platform that organizes and centralizes information, making it easily accessible and shareable among team members. It helps improve productivity, collaboration, and decision-making within an organization.
Conclusion
Effective knowledge management is crucial for businesses to stay ahead in the competitive market. With the right knowledge management software, companies can streamline their processes, enhance collaboration, and foster innovation. By centralizing information and facilitating easy access and sharing, such software enables teams to work efficiently and make well-informed decisions.
Investing in a reliable knowledge management software can significantly improve productivity and ensure long-term success for organizations. Embrace the power of knowledge management software and empower your business for growth.