Lease management software efficiently handles all aspects of lease agreements in a user-friendly and comprehensive way. Lease management software is a valuable tool for businesses, property managers, and landlords to streamline and automate their lease-related processes.
From lease agreement creation and tracking to rent collection and renewal management, this software provides a centralized platform for managing all aspects of leasing. With features like automatic reminders, document storage, and financial reporting, lease management software simplifies the complexities of lease administration, reducing paperwork and saving time.
It also helps ensure compliance with legal and financial regulations, minimizing risks and facilitating better decision-making. By using lease management software, businesses can optimize their leasing operations, improve efficiency, and provide better service to their customers.
Understanding Lease Management Software
In today's fast-paced business world, effective lease management is crucial for organizations of all sizes. A reliable lease management software can streamline and simplify the entire lease lifecycle, enabling businesses to efficiently manage their lease agreements, track payments, and monitor critical dates and deadlines. In this article, we will dive into the concept of lease management software, explore its benefits, and highlight the key features to look for when considering a lease management software.
What Is Lease Management Software?
Lease management software is a powerful tool designed to help businesses manage their lease agreements seamlessly. It is a centralized platform that enables organizations to effectively process, organize, and track lease documents and related data. This software automates various lease management tasks, streamlines workflows, and provides real-time insights into lease details.
The Benefits Of Using Lease Management Software
Implementing lease management software offers numerous advantages to businesses, enhancing their lease management processes and improving overall operational efficiency. Let's delve into some of the key benefits:
Centralized Data Management: Lease management software provides a centralized repository for storing and organizing lease agreements and associated documents. This ensures easy access to critical information and eliminates the need for cumbersome paperwork.
Improved Accuracy and Compliance: By automating lease calculations, lease management software minimizes the risk of manual errors and ensures accurate data processing. Additionally, it helps organizations stay compliant with lease accounting regulations and reporting standards.
Efficient Lease Tracking: Lease management software facilitates efficient monitoring of key dates, such as lease expirations, renewals, and rent escalations. It sends timely notifications and reminders, enabling businesses to take proactive actions and avoid penalties or missed opportunities.
Enhanced Collaboration: This software fosters collaboration among different teams involved in the lease lifecycle, including legal, finance, and operations. It enables seamless document sharing, comment collaboration, and workflow management, ensuring everyone is on the same page.
Cost Savings: With accurate lease data and better visibility into lease metrics, organizations can identify cost-saving opportunities, negotiate better lease terms, and optimize their real estate portfolio effectively. This ultimately leads to significant cost savings for the business.
Key Features To Look For In Lease Management Software
When selecting lease management software for your organization, it is crucial to consider the following key features:
Document Management: Look for software that offers robust document management capabilities. It should allow you to store and organize lease agreements, amendments, and supporting documents in a secure and easily accessible manner.
Automated Reminders and Notifications: Ensure that the software has automated reminders and notifications functionality. This feature helps you stay on top of critical dates and deadlines, preventing any potential disruptions or missed opportunities.
Lease Accounting and Financial Reporting: Choose software that enables accurate lease accounting and financial reporting. It should have built-in lease calculations, lease classification capabilities, and comprehensive reporting tools.
Lease Portfolio Analytics: Look for software that provides robust analytics and reporting features. It should allow you to gain insights into lease performance, occupancy costs, and other key metrics, helping you make informed strategic decisions.
Integration Capabilities: Consider software that seamlessly integrates with your existing systems and tools, such as accounting software and CRM platforms. This integration ensures smooth data flow and eliminates manual data entry.
By keeping these key features in mind, you can select a lease management software that aligns with your organization's specific requirements and maximizes the benefits it offers.
Choosing The Right Lease Management Software
Choosing the right lease management software solution is crucial for businesses looking to streamline their lease management processes. With numerous options available in the market, selecting the most suitable software that meets your specific needs can be overwhelming. To ensure you make an informed decision, it's important to consider various factors before settling on a lease management software solution. In this article, we will explore some of the key factors to consider and highlight the top lease management software solutions currently available in the market.
Factors To Consider When Selecting Lease Management Software
When selecting lease management software, it's important to consider several factors that align with your business requirements. By evaluating these factors, you can ensure that the software you choose meets your needs effectively. Here are some key aspects to keep in mind:
Scalability: Look for lease management software that can grow with your business. It should be able to handle an increasing number of leases and accommodate expanding operations.
User-friendliness: Ensure that the software has a user-friendly interface, allowing your team to navigate it easily and perform tasks efficiently without requiring extensive training.
Reporting and analytics: The software should provide comprehensive reporting and analytics capabilities, enabling you to gain insights into your lease portfolio, track financial performance, and make data-driven business decisions.
Integration: Consider the software's compatibility with other systems and ensure it integrates smoothly with your existing software stack, such as accounting or property management systems.
Compliance: Compliance with accounting standards, regulatory requirements, and lease accounting rules, such as ASC 842 and IFRS 16, is critical. Choose software that handles these compliance issues effectively.
Top Lease Management Software Solutions In The Market
Now that we have explored the key factors to consider, let's take a look at some of the top lease management software solutions currently available in the market:
| Software | Description |
| --- | --- |
| LeaseQuery | A comprehensive lease management software that offers robust reporting, automated lease accounting, and seamless integration with accounting systems. |
| Liberent | A user-friendly software that simplifies lease administration, facilitates document management, and helps track lease terms, reducing compliance risks. |
| LeaseAccelerator | Offers end-to-end lease management solutions, providing lease accounting and administration capabilities, and handles complex lease portfolios with ease. |
Comparing Different Lease Management Software Options
When comparing different lease management software options, it's essential to evaluate their features, pricing, support, and customer reviews. By conducting thorough research and understanding the strengths and weaknesses of each software, you can make an informed decision that aligns with your business requirements. Remember, choosing the right lease management software can significantly improve efficiency, mitigate risks, and optimize your lease management processes.
Implementing Lease Management Software
Lease management software simplifies and streamlines the process of managing leases, ensuring accurate tracking, payments, and renewals. It provides a centralized platform to efficiently manage lease agreements, reducing errors and improving overall productivity.
When it comes to managing leases effectively, implementing lease management software can streamline your processes and improve overall efficiency. By digitizing lease data, automating key tasks, and centralizing information, lease management software offers a myriad of benefits for businesses of all sizes. However, successful implementation of lease management software requires careful planning and execution. In this article, we will outline the steps you need to follow to ensure a seamless transition to lease management software. We will also explore the importance of training and support for your team as well as integrating the software with your existing systems.
Steps To Successfully Implement Lease Management Software
Implementing lease management software can be a complex process, but with the right approach, it can be easily accomplished. To ensure a smooth implementation, follow these key steps:
Define your objectives: Before diving into the implementation process, clearly define your objectives. Determine what you want to achieve with the software, whether it's improved lease tracking, streamlined reporting, or better compliance management.
Create a project plan: Develop a comprehensive project plan that outlines key milestones, timelines, and responsibilities. This plan will guide you throughout the implementation process and ensure everyone is on the same page.
Choose the right software: Consider your unique business needs and select a lease management software that aligns with those requirements. Look for a solution that offers robust features, user-friendly interface, and scalability.
Gather and migrate data: Collect all relevant lease data from your existing systems and organize it in a format compatible with the new software. This may involve data cleansing, data conversion, and data mapping to ensure a smooth data migration process.
Customize and configure: Tailor the lease management software to match your specific business processes. Configure the software settings, workflows, and permissions to ensure optimal functionality for your team.
Test and train: Before fully implementing the software, conduct thorough testing to identify any bugs or issues. Once the software is stable, provide comprehensive training to your team members to ensure they are proficient in using the new system.
Go live and monitor: After successful testing and training, it's time to go live with your lease management software. Monitor the system closely during the initial days to address any hiccups or user queries promptly.
Training And Support For Your Team
One of the critical aspects of implementing lease management software is providing adequate training and support to your team. Regardless of how intuitive the software may be, it's essential to invest time and resources into training your employees to maximize their productivity and ensure a smooth transition. Here's what you need to keep in mind:
Create training materials: Develop comprehensive training materials, including user manuals, video tutorials, and interactive guides. These resources will serve as a reference for your team members and help them familiarize themselves with the software's features and functionalities.
Organize training sessions: Conduct interactive training sessions to introduce the software's functionalities, demonstrate key processes, and address any questions or concerns. Encourage active participation and provide hands-on practice opportunities to reinforce learning.
Offer ongoing support: Even after the initial training, ensure your team has access to ongoing support. Establish a system to manage user queries and provide timely assistance when needed. This will help your employees feel supported and confident in using the new software.
Integrating Lease Management Software With Existing Systems
Integrating lease management software with your existing systems is crucial to ensure seamless data flow and avoid duplication of efforts. When integrating lease management software, consider the following:
Evaluate compatibility: Before integrating the software, assess its compatibility with your existing systems, such as accounting software or CRM platforms. Ensure that the software can seamlessly exchange data with these systems to avoid manual data entry and improve overall efficiency.
Establish data connections: Work with your IT department or software vendor to establish data connections between the lease management software and your existing systems. This will enable the automatic transfer of data and eliminate the need for manual intervention.
Map data fields: Identify the key data fields in your existing systems that should align with the fields in the lease management software. Mapping the fields will ensure data consistency and accuracy across systems.
By following these steps and paying attention to training, support, and integration, you can successfully implement lease management software and transform your lease management processes. Embrace the power of automation and digitization to unlock new levels of efficiency and productivity in lease management.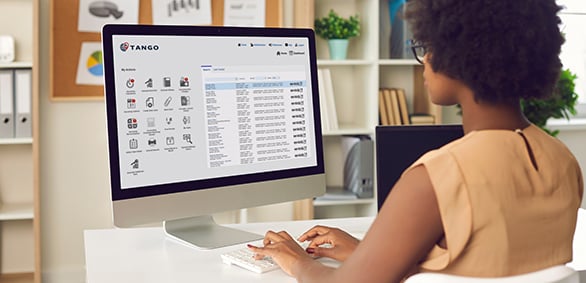 Credit: tangoanalytics.com
Streamlining Lease Operations With Software
In today's rapidly evolving business landscape, streamlining lease operations is a critical priority for organizations looking to optimize efficiency and maximize profitability. With the advent of lease management software, businesses can bid farewell to cumbersome and error-prone manual processes, and instead embrace a streamlined and automated approach to lease management.
Automating Lease Agreement Creation And Tracking
Lease agreement creation and tracking can often be a time-consuming and complex process. However, with the help of lease management software, this task becomes remarkably simplified. By leveraging advanced automation capabilities, software enables businesses to effortlessly generate customized lease agreements with just a few clicks.
Gone are the days of manually entering data and juggling multiple spreadsheets. Lease management software consolidates all relevant information, ensuring accurate record-keeping and easy accessibility. This allows businesses to track lease agreements efficiently, providing a comprehensive overview of terms, conditions, and critical dates.
Managing Lease Renewals And Terminations Efficiently
Successful management of lease renewals and terminations requires meticulous attention to detail and timely action. Lease management software equips businesses with the tools to streamline these processes, ensuring nothing falls through the cracks.
With automated reminders and notifications, software eliminates the risk of missed renewal or termination dates, allowing businesses to proactively address these crucial events. Moreover, the software empowers businesses with real-time visibility into lease statuses, facilitating informed decision-making when it comes to renewing or terminating leases.
Using Software To Optimize Lease Financials And Reporting
Financial management and reporting for leases can often be complex and challenging. However, lease management software simplifies and streamlines this aspect of lease operations, optimizing financials and ensuring regulatory compliance.
By centralizing lease financial data, software enables businesses to effortlessly generate comprehensive financial reports, complete with key metrics, projections, and cost breakdowns. This allows organizations to gain valuable insights into their lease portfolio and make informed strategic decisions.
Moreover, software tools offer advanced functionalities such as lease abstraction, enabling businesses to extract critical financial data from lease agreements and automate calculations. This minimizes manual errors and enhances accuracy, saving businesses both time and effort.
In conclusion, lease management software revolutionizes lease operations by automating lease agreement creation and tracking, managing lease renewals and terminations efficiently, and optimizing lease financials and reporting. By adopting these software solutions, businesses can streamline their lease processes, enhance productivity, and drive overall success.
Ensuring Compliance And Security With Lease Management Software
Lease management software ensures compliance and security by efficiently managing leases, minimizing risks, and providing transparency throughout the lease lifecycle. It simplifies lease administration, automates processes, and enables businesses to stay organized and compliant.
Ensuring Lease Compliance With Legal Requirements And Regulations
Lease compliance is a critical aspect of managing your organization's leases. Failure to comply with legal requirements and regulations can result in serious consequences and financial losses. Implementing lease management software can help you navigate the complex landscape of lease compliance with ease and confidence.
Lease management software provides a centralized platform for storing and organizing lease documents, allowing you to easily access the necessary information and documents to ensure compliance. With robust search and filtering functionalities, you can effortlessly locate leases based on specific criteria, such as lease term, renewal date, or lease type.
In addition to document management, lease management software also includes features to automate compliance workflows. You can set up reminders and notifications for important lease milestones, such as expiration dates or rent escalations, ensuring you never miss a deadline. This proactive approach to compliance can help you avoid costly penalties and legal issues.
Moreover, lease management software enables you to stay updated with the regulatory landscape. These solutions often integrate with lease accounting standards such as the International Financial Reporting Standards (IFRS) or the Financial Accounting Standards Board (FASB) guidelines. This integration ensures that your leases are compliant with the latest accounting regulations, reducing the risk of non-compliance.
Data Security And Privacy Considerations With Lease Management Software
With the increasing reliance on digital platforms for lease management, ensuring data security and privacy is of utmost importance. Lease management software not only streamlines your lease processes but also prioritizes the protection of your sensitive information.
Lease management software employs robust security measures, such as encryption and user authentication, to safeguard your valuable lease data. These measures ensure that only authorized individuals have access to the information, preventing unauthorized parties from obtaining or misusing it.
Furthermore, lease management software provides data backup and recovery capabilities, minimizing the risk of data loss due to system failure or human error. Regular backups ensure that your lease information is protected even in the event of unforeseen circumstances.
To add another layer of protection, lease management software allows you to define user roles and access levels, ensuring that individuals can only view or modify lease data that is relevant to their responsibilities. This granular control over data access helps maintain the integrity and confidentiality of your lease information.
Auditing And Tracking Lease Activities With Software
Monitoring and auditing lease activities is crucial for maintaining transparency and accountability within your organization. Lease management software provides robust auditing and tracking capabilities, empowering you to track and analyze lease-related activities with ease.
By leveraging lease management software, you can track various lease activities, such as lease modifications, rent payments, or maintenance requests. This comprehensive audit trail enables a clear understanding of the history and changes made to each lease, facilitating accurate reporting and data analysis.
Additionally, lease management software allows you to generate customizable reports to gain insights into critical lease metrics. You can analyze lease performance, identify trends, and make informed decisions based on accurate and up-to-date data.
The ability to track lease activities also enhances communication and collaboration within your organization. Lease management software enables multiple stakeholders to access and contribute to lease information, ensuring everyone is on the same page and working towards shared goals.
Frequently Asked Questions
What Is Lease Management Software?
Lease management software is a tool that helps businesses manage their leases effectively. It digitizes lease-related tasks, such as tracking payments, monitoring lease agreements, and organizing important documents. This software simplifies lease management processes and improves efficiency.
How Much Does Lease Management Software Cost?
The cost of lease management software varies depending on the provider, features, and subscription model. Contact different vendors for specific pricing information tailored to your business needs.
What Is Lease Management In Sap?
Lease management in SAP helps businesses efficiently handle the entire lifecycle of leases, from creation to termination. It streamlines lease agreement processes, tracks lease data, calculates payments, and provides financial insights. By using SAP, companies can effectively manage their lease contracts, minimize risks, and ensure compliance with accounting standards.
Why Is Lease Management Important?
Lease management is crucial as it ensures efficient management of leases, reduces risks, and maximizes profits. It helps track lease agreements, payment schedules, and maintenance tasks, minimizing confusion and ensuring compliance. Effective lease management improves financial control and streamlines operations, benefiting both landlords and tenants.
Conclusion
Lease management software is a game-changer for businesses looking to streamline their operations and increase efficiency. By automating lease tracking, invoicing, and reporting processes, this software eliminates the risk of errors and keeps everything organized in one central system. With its user-friendly interface and robust features, lease management software is a must-have tool for any company managing multiple leases.
Start optimizing your lease management process today and watch your productivity soar!