To set up a home office, you need essential items such as a desk and chair, reliable internet connection, computer or laptop, and office supplies like pens and notebooks. Additionally, you may want to consider a printer, filing cabinet, and comfortable lighting to enhance your productivity and organization.
A designated workspace with minimal distractions is crucial for creating a productive environment. With the right equipment and a well-organized space, you can effectively work from home with ease and efficiency.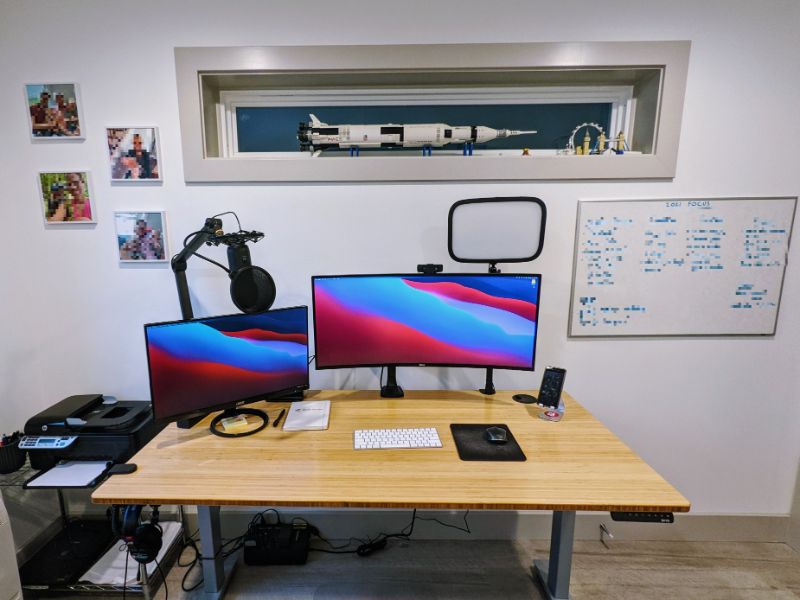 Credit: www.benlcollins.com
Must-Have Furniture And Equipment
Setting up a home office requires essential furniture and equipment like a comfortable desk, ergonomic chair, reliable computer, high-speed internet, good lighting, and a reliable printer. These must-haves ensure productivity and efficiency while working from home.
Whether you're starting your own business, transitioning to remote work, or simply want a dedicated space for productivity, setting up a home office is crucial. To create an efficient work environment, you'll need the right furniture and equipment. Here are the must-have items to consider:
Ergonomic Chair
An ergonomic chair is essential for maintaining good posture and preventing back pain during long hours of sitting. Look for features such as adjustable height, lumbar support, and comfortable cushioning. Investing in a quality ergonomic chair can greatly enhance your work comfort and productivity.
Adjustable Standing Desk
Sitting for prolonged periods can lead to various health issues. An adjustable standing desk allows you to switch between sitting and standing positions, promoting better blood circulation and reducing the risk of back and neck pain. Look for a desk that can be easily adjusted to different heights and provides ample workspace for your needs.
Efficient Storage Solutions
Clutter can be distracting and hinder productivity. Efficient storage solutions are essential for keeping your home office organized and maintaining a clear workspace. Consider the following options:
Shelving units: Install sturdy shelves to store books, files, and reference materials. This will keep them easily accessible while maximizing space.
Filing cabinet: A filing cabinet is perfect for organizing important documents and minimizing paper clutter. Opt for one with multiple drawers to sort and label files efficiently.
Desk organizers: Keep your desk tidy with the help of desk organizers such as penholders, file trays, and cable management solutions. These small accessories can make a big difference in keeping your workspace neat and efficient.
Creating a functional and well-equipped home office is essential for productivity and work-life balance. With an ergonomic chair, adjustable standing desk, and efficient storage solutions, you can create a comfortable and organized workspace that sets you up for success.
Creating A Productive Work Environment
Setting up a productive home office involves essentials like a comfortable desk, ergonomic chair, good lighting, reliable internet connection, and proper storage to keep things organized. A quiet and dedicated space with the right equipment can significantly enhance productivity and create an efficient work environment.
Your home office should be a space that inspires productivity and helps you stay focused throughout the workday. To set up a productive work environment, consider the following factors:
Adequate Lighting Setup:
Natural light: Position your desk near a window to take advantage of natural light. This can improve your mood and enhance your productivity.
Task lighting: Use a desk lamp or adjustable light fixtures to provide focused lighting on your workspace. This will reduce eye strain and help you concentrate on your tasks.
Ambient lighting: Consider adding ambient lighting, such as overhead lights or floor lamps, to create a pleasant and well-lit atmosphere in your home office.
Noise-Canceling Headphones:
Block distractions: Noise-canceling headphones are essential for creating a quiet and focused work environment, especially if you live in a noisy household or have neighbors who frequently make noise.
Improve concentration: These headphones can reduce background noise, enhancing your ability to concentrate on your work tasks. You can listen to calming music or white noise to further drown out distractions.
Personalization And Decor:
Make it your own: Personalizing your home office can create a sense of ownership and motivation. Add elements that reflect your personality, such as artwork, plants, or inspirational quotes.
Declutter and organize: A clean and organized workspace promotes productivity and helps you stay focused. Use storage solutions, such as shelves or desk organizers, to keep your office supplies and materials easily accessible.
Comfort is key: Invest in an ergonomic chair and a suitable desk to ensure physical comfort throughout the workday. Consider adding a cozy rug or cushions to make your workspace inviting.
By incorporating these elements into your home office setup, you can create a productive environment that enhances focus and motivates you to perform at your best. Remember to prioritize lighting, block out distractions with noise-canceling headphones, and build a space that reflects your personality and needs.
class="wp-block-heading">Optimizing Technology And Connectivity
Setting up a home office requires the right technology and connectivity. From a reliable internet connection to essential devices like a computer and printer, optimizing your home office for productivity is essential for success.
Setting up a home office requires selecting the right technology and ensuring a reliable internet connection. The following are essential components to consider for an optimized work environment:
High-Speed Internet Connection
Choose a high-speed internet service provider (isp) that offers reliable connectivity.
Opt for a plan that suits your usage requirements, such as one with sufficient bandwidth to handle video conferences and file uploads.
Ensure your router is positioned in a central location to minimize signal disruptions.
Consider using a wired ethernet connection for even greater stability.
Reliable Computer Or Laptop
Invest in a computer or laptop that meets your work needs, such as one with a suitable processor, ram, and storage capacity.
Consider whether a windows, macos, or linux operating system is best for your work requirements.
Choose a device with a comfortable keyboard and high-resolution display for prolonged use.
Install necessary software and applications that align with your work tasks.
All-In-One Printer And Scanner
Select an all-in-one printer and scanner that fits your space and usage requirements.
Look for features such as wireless connectivity, automatic document feeders, and duplex printing.
Ensure compatibility with your computer or laptop's operating system.
Install necessary drivers and software to enable seamless printing and scanning.
In today's increasingly digital world, technology plays a vital role in setting up an efficient home office. An optimized work environment depends on a high-speed internet connection, a reliable computer or laptop, and an all-in-one printer and scanner. By choosing the right components and ensuring seamless connectivity, you can create a productive workspace that promotes your professional success.
Establishing An Organized Workflow
To establish an organized workflow in your home office, it's important to have essential items such as a desk, chair, computer, and storage solutions. Creating a dedicated workspace with proper organization can enhance productivity and efficiency.
Setting up a home office requires careful planning to ensure an efficient and organized workflow. By implementing the right tools and systems, you can maximize productivity and stay focused on your work. Here are three essential elements for establishing an organized workflow:
Digital File Organization System
Managing digital files can quickly become overwhelming without an effective organization system. Here's how you can keep your digital documents tidy and easily accessible:
Create a clear folder structure: Organize your documents into main categories and subcategories to facilitate easy navigation.
Use descriptive file names: Give your files meaningful names that reflect their content, making it easier to locate specific documents in the future.
Utilize cloud storage solutions: Store your files in the cloud using services like google drive or dropbox, ensuring that you can access them from anywhere and easily collaborate with others.
Task Management Software
To stay on top of your tasks and projects, investing in reliable task management software is crucial. Consider the following benefits of using such tools:
Prioritize and track tasks: Stay organized by adding tasks, setting due dates, and monitoring progress. This way, you'll never miss an important deadline.
Collaborate with ease: Task management software often allows for seamless collaboration among team members, ensuring that everyone stays informed and on the same page.
Gain visibility and insights: By gaining a clear overview of your tasks, you can identify bottlenecks and optimize your workflow for maximum efficiency.
Efficient Communication Tools
Effective communication is vital, whether you're working alone or collaborating with others remotely. Here are some tools to streamline communication and enhance productivity:
Instant messaging platforms: Utilize tools like slack or microsoft teams to communicate with team members quickly and efficiently.
Video conferencing software: Stay connected with clients, colleagues, or remote teams by conducting virtual meetings through applications like zoom or google meet.
Email management systems: Use email clients like outlook or gmail to efficiently handle your inbox, enabling you to stay organized and respond promptly to important messages.
By establishing a well-organized workflow through a digital file organization system, task management software, and efficient communication tools, you'll create a home office environment that fosters productivity, reduces stress, and enables you to work seamlessly. Remember to adapt these tools and systems to your specific needs and preferences, ensuring that your workspace supports your professional goals.
class="wp-block-heading">Ensuring Comfort And Health
Setting up a home office is essential for ensuring comfort and maintaining good health. This involves acquiring ergonomic furniture, proper lighting, a dedicated work area, and essential equipment like a computer and printer. Creating a well-equipped home office is crucial for productivity and taking care of your physical and mental well-being.
Creating a comfortable and healthy working environment is essential for productivity and well-being when setting up a home office. Consider these key factors to achieve an ergonomic and enjoyable workspace:
Proper Ergonomics Setup
Choose a supportive chair: Opt for an ergonomic chair that supports your back and encourages good posture. Look for adjustable features like height, armrests, and lumbar support.
Position your monitor correctly: Ensure that the top of your monitor is at or slightly below eye level to avoid strain on your neck and eyes. Use a monitor riser or adjust the height accordingly.
Invest in an adjustable desk: A standing desk or one with adjustable height options allows you to switch between sitting and standing positions, promoting movement and reducing the risks of a sedentary lifestyle.
Arrange your keyboard and mouse: Keep your keyboard and mouse at a comfortable distance and height to avoid strain on your wrists. Consider using an ergonomic keyboard and mouse for additional support.
Regular Breaks And Stretching Exercises
Take frequent breaks: It's important to give your mind and body regular breaks from sitting in front of the computer screen. Set reminders to get up and move around every hour or so.
Stretch and move: Incorporate simple stretching exercises into your routine to relieve tension and improve blood circulation. Focus on stretching your neck, shoulders, arms, and legs to combat stiffness and promote flexibility.
Practice eye exercises: Staring at a screen for long periods can cause eye strain. To alleviate this, practice exercises like blinking frequently, looking away into the distance, and focusing on objects at different distances.
Healthy Snacks And Hydration
Opt for nutritious snacks: Fuel your body and brain with healthy snacks to maintain energy levels throughout the day. Consider options like fruits, nuts, yogurt, or granola bars that provide sustenance without causing a slump in productivity.
Stay hydrated: Dehydration can lead to fatigue and diminished cognitive function. Keep a water bottle nearby and make it a habit to drink water regularly. Herbal teas and infused water can be refreshing alternatives.
Remember, creating a comfortable and healthy home office setup is crucial for your overall well-being and productivity. Prioritize ergonomics, take regular breaks, and fuel your body with nutritious snacks and hydration. Your body will thank you for it, leading to improved focus and efficiency in your work.
Setting Up A Professional Communication System
Setting up a professional communication system for your home office is essential for seamless work flow. Equip your space with a reliable telephone line, high-speed internet connection, and professional email address to effectively communicate with clients and colleagues.
When it comes to setting up a home office, creating a professional communication system is essential. Whether you need to collaborate with clients, hold virtual meetings, or simply stay connected with colleagues, having the right tools is crucial. Here are three key components to consider for a professional communication system:
Dedicated Phone Line
A dedicated phone line is a must-have for any home office. It provides a separate channel for business calls, ensuring that your personal line remains private. Here are a few reasons why a dedicated phone line is beneficial:
Convenience: With a dedicated line, you can easily manage your business calls without the hassle of mixing personal and professional conversations.
Professionalism: Having a separate phone line adds a level of professionalism to your home office, making it clear to clients and colleagues that you take your business seriously.
Call forwarding options: Many phone service providers offer call forwarding features, allowing you to redirect incoming calls to your mobile or other devices, ensuring you never miss important calls.
Video Conferencing Software
In today's digital age, face-to-face meetings don't always need to be in person. Video conferencing software enables you to connect with clients, colleagues, and team members from anywhere in the world. Here's why you should consider using video conferencing software:
Remote collaboration: With video conferencing, you can collaborate with others, share screens, and work on projects together, no matter where you or your team members are located.
Reduced travel expenses: By utilizing video conferencing, you can significantly reduce travel costs associated with attending meetings or conferences in person.
Virtual meetings: Video conferencing allows you to conduct virtual meetings, presentations, and training sessions, providing you with a versatile communication tool.
Voip Services
Voice over internet protocol (voip) services are internet-based phone systems that transmit calls digitally, offering several benefits for home office setups. Here's what you need to know about voip services:
Cost-effective: Voip services often have lower monthly costs compared to traditional landline services, especially for long-distance or international calls.
Flexibility: Voip services allow you to make and receive calls from multiple devices, such as your laptop, smartphone, or desktop computer, ensuring you never miss an important call.
Additional features: Many voip providers offer additional features such as call forwarding, call recording, voicemail-to-email, and virtual receptionist, enhancing your professional communication capabilities.
By setting up a dedicated phone line, utilizing video conferencing software, and considering voip services, you can establish a professional communication system in your home office. With these tools at your disposal, you'll be able to connect with clients, collaborate with colleagues, and conduct business efficiently while maintaining a high level of professionalism.
Establishing Data Security Measures
To set up an efficient home office, it is crucial to establish robust data security measures. Safeguarding sensitive information against unauthorized access and potential cyber threats ensures a safe and secure work environment. Incorporating encryption, firewalls, and strong passwords are essential steps towards protecting your data in a home office setup.
In today's digital age, protecting your data is of utmost importance, especially when setting up a home office. Implementing data security measures ensures the confidentiality, integrity, and availability of your information. Let's explore some essential steps you need to take:
Firewall And Antivirus Software
Installing a strong firewall and reliable antivirus software is the first line of defense against cyber threats. These protective measures safeguard your network and devices by blocking unauthorized access and detecting and removing malicious software. Consider the following points:
Choose a reputable firewall solution that acts as a barrier between your network and potential threats.
Invest in an up-to-date antivirus software to detect and eliminate viruses, malware, and other harmful programs.
Regularly update your firewall and antivirus software to ensure they can effectively counter emerging cyber threats.
Regular Data Backups
Data loss can be devastating, especially if you're running a home office. Backing up your important files and documents is a critical data security measure. Here's what you need to know:
Establish a routine backup schedule to ensure you never lose valuable data. This can be daily, weekly, or monthly, depending on your needs.
Consider using an external hard drive, cloud storage, or a combination of both for backup purposes.
Verify the integrity of your backups periodically by restoring them to ensure they are retrievable and complete.
Secure File Sharing Platforms
Efficient collaboration often requires sharing files with colleagues or clients. However, ensuring the security of these shared files is crucial. Here are some considerations for secure file sharing:
Choose a secure file sharing platform that offers encryption, access controls, and permissions settings.
Prioritize platforms that provide end-to-end encryption to protect your data from interception during transit.
Regularly review and update user access and permissions to ensure that only authorized individuals can access shared files.
By prioritizing data security measures such as firewall and antivirus software, regular data backups, and secure file sharing platforms, you can establish a home office environment that protects your sensitive information from potential cyber threats. Stay one step ahead and safeguard your valuable data for the long run.
Creating A Distraction-Free Zone
Setting up a home office requires essential items such as a dedicated space, a comfortable chair, a clutter-free environment, proper lighting, reliable internet connection, and necessary office equipment like a desk, computer, and phone. A distraction-free zone can enhance focus and productivity while working from home.
In order to set up an effective home office, creating a distraction-free zone is key. Here are some tips to help you establish a focused and uninterrupted workspace:
Noise-blocking door seal: To minimize unwanted noise from outside your home office, consider investing in a noise-blocking door seal. This simple addition can significantly reduce the disturbance caused by household activities or street sounds.
Establishing boundaries with family members: Communicating clear boundaries with your family members is essential to maintain a distraction-free zone. Make it known that when you're in your home office, you should not be disturbed unless it's an emergency. This way, you can work without interruptions or distractions.
Utilizing noise-cancelling features on digital devices: Many digital devices, such as headphones or smartphones, offer noise-cancelling features. Take advantage of these technologies to create a quieter work environment. By blocking out background noise, you can stay focused on your tasks without being disturbed by external sounds.
Remember, a distraction-free home office allows you to be more productive and efficient. Implementing these strategies will help you maintain a focused mindset, enabling you to accomplish your work goals effectively.
Maintaining Work-Life Balance
To set up a home office, you'll need essential items like a comfortable desk and chair, a reliable computer and internet connection, proper lighting, storage solutions, and a dedicated space free from distractions. Creating a productive work environment is crucial for maintaining a healthy work-life balance.
Designated work hours and breaks:
Establish a clear schedule with designated work hours, just as you would have in a traditional office setting. Having a structured routine helps create a sense of normalcy and productivity.
Take regular breaks throughout the day to recharge and refresh your mind. Set timers or reminders to ensure you step away from your workspace, stretch, or indulge in a quick walk.
Separation of workspace from living space:
Create a dedicated workspace that is physically separated from your living area, if possible. This demarcation helps establish boundaries between work and personal life.
Choose a quiet and well-lit area where you can focus without distractions. Avoid working from your bed or couch, as it blurs the line between work and relaxation.
Engaging in hobbies and personal activities:
Make time for activities outside of work to maintain a healthy work-life balance. Engaging in hobbies and personal interests enhances well-being and keeps stress at bay.
Schedule time for exercise, reading, cooking, or pursuing any other activities that bring you joy and fulfillment. Remember, taking care of your personal life is just as important as your professional commitments.
By implementing these strategies, you can strike a harmonious balance between your work and personal life, even when working from home. Remember, the key is to establish boundaries, adhere to a structured routine, and prioritize your well-being.
Managing Time Effectively
Setting up a home office efficiently requires careful planning and organization. From a dedicated workspace to essential equipment and supplies, ensuring you have everything in place is crucial for managing your time effectively.
Creating a schedule and sticking to it:
Set a clear and structured schedule for your work-from-home days to ensure productivity.
Identify your most productive hours and allocate them for focused work.
Use time blocks to prioritize tasks and allocate specific time for breaks and personal activities.
Make sure to include any meetings, deadlines, and important commitments in your schedule.
Stick to your schedule as much as possible to develop a routine and maintain a healthy work-life balance.
Utilizing time-tracking apps or tools:
Take advantage of various time-tracking apps or tools available to monitor your work activities.
Use these tools to track the time spent on each task, identify productivity patterns, and make necessary adjustments.
Set reminders and alerts to stay on track with your schedule and deadlines.
Analyze the data provided by these apps to understand your work habits and improve efficiency.
Experiment with different tools to find the one that fits your needs and preferences the best.
Setting realistic goals and deadlines:
Establish realistic goals that are achievable within a given timeframe.
Break down larger tasks into smaller, manageable milestones to stay motivated and avoid feeling overwhelmed.
Assign deadlines to each task to ensure progress and avoid procrastination.
Prioritize tasks based on importance and urgency to stay focused and meet deadlines effectively.
Regularly assess your goals and deadlines to make adjustments if needed, ensuring they remain feasible.
Remember, effectively managing your time is crucial for maintaining productivity and achieving your home office goals. By creating a schedule, utilizing time-tracking apps, and setting realistic goals and deadlines, you can stay organized, motivated, and make the most out of your remote work experience.
Implementing A Backup Power Solution
Setting up a home office requires the implementation of a backup power solution to ensure uninterrupted productivity. This essential component provides peace of mind knowing that you can continue working even during power outages.
Setting up a home office requires careful consideration and planning. One of the key aspects to ensure a smooth workflow is implementing a reliable backup power solution. In this section, we will cover three essential components: uninterruptible power supply (ups), surge protectors for electronic devices, and backup generators.
Let's dive in!
Uninterruptible Power Supply (Ups)
Protect your electronic devices: A ups is an invaluable investment as it provides a constant power supply, protecting your computer and other sensitive equipment from sudden power outages or fluctuations.
Battery backup: Ups units come equipped with batteries that kick in immediately when the power goes out, allowing you to continue working seamlessly during interruptions.
Surge protection: In addition to providing uninterrupted power, ups units also safeguard your devices against damaging power surges, ensuring their longevity and functionality.
Peace of mind: With a ups in place, you can work with confidence knowing that your equipment is protected from potential power-related mishaps.
Surge Protectors For Electronic Devices
First line of defense: Surge protectors are essential for safeguarding your electronic devices against power surges caused by lightning strikes, power grid issues, or electrical appliance malfunctions.
Multiple outlets: Opt for surge protectors with multiple outlets, allowing you to connect multiple devices simultaneously while keeping them protected.
Energy-saving features: Some surge protectors come equipped with energy-saving features, such as timed outlets or automatic power shutoffs when inactive devices are detected. These features not only protect your devices but also help conserve energy.
Warranty: Consider surge protectors with warranty coverage, ensuring that you can replace them if they become damaged or fail to provide adequate protection.
Setting Up Backup Generators
Backup power source: Backup generators are a reliable solution for extended power outages. They provide an alternative power source, allowing you to run your home office equipment until the main power is restored.
Fuel options: Backup generators are available in various types, including gas, diesel, propane, and natural gas-powered models. Choose the one that suits your needs and availability.
Wattage requirements: Calculate the total wattage requirement of your essential equipment to determine the appropriate generator size. This ensures that your backup generator can handle the load effectively.
Safety precautions: When setting up a backup generator, follow manufacturer instructions and take all necessary safety precautions, such as proper placement, ventilation, and fuel storage.
Regular maintenance: Keep your backup generator in optimal condition by scheduling regular maintenance checks and servicing. This ensures its reliability when you need it the most.
By implementing a backup power solution consisting of a ups, surge protectors for electronic devices, and a backup generator, you can ensure uninterrupted productivity and protect your valuable equipment from power-related issues. So, take the necessary steps to create a reliable and efficient home office setup today!
Budgeting For Home Office Expenses
To set up a home office, you'll need essential equipment like a desk, chair, computer, and reliable internet connection. Additionally, consider budgeting for office supplies, such as stationery, storage solutions, and a printer, to optimize your productivity. Ensure your home office is comfortable, functional, and conducive to focused work.
Researching And Comparing Prices:
Begin by researching and comparing prices for the items you need to set up your home office. This step is crucial in budgeting for home office expenses. Here are some tips to help you with your research and comparison:
Search online for the specific office items you need and compare prices from various retailers or online marketplaces. Take note of any ongoing promotions or discounts that may be available.
Don't forget to also consider the cost of shipping or delivery fees when comparing prices.
Read reviews and ratings for the products you are interested in to ensure quality and durability.
Take advantage of price comparison tools or websites to find the best deals and lowest prices.
Prioritizing Essential Items:
Once you have an idea of the prices for the items you need, it's essential to prioritize which ones are the most critical for your home office setup. Consider the following factors:
Identify the items that are necessary for your work or business. For example, if your work primarily involves online communication, a reliable computer and internet connection should be high on your priority list.
Determine the items that will directly impact your productivity and comfort. This could include a comfortable ergonomic chair, a desk with sufficient space, or good lighting.
Evaluate your budget and allocate funds to the most significant and essential items first. This ensures that you have the essentials covered before considering any additional non-essential items.
Considering Second-Hand Or Refurbished Options:
As you set up your home office on a budget, it's worth considering second-hand or refurbished options for certain items. Here's why:
Second-hand items, such as office chairs or desks, can often be found at significantly lower prices compared to brand new ones. This allows you to save money while still getting a functional item.
Refurbished electronics, like computers or printers, are often a more affordable alternative to buying new. These items have been restored to working condition and typically come with a warranty.
When considering second-hand or refurbished options, ensure that you take the time to inspect the item thoroughly and verify its condition. Look for reputable sellers or platforms that offer buyer protection.
Remember, research and comparison are key when budgeting for your home office expenses. Prioritize the essential items and be open to considering second-hand or refurbished options to save money while creating a productive workspace.
Customizing The Home Office Layout
Setting up a home office requires careful customization of the layout to ensure productivity and comfort. From essential items like a desk and chair to optimizing lighting and storage solutions, creating a functional workspace is crucial for success.
Whether you're starting a small business, working remotely, or simply need a designated workspace at home, setting up a home office is essential. Creating a personalized and functional home office layout is the key to productivity and comfort. Here are some tips for customizing your home office space:
Utilizing Available Space Efficiently:
Assess the available space: Measure the area and take note of any limitations or constraints.
Determine your work requirements: Consider the tools and equipment you need for your work and plan where each item will be placed.
Optimize storage: Use shelves, cabinets, or filing systems to keep your workspace organized and clutter-free.
Invest in multifunctional furniture: Choose furniture pieces that serve multiple purposes, such as a desk with built-in storage or a chair that doubles as a storage ottoman.
Consider vertical space: Utilize wall-mounted shelves or floating shelves to maximize storage without taking up valuable floor space.
Considering Natural Light And Ventilation:
Position your desk near windows: Arrange your desk so that it faces a window to maximize natural light and provide a pleasant view while working.
Use adjustable blinds or curtains: Control the amount of natural light entering the room by installing blinds or curtains that can be easily adjusted.
Incorporate task lighting: Supplement natural light with suitable task lighting, such as desk lamps or floor lamps, to reduce eye strain and create a well-lit workspace.
Ensure proper ventilation: Open windows or use fans and air purifiers to maintain good air circulation in your home office.
Incorporating Personal Touches And Inspiration:
Decorate with plants: Introduce indoor plants to add a touch of nature and improve air quality in your home office.
Display meaningful artwork or photographs: Hang artwork or photographs that inspire and motivate you, creating a personal and pleasant atmosphere.
Add comfortable seating: Include a cozy chair or a cushioned seating area where you can take breaks and relax.
Personalize with accessories: Decorate your workspace with items that reflect your personality and interests, such as colorful stationery, unique mugs, or inspirational quotes.
Customizing your home office layout allows you to create a productive and comfortable workspace that caters to your specific needs. By utilizing available space efficiently, considering natural light and ventilation, and incorporating personal touches, you can design a home office that fosters creativity, concentration, and overall well-being.
Remote Work Productivity Tips
Setting up a home office for remote work? Here are essential items you need to boost productivity and create a comfortable workspace.
Setting Clear Goals And Expectations
Define your work objectives: Clearly outline what you want to achieve during your remote work day. This will help you stay focused and motivated.
Break down your goals: Divide your larger objectives into smaller, more manageable tasks. This will make your workload feel more achievable and prevent overwhelm.
Communicate your expectations: Discuss your goals and expectations with your manager or team members. Ensure that everyone is on the same page regarding deadlines and deliverables.
Set measurable targets: Establish metrics to track your progress and gauge your productivity. This will enable you to monitor your performance and identify areas for improvement.
Review and revise: Regularly assess your goals and expectations to ensure they align with your priorities and the evolving needs of your work.
Establishing A Routine And Adhering To It
Find your optimal work schedule: Identify the hours when you're most productive and create a routine around those times. This will help you maximize your efficiency and effectiveness.
Set specific work hours: Dedicate a fixed time slot each day for work-related tasks. This will help you maintain a healthy work-life balance and prevent burnout.
Create a dedicated workspace: Designate a quiet and well-equipped area in your home as your office. Having a separate space dedicated to work will help you mentally switch into work mode.
Eliminate distractions: Minimize interruptions by turning off notifications on your phone and computer. Inform your family or roommates about your work hours to minimize disturbances.
Take regular breaks: Incorporate short breaks into your routine to recharge and avoid mental fatigue. Use this time to stretch, hydrate, or engage in activities that rejuvenate you.
Avoiding Multitasking And Staying Focused
Prioritize your tasks: Determine which tasks are most important and tackle them first. This approach will ensure that you complete essential assignments without feeling overwhelmed.
Practice single-tasking: Focus on one task at a time, dedicating your full attention and energy to it. This will enhance productivity and prevent errors caused by divided attention.
Use time-blocking techniques: Allocate specific time blocks for different types of work. For example, designate a block for responding to emails and another for working on a specific project.
Minimize interruptions: Close unnecessary tabs and applications on your computer, and keep your workspace organized to minimize distractions. This will help you maintain focus on your work tasks.
Stay disciplined: Develop self-discipline to resist the temptation of engaging in non-work-related activities during your designated work hours. Remember that staying focused will increase your productivity.
Remember, setting clear goals, establishing a routine, avoiding multitasking, and staying focused are essential elements to maintain your productivity while working remotely. Incorporate these tips into your home office setup to ensure efficient and successful remote work.
Creating A Supportive Work Environment
Create a supportive work environment by setting up a home office with essential items like a comfortable desk, ergonomic chair, reliable internet connection, good lighting, and organization tools. Having these necessities will ensure productivity and a comfortable work environment.
Having a supportive work environment is crucial when setting up a home office. It can help you stay motivated and focused, while also providing opportunities for growth and collaboration. Here are some key ways to create a supportive work environment:
Networking With Other Remote Workers:
Join online communities or forums: Building connections with other remote workers is not only great for networking but also provides a platform to exchange ideas and seek support. Join online communities or forums related to your industry or remote work to connect with like-minded individuals.
Attend virtual conferences or webinars: Participating in virtual conferences or webinars allows you to engage with professionals in your field. It offers the opportunity to learn from experts, gain new insights, and expand your network.
Engage in social media groups: Many social media platforms have groups or communities specifically for remote workers. Joining these groups can provide a sense of belonging and offer valuable resources and advice.
Seeking Mentorship Or Guidance:
Find a mentor: Having a mentor who has experience in working remotely can provide valuable guidance and support. Look for professionals in your industry who are willing to share their expertise and insights. A mentor can offer advice on challenges you may face and help you navigate your remote work journey.
Join mentorship programs: Several organizations or platforms offer mentorship programs for remote workers. These programs connect aspiring remote workers with experienced professionals who can guide and support them in their career development.
Joining Online Communities Or Forums:
Online communities or forums dedicated to remote work can provide a wealth of information and support. Here's why you should consider joining them:
Access to valuable resources: Online communities and forums often have members who share useful articles, tips, and resources related to remote work. This can help you stay updated and enhance your skills.
Collaboration and brainstorming: Engaging with others in these communities allows you to collaborate, brainstorm ideas, and find possible solutions to work challenges. Learning from others' experiences can help you grow professionally.
Emotional support: Remote work can sometimes feel isolating. Being part of an online community or forum provides an opportunity to connect with others who understand the unique challenges and joys of remote work. Sharing experiences and receiving support from like-minded individuals can boost morale and enhance your overall well-being.
Creating a supportive work environment is not just about the physical setup of your home office. It also involves establishing connections with other remote workers, seeking mentorship or guidance, and actively participating in online communities or forums. By doing so, you can enhance your professional growth, stay motivated, and find support when needed.
Frequently Asked Questions On What Do I Need To Set Up A Home Office?
What Are The Essential Items For Setting Up A Home Office?
To set up a productive home office, you will need a reliable computer or laptop, a comfortable desk and chair, a high-speed internet connection, adequate lighting, and essential office supplies like pens, paper, and a printer.
How Can I Create A Dedicated Workspace In My Home?
Creating a dedicated workspace starts with finding a quiet area and setting boundaries. Clear out the space, declutter, and organize your office supplies. Invest in a good desk and chair for comfort. Personalize your space with decorations that inspire creativity and productivity.
Is It Necessary To Have A Separate Phone Line For A Home Office?
While not necessary, having a separate phone line for your home office can provide better work-life balance. It helps to separate personal and professional calls, maintain professionalism, and avoid distractions. Consider using a business phone service or a virtual phone number for added convenience.
Conclusion
Setting up a home office requires careful planning and consideration of various factors. By identifying your specific needs, understanding the basic requirements of a functional workspace, and adhering to ergonomic principles, you can create a productive and comfortable home office environment.
Start with essential items like a comfortable chair, a suitable desk, and good lighting. Invest in technology that supports your work, such as a reliable computer and a high-speed internet connection. Organizational tools like storage solutions and proper cable management will help keep your office tidy and efficient.
Consider the importance of personalized touches and decor that reflect your style and inspire creativity. Lastly, don't forget about the importance of creating a healthy work-life balance by setting boundaries and maintaining a schedule. With these considerations in mind, you can establish a home office space conducive to productivity and success.