Do you ever wonder what if there was a type of medicine that could be tailored specifically to you? That's where personalized medicine comes in. It's a revolutionary approach to healthcare that takes into account your unique genetic makeup
Using advanced technology and genetic testing, personalized medicine offers targeted treatments for individuals, rather than a one-size-fits-all approach. Imagine a medicine that is designed specifically for your body's needs, increasing its effectiveness and minimizing side effects.
In this article, we'll explore the amazing world of personalized medicine, how it works, and the tremendous impact it can have on our health and well-being. So, sit back and get ready to discover the future of healthcare with personalized medicine. Let's dive in!
Personalized medicine is revolutionizing healthcare by tailoring treatments to an individual's unique genetic makeup and lifestyle. By analyzing a patient's genetic data, personalized medicine can identify specific genetic variations that influence disease susceptibility and response to medications. This enables doctors to prescribe targeted therapies, minimizing side effects and increasing treatment efficacy. Moreover, personalized medicine considers environmental factors and personal preferences, providing a holistic approach to healthcare. Embracing this innovative approach can lead to improved patient outcomes and a more precise and effective healthcare system.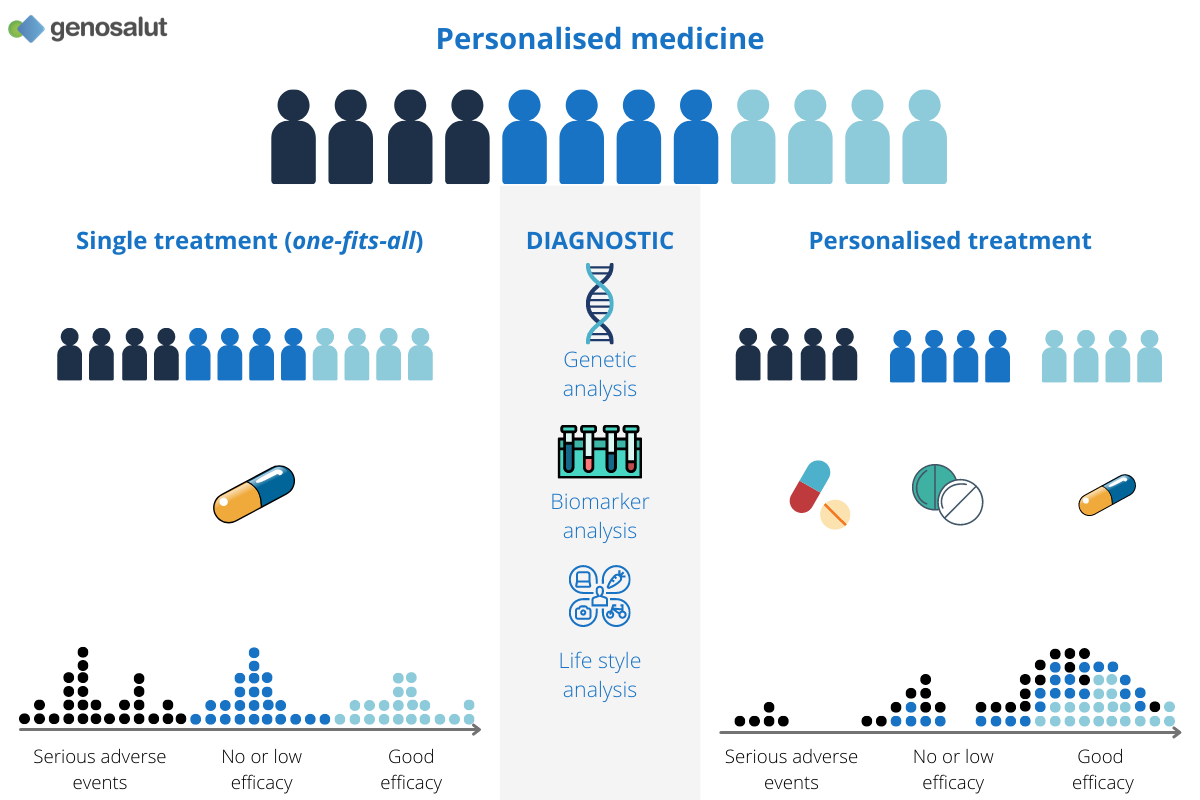 Personalized Medicine: Revolutionizing Healthcare
Welcome to the future of healthcare! In this article, we will delve into the world of personalized medicine, a groundbreaking approach that is transforming the way we diagnose, treat, and prevent diseases. With its focus on tailoring medical interventions to individual patients based on their unique genetic makeup, lifestyle, and environmental factors, personalized medicine holds immense promise for revolutionizing healthcare. Join us as we explore the key aspects, benefits, and challenges of this cutting-edge field.
Advancing Precision Medicine: Key Milestones
Personalized medicine has witnessed several significant milestones over the years, leading to its emergence as a game-changer in healthcare. Let's take a closer look at these key developments:
The Human Genome Project: Decoding Our Blueprint
One of the pivotal moments in personalized medicine was the completion of the Human Genome Project in 2003. This international collaboration, spanning over a decade, successfully sequenced the entire human genome, providing an invaluable reference map for understanding genetic variations and their role in disease development. This landmark achievement paved the way for personalized medicine research and set the stage for a new era in healthcare.
Technological Breakthroughs: Empowering Personalized Care
The advancements in technology have played a vital role in propelling the field of personalized medicine forward. Innovations such as next-generation sequencing, bioinformatics, and high-throughput screening have revolutionized genomics, enabling scientists to rapidly and cost-effectively analyze vast amounts of genetic data. These technological breakthroughs have opened doors to precise diagnostics, tailored treatment strategies, and the development of targeted therapies, bringing personalized medicine closer to reality.
Integration of Big Data and Artificial Intelligence
The marriage of big data and artificial intelligence has further accelerated the progress of personalized medicine. The ability to collect, analyze, and interpret large datasets, including genomic information, patient records, and lifestyle data, has allowed researchers to gain deeper insights into population health and individual patient profiles. Artificial intelligence-driven algorithms and machine learning models offer valuable predictive capabilities, aiding in the identification of disease risk factors, more accurate diagnoses, and personalized treatment recommendations.
The Rise of Pharmacogenomics
Pharmacogenomics, the study of how an individual's genetic makeup influences their response to drugs, is a crucial component of personalized medicine. By analyzing genetic variants that affect drug metabolism, efficacy, and adverse reactions, pharmacogenomics helps clinicians tailor medication choices and dosages to match the patient's unique genetic profile. This approach minimizes adverse drug effects, improves treatment outcomes, and optimizes medication regimens, leading to better patient care.
Personalized Medicine in Action: Real-World Applications
Personalized medicine is not just a theoretical concept; it is making a tangible impact in various areas of healthcare. Let's explore some of the real-world applications:
Cancer Treatment: Precision Oncology
One of the most transformative applications of personalized medicine is in the field of oncology. Precision oncology aims to identify specific genetic alterations driving a patient's cancer and match them with targeted therapies designed to inhibit those aberrant pathways. With genomic profiling, clinicians can uncover the unique genetic signature of a patient's tumor, allowing for the selection of personalized treatment options that offer higher efficacy and fewer side effects. This tailored approach has revolutionized cancer treatment, improving survival rates and quality of life for many patients.
Cardiovascular Disease Risk Assessment
Personalized medicine is also making strides in assessing the risk of cardiovascular diseases. By combining genetic information with other clinical and lifestyle factors, researchers can create personalized risk profiles for individuals. This enables more accurate predictions of an individual's likelihood of developing conditions such as heart disease and stroke. Such risk assessments empower patients to make informed decisions about lifestyle modifications and allows healthcare providers to implement targeted preventive strategies, ultimately reducing the burden of cardiovascular diseases.
Genetic Counseling for Inherited Conditions
For individuals and families at risk of inherited conditions, personalized medicine offers genetic counseling services. Genetic counselors use genetic testing and family health history to assess an individual's risk of developing certain hereditary diseases. They provide information, support, and guidance on the available preventive measures and treatment options. This personalized approach to counseling enables individuals to make informed decisions about their reproductive choices, empowering them to take charge of their health and the health of their future generations.
Challenges and Future Directions
Overcoming Regulatory and Ethical Hurdles
While personalized medicine holds immense promise, it also faces several challenges. One significant barrier is the regulatory framework governing the use of genetic information, patient privacy, and the ethical implications surrounding genomic data. Striking the right balance between protecting patient privacy and allowing access to critical genetic information for research and care is a complex task that requires ongoing discussions and robust governance.
Integration into Clinical Practice
Integrating personalized medicine into routine clinical practice poses another hurdle. Healthcare systems need to develop infrastructure, policies, and reimbursement models that support the adoption and delivery of personalized care. Educating healthcare providers about the principles and applications of personalized medicine is crucial for its successful implementation, ensuring that patients receive the best possible care based on their unique characteristics.
Expanding Reach and Accessibility
Access to personalized medicine should not be limited to a select few. To realize its full potential, efforts must be made to ensure equitable access and affordability. This involves overcoming barriers such as high costs of genetic testing, limited availability of specialized treatments, and addressing disparities in healthcare access across populations. Only then can personalized medicine truly become a healthcare reality for all.
Shaping the Future of Healthcare: Personalized Medicine
As we conclude our exploration of personalized medicine, it is evident that this innovative approach has the potential to revolutionize healthcare as we know it. By harnessing the power of genetics, technology, and data-driven insights, personalized medicine offers tailored treatment options, improved patient outcomes, and preventive strategies that could significantly impact population health. The journey towards widespread adoption and integration of personalized medicine is ongoing, but with each milestone reached, we are one step closer to a future where healthcare is truly personalized, precise, and impactful.
Key Takeaways: Personalized Medicine
Personalized medicine aims to customize medical treatments based on an individual's unique genetic makeup and characteristics.
It allows healthcare professionals to tailor treatment plans specifically to a patient's needs, improving effectiveness and reducing side effects.
Advancements in technology, such as genetic testing and data analysis, have made personalized medicine more accessible and efficient.
Personalized medicine holds great potential for treating various diseases, including cancer, by targeting specific genes and identifying optimal medications.
Although still in its early stages, personalized medicine has the potential to revolutionize healthcare and improve patient outcomes.
Frequently Asked Questions
Welcome to our FAQ section on personalized medicine! Here, we'll address some common questions about this exciting field that tailors medical treatments to individual patients for better outcomes.
1. How does personalized medicine work?
In personalized medicine, medical treatments are customized based on an individual's unique characteristics, such as their genetic makeup, lifestyle, and medical history. This approach allows healthcare providers to tailor therapies to specific patients, increasing the likelihood of successful treatment and reducing potential side effects.
Personalized medicine employs advanced technologies like genetic testing and molecular diagnostics to gather information about a patient's biology. This data helps doctors identify the most appropriate treatment options, from choosing the right medication to determining optimal dosages, resulting in more effective and precise care.
2. What are the benefits of personalized medicine?
Personalized medicine offers several benefits. First and foremost, it enhances patient outcomes by improving the accuracy of diagnoses and treatment selection. By tailoring treatments to an individual's specific needs, personalized medicine can increase the effectiveness of therapies, leading to better health outcomes.
Additionally, personalized medicine can reduce adverse reactions and side effects caused by medications that may not be suitable for a particular patient. This approach also helps optimize healthcare resources by avoiding unnecessary treatments or medications, saving time and reducing costs.
3. can personalized medicine prevent diseases?
While personalized medicine cannot completely prevent diseases, it can play a significant role in detecting and managing illnesses at earlier stages. By analyzing an individual's genetic predispositions and other risk factors, personalized medicine can identify individuals who are more likely to develop certain diseases. With this knowledge, healthcare providers can implement preventive measures such as lifestyle changes or increased surveillance to catch potential health issues early on.
By identifying individuals at high risk, personalized medicine can help tailor screening and prevention strategies to reduce the incidence of diseases or detect them at an early, treatable stage, ultimately improving health outcomes.
4. Is personalized medicine only for genetic diseases?
No, personalized medicine extends beyond genetic diseases. While it is true that genetic testing plays a vital role in personalized medicine, this field encompasses various aspects of an individual's health, including their lifestyle, environment, and medical history.
Personalized medicine takes a holistic approach, considering all relevant factors to guide treatment decisions. It can be applied to various medical conditions such as cancer, cardiovascular diseases, mental health disorders, and even infectious diseases. By tailoring treatments to each patient's needs, personalized medicine can benefit individuals with a wide range of health conditions.
5. How does personalized medicine impact healthcare in the future?
Personalized medicine holds immense potential to revolutionize healthcare in the future. With advancements in technology and increasing understanding of individual biology, this approach can lead to more precise and effective treatments.
As personalized medicine becomes more widespread, it has the potential to improve patient outcomes, reduce healthcare costs, and enhance overall quality of care. By tailoring treatments to individual characteristics, healthcare providers can optimize therapies, minimize adverse effects, and make more informed decisions. Ultimately, personalized medicine has the power to transform the healthcare landscape and help us achieve a more personalized and patient-centric approach to medicine.
What is Personalized Medicine?
Summary
Personalized medicine is a new approach to healthcare that focuses on the individual. Doctors use a person's genes, lifestyle, and environment to create personalized treatment plans. By tailoring medicine to each person's unique needs, personalized medicine aims to provide more effective and targeted treatments. This approach has the potential to revolutionize healthcare by improving outcomes and reducing side effects. However, there are challenges to overcome, such as the cost and availability of personalized treatments. Despite these challenges, personalized medicine offers hope for a future where healthcare is truly customized to each individual's needs.