A Restaurant Management System is a comprehensive software solution that helps restaurants streamline operations, improve efficiency, and enhance customer satisfaction. It streamlines operations, enhances productivity, and improves customer service by automating tasks such as order taking, table reservations, inventory management, and staff scheduling.
Managing a restaurant involves a multitude of tasks that must be executed flawlessly to ensure smooth operations and customer satisfaction. From taking reservations and managing orders to tracking inventory and scheduling staff, the complexity can be overwhelming. This is where a restaurant management system comes in. It is a comprehensive software solution that automates and integrates various processes to streamline operations and enhance overall efficiency. By implementing a restaurant management system, restaurant owners can not only save time and reduce manual errors but also provide better customer service and improve profitability. We will explore the benefits and features of a restaurant management system and explain why it is essential for the success of any modern restaurant.
Enhancing Service Quality With A Robust Restaurant Management System
In today's fast-paced restaurant industry, providing top-notch service is crucial for ensuring customer satisfaction and loyalty. To achieve this, many restaurants are turning to advanced technological solutions like a robust restaurant management system. By adopting such a system, restaurants can efficiently streamline their operations, minimize errors, and elevate service quality to new heights. In this article, we will explore the key benefits of implementing a restaurant management system and how it can enhance service quality.
Benefits Of Adopting A Restaurant Management System
A restaurant management system brings a plethora of benefits that can greatly enhance the service quality offered to customers. Let's take a closer look at some of these advantages:
Streamlining Order Taking And Processing
An efficient restaurant management system optimizes the entire order taking and processing workflow, facilitating a seamless experience for both customers and staff. With features like intuitive menu interfaces, staff can swiftly take orders, collate special requests, and send them directly to the kitchen. This automated process eliminates the need for manual communication, reducing the risk of miscommunication and minimizing errors.
Minimizing Errors And Improving Accuracy
One of the primary challenges in any restaurant setting is ensuring order accuracy and minimizing errors. By implementing a restaurant management system, you can significantly reduce human errors that can occur during order taking, processing, and food preparation. The system can also flag any discrepancies or missing items, ensuring all orders are accurate before they reach the customers' tables. This attention to detail not only enhances service quality but also boosts customer satisfaction.
Increasing Overall Operational Efficiency
A robust restaurant management system improves overall operational efficiency by automating various processes. For instance, the system can track inventory levels in real-time, enabling staff to promptly restock essential ingredients and avoid running out of popular dishes. Furthermore, it can provide insights into sales trends, allowing restaurants to optimize their menu offerings and adjust their strategies accordingly. By streamlining operations and eliminating manual inefficiencies, restaurants can deliver a higher level of service quality consistently. In conclusion, a restaurant management system plays a crucial role in enhancing service quality within the foodservice industry. By adopting this technology-driven solution, restaurants can streamline order taking and processing, minimize errors, and increase overall operational efficiency. Embracing a robust management system enables establishments to provide unparalleled service to their valued customers, thereby significantly improving customer satisfaction and loyalty.
Optimizing Inventory Control And Cost Management
Effective inventory control and cost management are crucial for the success of any restaurant. This is where a restaurant management system can make a significant difference. By leveraging the power of technology, a restaurant management system helps streamline inventory control processes, resulting in reduced costs, increased efficiency, and improved profitability.
Leveraging A Restaurant Management System For Inventory Control
A restaurant management system offers a comprehensive solution for inventory control, enabling restaurants to effectively manage their stocks and ensure that all necessary ingredients and supplies are available when needed. With real-time data and insights at their fingertips, restaurant owners and managers can make informed decisions regarding stock availability, ordering, and replenishment.
Real-time Tracking And Monitoring Of Stock Levels
Gone are the days of manually counting and tracking stock levels. With a restaurant management system, restaurants can have instant visibility into their stock levels at any given time. This real-time tracking and monitoring feature not only saves time but also helps prevent stockouts and overstocking situations, ensuring that the right amount of inventory is maintained.
Automating Stock Replenishment And Reducing Wastage
Keeping track of stock and managing replenishment can be a tedious task for restaurant staff. However, a restaurant management system simplifies this process by automating stock replenishment based on predefined settings and thresholds. This automation eliminates the need for manual calculations and minimizes the risk of human error. Additionally, the system can also help identify and reduce wastage by highlighting areas where wastage is occurring and suggesting measures to minimize it.
Enhancing Cost Analysis And Profitability
Cost analysis is a critical aspect of restaurant management. With a restaurant management system, restaurants can gain insights into the cost of each dish or menu item, including the cost of ingredients and labor. This allows restaurants to optimize their menu by adjusting prices, removing low-profit items, or finding ways to reduce costs while maintaining quality. By enhancing cost analysis, restaurants can improve profitability and make data-driven decisions to maximize their revenue.
Improving Customer Experience Through Advanced Reservation Management
Enhancing customer satisfaction is the key to success in the restaurant industry. One effective way to achieve this is by implementing an advanced reservation management system. By streamlining the reservation process and reducing waiting times, personalized customer preferences and tracking, as well as integrating with online platforms and booking systems, restaurants can greatly enhance the overall dining experience for their customers.
Importance Of Reservation Management In Enhancing Customer Satisfaction
Effective reservation management plays a crucial role in ensuring customer satisfaction. By implementing a robust reservation system, restaurants can better manage their seating capacity, allocate resources efficiently, and minimize wait times for their valued customers. This not only improves the overall dining experience but also helps in building a positive reputation and encouraging customer loyalty.
Seamless Reservation Process And Reduced Waiting Time
A seamless reservation process is a vital aspect of enhancing customer experience. With advanced reservation management systems, restaurants can offer their customers easy and efficient ways to book a table, such as online reservations or mobile apps. This eliminates the need for time-consuming phone calls and ensures a hassle-free experience. Additionally, by optimizing table turnover and accurately estimating waiting times, restaurants can significantly reduce customer wait times, leading to greater customer satisfaction.
Personalized Customer Preferences And Preferences Tracking
One of the key benefits of advanced reservation management systems is the ability to personalize the dining experience based on the customer's preferences. With features that allow restaurants to track and record customer preferences, such as preferred table location or dietary restrictions, staff can provide a more personalized service. By catering to individual preferences, restaurants can make their customers feel valued and well taken care of, enhancing the overall dining experience.
Integration With Online Platforms And Booking Systems
In today's digital age, it is crucial for restaurants to have an online presence and be easily accessible to potential customers. Advanced reservation management systems can seamlessly integrate with online platforms and booking systems, allowing customers to make reservations from the comfort of their homes. By providing this convenience, restaurants can attract a wider customer base and stay ahead of the competition. Furthermore, the integration with online platforms enables restaurants to efficiently manage their reservations, maximize seating capacity, and optimize their operations. In conclusion, by implementing an advanced reservation management system, restaurants can greatly enhance the customer experience. From streamlining the reservation process and reducing waiting times to personalizing customer preferences and integrating with online platforms, these systems offer numerous benefits. By prioritizing customer satisfaction, restaurants can establish a strong reputation, foster customer loyalty, and ultimately achieve long-term success in the competitive restaurant industry.
Boosting Employee Productivity With Employee Management Tools
In the fast-paced restaurant industry, boosting employee productivity is crucial for providing excellent customer service and increasing overall profitability. With the help of a restaurant management system, restaurant owners and managers can empower their employees through a range of employee management tools. These tools provide efficient scheduling and shift management, simplify communication and task assignments, and enable tracking of employee performance and providing training opportunities. Let's explore how these employee management tools can revolutionize the way restaurants operate.
Empowering Employees Through A Restaurant Management System
By implementing a restaurant management system, restaurant owners can empower their employees by providing them with the necessary tools to succeed. This includes features such as employee self-service portals, where employees can view their schedules, request time off, and update their availability easily. This level of transparency and convenience enables employees to take control of their schedules and ensures that they feel valued and engaged in their work.
Efficient Scheduling And Shift Management
One of the most time-consuming tasks in restaurant management is creating and managing employee schedules. With a restaurant management system, this process becomes incredibly efficient. Managers can use the system to create schedules based on factors like employee availability, skill sets, and labor laws. The system also allows for easy swapping of shifts between employees, eliminating the need for tedious manual arrangements. With streamlined scheduling, employees are happier with their shifts, reducing turnover rates, and improving overall productivity.
Simplifying Communication And Task Assignments
Effective communication and task assignments are vital for seamless restaurant operations. A restaurant management system provides a centralized platform for managers and employees to communicate and assign tasks efficiently. Through the system, managers can send messages or notifications to individuals or groups, ensuring that important information reaches the intended recipients in a timely manner. Additionally, task assignments can be easily tracked, ensuring that employees can stay organized and focused on their responsibilities.
Tracking Performance And Providing Training Opportunities
A crucial aspect of improving employee productivity is tracking performance and providing opportunities for growth and training. A restaurant management system can assess employee performance by tracking metrics such as sales, customer satisfaction ratings, and efficiency. This data allows managers to identify high performing employees and reward them accordingly, while also identifying areas where additional training may be necessary. With the ability to track performance and provide targeted training, employee productivity can be continually improved, leading to a better overall dining experience for customers.
Driving Marketing Success With Crm Integration
Drive marketing success for restaurant management systems through seamless CRM integration. Enhance customer relationships, optimize marketing campaigns, and gain valuable insights to boost revenue and streamline operations.
Leveraging Customer Relationship Management Within A Restaurant Management System
A restaurant management system equipped with a customer relationship management (CRM) integration is a powerful tool that can drive marketing success. By incorporating CRM into your restaurant's operations, you can gather valuable data about your customers, their preferences, and dining habits. This allows you to create personalized experiences that resonate with your target audience, ultimately leading to increased loyalty and revenue.
Building Customer Profiles And Analyzing Preferences
With CRM integration, your restaurant can build detailed customer profiles that go beyond basic contact information. It enables you to collect and store data on customers' dining preferences, dietary restrictions, favorite dishes, and more. By analyzing this information, you can gain insights into their behavior patterns and tailor your menu, promotions, and dining experiences to meet their preferences. This level of personalization enhances customer satisfaction, leading to repeat visits and positive word-of-mouth recommendations.
Targeted Marketing Campaigns And Personalized Promotions
CRM integration in a restaurant management system enables you to run targeted marketing campaigns and personalized promotions. Armed with customer data, you can segment your audience based on various parameters such as demographics, dining frequency, and preferences. This allows you to create highly targeted marketing campaigns that deliver the right message to the right people at the right time. Whether it's offering exclusive promotions to frequent diners or sending personalized birthday discounts, CRM integration empowers you to engage with your customers on a deeper level, increasing the likelihood of conversion and loyalty.
Enhancing Customer Loyalty And Retention
By leveraging CRM within your restaurant management system, you can enhance customer loyalty and retention. CRM allows you to track and analyze each customer's dining history, preferences, and interactions with your brand. With this knowledge, you can proactively engage with your customers, keeping them informed about new menu items, special events, or exclusive offers. Regular communication and personalized experiences build a sense of loyalty, making your customers feel valued and appreciated. By prioritizing customer satisfaction and retention, you can secure a loyal customer base that will keep coming back to your restaurant time and time again.
Advanced Analytical Insights For Informed Decision Making
Restaurant management systems have evolved to incorporate advanced analytical capabilities that provide invaluable insights for informed decision making. By leveraging the power of data analytics, restaurant owners and managers can track sales trends, identify popular menu items, analyze customer feedback, and monitor performance metrics. These insights enable them to make data-driven decisions that optimize operations, enhance customer satisfaction, and drive business growth.
Utilizing Data Analytics In Restaurant Management Systems
The integration of data analytics in restaurant management systems revolutionizes the way businesses operate. This technology enables restaurant owners and managers to gather, track, and analyze vast amounts of data, providing them with valuable insights into their operations. By leveraging data analytics, restaurants can make more informed decisions to streamline processes, improve efficiency, and enhance profitability.
Tracking Sales Trends And Identifying Popular Menu Items
Through the use of data analytics, restaurant management systems can track sales trends in real-time, empowering owners and managers to identify popular menu items and adapt their offerings to meet customer demands. By analyzing sales data, restaurants can uncover patterns, preferences, and trends, enabling them to make data-driven decisions about optimizing their menu and promoting top-selling items.
Analyzing Customer Feedback And Enhancing Menu Offerings
Customer feedback is a valuable source of information that can shape the future success of a restaurant. With the analytical capabilities of a restaurant management system, owners and managers can gather and analyze customer feedback, identifying areas for improvement and enhancing their menu offerings. This data-driven approach ensures that restaurants can continually meet customer expectations, providing them with an exceptional dining experience and fostering loyalty.
Monitoring Performance Metrics For Informed Decision Making
To drive continuous improvement and make informed decisions, restaurant owners and managers need to monitor key performance metrics. Restaurant management systems equipped with data analytics enable the tracking of metrics such as sales, revenue, labor costs, and customer satisfaction. These insights allow owners and managers to evaluate performance, identify areas for improvement, and implement targeted strategies to optimize their operations.
Securing Data And Mitigating Risks With Restaurant Management Systems
When it comes to running a restaurant, data security and risk mitigation are crucial aspects that cannot be ignored. With the increasing digitization of operations, restaurant management systems have become an essential tool for streamlining operations and enhancing efficiency. However, with the convenience of technology also comes the responsibility of protecting sensitive data and minimizing potential risks. In this article, we will explore the importance of data security and risk mitigation in restaurant management systems and discuss strategies for implementing secure payment processing, data encryption, protecting customer information, mitigating cyber threats, and ensuring compliance with privacy regulations.
Importance Of Data Security And Risk Mitigation
Data security and risk mitigation are of paramount importance in today's digital era. Restaurants handle a significant amount of confidential and sensitive data, including customer information, payment details, and employee records. Any breach or compromise of this data can result in severe consequences, such as financial losses, damaged reputation, and legal liabilities. By prioritizing data security and implementing risk mitigation measures, restaurant operators can safeguard their business and gain the trust of their customers.
Implementing Secure Payment Processing And Data Encryption
Secure payment processing is an essential feature of a robust restaurant management system. By integrating secure payment gateways and following industry-leading encryption protocols, restaurants can ensure that customer payment data is protected from unauthorized access. Implementing end-to-end encryption techniques, such as Secure Sockets Layer (SSL) and Transport Layer Security (TLS), adds an extra layer of security to the payment process, encrypting sensitive information during transmission and storage.
Protecting Customer Information And Minimizing Cyber Threats
Customer information is a valuable asset for restaurants, and its protection should be a top priority. Restaurant management systems can help to minimize cyber threats and keep customer data safe from unauthorized access. By implementing strict access controls, maintaining up-to-date antivirus software, and regularly performing security audits, restaurants can ensure that customer information remains confidential. Robust firewalls, intrusion detection systems, and regular data backups are additional security measures that can effectively mitigate risks and protect sensitive data.
Ensuring Compliance With Privacy Regulations
Compliance with privacy regulations is crucial for any restaurant that collects, stores, or processes personal information. Failure to comply with regulations such as the General Data Protection Regulation (GDPR) or Payment Card Industry Data Security Standard (PCI DSS) can lead to significant fines and legal consequences. Restaurant management systems can help in achieving and maintaining compliance by providing built-in features and functionalities that adhere to these regulations. By implementing proper data handling practices, including obtaining explicit customer consent, pseudonymization of data, and maintaining comprehensive records of data processing activities, restaurants can minimize legal risks and ensure the privacy of their customers.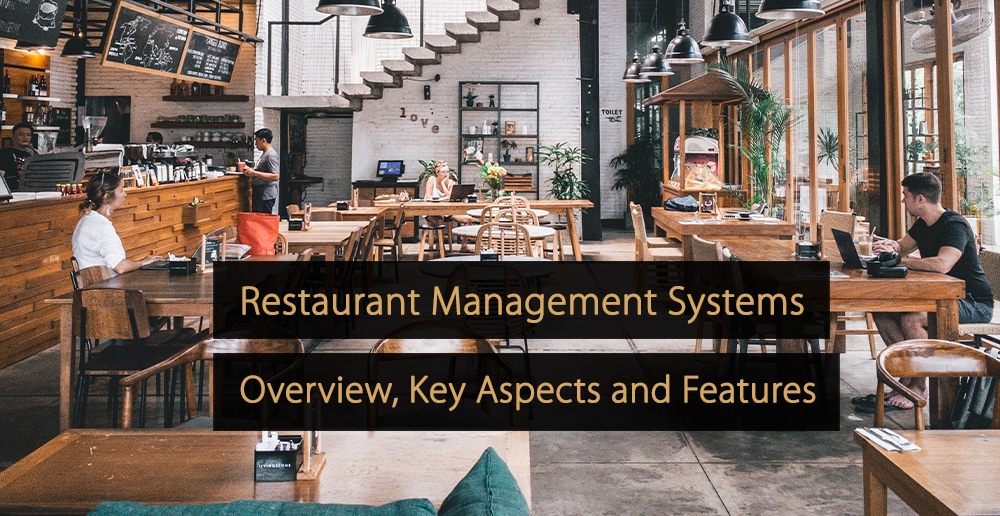 Credit: www.revfine.com
Integration And Scalability: Future-proofing Your Restaurant Business
In today's fast-paced digital world, it's essential for restaurant businesses to keep up with the latest technology trends. One of the key aspects when it comes to managing your restaurant efficiently is having a reliable and scalable restaurant management system. The ability to integrate with other systems and expand seamlessly is crucial for future-proofing your restaurant business.
Considering Scalability And Integration Options In Restaurant Management Systems
When selecting a restaurant management system, it's vital to consider the scalability and integration options it offers. Scalability allows your business to grow and adapt to changing needs, whether you're opening new locations, expanding your menu, or increasing your customer base. With a scalable system, you can effortlessly accommodate these changes without disrupting your operations. An integrated restaurant management system brings together all the key functionalities of your business into one centralized platform. From point-of-sale (POS) systems to inventory management, staff scheduling, and customer relationship management (CRM), integration streamlines your operations and reduces manual work. This integration enables you to have a holistic view of your business, making it easier to make data-driven decisions and optimize your operations.
Expansion Planning And Multi-location Management
If you have plans for expansion or already have multiple restaurant locations, it's crucial to choose a restaurant management system that can handle multi-location management effectively. Managing different locations can be a complicated task, and having a system that can consolidate data and provide real-time insights simplifies the process. With a robust restaurant management system, you can easily monitor each location's performance, track inventory across all locations, and manage menus, prices, and promotions from a central dashboard. This not only streamlines operations but also ensures consistency and uniformity across all your restaurants, ultimately enhancing the overall customer experience.
Integration With Third-party Applications For Enhanced Functionality
Another important consideration when choosing a restaurant management system is its ability to integrate with third-party applications. Third-party integrations can enhance the functionality of your system, providing additional features and capabilities that cater specifically to your business needs. For example, integrating with online ordering platforms allows you to accept orders directly from your website or mobile app. Integration with loyalty programs can help you reward your loyal customers and build lasting relationships. Additionally, integrating with accounting software enables seamless financial management, automating tasks such as payroll and invoicing. By leveraging these integrations, your restaurant management system becomes a powerful tool that not only manages day-to-day operations but also helps you attract and retain customers, improve customer satisfaction, and drive growth.
Future-proofing Your Restaurant Business With Adaptable Systems
In an ever-evolving industry, it's essential for your restaurant business to stay adaptable and agile. By implementing a restaurant management system that is future-proof, you establish a strong foundation for growth and success. Adaptable systems not only have the flexibility to accommodate your changing needs but also keep up with the latest technology advancements. This ensures that you stay ahead of the competition and continuously deliver exceptional experiences to your customers. When considering a restaurant management system, look for features such as cloud-based technology, mobile compatibility, and regular updates to ensure that your system remains up-to-date and relevant. Embracing technology and staying current will enable your restaurant business to thrive in an increasingly competitive landscape.
Frequently Asked Questions
What Is A Restaurant Management System?
A restaurant management system is a software that helps restaurant owners efficiently manage various operations like inventory, sales, reservations, and employee scheduling. It simplifies tasks, increases productivity, and enhances customer satisfaction.
Which Is Best Restaurant Management Software?
The best restaurant management software is subjective based on your specific needs. Consider factors such as features, cost, and user reviews. Compare options to find the software that suits your business requirements and budget.
What Software Do You Need To Run A Restaurant?
To run a restaurant, you need software for point of sale (POS) management, inventory tracking, reservation management, and employee scheduling. POS software ensures smooth transactions, while inventory tracking helps manage supplies. Reservation systems keep track of bookings, and employee scheduling software ensures efficient staffing.
How Do I Manage My Own Restaurant?
To manage your own restaurant: 1. Hire skilled staff, create a menu, and set prices for profitability. 2. Market your restaurant online, promoting through social media and local directories. 3. Monitor and maintain food quality, ensuring consistency and customer satisfaction. 4. Manage inventory, ordering supplies efficiently and keeping track of stock. 5. Provide excellent customer service, addressing feedback and adapting to changing demands.
Conclusion
To sum up, implementing a restaurant management system can revolutionize the way your establishment operates. From streamlining operations and enhancing efficiency to boosting customer satisfaction and increasing profits, this technology is a game-changer. With its user-friendly interface, comprehensive features, and seamless integration, the benefits are undeniable. Make the smart choice for your restaurant's success and embrace the power of a modern management system today. Experience the difference and elevate your business to new heights.