The future scope of ai in cyber security is immense, with advancements expected to revolutionize the field. Artificial intelligence has the potential to enhance threat detection and response, automate security operations, and improve overall risk management in the digital landscape.
As ai algorithms continue to evolve, they can analyze vast amounts of data in real-time, identify patterns, and detect anomalies that human experts may overlook. This ability to quickly and accurately identify potential threats can significantly bolster cyber defense strategies.
Additionally, ai technology can aid in predicting and preventing future cyber attacks, strengthening the overall security posture of organizations. With its potential to continuously learn and adapt, ai is poised to play a crucial role in the future of cyber security.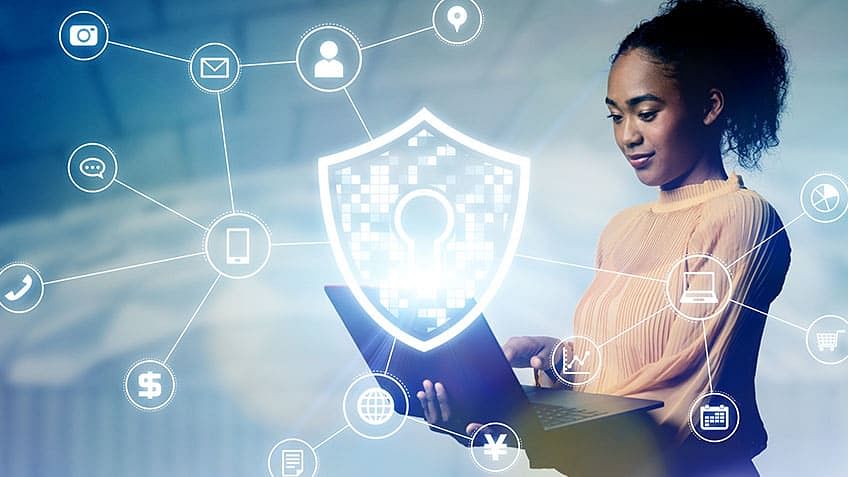 Credit: www.simplilearn.com
The Role Of Ai In Cyber Security: An Overview
Ai plays a vital role in cyber security as it addresses the constantly evolving threats. With the rapid rise of technology, there is a growing importance placed on safeguarding sensitive digital information. Ai has the potential to detect and mitigate cyber attacks in real-time, enhancing the security measures.
It employs machine learning algorithms to analyze vast amounts of data, identifying patterns and anomalies that might indicate a breach. By continually learning and adapting, ai systems can stay one step ahead of cyber criminals, providing proactive protection for individuals and organizations.
From advanced threat detection to intelligent user authentication, ai-powered solutions are revolutionizing the field of cyber security. As cyber threats continue to grow in sophistication, the future scope of ai in cyber security is promising, ensuring a safer digital landscape for everyone.
Leveraging Ai For Threat Detection And Prevention
Ai is revolutionizing the field of cyber security by leveraging advanced algorithms for enhanced threat detection. Implementing ai-powered security solutions enables organizations to effectively prevent real-time threats. The future of ai-driven malware detection and analysis holds immense potential for strengthening cyber defense.
With ai algorithms at the helm, threat detection is not only more efficient but also more accurate. Leveraging ai in cyber security allows organizations to stay one step ahead of potential attacks. The continuous advancement of ai technology in this field ensures that cyber security measures are constantly improving and evolving.
As ai continues to develop, its role in cyber security will undoubtedly increase, providing better protection against emerging threats. Stay tuned for further insights and updates on the future scope of ai in cyber security.
Ai-Enabled Authentication And Access Control
Ai in cyber security has a promising future, especially in the realm of authentication and access control. By leveraging ai-based technologies, user authentication processes can be significantly strengthened. Access control can also be enhanced through the utilization of ai, opening up new possibilities in biometric authentication systems.
With ai at the forefront, cyber security can reach new heights of effectiveness and efficiency. Ai has the potential to revolutionize the way we secure digital platforms and protect sensitive information. By constantly evolving and adapting, ai can stay one step ahead of cyber threats, providing a robust defense against potential attacks.
The future scope of ai in cyber security is indeed vast, and its incorporation into authentication and access control systems can greatly enhance the overall security landscape. As technology advances, ai will continue to play a crucial role in safeguarding our digital world.
Ai'S Impact On Security Analytics And Incident Response
Ai's impact on security analytics and incident response is significant. Ai algorithms and machine learning are augmenting security analytics by streamlining the process. Through ai-powered tools and automation, incident response is becoming more efficient. Additionally, ai shows promise in predictive threat intelligence, which could revolutionize the cyber security landscape.
The future scope of ai in cyber security looks promising, as it has the potential to enhance threat detection and response capabilities. With its ability to analyze vast amounts of data in real-time, ai can identify patterns and anomalies that may indicate cyber threats.
By utilizing ai technology, organizations can stay one step ahead of cyber criminals and protect their sensitive data. The future is bright for ai in cyber security, and its impact will only continue to grow.
Addressing The Challenges Of Ai In Cyber Security
The future scope of ai in cyber security involves addressing challenges related to ethical considerations and data privacy concerns. Overcoming limitations of ai algorithms is crucial for effectively detecting sophisticated cyber threats. To capitalize on the benefits of ai, options for skill development and expertise in cyber security are essential.
This includes staying up-to-date with the latest advancements and acquiring comprehensive knowledge in the field. By continuously improving ai algorithms and training models, cyber security professionals can enhance their ability to prevent and mitigate cyber attacks. It is important to strike a balance between the advantages of ai and the need to ensure ethical use of data and privacy protection.
With proper skill development and expertise, ai can play a significant role in enhancing cyber security measures. Stay ahead of emerging threats and equip yourself with the necessary knowledge and tools for effectively harnessing the power of ai in cyber security.
Frequently Asked Questions For What Is The Future Scope Of Ai In CyberSecurity?
What Is The Role Of Ai In Cyber Security?
Ai plays a crucial role in cyber security by analyzing vast amounts of data, detecting and responding to threats in real-time, and enhancing security systems through machine learning algorithms.
How Does Ai Detect Cyber Threats?
Ai detects cyber threats by continuously monitoring network traffic, analyzing patterns, and identifying abnormal behavior. Machine learning algorithms enable ai to learn from previous attacks and predict and prevent future threats.
Can Ai Prevent All Cyber Attacks?
While ai is highly effective in detecting and preventing many cyber attacks, it is not foolproof. Cyber criminals constantly evolve their tactics, making it necessary to continually update ai systems to stay ahead of new threats. Human intervention and expertise are still essential in cyber security.
Conclusion
As we look ahead to the future of cybersecurity, one thing is clear: ai is set to play a significant role. With the ever-increasing threat of cyberattacks, organizations and individuals are in dire need of advanced solutions to protect their sensitive data.
Ai offers a promising solution, through its ability to quickly detect threats, analyze patterns, and adapt to ever-evolving attack methods. The potential applications of ai in cybersecurity are vast, and it is expected to enhance not only threat detection and prevention, but also incident response and recovery.
By leveraging the power of ai, organizations can stay one step ahead of cybercriminals, safeguarding their valuable assets and ensuring the privacy of their customers. As ai technology continues to mature, we can expect it to become an integral part of the cybersecurity landscape, providing advanced protection for businesses and individuals alike.
Embracing ai in cybersecurity is no longer a luxury, but a necessity in the digital age we live in.