Digital banks can adopt strategic approaches such as leveraging technology advancements and personalizing customer experiences to stay competitive in the financial industry. Digital banks, also known as neobanks, are revolutionizing the financial landscape by leveraging technology to deliver innovative and seamless banking experiences.
With traditional banks facing stiff competition, digital banks must adopt strategic approaches to differentiate themselves and attract customers. This article explores key strategies that digital banks can employ to gain a competitive edge in the industry. By embracing technology advancements, digital banks can streamline processes, enhance efficiency, and provide faster and more convenient services to their customers.
Additionally, personalizing customer experiences through tailored offerings and personalized recommendations can help digital banks build trust and loyalty among their customer base. In the following sections, we will delve deeper into each of these strategic approaches to understand how they can contribute to the success of digital banks in the ever-evolving financial landscape.
Image Courtesy: Prof. Malik Khan Kotadia
Key Factors For Successful Digital Banking
Successful digital banking relies on strategic approaches that prioritize customer engagement, streamlined processes, robust cybersecurity measures, innovative technologies, continuous monitoring, and seamless integration with existing systems. By implementing these key factors, digital banks can enhance user experience, drive customer satisfaction, and establish themselves as industry leaders.
Importance Of Customer Experience
Digital banks must prioritize providing an exceptional customer experience in order to succeed in today's competitive landscape. Here are key factors to consider:
Seamless user interface and navigation: Ensuring that customers can easily navigate through the digital banking platforms is crucial. This includes intuitive menu options, clear instructions, and simple design elements to enhance the overall user experience.
Personalization and customization: Offering personalized experiences based on individual customer preferences and needs helps in building strong relationships with customers. Tailoring product recommendations and providing relevant content creates a sense of personalization, enhancing customer satisfaction and loyalty.
Quick and efficient customer support: In the digital banking world, customers expect prompt and efficient resolutions to their queries or issues. Implementing live chat or chatbot functionalities can provide real-time assistance to customers, ensuring their problems are addressed swiftly.
Continuous improvement through feedback: Gathering customer feedback and implementing necessary changes based on their suggestions is critical. Digital banks should regularly seek customer opinions and suggestions to gauge their satisfaction levels and identify areas of improvement.
Embracing Technology Advancements
Staying ahead in the digital banking industry requires embracing the latest technological advancements. Here's why:
Enhanced security measures: With the increasing cybersecurity threats, digital banks must stay updated with the latest security protocols and technologies. This involves utilizing advanced encryption methods, two-factor authentication, and robust firewalls to protect customer data and prevent unauthorized access.
Seamless integration across channels: Digital banks should ensure a seamless integration across various channels, such as mobile apps, websites, and social media platforms. A consistent user experience across these channels helps in building customer trust and loyalty.
Automated processes: Automation of manual processes through technology allows digital banks to operate more efficiently. This includes automating customer onboarding, transaction processing, and risk assessment, resulting in faster and more accurate service delivery.
Innovation and agility: Digital banks should foster a culture of innovation and agility to keep up with the ever-evolving industry landscape. Embracing emerging technologies like artificial intelligence, machine learning, and blockchain can enable them to offer innovative products and services, giving them a competitive edge.
Effective Utilization Of Data Analytics
Data analytics plays a crucial role in the success of digital banks. Here are key aspects to consider:
Customer insights and segmentation: By analyzing customer data, digital banks can gain valuable insights into customer behavior, preferences, and needs. This enables targeted marketing campaigns and personalized product offerings, resulting in higher customer engagement and satisfaction.
Risk management and fraud detection: Data analytics helps in identifying patterns and anomalies that indicate potential risk or fraudulent activities. Implementing predictive analytics and machine learning algorithms can enhance the accuracy of risk assessment and fraud detection processes.
Improved operational efficiency: Analyzing internal data can help digital banks identify bottlenecks, optimize processes, and streamline operations. By leveraging data analytics, banks can reduce costs, improve productivity, and enhance overall efficiency.
Regulatory compliance: With the ever-increasing regulatory requirements in the banking sector, data analytics tools can assist in ensuring compliance. Banks can analyze data to identify any non-compliance issues and take corrective measures promptly.
By prioritizing the importance of customer experience, embracing technology advancements, and effectively utilizing data analytics, digital banks can position themselves for success in the ever-changing landscape of the banking industry.
Enhancing Customer Experience
Digital banks can enhance customer experience by implementing strategic approaches. These approaches include personalized interactions, intuitive user interfaces, and seamless omnichannel experiences, ensuring customer satisfaction and loyalty.
Providing user-friendly interfaces:
Digital banks need to prioritize creating user-friendly interfaces to enhance the customer experience.
Interfaces should be simple, intuitive, and easy to navigate.
Clear and organized layout design allows customers to locate information quickly.
Interactive elements, such as responsive buttons and interactive content, can improve engagement.
Personalization and customization of services:
Digital banks should focus on personalization to meet the unique needs of their customers.
By analyzing customer data, banks can offer tailored products and services.
Personalized recommendations based on previous transactions and financial goals can increase customer satisfaction.
Customizable features, such as setting spending limits and notification preferences, empower customers with more control over their banking experience.
Seamless multi-channel banking experience:
To cater to customers' diverse needs, digital banks should provide a seamless multi-channel banking experience.
Customers should be able to access their accounts and perform transactions seamlessly across various devices.
A consistent and coherent brand experience across all channels fosters trust and loyalty.
Integration with popular messaging platforms and social media channels can provide additional touchpoints for customers.
Digital banks can enhance the customer experience by focusing on providing user-friendly interfaces, personalization and customization of services, and a seamless multi-channel banking experience. By incorporating these strategic approaches, banks can improve customer satisfaction and loyalty in the digital landscape.
Leveraging Technology
Digital banks are adopting strategic approaches to leverage technology, transforming the way banking is done. By embracing innovative solutions and digital tools, these banks can enhance customer experience, streamline operations, and stay competitive in the rapidly evolving digital landscape.
Digital banking has revolutionized the way financial institutions operate, providing customers with convenient and efficient banking solutions. To stay ahead in this competitive landscape, digital banks need to leverage technology effectively. By implementing AI and machine learning, developing mobile banking applications, and automating processes, digital banks can enhance their operations and deliver a superior customer experience.
Implementing Ai And Machine Learning:
AI and machine learning technologies play a key role in transforming digital banking. By harnessing the power of these technologies, digital banks can offer personalized and targeted services to their customers.
AI-powered chatbots can provide instant customer support, answering queries and resolving issues efficiently. These chatbots can analyze customer data and provide personalized recommendations, improving customer satisfaction.
Machine learning algorithms can analyze large volumes of data to detect patterns and make accurate predictions. This can help digital banks to identify fraudulent activities and effectively manage risks.
AI and machine learning can also streamline internal processes, automating tasks such as credit scoring and transaction categorization. This eliminates manual intervention, increasing operational efficiency and reducing costs.
Mobile Banking Applications:
With the increasing popularity of smartphones, mobile banking applications have become a necessity for digital banks. These applications provide customers with a seamless and convenient banking experience.
Mobile banking applications enable customers to manage their accounts, transfer funds, pay bills, and perform various banking transactions on the go. This flexibility empowers customers and enhances their overall banking experience.
Digital banks can leverage mobile banking applications to deliver personalized notifications and offers to customers. These applications can use location-based services to provide relevant information and deals, increasing customer engagement.
Mobile applications can also offer biometric authentication options such as fingerprint or facial recognition, enhancing security and ensuring a smooth login experience for customers.
Automation Of Processes:
Automating processes is a crucial strategic approach for digital banks to drive operational efficiency and improve customer service.
By automating routine processes such as account opening, loan approvals, and account reconciliation, digital banks can reduce manual errors and save valuable time and resources.
Robotic Process Automation (RPA) can handle repetitive tasks, allowing employees to focus on more complex and value-added activities. This increases productivity and enables superior customer service.
Automation can also enhance compliance and regulatory processes. Digital banks can implement automation tools to ensure that all transactions and activities adhere to the required regulations, reducing the risk of non-compliance.
Digital banks can gain a competitive edge by effectively leveraging technology. Implementing AI and machine learning, developing user-friendly mobile banking applications, and automating processes can enable digital banks to provide exceptional customer experiences and streamline their operations. Embracing technology-driven strategies is crucial for the success of modern digital banks in the ever-evolving financial landscape.
Utilizing Data Analytics
Data analytics plays a pivotal role in the strategic approach of digital banks, providing valuable insights for informed decision-making and improved customer experiences. By harnessing the power of data, digital banks can optimize operations, mitigate risks, and identify growth opportunities, ultimately enhancing their overall performance in the competitive financial landscape.
Data analytics plays a crucial role in the success of digital banks. By gathering and analyzing customer data, digital banks can gain valuable insights to enhance their services and cater to individual customer needs effectively. Here are some strategic approaches for utilizing data analytics in the realm of digital banking:
Gathering and analyzing customer data:
Personal information: Collect customer demographics, preferences, and behavior patterns to gain a better understanding of their needs.
Transactional data: Analyze transaction history to identify spending patterns and develop tailored financial products.
Social media data: Gain insights from customer interactions on social media platforms to refine marketing strategies and create personalized offers.
Predictive Analytics For Personalized Offers
Digital banks can leverage predictive analytics to provide personalized offers to their customers, enhancing their banking experience. By analyzing customer data, predictive analytics algorithms can anticipate and understand customers' needs and preferences. Here's how predictive analytics can be utilized for personalized offers:
Segmenting customers: Categorize customers into various segments based on their financial behavior, demographic data, and preferences to provide targeted product recommendations.
Tailored product suggestions: Utilize predictive models to suggest personalized banking products and services, such as investment options, insurance plans, or credit cards, based on individual customer profiles.
Real-time offers: Utilize predictive analytics to identify customers' needs and deliver real-time offers via digital banking platforms, enhancing customer engagement and satisfaction.
Risk Management And Fraud Prevention
Data analytics is crucial in ensuring risk management and fraud prevention within digital banking platforms. By utilizing advanced analytics techniques, banks can assess risks, detect suspicious activities, and proactively prevent fraud. Here are some key areas where data analytics can be implemented:
Anomaly detection: Use machine learning algorithms to identify abnormal patterns in customer transactions and detect potential fraudulent activities.
Behavioral analytics: Analyze user behavior to establish typical transaction patterns and identify any deviations that may indicate fraudulent or unauthorized activities.
Fraud prediction models: Develop predictive models that assess the likelihood of fraud based on historical data, enabling proactive measures to prevent fraudulent transactions and protect customers' accounts.
Leveraging data analytics is essential for digital banks to gain insights into customer behavior, offer personalized services, and ensure robust risk management and fraud prevention. By implementing these strategic approaches, digital banks can enhance customer satisfaction, drive engagement, and stay ahead in the competitive financial industry.
Partnership And Collaboration
Digital banks can enhance their strategic approaches by leveraging partnership and collaboration. By forming alliances with fintech companies and other industry players, digital banks can tap into innovative solutions and expand their reach to provide more value to their customers.
Collaborating With Fintech Startups
Collaborating with fintech startups can provide digital banks with access to innovative technologies and ideas. This strategic approach allows digital banks to leverage the expertise and agility of fintech startups to enhance their offerings and improve customer experience. Key benefits of collaborating with fintech startups include:
Access to cutting-edge technologies: Partnering with fintech startups gives digital banks access to emerging technologies such as artificial intelligence, machine learning, blockchain, and data analytics. These technologies can enhance various aspects of digital banking, including fraud prevention, personalization, and automation.
Faster time-to-market: Fintech startups are known for their ability to quickly develop and deploy new solutions. By collaborating with fintech startups, digital banks can accelerate their time-to-market for new products and features. This speed advantage is crucial in the rapidly evolving digital banking landscape.
Increased innovation: Fintech startups often have a fresh perspective on financial services and can bring new ideas and approaches to the table. Collaboration with these startups fosters a culture of innovation within digital banks, driving the development of novel solutions and differentiation in the market.
Access to niche markets: Fintech startups often specialize in niche markets or segments that may be underserved by traditional banks. Partnering with these startups allows digital banks to tap into new customer segments and expand their reach.
Strategic Partnerships With Third-Party Providers
Forming strategic partnerships with third-party providers can offer digital banks a wide range of benefits and capabilities. These partnerships allow digital banks to leverage the specialized expertise and resources of these providers, enabling them to strengthen their offerings and deliver a seamless customer experience.
Key advantages of strategic partnerships with third-party providers include:
Expanded product and service offerings: Collaborating with third-party providers allows digital banks to offer a broader range of products and services beyond their core offerings. This can include insurance products, investment options, and specialized financial tools, providing customers with a comprehensive suite of solutions.
Seamless integration of services: Integrating third-party providers' services with digital banking platforms enables a seamless customer experience. By offering a unified interface and integrating services such as payments, budgeting tools, and investment platforms, digital banks can deliver a convenient and holistic banking experience.
Scalable infrastructure: Partnering with third-party providers can help digital banks scale their operations quickly and efficiently. These providers often have established infrastructure and processes in place, allowing digital banks to handle increased transaction volumes and serve a growing customer base without significant investments in technology and resources.
Enhanced regulatory compliance: Partnering with established third-party providers can support digital banks in meeting regulatory requirements. These providers have experience navigating complex regulatory frameworks and can ensure that digital banks remain compliant with evolving regulations.
Open Banking Initiatives
Open banking initiatives have gained significant momentum in the digital banking industry. By embracing open banking, digital banks can unlock new opportunities and deliver enhanced value to their customers. Open banking initiatives involve sharing customer data securely with trusted third-party providers through APIs (Application Programming Interfaces).
Key benefits of open banking initiatives include:
Improved customer experience: Open banking allows digital banks to offer personalized and tailored services by securely sharing customer data with third-party providers. This enables customers to access a wide range of financial services and make informed decisions based on their unique financial situation.
Increased competition and innovation: Opening up data through APIs encourages competition among service providers, fostering innovation and driving the development of new and improved products and services. This benefits customers by providing them with a wider range of options and more innovative solutions.
Enhanced financial transparency: Open banking enables customers to have a consolidated view of their finances by aggregating data from multiple accounts and providers in one place. This transparency promotes financial literacy and empowers customers to make better financial decisions.
Secure data sharing: Open banking initiatives prioritize security and data protection. By implementing robust security measures and strict data sharing standards, digital banks can ensure the secure transfer of customer data to trusted third-party providers.
Partnership and collaboration play a critical role in the strategic approaches of digital banks. Collaborating with fintech startups, forming strategic partnerships with third-party providers, and embracing open banking initiatives enable digital banks to innovate, expand their offerings, enhance customer experience, and stay competitive in the evolving digital banking landscape.
Regulatory Compliance And Security
Digital banks can ensure regulatory compliance and security by adopting strategic approaches. These approaches involve implementing robust systems, conducting regular audits, and staying updated with evolving regulations, ultimately safeguarding customer data and maintaining trust in the digital banking sector.
Digital banks have revolutionized the way we manage our finances, offering convenience and accessibility like never before. However, with these advancements come challenges in terms of regulatory compliance and security. Ensuring compliance with regulations, implementing cybersecurity measures for data protection, and building trust and transparency with customers are crucial aspects that digital banks must prioritize.
In this blog post, we will explore strategic approaches for digital banks in regard to regulatory compliance and security.
Ensuring Compliance With Regulations:
Regularly assess regulatory requirements to stay updated with any changes or additions: Keeping track of regulatory updates ensures that digital banks adhere to the latest standards and maintain compliance.
Implement robust internal controls and governance frameworks: Setting up clear policies, procedures, and checks ensures that all processes within the digital bank align with regulatory requirements.
Conduct regular audits and risk assessments: Regular audits help identify any gaps or weaknesses in the compliance framework, allowing digital banks to address them promptly.
Collaborate with legal and compliance experts: Partnering with professionals in the legal and compliance fields can provide valuable guidance and ensure that digital banks fully understand and adhere to regulatory obligations.
Cybersecurity Measures For Data Protection:
Implement multi-factor authentication (MFA): MFA adds an extra layer of security by requiring users to provide multiple forms of identification, such as a password and a unique code sent to their mobile device.
Encrypt sensitive data: Encryption converts data into unreadable code, protecting it from unauthorized access. Digital banks should encrypt customer information and ensure secure transmission and storage.
Regularly update security software and firewalls: Updating security software helps safeguard against the latest threats and vulnerabilities, while firewalls protect digital banks' networks from unauthorized access.
Conduct regular security audits and penetration testing: Regular audits and penetration testing can help identify vulnerabilities in the digital bank's systems and infrastructure, allowing for timely remediation and strengthening of security.
Building Trust And Transparency With Customers:
Provide clear and concise privacy policies: Digital banks should articulate their privacy practices in a transparent manner, informing customers of how their personal information is collected, used, and protected.
Educate customers about security best practices: Sharing tips on password strength, phishing awareness, and common scams empowers customers to take an active role in protecting their own data and finances.
Offer secure and user-friendly interfaces: Designing intuitive interfaces that prioritize both security and ease of use can help build trust with customers, enabling them to navigate digital banking services with confidence.
Promptly address security incidents: In the unfortunate event of a security breach, digital banks should communicate openly with affected customers, providing clear information, guidance, and support.
Digital banks must prioritize regulatory compliance and security to ensure the safety of their customers' data and finances. By staying updated with regulations, implementing robust cybersecurity measures, and fostering trust and transparency with customers, digital banks can establish themselves as reliable and secure financial institutions in the digital era.
Innovation And Agility
Digital banks are utilizing strategic approaches to enhance innovation and agility. These banks are implementing new technologies and adapting to market changes to stay ahead in the rapidly evolving digital landscape. With a focus on providing seamless digital experiences, they are revolutionizing the way customers interact with banking services.
Continuous Innovation To Stay Ahead
Digital banks must prioritize continuous innovation in order to stay ahead in the highly competitive market. Here are some key approaches to foster innovation:
Embrace emerging technologies: Digital banks should proactively explore and adopt new technologies such as artificial intelligence, blockchain, and data analytics to enhance their operations and customer experience.
Develop a culture of innovation: Banks need to foster a culture that encourages creativity and rewards innovative ideas. This can be achieved through initiatives like hackathons, innovation labs, and cross-functional collaboration.
Engage with fintech partnerships: Collaborating with fintech startups can bring fresh perspectives and accelerate innovation. Digital banks can leverage partnerships to integrate cutting-edge solutions and stay relevant in the rapidly evolving banking landscape.
Focus on customer-centric innovation: Understanding customer needs and pain points is crucial for digital banks. Regularly collecting feedback, conducting market research, and leveraging user data can help identify areas for improvement and drive customer-centric innovation.
Encourage employee innovation: Digital banks should empower their employees to contribute ideas and experiment with new approaches. Establishing channels for idea sharing and providing resources for experimentation can foster a culture of employee-driven innovation.
Agile Development Methodologies
Adopting agile development methodologies can enable digital banks to respond rapidly to market demands and deliver value to customers. Here are the key aspects of agile methodologies for digital banks:
Cross-functional teams: Digital banks should assemble multidisciplinary teams that include individuals with diverse skill sets. This enables faster decision-making and swift execution of projects.
Iterative development: Instead of following a linear development process, digital banks should employ an iterative approach. Breaking down projects into smaller, manageable chunks allows for incremental improvements and quicker time-to-market.
Continuous delivery and deployment: Automated processes for testing, deploying, and monitoring applications ensure a continuous delivery pipeline. This enables digital banks to release new features and updates frequently, keeping up with customer expectations.
Transparent communication: Agile development emphasizes open and transparent communication within teams. Regular stand-up meetings, progress updates, and feedback sessions enable quick resolution of issues and foster collaboration.
Flexibility and adaptability: One of the core principles of agile methodologies is embracing change. Digital banks should be prepared to adapt their strategies and priorities based on market feedback and evolving customer needs.
Experimentation And Learning From Failures
In the fast-paced digital banking industry, experimentation and learning from failures are vital for ongoing growth and improvement. Here's why digital banks should embrace this approach:
Promote a culture of experimentation: Digital banks should encourage a mindset that views failure as an opportunity for learning and improvement. By creating an environment where employees are empowered to take risks and try new approaches, digital banks can foster innovation and uncover new opportunities.
Fail fast, fail forward: Digital banks should prioritize rapid experimentation and iterate based on feedback. By quickly testing ideas and prototypes, banks can identify what works and what doesn't, minimizing the impact of failures.
Analyze and leverage data: Leveraging data analytics is crucial to extract valuable insights from failed experiments. By analyzing data, digital banks can uncover patterns, evaluate the effectiveness of different strategies, and make data-driven decisions.
Share learnings across the organization: Digital banks should create mechanisms to capture and share the knowledge gained from failed experiments. This helps avoid repeating mistakes and allows others in the organization to benefit from the insights gained.
Embrace a growth mindset: Instead of viewing failures as setbacks, digital banks should adopt a growth mindset. Encouraging continuous learning and resilience enables banks to adapt and thrive in an ever-evolving digital landscape.
By continuously innovating, embracing agile development methodologies, and promoting experimentation and learning from failures, digital banks can position themselves as leaders in the industry and better serve their customers in the digital age.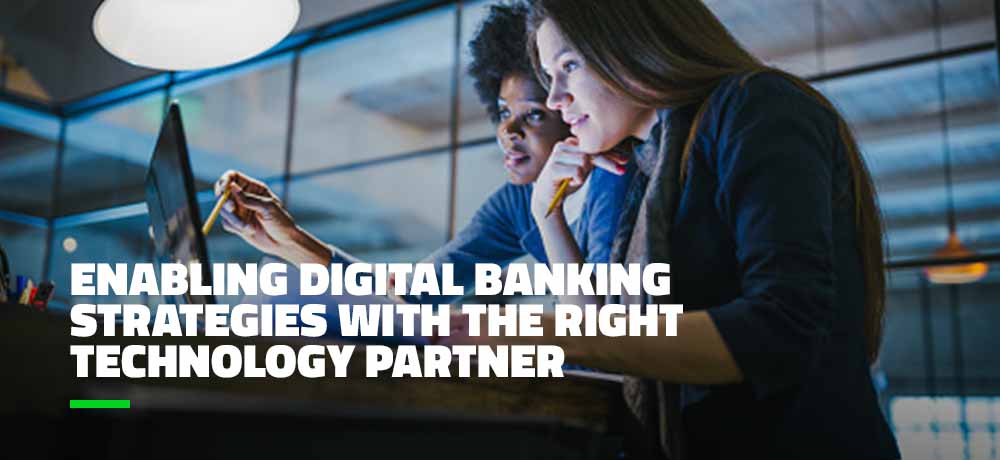 Credit: www.fisglobal.com
Human Touch In Digital Banking
Digital banks are adopting strategic approaches to enhance customer experience and bring a human touch to their services. By focusing on user-friendly interfaces and personalized interactions, these banks strive to bridge the gap between technology and human interaction in the world of finance.
Balancing Digital And Human Interactions
Digital banks are revolutionizing the way people conduct their financial transactions. While technology has enabled convenient and efficient digital banking solutions, it is crucial to maintain a human touch, ensuring that customers feel valued and supported. Here are some strategic approaches for digital banks to strike the right balance between digital and human interactions:
Enhance customer experience: To foster a positive customer experience, digital banks should focus on personalization and responsiveness. This can be achieved by leveraging technology to capture customer preferences and tailoring their digital experiences accordingly.
Maintain human connections: Despite the prevalence of digital interactions, it is essential for digital banks to provide channels for personal connections. This allows customers to address their concerns, ask questions, and seek advice from knowledgeable professionals.
Offer tailored support: Digital banks should invest in providing personalized support to customers when needed. This can be achieved through a combination of AI-driven chatbots and human support agents, ensuring efficient and accurate responses to customer inquiries.
Training And Empowering Employees
In digital banking, employees play a vital role in delivering exceptional customer service and driving business growth. To keep up with changing customer needs and technology advancements, digital banks should focus on training and empowering their employees. Here are some strategies to consider:
Continuous training programs: Offer regular training sessions to keep employees updated on the latest digital banking technologies, customer service skills, and industry trends. This empowers employees to provide informed and quality assistance to customers.
Promote a culture of innovation: Encourage employees to contribute ideas and suggestions for process improvements and new technology implementations. Foster an environment that embraces change and rewards innovative thinking.
Empower decision-making: Provide employees with the authority to make certain decisions independently, enabling them to address customer concerns promptly. This empowers employees and enhances the customer experience.
Utilizing Chatbots And Virtual Assistants For Support
To efficiently handle customer inquiries and provide round-the-clock support, digital banks can leverage chatbots and virtual assistants. These AI-powered tools can enhance the customer experience and contribute to the overall success of the bank. Consider the following:
24/7 availability: Chatbots and virtual assistants can provide instant support and guidance to customers at any time of the day, ensuring uninterrupted service.
Quick and accurate responses: Chatbots can be programmed to address frequently asked questions and provide relevant information promptly. This helps reduce customer waiting time and improve satisfaction.
Seamless handoff to humans: While chatbots can handle common queries and tasks, there should be a seamless handoff to human agents for complex issues. This ensures that customers receive personalized attention when needed.
Continuous improvement: Regularly monitor chatbot interactions to identify areas for improvement. Refine the chatbots' responses and capabilities based on customer feedback and evolving needs.
To excel in the digital banking landscape, it is crucial for digital banks to embrace technology while maintaining a human touch. Balancing digital and human interactions, training and empowering employees, and utilizing chatbots and virtual assistants are essential strategies for success.
By implementing these approaches, digital banks can provide exceptional customer experiences and drive growth in today's digital era.
Reference:
[Digital Banking: A Global Market Perspective, 2020-2025](https://www.globenewswire.com/news-release/2021/02/04/2169312/0/en/The-Worldwide-Digital-Banks-Industry-is-Expected-to-Reach-100-6-Billion-by-2025-at-a-CAGR-of-19-3-from-2020.html)
Branding And Marketing
Digital banks can benefit from strategic branding and marketing approaches to establish a strong online presence and attract customers. By utilizing targeted campaigns, personalized messaging, and innovative digital technologies, these banks can effectively engage with their target audience and differentiate themselves in the competitive marketplace.
Creating A Strong Digital Brand Identity
Developing a strong digital brand identity is essential for digital banks to stand out in a highly competitive market. Here are some key strategies to create a compelling brand identity:
Define your brand message: Clearly articulate your unique value proposition and what sets your digital bank apart from others. This will help create a strong brand identity.
Establish brand guidelines: Consistency is crucial in building a brand identity. Create brand guidelines that outline your brand's visual elements, tone of voice, and messaging style.
Craft a compelling brand story: Narrate a story that resonates with your target audience and evokes emotions. This narrative can enhance your brand identity and create a lasting impression.
Design a visually appealing logo: Your logo serves as a visual representation of your brand. Invest in a well-designed logo that reflects your brand's values and personality.
Create brand associations: Align your brand with specific values or causes that resonate with your target audience. This can help strengthen your brand identity and build trust.
Targeted Marketing Campaigns
To effectively reach your target audience, digital banks should implement targeted marketing campaigns. Here are some strategies to consider:
Identify your target audience: Define the specific demographics and characteristics of your desired customer base. This knowledge will guide your marketing efforts.
Segmentation and personalization: Divide your target audience into smaller segments based on their preferences, interests, and behaviors. Tailor your marketing messages and offers to each segment for maximum impact.
Leverage data-driven insights: Utilize the data you have collected to gain insights into customer behavior and preferences. This will enable you to create more targeted and relevant marketing campaigns.
Utilize multiple marketing channels: Explore various digital marketing channels such as search engine marketing, social media advertising, email marketing, and content marketing to reach your target audience effectively.
Measure and optimize: Continuously monitor and analyze the performance of your marketing campaigns. Use this data to make informed decisions and optimize your marketing strategies for better results.
Utilizing Social Media Platforms
Social media has become an integral part of digital marketing strategies for banks. Here's how digital banks can make the most of social media platforms:
Select the right platforms: Determine the social media channels that align with your target audience. Focus your efforts on platforms where your target customers are most active.
Create engaging content: Develop content that is informative, valuable, and relevant to your audience. Use a mix of text, images, videos, and infographics to keep your social media presence engaging.
Engage with your audience: Actively respond to comments, messages, and mentions from your audience. Build meaningful connections and foster a sense of community around your brand.
Influencer collaborations: Partnering with influencers or industry experts can help amplify your reach and build credibility. Identify relevant influencers who align with your brand values and collaborate on content or promotions.
Monitor and analyze: Utilize social media analytics tools to track the performance of your social media campaigns. Use the insights gained to optimize your content and engagement strategies.
By implementing these strategic approaches for branding and marketing, digital banks can create a strong digital brand identity, reach their target audience through targeted marketing campaigns, and effectively utilize social media platforms to maximize their online presence.
Frequently Asked Questions
What Are The Key Benefits Of Digital Banking?
Digital banking offers convenience, accessibility, and time-saving benefits. With digital banking, customers can perform transactions anytime, anywhere, without the need to visit a physical branch. It also provides real-time access to account information, simplifies financial management, and improves security measures.
How Can Digital Banks Ensure The Safety Of Customer's Data?
Digital banks prioritize the security of customer data through advanced encryption, multi-factor authentication, and regular security audits. They implement strict data privacy policies and adhere to industry-standard security protocols. Additionally, digital banks use secure technologies to protect customer information from potential cyber threats.
What Services Can Customers Expect From Digital Banks?
Digital banks offer a range of services, including online account opening, fund transfers, bill payments, budgeting tools, and loan applications. Customers can access these services through mobile applications or websites, making it convenient to manage their finances. Some digital banks may also provide additional perks, such as cashback rewards or personalized financial advice.
Conclusion
In the rapidly evolving world of digital banking, strategic approaches play a vital role in ensuring success in the industry. By embracing innovative technologies, focusing on customer experience, and implementing data-driven decision-making, digital banks can position themselves as leaders in the financial sector.
The key is to stay ahead of the curve and continuously adapt to the changing needs and preferences of customers. This can be achieved by leveraging artificial intelligence and automation tools to streamline processes and provide personalized experiences. Additionally, digital banks need to establish robust security measures to gain customers' trust and ensure the safety of their financial transactions.
To thrive in the competitive landscape, digital banks must also prioritize building strong partnerships and collaborations. By integrating with fintech startups and exploring new market segments, they can reach a wider audience and expand their reach. By adopting strategic approaches that blend technology, customer-centricity, and security, digital banks can drive growth and create a sustainable future.
Through innovation and adaptation, they can offer unparalleled convenience and redefine the banking experience for customers in the digital age.