Have you ever wondered how clothes could become smart? Well, we're here to explore the fascinating world of smart clothing and the technologies behind it. So, let's dive in and find out which technologies are currently used in smart clothing!
Smart clothing is more than just your ordinary t-shirts and jeans. It's a fusion of fashion and technology that brings a whole new level of functionality to our everyday outfits. From fitness trackers embedded in our sports gear to temperature-regulating fabrics in our jackets, smart clothing is revolutionizing the way we dress.
So, what are the technologies that make all of this possible? In this article, we'll uncover the secrets behind smart clothing and learn about the cutting-edge advancements that are shaping the future of fashion. Get ready to be amazed by the incredible possibilities that await us in the world of smart clothing!
Smart clothing utilizes a variety of advanced technologies to enhance our everyday lives. These include sensors, conductive textiles, and embedded electronics. Sensors can monitor heart rate, body temperature, and activity levels. Conductive textiles enable the transmission of data and electricity. Embedded electronics, such as microcontrollers, allow for data processing and communication with other devices. These technologies work together to create smart clothing that can track health metrics, improve athletic performance, and even provide interactive features.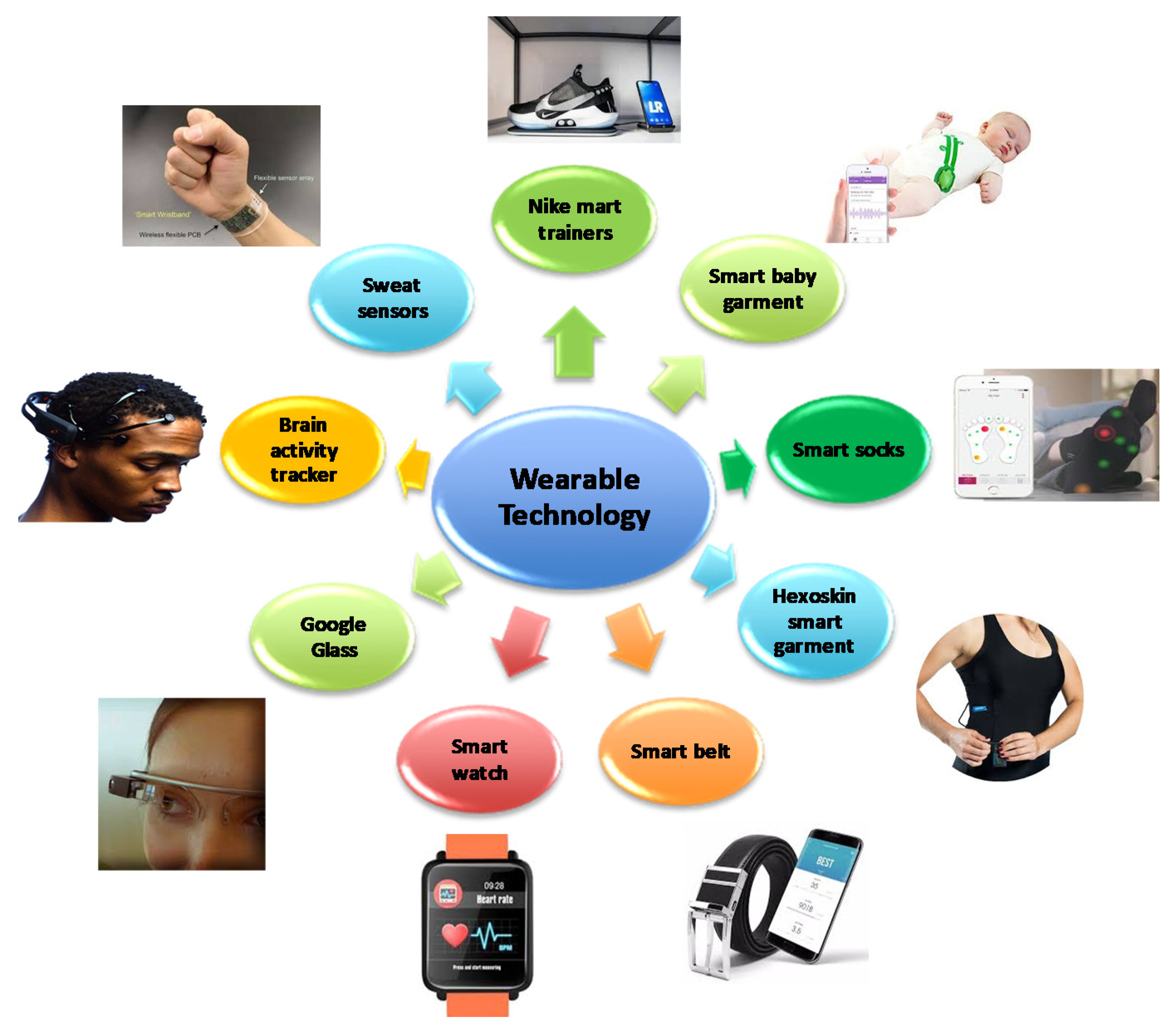 Which Technologies Are Currently Used in Smart Clothing?
Smart clothing is revolutionizing the fashion industry by integrating advanced technologies into our everyday garments. From fitness trackers embedded into our sports bras to jackets that can adjust their temperature, smart clothing is paving the way for a more connected and convenient future. In this article, we will explore the various technologies currently used in smart clothing and how they are enhancing our lives.
Fitness Tracking Sensors
Fitness tracking sensors have become a staple in smart clothing, enabling users to monitor their physical activity and performance. These sensors, often integrated into garments like shirts, leggings, and sports bras, can track heart rate, steps taken, calories burned, and even provide real-time coaching during workouts. Using advanced algorithms and wireless connectivity, these sensors provide invaluable data for users to optimize their fitness routines and track their progress over time.
Beyond fitness tracking, these sensors can also offer additional features like sleep monitoring, stress tracking, and GPS location. With the increasing popularity of smartwatches and fitness bands, many clothing brands are now incorporating these sensors directly into their garments to provide a seamless and integrated fitness tracking experience.
One popular example of fitness tracking sensors in smart clothing is the Nadi X yoga pants. These pants utilize sensors embedded in the fabric to provide real-time feedback on yoga poses, helping users to improve their technique and deepen their practice.
Temperature Regulation
Smart clothing with temperature regulation capabilities is another exciting technological advancement in the industry. These garments use innovative materials and embedded sensors to adjust their temperature based on the wearer's needs and environmental conditions.
For example, a smart jacket may have built-in heating elements that can be controlled through a smartphone app. This allows the wearer to adjust the level of warmth depending on the weather without the need for bulky layers. On the other hand, cooling smart fabrics use evaporative cooling or phase change materials to keep the wearer cool during hot weather or intense physical activity.
Temperature-regulating smart clothing is particularly beneficial for outdoor enthusiasts, athletes, and individuals living in regions with extreme climates. It ensures optimal comfort and prevents overheating or freezing, enhancing performance and overall well-being.
Biofeedback Monitoring
Biofeedback monitoring is a technology that enables smart clothing to gather data on the wearer's physiological responses, such as heart rate variability, breathing patterns, and stress levels. This data can be used to provide insights into the wearer's overall health and well-being, and even offer personalized recommendations to improve their lifestyle.
Smart clothing with biofeedback monitoring capabilities often utilizes sensors placed strategically on the garment to capture the necessary data. This technology is especially useful for individuals looking to manage stress, improve sleep quality, or optimize their mental and emotional well-being.
Brands like Hexoskin have taken biofeedback monitoring to the next level with their smart shirts that can track not only heart rate and breathing, but also provide detailed insights into sleep quality, recovery, and training load. Athletes, in particular, can benefit greatly from this technology to monitor their performance and prevent overexertion.
How Does Smart Clothing Benefit Us?
In addition to the specific technologies mentioned above, smart clothing offers a wide range of benefits for users:
Convenience and Seamlessness
One of the key advantages of smart clothing is its seamless integration into our lives. Unlike wearable devices that you have to remember to put on or carry with you, smart clothing is already a part of your daily wardrobe. It eliminates the need for additional accessories and offers a more integrated and convenient experience.
Data-Driven Insights
Smart clothing provides valuable data and insights into our health, fitness, and overall well-being. Whether it's tracking our physical activity, monitoring our sleep patterns, or offering personalized recommendations, smart clothing empowers users to make informed decisions about their lifestyle and take control of their health.
Enhanced Performance
For athletes and fitness enthusiasts, smart clothing can greatly enhance performance. With features like real-time coaching, biofeedback monitoring, and temperature regulation, athletes can optimize their training, prevent injuries, and reach new levels of performance.
Versatility and Style
Smart clothing is not just about technology; it's also about style. Many brands are focusing on creating designs that are fashionable and versatile, allowing users to express their personal style while enjoying the benefits of advanced technologies.
Long-Term Health Monitoring
Smart clothing has the potential to revolutionize long-term health monitoring and preventive care. By continuously gathering data on our bodies, smart clothing can alert us to potential health issues before they become serious and help us proactively manage our well-being.
Customization and Personalization
Smart clothing can be personalized to meet individual needs and preferences. Whether it's adjusting temperature settings, providing tailored workout recommendations, or customizing the fit and style, smart clothing offers a level of customization that traditional clothing cannot match.
Sustainability
Smart clothing also has the potential to contribute to a more sustainable fashion industry. By optimizing garment design and production processes, reducing waste, and incorporating eco-friendly materials, smart clothing can help minimize the environmental impact of the fashion industry.
Future of Smart Clothing
The world of smart clothing is constantly evolving, with new technologies and innovations emerging every day. Looking ahead, we can expect to see even more exciting developments in the field:
Advanced Sensors and Data Analysis
As sensor technology continues to improve, we can expect more advanced sensors that can provide even deeper insights into our bodies. Combined with powerful data analysis algorithms, these sensors will allow for more accurate tracking, better coaching, and personalized recommendations.
Integration with Virtual and Augmented Reality
Smart clothing has the potential to enhance virtual and augmented reality experiences. By integrating sensors and haptic feedback features, smart clothing can provide a more immersive and realistic experience, whether it's for gaming, healthcare simulation, or virtual travel.
Smart Fabrics with Enhanced Functionality
Researchers are constantly exploring new materials and techniques to create smart fabrics with enhanced functionality. This includes fabrics that can repair themselves, change color based on mood, or even generate energy from body heat.
Connectivity and IoT Integration
Smart clothing will become increasingly connected, allowing for seamless integration with other smart devices and systems. This means that your smart clothing can communicate with your smart home, your car, or even your healthcare provider, providing a more holistic and connected experience.
Emotional and Mental Well-being Monitoring
Future smart clothing may go beyond physical health monitoring to focus on emotional and mental well-being. By incorporating sensors that can measure stress levels, mood, and emotional responses, smart clothing can provide insights and recommendations to improve our mental and emotional well-being.
AI-Powered Personal Assistants
We can expect to see the integration of AI-powered personal assistants into smart clothing, allowing for voice commands, real-time information, and personalized support. Imagine having your own personal fitness coach or stylist embedded in your garment!
Integration with Sustainable and Renewable Energy Sources
As sustainability becomes increasingly important, future smart clothing may integrate renewable energy sources like solar panels or kinetic energy generators to power the embedded technologies. This will further reduce our reliance on traditional energy sources and contribute to a greener future.
Conclusion
Smart clothing is revolutionizing the way we dress and interact with our garments. From fitness tracking sensors to temperature regulation and biofeedback monitoring, smart clothing offers a range of technologies that enhance our lives and improve our well-being. With the continuous advancements in sensor technology, data analysis, and connectivity, the future of smart clothing looks promising. As we move forward, it's crucial to prioritize privacy, sustainability, and personalization to ensure a responsible and inclusive smart clothing industry.
Key Takeaways: Which technologies are currently used in smart clothing?
Smart clothing uses various technologies, such as sensors and microchips, to gather and transmit data.
Some smart clothing items are equipped with biometric sensors that monitor heart rate, breathing rate, and body temperature.
Smart fabrics with embedded LEDs or e-textile displays allow for customizable patterns and colors.
Wireless connectivity, like Bluetooth and Wi-Fi, enables smart clothing to interact with other devices such as smartphones or fitness trackers.
Smart clothing can also incorporate haptic feedback technology, providing vibrations or pressure to enhance the wearer's experience.
Frequently Asked Questions
Curious about the technologies that power smart clothing? Look no further! Here are answers to some of the most common questions about the technologies currently used in smart clothing.
Q: How do smart clothes monitor the body's vitals?
Smart clothing uses advanced sensors to monitor the body's vitals, such as heart rate, respiration, and even stress levels. These sensors are seamlessly integrated into the fabric, allowing for continuous monitoring without the need for bulky external devices.
These sensors work by detecting electrical signals, temperature changes, or pressure variations on the skin. From there, the data is collected, processed, and transmitted to a smartphone or smartwatch via Bluetooth, allowing users to keep track of their health and wellness in real-time.
Q: What technologies enable smart clothing to adapt to external conditions?
Smart clothing can adapt to external conditions thanks to technologies like phase change materials (PCMs) and thermoelectric devices. PCMs are substances that can absorb or release heat, depending on the ambient temperature, thus providing thermoregulation. When it's cold, the PCM can release stored heat, keeping the wearer warm. Conversely, when it's hot, the PCM can absorb heat, helping to cool down the wearer.
Meanwhile, thermoelectric devices can generate electricity from temperature differences. This allows for the creation of smart clothing that can harvest body heat and convert it into electrical energy to power other components or even charge portable devices, enhancing energy efficiency.
Q: How do smart clothes incorporate flexible displays?
Flexible displays are a remarkable technology that enables smart clothing to showcase information or visuals directly on the fabric. These displays are typically made of OLED (organic light-emitting diode) or e-paper technology, which provide bright, vibrant visuals without compromising flexibility.
The key to incorporating flexible displays into smart clothing lies in the use of conductive fabrics and microscopic wiring. These components are seamlessly integrated into the fabric itself, creating a matrix of pixels that can be controlled to display different images, texts, or even animations. This opens up a world of possibilities, allowing wearers to personalize their clothes or display useful information such as notifications or health data.
Q: What role do smart fabrics play in smart clothing?
Smart fabrics are at the core of smart clothing technology. These fabrics are made by embedding conductive materials, such as metal fibers or conductive polymers, directly into the fabric weave. This allows for the transmission of electrical signals or the integration of electronic components into the clothing.
Smart fabrics can enable various functionalities in smart clothing, such as touch-sensitive interfaces, electrical conductivity, or even integration with external devices. For example, a smart jacket might have touch-sensitive sleeves that allow the wearer to control a smartphone without taking it out of their pocket or interact with other smart devices in their environment.
Q: How do smart clothes utilize wireless connectivity?
Wireless connectivity is a crucial technology in smart clothing, enabling seamless communication between the clothing and other devices like smartphones or smart hubs. The most commonly used wireless technology in smart clothing is Bluetooth, which allows for low-power, short-range communication.
Through Bluetooth, smart clothing can transmit data collected by its sensors to a smartphone app or receive instructions from external devices. This enables features like real-time tracking of health data, integration with fitness apps, or even receiving notifications on clothing with embedded display technology. Additionally, Bluetooth connectivity also allows for easy firmware updates to keep the smart clothing up to date with the latest features and improvements.
Top 8 Smart Tech Clothing You'll Want to Buy
Summary
Smart clothing uses technology to help us in different ways. Some clothes have sensors to track our health or fitness. Others have LED lights or screens to display information. So, smart clothing can monitor and inform us about our bodies and surroundings. It's like having a mini computer right on your shirt or pants! But, even though it sounds cool, smart clothing is still being developed, so we might see even more exciting features in the future!
The technologies used in smart clothing include sensors, LEDs, screens, and even conductive fabric. Sensors can measure things like heart rate and body movements. LEDs and screens can show us information like notifications or even change colors. Conductive fabric allows the clothing to be connected to other devices wirelessly. With all these technologies, smart clothing is turning our regular outfits into something really smart and useful!