The connected home is a smart home where devices and appliances are connected to the internet to provide convenience and control to homeowners. With the advent of the Internet of Things (IoT), the connected home is becoming increasingly popular as it allows for the automation and remote management of various aspects of a home, such as lighting, security, temperature, and entertainment.
From smart thermostats that learn your preferences to voice-activated personal assistants that can control multiple devices, the connected home is transforming the way we live. This article explores the benefits and challenges of the connected home, as well as the potential for future advancements in this rapidly evolving field.
The Smart Home Revolution: A Glimpse Into The Future
The Smart Home Revolution takes a glimpse into the future with the Connected Home, where everything from lighting and security to appliances and entertainment can be controlled and monitored with ease, creating a seamless and convenient living experience. Embrace the technology and stay connected.
In today's fast-paced world, smart home technology is becoming increasingly popular. This revolutionary concept is reshaping the way we live, offering convenience, efficiency, and a new level of interconnectedness. From controlling your appliances with a simple voice command to monitoring your home security from anywhere in the world, the possibilities are endless.
In this section, we will explore the rise of smart home technology, how it is transforming our daily lives, the key benefits of a connected home, and real-life case studies of successful implementations.
The Rise Of Smart Home Technology:
Smart home technology is gaining momentum, with more and more households integrating these advanced systems into their daily lives.
The Internet of Things (IoT) has played a significant role in the proliferation of smart devices, enabling them to communicate and interact with each other seamlessly.
From smart thermostats and lighting to smart appliances and security systems, the range of available devices continues to expand, offering consumers a wide variety of options to create their ideal connected home.
How It Is Reshaping The Way We Live:
Convenience: Smart home technology allows us to automate tasks and control various aspects of our home environment with ease. From adjusting the temperature or turning on lights remotely to scheduling chores, these systems simplify our daily routines.
Energy Efficiency: With intelligent energy management, smart homes can optimize energy consumption, leading to significant cost savings and reduced environmental impact.
Enhanced Security: Smart home security systems provide advanced features like remote surveillance, motion sensors, and alerts, offering peace of mind and an added layer of protection for your property.
Health and Wellness: Smart devices can monitor and track our well-being, from sleep patterns to exercise routines. They provide valuable insights to help us make informed decisions about our health.
Key Benefits Of A Connected Home:
Increased Convenience: Control your home environment effortlessly using voice commands, smartphone apps, or centralized control panels.
Energy Efficiency: Save money and reduce your carbon footprint by monitoring and managing energy usage.
Enhanced Security: Monitor your home remotely, receive real-time alerts, and deter potential intruders.
Improved Comfort: Automate lighting, temperature, and ambiance to create a personalized and comfortable living space.
Peace of Mind: Keep an eye on your home and loved ones, even when you're away, through smart security features.
Health and Well-being: Track and manage aspects of your health, promoting a healthier lifestyle.
Case Studies Of Successful Implementations:
Johnson Family – Energy Efficiency and Convenience:
Installed smart thermostats and automated lighting throughout their home, resulting in a 20% reduction in energy consumption.
They can control their appliances remotely, even while away on vacation.
Smith Residence – Enhanced Security:
Equipped their home with smart cameras, motion sensors, and a comprehensive security system.
Received real-time alerts and prevented a break-in while they were at work.
Williams Household – Health and Wellness:
Integrated smart wearables, sleep trackers, and health monitoring devices.
Improved their sleep patterns and exercise routines by leveraging data-driven insights.
As we catch a glimpse into the future, it's clear that the connected home is transforming the way we live, offering unparalleled convenience, efficiency, and security. The rise of smart home technology opens up a world of possibilities, making our lives easier, safer, and more enjoyable.
With the benefits it brings and successful implementations witnessed, embracing the smart home revolution is undoubtedly a wise decision.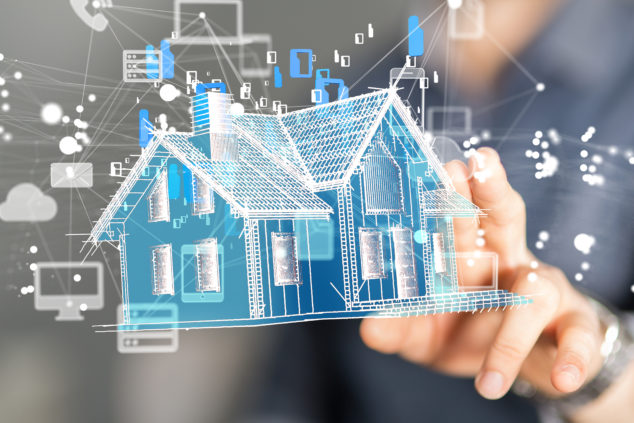 Credit: telefonicatech.com
Streamlining Home Management With Smart Devices
Streamlining home management is made effortless with smart devices in the connected home. With these devices, you can effortlessly control and organize your home's day-to-day tasks and routines, creating a simplified and efficient living environment.
The Connected Home
Living in a connected home is no longer a futuristic concept, but a reality that more and more homeowners are embracing. With the advent of smart devices and the Internet of Things (IoT), managing our homes has become easier, more efficient, and even more enjoyable.
One of the key benefits of a connected home is streamlining home management with smart devices. We will explore three important aspects of this trend: the control and automation of household tasks, the role of voice assistants, and the use of smart thermostats and home security systems.
Control And Automation Of Household Tasks
Voice-controlled smart hubs, such as Google Home and Amazon Echo, allow you to control various smart devices in your home with just your voice. From turning off the lights to adjusting the temperature, these hubs make it incredibly convenient to manage household tasks.
Smart plugs and power strips enable you to control and automate the power supply to various appliances and devices. You can schedule them to turn on/off or set timers for different tasks, such as brewing your morning coffee or turning on the washing machine.
Smart locks provide enhanced security and convenience by allowing you to lock and unlock your doors remotely. Forgot to lock the door? No problem, just use your smartphone to secure your home.
Voice Assistants And Their Role In The Connected Home
Voice assistants have become an integral part of the connected home setup. These AI-powered devices, such as Amazon's Alexa and Apple's Siri, can perform a multitude of tasks, from playing your favorite music to answering your questions about the weather.
With voice assistants, you can control and manage your smart devices by simply giving voice commands. Want to dim the lights in the living room or play a movie on your smart TV? Just ask your voice assistant and it will take care of it.
Voice assistants also enable you to create personalized routines that can execute multiple tasks simultaneously. For example, by saying "Good morning," your voice assistant can turn on the lights, open the blinds, and start brewing your coffee, creating a seamless start to your day.
Smart Thermostats For Energy Efficiency
Smart thermostats offer precise control over your home's temperature, resulting in energy savings and increased comfort. These devices can learn your preferences and automatically adjust the temperature based on factors like weather conditions and your daily routine.
With remote access through mobile apps, you can easily monitor and manage your thermostat from anywhere. Forgot to turn down the temperature before leaving for vacation? Simply use your smartphone to lower it, saving energy and money.
Smart thermostats can also provide valuable insights into your energy usage. By tracking your consumption patterns, they help you identify areas where you can optimize energy usage, leading to cost savings and a reduced carbon footprint.
Home Security Systems For Enhanced Safety
Home security is a top priority for homeowners, and smart devices have revolutionized the way we protect our homes. Smart security cameras provide real-time monitoring and high-definition footage of your property, deterring potential intruders.
Smart doorbell cameras allow you to see who's at your doorstep, even when you're not home. You can communicate with visitors through your smartphone and receive alerts whenever there's activity outside your door.
Integration with smart locks and alarm systems further enhances the security of your connected home. You can remotely lock your doors, arm your security system, and receive notifications if any unusual activity is detected, ensuring peace of mind.
By streamlining home management with smart devices, we can simplify our daily tasks, save time and energy, and enhance the safety and comfort of our homes. The connected home is transforming the way we live, making it easier for us to control and automate various aspects of our household routines.
With the rapid growth of smart technology, this trend is only set to continue, offering homeowners even more convenience and efficiency in the future.
Enhancing Entertainment And Comfort In The Connected Home
Enhance entertainment and comfort in your connected home with innovative features that seamlessly integrate technology and convenience. Enjoy a more immersive and enjoyable experience with connected devices and smart home solutions.
The Connected Home: Enhancing Entertainment And Comfort
The connected home brings a whole new level of convenience and enjoyment to our lives. With the integration of smart technology, homeowners can now transform their living spaces into hubs of entertainment and comfort. Whether you're a movie buff, a music lover, or simply someone who appreciates a cozy ambiance, the connected home has something to offer for everyone.
In this section, we'll explore how smart TVs, connected audio systems, smart lighting, automated shades, and smart appliances can elevate your entertainment and comfort in the connected home.
class="wp-block-heading">Smart Tvs And Streaming Devices For Seamless Entertainment:
Enjoy a wide range of entertainment options at your fingertips with a smart TV.
Stream your favorite shows, movies, and documentaries from popular streaming platforms like Netflix, Hulu, and Amazon Prime.
Access a vast library of movies, music, and videos through built-in apps or external streaming devices such as Apple TV or Roku.
Experience stunning picture quality and vivid colors with high-definition (HD) and 4K resolution.
Control your smart TV with voice commands using virtual assistants like Alexa or Google Assistant.
Connected Audio Systems For Whole-Home Music Experience:
Immerse yourself in a whole-home music experience with connected audio systems.
Sync your music across multiple rooms, allowing you to enjoy your favorite tunes wherever you go.
Control the audio in each room individually or synchronize them for a cohesive listening experience.
Access online music streaming services like Spotify, Apple Music, or Pandora to discover new songs and create customized playlists.
Enhance the audio quality with wireless speakers or soundbars that connect seamlessly to your audio system.
Smart Lighting And Automated Shades For Ambiance:
Create the perfect ambiance in your home with smart lighting and automated shades.
Set the mood for movie nights, parties, or relaxation with adjustable lighting options.
Dim the lights, change colors, or adjust brightness levels using your smartphone or voice commands.
Schedule your lights to turn on or off at specific times, making it look like someone is home even when you're away.
Install automated shades to regulate natural light, increase energy efficiency, and enhance privacy.
Smart Appliances For Convenience And Time-Saving:
Simplify your daily routines and save time with smart appliances.
Control your appliances remotely, so you can start preheating your oven or brewing coffee before you even step foot in the kitchen.
Receive notifications when your laundry is done or when your refrigerator needs restocking.
Harness the power of automation to ensure your appliances operate efficiently and reduce energy consumption.
Enjoy features like voice-controlled cooking, personalized recipes, and smart refrigerators that help you stay organized.
The connected home revolutionizes the way we entertain and find comfort in our living spaces. From immersive movie experiences to whole-home music and personalized ambiance, smart TVs, connected audio systems, smart lighting, automated shades, and smart appliances offer endless possibilities for enhancing entertainment and comfort.
Embrace the power of smart technology and transform your home into a hub of enjoyment and relaxation.
Personalizing The Connected Home Experience
Personalizing the connected home experience allows users to tailor their Smart Home devices to their specific needs and preferences, creating a more personalized and convenient living environment. From smart thermostats that adjust to individual temperature preferences to voice-controlled assistant devices that respond to personalized commands, the connected home revolutionizes the way we interact with our living spaces.
Customization Options For Individual Preferences
Every homeowner is unique, and their preferences for their connected home should reflect that. From lighting to temperature control, customization options allow users to personalize their experiences to suit their individual needs and preferences. Here are some key aspects of customization options for the connected home:
Smart devices with customizable settings: Many smart devices, such as smart thermostats, smart lighting systems, and smart speakers, come with customizable settings that allow users to fine-tune their preferences. From adjusting the brightness and color temperature of smart bulbs to creating personalized temperature schedules, these settings give users the flexibility to tailor their connected home experience.
Personalized voice commands: Voice-controlled home assistants, like Amazon Echo or Google Home, offer the ability to create personalized voice commands. Users can set up custom phrases to trigger specific actions, making it even more convenient to control their connected home devices.
Smart home automation: Advanced automation systems enable seamless customization of various aspects of the connected home experience. With the help of smart home hubs or platforms, users can create custom routines or automation sequences to automate specific tasks or actions based on their preferences. For example, you can set up a routine that turns on the lights, adjusts the thermostat, and plays your favorite playlist as soon as you arrive home.
Smart Home Ecosystems And Cross-Device Compatibility
A connected home is not just about individual devices; it's about creating a comprehensive ecosystem where these devices seamlessly work together. Smart home ecosystems and cross-device compatibility play a crucial role in ensuring an interconnected, efficient, and integrated experience. Here's what you need to know:
Interconnectivity of devices: Smart home ecosystems bring together different devices and technology platforms, allowing them to communicate and work together. This interoperability means that you can control multiple devices using a single interface or voice command, creating a streamlined experience.
Cross-device compatibility: Compatibility across devices is a significant factor in personalizing the connected home experience. Whether it's a smartphone, tablet, smart speaker, or smart TV, users should have the freedom to control and manage their connected home devices from any device they prefer. Cross-device compatibility ensures convenience and flexibility for users to interact with their connected home ecosystem.
Unified control interfaces: Smart home ecosystems often come with centralized control interfaces, such as smartphone apps or dedicated smart home hubs. These interfaces provide a unified dashboard from which users can manage and control all their connected devices. The ability to access and control devices from a single interface enhances convenience and simplifies the user experience.
App Integration And Centralized Control
With the proliferation of smart home devices and applications, app integration and centralized control have become essential elements for personalizing the connected home experience. Let's explore the benefits and features of app integration and centralized control:
Simplified and centralized management: App integration allows users to control and manage all their connected devices from a single application. This centralized control ensures convenience, as users don't have to switch between multiple apps to interact with different devices. Within a single app, users can adjust settings, create customized scenes, and monitor various aspects of their connected home.
Automation and smart routines: App integration enables the creation of automation and smart routines. Users can set up specific triggers, such as time of day or the status of other devices, to automate certain actions. For example, you can create a routine that turns off all lights, locks the doors, and sets the security system when you leave the house.
Third-party integrations: Many smart home apps offer integration with third-party services and platforms, increasing the overall functionality and customization options. Integration with voice assistants, music streaming services, and other smart home ecosystems allows users to extend the capabilities of their connected home and personalize it according to their needs.
Benefits Of Personalization For Different Household Members
Personalization of the connected home offers various advantages to different household members, catering to their specific needs and preferences. Let's explore how personalization benefits different users within a household:
Enhanced comfort and convenience: Customizing the connected home experience ensures everyone in the household enjoys optimal comfort and convenience. For example, individual temperature preferences can be met by personalized thermostat settings for each family member. Voice commands tailored to specific individuals make it effortless to control devices or access information.
Tailored accessibility features: Personalization can also support household members with specific accessibility needs. Customizable settings in smart home devices provide opportunities to adjust interfaces, lighting, and audio cues, catering to diverse abilities and making the connected home more inclusive.
Individual entertainment preferences: Personalization enables each household member to access their preferred entertainment options effortlessly. Custom app configurations or voice commands can link devices to personalized streaming services, playlists, or TV channels. This ensures everyone can enjoy their favorite media content without any hassle.
The personalization of the connected home experience is key to creating a tailored, convenient, and enjoyable living environment. With customization options, smart home ecosystems, app integration, and centralized control, individuals can have control over various aspects of their connected home devices, promoting comfort, convenience, and accessibility for all household members.
Challenges And Considerations Of A Connected Home
Connected homes present various challenges and considerations, including security vulnerabilities, technological compatibility issues, and privacy concerns. Users must navigate these obstacles to fully enjoy the convenience and functionality of a connected home.
The emergence of connected homes, also known as smart homes, has revolutionized the way we live. With the integration of technology and automation, our houses have become more convenient, efficient, and secure. However, this transformation is not without its challenges and considerations.
In this section, we will explore some of the key issues that arise when embracing a connected home ecosystem.
Data Privacy And Security Concerns
Data privacy and security have become major concerns in the age of connected homes. Here are some key factors to consider:
Personal information vulnerability: Connected devices collect vast amounts of personal data, including our routines, preferences, and even our physical movements. Ensuring that this sensitive information is protected from unauthorized access is crucial.
Cybersecurity threats: As more devices are connected, the risk of cyber attacks increases. Vulnerabilities in one device can potentially compromise the entire connected home system.
Secure communication protocols: It is important to prioritize devices and systems that use secure communication protocols, such as encryption, to safeguard data from interception or tampering.
Integration And Compatibility Issues
The wide variety of smart devices available on the market can present challenges when it comes to integration and compatibility. Here are some considerations:
Standalone vs. Interoperable devices: Some devices may operate independently, while others can seamlessly integrate with other devices in the connected home ecosystem. Compatibility between devices is crucial for a smooth and streamlined experience.
Smart hub management: A smart hub acts as a central command center for all connected devices. However, not all devices can be controlled through a single hub due to compatibility issues. Choosing a hub that supports a wide range of devices can help mitigate this challenge.
Cost Of Implementation And Potential Barriers
Implementing a connected home can involve significant upfront costs and potential barriers. Here are a few factors to keep in mind:
Initial investment: Acquiring and installing connected devices, as well as setting up a network infrastructure, can be costly. It is important to consider the long-term benefits and potential savings when evaluating the upfront investment.
Retrofitting existing homes: Upgrading an existing home to become a connected home may require modifications to infrastructure and systems. This can be challenging and may incur additional costs, particularly for older homes.
Technical complexity: Setting up and configuring a connected home system can be technically complex. Technical know-how or professional assistance may be necessary for a seamless implementation.
Future Trends And Developments In Smart Homes
The world of connected homes is continuously evolving and holds immense potential for future advancements. Here are some trends to watch out for:
Artificial Intelligence (AI) integration: AI-powered virtual assistants are increasingly becoming a central feature of smart homes. These assistants can learn from user behavior and provide personalized experiences, making homes even more intuitive and responsive.
Energy efficiency: Smart homes enable greater control over energy usage, leading to improved efficiency and cost savings. Future developments may focus on even smarter energy management and integration with renewable energy sources.
Expansion of Internet of Things (IoT) ecosystem: The IoT ecosystem will continue to expand, with more devices becoming interconnected. This expansion will further enhance the functionality and interconnectedness of smart homes.
While connected homes offer numerous benefits, there are challenges and considerations to address. Data privacy and security concerns, integration and compatibility issues, as well as the costs of implementation and potential barriers, all must be carefully navigated. Nevertheless, as technology continues to advance, future trends and developments in smart homes are set to provide even greater convenience, efficiency, and sophistication for homeowners.
Conclusion: Embracing The Potential Of The Connected Home
Discover the untapped potential of the Connected Home and unleash its benefits in every aspect of your life. Experience seamless integration and convenience through smart devices that connect and enhance your living space. Embrace the future of home automation and create a truly connected and intelligent home.
Connected homes have become a reality, bringing numerous benefits and opportunities for households worldwide. As we have explored in this blog post, the potential of the connected home is vast, ranging from increased convenience and energy efficiency to enhanced security and entertainment.
In embracing this potential, we can create a truly interconnected and smarter living environment. Let's recap the key benefits and opportunities that the connected home offers:
Recap Of The Benefits And Opportunities:
Convenience: Connected homes offer the convenience of controlling various devices and appliances from a central hub or remotely via smartphone apps, making it easier to manage our daily lives.
Energy Efficiency: By integrating smart devices such as thermostats, lights, and appliances, connected homes allow us to optimize energy usage, resulting in significant cost savings and reduced environmental impact.
Security: With smart security systems, homeowners can remotely monitor their properties, receive alerts, and even control access through features like smart locks or video doorbells, providing greater peace of mind.
Entertainment: From streaming services to voice-controlled virtual assistants, connected homes offer seamless entertainment experiences that are more immersive and personalized.
Health and Wellness: Connected devices like fitness trackers, smart scales, and sleep monitors can help individuals take proactive steps towards improving their well-being and maintaining a healthy lifestyle.
Encouraging widespread adoption:
To fully embrace the potential of the connected home, it is essential to encourage widespread adoption among households. Here are a few factors that can drive this adoption:
Affordability: Making connected devices and systems more affordable will make them accessible to a broader range of consumers, encouraging widespread adoption.
Education and Awareness: Raising awareness about the benefits and possibilities of the connected home through educational campaigns and online resources can help dispel any concerns or misconceptions, promoting adoption.
Interoperability: Ensuring that different smart devices and systems can seamlessly communicate and work together will simplify the installation process and enhance the overall user experience, making it more enticing for people to integrate their homes.
The role of technology companies in driving innovation:
Technology companies play a crucial role in driving innovation within the connected home ecosystem. Here's how they contribute:
Device Development: Technology companies invest in research and development to create cutting-edge smart devices that can seamlessly integrate into the connected home ecosystem.
Platform Development: Companies provide platforms and software development kits that enable developers to build applications and integrate devices, fostering innovation and expanding the functionality of the connected home.
Partnerships and Collaboration: Technology companies often collaborate with other industries, such as energy, security, and entertainment, to create integrated solutions that enhance the connected home experience and drive further innovation.
Envisioning the future of smart homes:
The future of smart homes is indeed exciting, with the potential for even more advanced technologies and seamless integration. Here are a few possible developments we can envision:
Artificial Intelligence (AI) Integration: AI-powered virtual assistants will become even more sophisticated, learning from our behaviors and proactively anticipating our needs, making our homes more intuitive and personalized.
Internet of Things (IoT) Expansion: The IoT ecosystem will continue to grow, with an increasing number of smart devices and appliances connecting to create a fully interconnected and automated living environment.
Energy Management: Smart homes will play a significant role in optimizing energy consumption on a larger scale, allowing for more intelligent grid management and renewable energy integration for a greener future.
Enhanced Communication: With advancements in voice and gesture control, home automation systems will become more accessible and user-friendly, making it easier for individuals of all ages and abilities to interact with their connected homes.
As the connected home revolution continues to unfold, we must embrace its potential. By recognizing the multitude of benefits and opportunities it presents, encouraging widespread adoption, and acknowledging the pivotal role of technology companies, we can pave the way for a future where smart homes are seamlessly integrated into our lives, making them more convenient, efficient, secure, and enjoyable.
Frequently Asked Questions For The Connected Home
What Is A Connected Home?
A connected home refers to a network of devices and appliances that can communicate with each other and be controlled remotely through a central hub or smartphone. It allows for increased convenience, efficiency, and security in managing various aspects of a home.
What Are The Benefits Of A Connected Home?
A connected home offers numerous benefits, including enhanced security with smart locks and surveillance systems, improved energy efficiency through smart thermostats and lighting, and increased convenience with voice-controlled assistants and automated routines. It also provides remote monitoring and control, allowing homeowners to have peace of mind even when they're away.
How Does A Connected Home Work?
A connected home relies on a network of devices that use different communication protocols like Wi-Fi, Bluetooth, or Zigbee to connect to each other and a central hub. This hub acts as a central control station, enabling homeowners to manage and control various devices through an app on their smartphone or voice commands to a smart speaker.
Are Connected Homes Secure?
While connected homes offer convenience and efficiency, security is a valid concern. However, manufacturers are continuously improving the security features of connected devices, and homeowners can take precautions like using strong passwords, enabling two-factor authentication, and keeping software up to date.
It's essential to choose reputable brands and follow best practices to ensure the security of your connected home.
Conclusion
The connected home is revolutionizing the way we live. With the advancement of technology, everyday household objects are becoming smarter, more efficient, and seamlessly integrated into our lives. From voice-activated assistants that can adjust the thermostat and turn on the lights, to smart refrigerators that can order groceries when we run out, the possibilities are endless.
Not only does a connected home provide convenience, it also enhances our safety and security. With smart security systems that can be monitored from anywhere, we have peace of mind knowing our homes are protected. Additionally, energy-saving devices help us reduce our carbon footprint and save money on utility bills.
As we continue to embrace the connected home, the future looks promising. Technology will only continue to evolve, offering us more innovative ways to enhance our daily lives. Whether it's controlling our homes remotely or having our appliances anticipate our needs, the connected home is making our lives easier, more efficient, and more enjoyable.
It's time to embrace this new era of connected living and reap the benefits it has to offer.