Webinars can be categorized into different types, including educational webinars, collaborative webinars, sales webinars, and training webinars. These types of webinars serve various purposes, such as sharing knowledge, engaging with participants, driving sales, and providing skill development opportunities.
Each type has its unique format, objectives, and target audience, enabling organizations to choose the most suitable type for their specific goals and requirements. Webinars have gained popularity as a cost-effective and convenient way to connect with audiences, generate leads, and deliver valuable content to participants.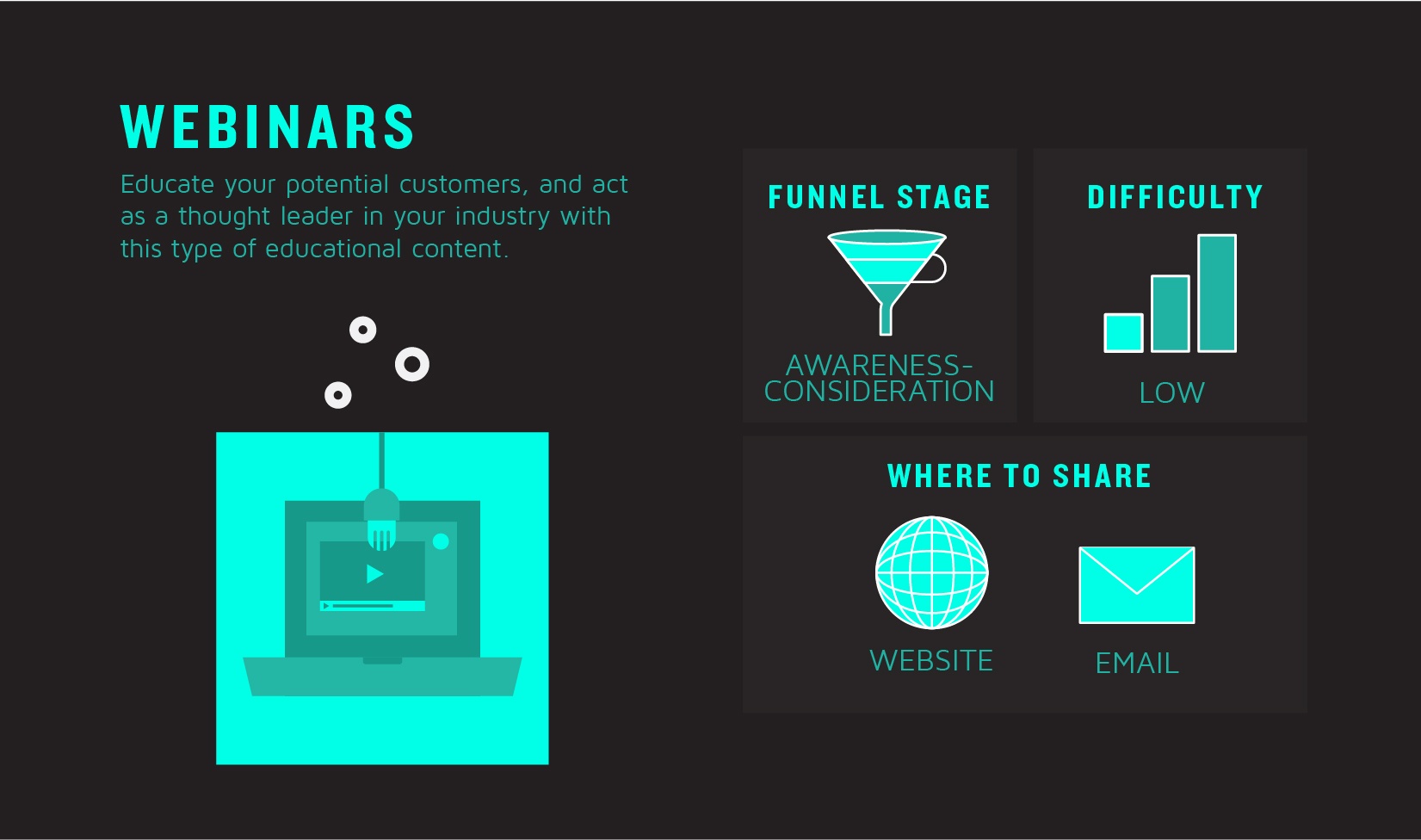 Credit: www.popvideo.com
Live Webinars
Live webinars cover a wide range of topics, including the different types of webinars. From educational webinars to product demonstrations and expert panels, there are many ways to engage and educate your audience online. Explore the various types of webinars to find the best fit for your brand.
Definition Of Live Webinars:
Live webinars are online events where a presenter delivers a presentation or a workshop in real-time to a remote audience via the internet.
In a live webinar, participants can join from anywhere in the world, making it accessible and convenient for both the presenter and the attendees.
This type of webinar allows for interactive engagement between the presenter and the audience through features like live chat, q&a sessions, and polls.
Benefits Of Live Webinars:
Real-time interaction: Live webinars offer the opportunity for presenters to engage directly with their audience. Participants can ask questions, provide feedback, and get immediate responses, fostering a sense of connection and interactivity.
Increased engagement: Live webinars can captivate audiences through dynamic presentations, live demonstrations, and interactive activities. This helps to sustain participant attention and involvement throughout the session.
Time-sensitive content: With live webinars, presenters can deliver timely and relevant content to participants. This allows for discussions on current industry topics, updates on new trends, and the sharing of up-to-date information.
Cost-effective: Live webinars eliminate the need for travel expenses and venue arrangements, making them a cost-effective solution for both presenters and attendees. This accessibility opens up opportunities for learning and networking to a broader audience.
Recorded for future use: Most live webinars can be recorded and made available for on-demand viewing. This feature allows participants who missed the live session to access the content at their convenience, extending the potential reach and impact of the webinar.
Tips For Hosting A Successful Live Webinar:
Prepare and plan: Outline the objectives, structure, and content of your webinar in advance. Create a detailed agenda and rehearse the presentation to ensure a smooth and engaging delivery.
Choose the right technology: Select a reliable webinar platform that offers features like screen sharing, interactive polls, q&a, and chat functionalities. Test the platform beforehand to ensure compatibility and troubleshoot any technical issues.
Promote your webinar: Use various channels to promote your live webinar. Utilize email marketing, social media, and relevant online communities to reach your target audience. Create compelling visuals and copy to generate interest and encourage registrations.
Engage your audience: Incorporate interactive elements throughout your webinar to actively involve your audience. Encourage live chat participation, conduct polls and surveys, and address questions and comments in real-time. This interaction fosters engagement and enhances the overall attendee experience.
Deliver high-quality content: Ensure that your presentation is well-structured, concise, and delivers value to your audience. Use visual aids, such as slides or videos, to support your message and keep the session visually appealing.
Practice effective time management: Respect the time of your participants by starting and ending the webinar promptly. Stick to the planned schedule and manage your time efficiently to cover the key points without rushing or going over the allocated time.
Follow up with attendees: After the webinar, send a follow-up email containing any resources, recordings, or additional information discussed during the session. Use this opportunity to thank participants for their attendance and request feedback to improve future webinars.
Learn from each webinar: Evaluate the success of your live webinar by reviewing participant feedback, attendance rates, and engagement levels. Use this feedback to refine and enhance future webinars, continuously improving your webinar hosting skills.
Apply relevant seo strategies: Optimize your webinar registration page and promotional materials using relevant keywords and meta tags. This will help increase online visibility and drive organic traffic to your webinar, increasing the chances of reaching a larger audience.
Remember, hosting a live webinar requires effective preparation, engaging content, and a seamless delivery. By following these tips, you can create an interactive and successful webinar experience that resonates with your audience.
On-Demand Webinars
Webinars come in various types, offering valuable insights on different subjects. Explore the world of on-demand webinars to gain knowledge on a range of topics and enhance your learning experience.
Definition Of On-Demand Webinars:
On-demand webinars are pre-recorded webinars that can be accessed and viewed by participants at their convenience.
These webinars are typically hosted on a website or a webinar platform, allowing individuals to watch them whenever and wherever they please.
On-demand webinars offer flexibility and convenience, as they eliminate the need for participants to attend a live event at a specific time.
Advantages Of On-Demand Webinars:
Flexibility: On-demand webinars can be accessed and viewed at any time, allowing participants to fit them into their schedule without any time constraints.
Convenience: Participants can watch on-demand webinars from the comfort of their own space, saving them from the need to travel or attend a live event.
Accessibility: On-demand webinars can be made available to a wider audience, as participants from different time zones or with conflicting schedules can still benefit from the content.
Enhanced engagement: On-demand webinars often offer interactive features such as polls, quizzes, and chat options, enabling participants to engage with the material and enhance their learning experience.
Archive of information: On-demand webinars create a valuable repository of information that can be accessed and referred to even after the live event has ended.
Best Practices For Creating On-Demand Webinars:
Keep it concise: On-demand webinars should be focused and concise to maintain participant engagement. Aim for a duration of 30-60 minutes, ensuring that the content is informative and easy to digest.
Visual aids: Utilize visual aids such as slides, graphics, and videos to enhance the webinar's visual appeal and make the content more engaging and understandable.
Clear structure: Organize the webinar into logical sections or chapters, making it easy for participants to navigate and find the information they need.
Q&a sessions: Include recorded q&a sessions within the on-demand webinar to address common questions and provide additional value to participants.
Promote interactivity: Incorporate interactive elements throughout the webinar, such as quizzes or polls, to encourage participant engagement and active learning.
Call-to-action: End the webinar with a clear call-to-action, whether it's signing up for a newsletter, downloading additional resources, or registering for a live event.
Monitor analytics: Track and analyze the on-demand webinar's performance using analytics tools to gain insights into participant engagement, viewing patterns, and areas of improvement.
Remember, on-demand webinars offer great advantages in terms of flexibility and convenience, making them an effective tool for delivering valuable content to a broader audience. By following best practices, you can create engaging on-demand webinars that provide an informative and interactive learning experience.
Automated Webinars
Webinars come in various types, including live webinars, on-demand webinars, and automated webinars. Each type offers distinct advantages and flexibility in delivering content to a wide audience. Automated webinars allow for pre-recorded presentations to be played at scheduled times, providing convenience for both the host and attendees.
Explanation Of Automated Webinars
Automated webinars are a popular type of webinar that allows you to pre-record a presentation or training session and then schedule it to play at different times for your audience. These webinars are designed to run on autopilot, eliminating the need for live hosting.
Here's how they work:
Pre-recording: With automated webinars, you have the flexibility to record your presentation in advance. This means you can perfect your delivery, edit out any mistakes, and ensure a flawless viewing experience for your audience.
Scheduling: Once your webinar is recorded, you can schedule it to play at specific times or on-demand. This means that people can access your webinar at their convenience, even if they missed the live event.
Playbacks: Automated webinars offer the ability to replay the recording multiple times, allowing new attendees to join in and experience the webinar as if it were live. This creates a sense of urgency and exclusivity, driving more engagement and conversions.
Benefits Of Automated Webinars
Automated webinars offer numerous benefits, making them an attractive option for businesses and marketers. Here are some key advantages:
Time-saving: By pre-recording your webinar, you save time on hosting live sessions repeatedly. You can focus on other important tasks while your webinar runs automatically in the background.
Scalability: Automated webinars allow you to reach a larger audience without the constraints of time zones or scheduling conflicts. You can accommodate participants from different parts of the world, increasing your reach and potential customer base.
Evergreen content: Since automated webinars are pre-recorded, you can ensure that the content remains relevant and up-to-date for a long period. This evergreen nature allows you to generate leads and make sales consistently over time.
Increased engagement: With the ability to replay the webinar at different times, you can attract more attendees and increase engagement. People who missed the live event can still experience the webinar in a highly interactive manner.
Lead generation and sales: Automated webinars are proven to be effective in generating leads and driving sales. The flexibility and convenience they offer encourage higher attendance rates and improved conversion rates.
How To Set Up And Run Automated Webinars Efficiently
Running automated webinars efficiently requires careful planning and execution. To set up and run them seamlessly, here are some essential steps to follow:
Choose a webinar platform: Select a reliable webinar platform that supports automated webinars. Look for features like scheduling, replay options, and integration capabilities with your crm or email marketing software.
Plan your content: Develop a well-structured presentation or training session that covers the key points you want to convey. Ensure it provides value to your audience and aligns with your marketing goals.
Record and edit: Record your webinar using a good quality microphone and camera. Edit the recording to remove any errors or distractions, creating a polished final product.
Upload and schedule: Upload your recorded webinar to the chosen platform and schedule it to play at specific times or make it available on-demand. Set appropriate reminders and notifications to inform your audience about upcoming sessions.
Test and optimize: Prior to the scheduled webinar, test the playback functionality, audio, and video quality to ensure a smooth experience for attendees. Optimize your webinar based on audience feedback and analytics data to enhance future performances.
Promote and follow up: Promote your automated webinar through various channels such as email marketing, social media, and your website. After each session, follow up with attendees to nurture leads, answer questions, and gather feedback.
By following these steps, you can set up and run automated webinars efficiently, allowing you to connect with your audience and achieve your business objectives effectively.
Frequently Asked Questions On What Are The Types Of Webinar?
What Are The Different Types Of Webinar?
Webinars come in various formats to cater to different needs. The types include live webinars, on-demand webinars, automated webinars, and hybrid webinars. Live webinars are held in real-time, allowing participants to interact with the host through chats and polls. On-demand webinars, on the other hand, are pre-recorded presentations that can be accessed at any time.
Automated webinars are pre-recorded events that are played on a specific schedule, giving the illusion of a live presentation. Hybrid webinars combine live and pre-recorded elements, offering flexibility to the host and an engaging experience for participants. These different types of webinars enable organizations to choose the most suitable format based on their objectives and audience preferences.
What Are The Three Types Of Webinar?
There are three types of webinars: live webinars, automated webinars, and on-demand webinars. Live webinars happen in real-time, allowing participants to interact with the host and ask questions. Automated webinars, on the other hand, are pre-recorded presentations that are set to run at specific times.
Attendees can watch and engage with the content, but there is no live interaction. On-demand webinars are recordings of past webinars that can be accessed and viewed at any time. These webinars are pre-recorded and can be watched by participants at their convenience.
Each type of webinar offers its own advantages, depending on the goals and preferences of the host and attendees.
What Is The Difference Between Webinar And Virtual?
A webinar and virtual event have a few key differences. A webinar is an online seminar or conference where participants can join remotely via a video conferencing platform. It typically involves a presentation or lecture format with limited interaction from attendees.
On the other hand, a virtual event is an immersive digital experience that can include a variety of activities such as presentations, networking, workshops, and more. It offers a more interactive and engaging environment, often using virtual reality or augmented reality technologies.
While webinars focus on delivering information, virtual events aim to create a virtual atmosphere similar to an in-person event. Therefore, virtual events tend to be more dynamic and offer a range of engagement opportunities compared to webinars. Overall, the main distinction lies in the level of interactivity and the overall experience provided to participants.
Is Zoom A Webinar?
Zoom is a video conferencing platform that also offers webinar capabilities. With its easy-to-use interface, zoom allows users to host webinars where they can present to a large audience, engage with participants through chat, polls, and q&a sessions, and share screens for demonstrations.
Webinars on zoom are interactive and can be tailored to meet specific needs, such as online events, training sessions, marketing presentations, and educational workshops. Overall, zoom provides a comprehensive solution for hosting webinars and facilitates seamless communication and collaboration among participants.
Conclusion
Webinars, with their ability to provide real-time interaction and engagement, have become an essential part of any organization's marketing and educational initiatives. By understanding the different types of webinars available, you can tailor your approach to best meet your objectives and reach your target audience effectively.
Live webinars enable immediate interaction and q&a sessions, while pre-recorded webinars allow for flexibility and convenience. Hybrid webinars combine the best of both worlds, combining live elements with pre-recorded content. Thought leadership webinars establish your authority and expertise, while product/service webinars offer in-depth information about your offerings.
Understanding these various types of webinars empowers you to select the most suitable format to engage your audience and achieve your goals. Whether you are seeking to increase brand awareness, generate leads, or educate your audience, webinars offer a dynamic and impactful platform for accomplishing these objectives.
So, start exploring the world of webinars and unlock the potential for success in your business or educational endeavors.