A good domain price varies depending on several factors but generally falls between $10 to $50 per year. A domain's age, length, and relevance affect its price, along with the domain name extensions or tlds.
Domain name pricing can be quite confusing for those who are new to the industry. The cost of a domain name is not only determined by its tld but also by its length, popularity, keywords, and history. A good domain price is crucial for a business that needs an online presence.
It is important to find the right balance between quality and affordability. In this article, we will take a closer look at what makes a good domain price and how to determine if the price you pay is fair.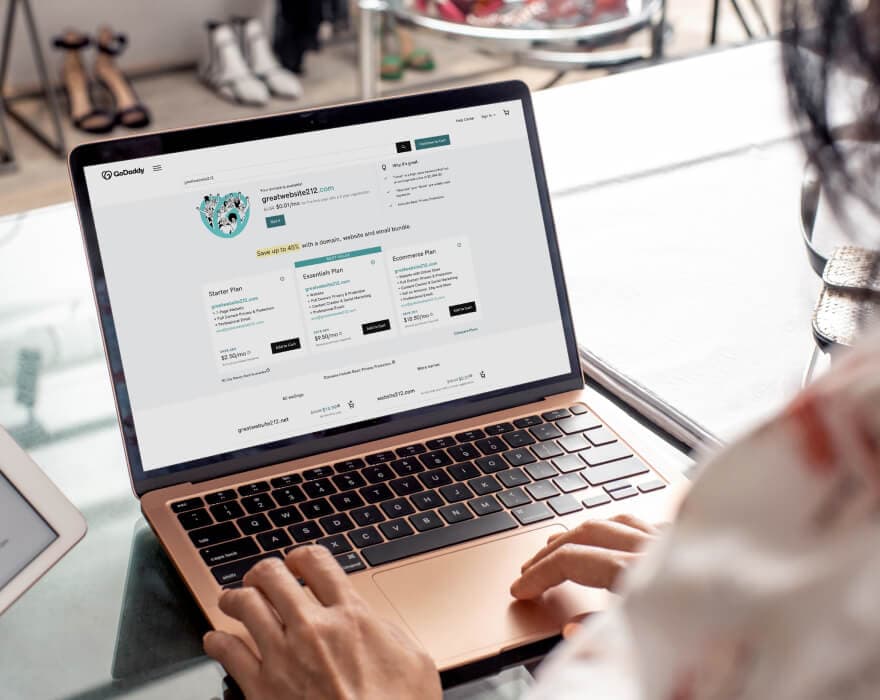 Credit: www.godaddy.com
What Is A Good Domain Price?
Why Domain Name Prices Vary
Domain names are the foundation of every website. They serve as an online address that helps individuals and companies to identify their website on the internet. The cost of a domain name is not fixed, and it varies depending on several factors that affect its value.
Here are some reasons why domain name prices vary:
Domain name extension: The extension of a domain name plays a crucial role in determining its price. A top-level domain (tld), such as .com, .net, or .org, usually commands a higher price than a country-code tld (cctld), such as .us or .co.uk.
Length and clarity: Short, simple, and memorable domain names are highly valued in the market. The fewer characters a domain name has, the higher its worth.
Search engine optimization (seo): Domain names with relevant keywords tend to rank higher on search engine results pages (serps), making them more valuable to website owners.
Brand recognition: Domain names that contain a recognizable name or trademark are in high demand and come with a hefty price tag.
Factors That Influence Domain Name Pricing
Several factors influence the pricing of a domain name. Understanding these factors will help you determine the worth of a domain name before purchasing it.
Here are some factors that influence domain name pricing:
Domain extension: The tld of a domain name influences its price.
Age and history of the domain: The longer a domain name exists, the more valuable it is. Domains that have a significant history, such as backlinks, traffic, or authority, carry more weight in the market.
Traffic and revenue potential: A domain name with a high volume of traffic or revenue potential is more valuable than a domain name without any traffic or income.
Industry and niche: Domain names related to popular industries or niches, such as technology or finance, command higher prices.
Uniqueness and availability: Unique and catchy domain names that are unavailable through the usual registration process may come with a hefty price tag.
Understanding What Goes Into A Domain'S Value
The value of a domain name is a subjective matter, as the worth of a domain name depends on the individual buyer's needs and goals. However, understanding the factors that contribute to a domain name's value is crucial if you plan to buy or sell domain names.
Here are some key points to keep in mind when assessing a domain name's value:
A domain name's worth is not solely based on its price tag but also on its unique qualities and potential use.
A domain name should be short, memorable, and easy to type to be valuable.
A domain name should be relevant to the content of the website it represents, making it easy to remember by the target audience.
A domain name's availability and ownership status can affect its value, as well as the supply and demand of similar domain names in the market.
Understanding what makes a good domain price is crucial when exploring different options for your website. By considering these factors, you can determine a fair price for a domain and ensure you're making the best investment in your website's online presence.
Historical Domain Price Trends
The Evolution Of Domain Prices
In the beginning, domain names were free. Yes, you read that right. However, as demand increased, so did the price. In 1985, symbolics. com was the first registered domain name. The price back then? $100. Fast forward to the 1990s, and prices were still relatively low, averaging around $35 per year.
Predicting Future Trends
Domain prices have fluctuated over the years, so is it feasible to predict future trends? While no one can truly say what the future will hold, here are a few key considerations for predicting domain price trends:
Supply and demand: As long as there are more people wanting to register domains than there are available domains, prices will likely continue to rise.
Industry and market trends: If the tech industry is thriving, there's a good chance domain prices will trend upwards as well.
Geographic changes: International fluctuations in the economy or government policy can drive prices up or down depending on how it affects the domain industry.
New technologies: As new technologies emerge, new kinds of domains may also come into existence. This could lead to new pricing structures.
Domain prices have a strong relationship with market conditions and demand-supply dynamics. Being aware of these trends can help one better understand the current pricing situation and make informed decisions.
Domain Tlds
Why Tlds Matter
Top-level domains (tlds) are one of the most important considerations when it comes to selecting a domain name. Tlds are the three-letter extensions at the end of domain names, such as. com,. net, or. org. Here are some points explaining why tlds matter:
Tlds influence the legitimacy and credibility of a website. Popular tlds such as .com and .net add an air of professionalism and trustworthiness to a website, while less common tlds such as .biz or .info may be seen as less trustworthy.
Certain tlds are location-specific, such as .co.uk for the united kingdom or .ca for canada. If your website targets a specific geographic location, using a country-specific tld may help with local search engine optimization (seo).
Tlds can also influence the availability and cost of a domain name. Some tlds are more popular and more expensive than others, meaning that domain names with those tlds may come at a premium price.
How Tlds Influence Domain Pricing
When it comes to domain pricing, tlds can have a significant impact. Here are some key ways in which tlds influence domain pricing:
Popular tlds such as .com or .net are in high demand, meaning that domain names with those tlds may command a higher price, particularly if they are short and easy to remember.
Specific tlds such as .org or .edu are restricted to certain organizations or institutions, meaning that domain names with those tlds may be seen as having more prestige or exclusivity, and therefore may come at a higher price.
Less common tlds such as .biz or .info may be seen as less valuable, meaning that domain names with those tlds may be priced lower than others.
Country-specific tlds may also impact pricing depending on their availability and demand. For example, if there are only a limited number of domain names available with a country-specific tld, they may be priced higher due to their scarcity.
Selecting the right tld is an important consideration when purchasing a domain name, as it can impact the credibility, geographical relevance, and pricing of the domain. Carefully considering the benefits and drawbacks of each tld is essential to finding the best domain for your needs at a fair price.
Domain Age
As we dive into the world of domains, we find that there are various factors affecting their pricing. One of the critical elements worth mentioning is the domain age. The age of a domain is a clear indicator of its value in the market, but how exactly does it affect the price?
The Impact Of Domain Age On Pricing
Domain age is a determining factor in pricing, and the older, the better. Here are some of the reasons why:
Longevity: Older domains have been around for a more extended period, which makes them more reliable, trustworthy and popular in the eyes of the search engines.
Backlinks: An older domain is likely to have more backlinks, which is good evidence of its domain authority, popularity, and trust.
Seo benefits: Search engines tend to value domains that have a long history, and they may have an advantage when it comes to seo rankings.
Shorter time to rank: Older domains are likely to have more matured content, giving them a clear advantage when it comes to ranking in search engine results pages.
The Role Of Domain History And Reputation
Domain reputation and history are some of the significant determinants when it comes to domain pricing. Here are the factors that affect domain reputation:
Clean history: Domains with no spammed backlinks or nonrelevant content usually have a better reputation, which can attract more significant value in the market.
Trustworthiness: Domains that have been around for a long time and have consistently shown high-quality content have established trustworthiness among their users, customers, and search engines.
Niche-specific content: Domains that specialize in a specific niche tend to have better reputations than those that lack focus on a specific market.
Top-level domain (tld): Some tlds, such as .com, .org, and .net, tend to have better reputations than others.
Domain age, and reputation are crucial factors impacting the pricing of a domain. A domain that has been around for ages and has established itself as a trustworthy and reliable domain has a good chance of commanding higher prices in the market.
Keeping all these factors in mind, it is essential to make strategic choices when buying or selling domains to ensure maximum value.
Domain Length
When it comes to purchasing a domain, pricing is one of the most important aspects to consider. A good domain price will depend on several factors such as domain length, domain age, domain extension, and many others. In this section, we will concentrate on the significance of domain length in terms of pricing.
The Correlation Between Domain Length And Pricing
Many buyers favor short domain names as they are easier to recall, type, and brand. Short domains are typically restricted, and their availability is limited. For this reason, they commonly have a more substantial price tag.
Longer domains, on the other hand, are more readily available, but they do not hold as much value as shorter ones. Long and generic domain names generally attract less attention, and are easily forgettable. They lack brand identity and enter the market at a lower price.
Why Shorter Domains Are Typically More Valuable
Short domains are more valuable due to their brand identity and ease of recall. When a domain is short, it becomes more memorable, sounded quickly to the human ear, and more comfortable to communicate. Shorter domains tend to perform better in both search engine rankings and click-through rates (ctr).
It's a noticeable fact that the top-performing websites use shorter domain names due to their unique and brandable nature.
Buyers in this category are commonly investors, start-ups, and established businesses interested in developing their brand. If you are looking to acquire a shorter domain, be prepared to pay a premium price.
Shorter domains are more valuable as they are memorable, easier to brand and recall, and are typically associated with successful websites. While domain length is only one factor in determining a domain's value, it is a fundamental aspect that demands attention.
Estimating Domain Value
When purchasing a domain name, it's crucial to understand its value before determining a fair price to pay. Valuation methods and domain appraisal tools can assist in arriving at an estimated price range.
Valuation Methods
Several methods can be used to estimate a domain's value, including:
Comparable sales: This valuation method analyses the sales prices of similar domain names in the market to determine a fair price range.
Brandability: A domain's ability to generate brand awareness or recall can enhance its value.
Length and pronunciation: Shorter domain names or those with easy-to-pronounce terms are more memorable and typically have a higher value.
Popular Domain Appraisal Tools
Various domain appraisal tools are available online to get an estimated price range for a domain. Here are some popular ones:
Godaddy domain appraisal: This tool analyses various factors, including comparable sales, domain length, keyword popularity, and brandability, to arrive at an estimated price range.
Estibot: This tool uses multiple data points, including traffic, search volume, and comparable sales, to give an estimated domain value.
Sedo: This domain marketplace has an appraisal tool that analyses a domain's keywords, sales history, and length to arrive at an estimated price range.
By utilising valuation methods and domain appraisal tools, you can get an accurate estimated value for a domain name. Remember, a domain's value is subjective and depends on several factors like its length, brandability, keywords, and comparable sales. By carefully evaluating these factors, you can determine a fair price to pay for a domain name.
Market-Based Appraisal
Understanding market demand and supply:
To determine a good domain price, we need to have a market-based appraisal. The domain industry is incredibly vast and dynamic. The demand and supply of domain names affect the domain price. Below are some crucial considerations to keep in mind while assessing market demand and supply:
Tld: The top-level domain (tld) strongly impacts the domain's value. The domain name with a less-known tld would likely have a lesser value; for instance, .com domains generally cost more than others.
Keywords: If a domain name has a keyword that holds high search volume, it increases domain value. However, the quality of the keyword matters as well. The keyword's relevance to the website based on the domain name will also have an impact.
Length: Shorter domain names are generally considered more valuable than longer names. But, this may not always be the case; it depends on the domain's other qualities mentioned above too.
The importance of timing:
Timing is essential when it comes to domain pricing. The price of domains is impacted by market trends and the demand for domains. Here are some things to consider regarding the timing of buying or selling a domain:
Emerging trends: You can cash in on domains when popular trends emerge. For instance, people would purchase domains such as zoomparty.com, or quarantinecocktails.com in the current pandemic situation.
Market sales: You can monitor market sales to anticipate demand and supply. There are marketplaces and platforms, like sedo, that offer domain sales and pricing data.
Competition: If you're a seller, it is crucial to avoid conflicts with similar domain names owned by other sellers. Therefore, timing is crucial to ensure that your domain price is competitive in the market.
To conclude, market-based appraisal can be a bit tricky. However, combining it with a sound understanding of market demand and supply along with timing can break the deal. Make sure to keep an eye on these factors before purchasing or selling a domain name to ensure that the price is right.
Setting The Right Price
Balancing Pricing With Business Goals
Setting the right price for a domain is vital for any business owner who wants to create a strong online presence. However, selecting a good domain price is not as simple as it may seem. The price should reflect the value of your domain, but also help you attain your business goals.
Maintaining a balance between pricing and business goals is crucial. Here are some tips:
Determine how your domain can help you achieve your business goals.
Understand your target audience and their expectations.
Analyze market trends and competition.
Decide on a pricing structure that aligns with your business goals.
Competitor Analysis
One way to determine a good domain price is through thorough competitor analysis. Analyzing your competition will give you an insight into what they're doing, their pricing structure, and what makes their domains appealing to your mutual target audience. Here's what you need to do:
Research your competition by visiting their websites and analyzing their business models.
Determine the pricing strategies they're using and the domains they're offering.
Look for areas where you can offer better value for the same price or offer the same value for a lower price.
Use this information to determine your pricing structure.
The Role Of Negotiations
Negotiations are the final piece of the puzzle when it comes to setting a good domain price. Both parties must be happy with the deal that is reached. Here are some tips:
Set your price range before entering into negotiations.
Be open to compromise and flexible with your pricing structure.
Communicate clearly, and listen carefully to the other party's needs and wants.
Don't be afraid to walk away from the deal if it doesn't meet your expectations.
Setting the right price for your domain requires a thorough understanding of your business goals, understanding your target audience, competitor analysis, and clear communication. With these tips in mind, you can ensure that you're offering a competitive and valuable domain at a fair price.
Selling Your Domain
Selling a domain can be an exciting and profitable venture, but before you get too excited, it's wise to consider what a good domain price actually is. This is especially important when attempting to sell your domain. Here are some tips on pricing your domain and successfully making a sale.
Platforms For Selling Domains
If you're looking to sell a domain, there are several online platforms that are available for you to use. Each of these platforms has its own advantages and disadvantages. Here are some of the more popular platforms:
Godaddy auctions: This platform is best if you have a high-value domain.
Sedo: If you prefer to have someone manage the sale for you, sedo is your best option.
Flippa: Flippa is the best option for those who have a lower-value domain and prefer a fast sale.
Afternic: This platform is ideal for those who also want to sell their domain through registrars like godaddy.
Tips For Making A Profitable Sale
Pricing and using the right platform aren't the only important things to consider when selling your domain. Here are some additional tips to help you make a profitable sale:
Choose the right time: Make use of domain auctions for peak periods when you're more likely to get the best price possible.
Know the worth of your domain: Use resources such as domain appraisals and industry research to determine the value of your domain accurately.
Be a good negotiator: Hone your communication skills to make sure you're able to negotiate effectively when speaking with potential buyers.
Make it look good: Ensure that your domain has a professional-looking website up for display in the sales listing. This way, the buyer knows what they're getting.
Keep your domain secure: Before making a sale, protect your domain's registration and make sure all agreements are in writing to prevent any issues down the line.
Selling your domain can be an exciting and profitable venture if you know what you're doing. By following our tips and using the right platform, you'll be well on your way to making a successful sale.
Frequently Asked Questions For What Is A Good Domain Price?
What Is A Domain Price?
A domain price is the cost to purchase and own a domain name for a specific period.
How Is Domain Price Determined?
Domain prices are determined based on the popularity of the name, its length, and the extension.
Why Do Domain Prices Vary?
Domain prices vary due to different domain extensions, renewal fees, and the rarity of the name.
Can You Negotiate Domain Prices?
Yes, you can negotiate domain prices with the seller, especially if the domain is not in high demand.
How Do I Find A Good Domain Price?
Do research on domain registrars, compare prices, and search for deals on domain names.
Should I Pay More For A Premium Domain?
Paying more for a premium domain can offer the benefits of an established domain with a higher chance of internet traffic.
What Is The Average Domain Price?
Domain prices vary depending on various factors, but the average price ranges from $10 to $50 per year.
Where Can I Buy Domains At A Good Price?
You can buy domains at a good price from popular domain registrars like godaddy, namecheap, and bluehost.
Conclusion
It can be difficult to determine what constitutes a good domain price, as various factors come into play. As we have seen, the age, tld, length, and keyword relevance all play a role in pricing. While some domains may seem expensive initially, they could prove to be a sound investment in the long run.
Ultimately, it all depends on your specific business needs and budget. However, understanding what influences the pricing of a domain is an important aspect to consider while making your purchase. So, before making any decisions, ensure you carry out your due diligence and conduct research to determine what domain price aligns best with your business goals.
Ultimately, a good domain name is worth investing in, as it can build your brand and help attract more organic traffic to your site.