The content of a webinar typically includes a live presentation and discussion on a specific topic. In a webinar, experts or industry professionals share valuable information, insights, and practical tips to the audience using audio, visual, and interactive elements.
They may use slides, videos, screen sharing, and audience participation tools to engage attendees. Webinars are often used for educational purposes, product demonstrations, training sessions, or thought leadership. The content is designed to provide a comprehensive understanding of the topic and help attendees acquire new knowledge or skills.
It is an effective way to reach a large audience, regardless of their geographical location, and foster engagement and learning in a virtual setting.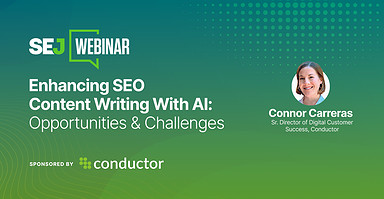 Credit: www.searchenginejournal.com
The Importance Of Webinar Content
Webinar content plays a crucial role in ensuring a successful online event. By offering valuable information and insights, it helps engage attendees and keep them actively involved throughout the session. Providing relevant and well-researched content allows presenters to establish their expertise and build credibility among the audience.
This, in turn, fosters trust and increases the likelihood of attendees returning for future webinars or seeking further information from the presenter. Moreover, valuable webinar content encourages audience participation and interaction, making the session more dynamic and memorable. By incorporating polls, q&a sessions, and interactive elements, presenters can create an immersive experience for attendees, fostering a sense of community and collaboration.
In summary, the content of a webinar should be carefully crafted to engage, inform, and inspire attendees, driving the success of the online event.
Key Elements Of Webinar Content
Webinar content comprises several key elements for maximum impact. One important aspect is identifying and researching the target audience, understanding their interests and preferences. Choosing a relevant and compelling topic is crucial to captivate the audience right from the start.
It should address their pain points and offer valuable solutions. Structuring the content in a logical and engaging manner is also important. This includes creating an introduction that hooks the audience, followed by clear sections that flow smoothly. Each section should deliver valuable information and keep the audience engaged.
Visual aids such as slides and multimedia elements can be used to enhance the content. By considering these key elements and delivering high-quality content, webinars can be highly effective in engaging and educating the target audience.
Types Of Webinar Content
Webinars can offer a variety of content formats to engage and educate audiences. One popular type is educational and informative webinars. These sessions aim to provide valuable knowledge and insights on specific topics. Another common webinar content is product demos and tutorials that showcase how a product or service works.
This allows participants to better understand its features and benefits. Panel discussions and expert interviews are also effective webinar formats. They bring together industry professionals and thought leaders to share their expertise and engage in meaningful conversations. These types of content add depth and credibility to the webinar experience.
By incorporating these different formats, webinars can deliver valuable and engaging content that resonates with the audience.
Frequently Asked Questions For What Is The Content Of A Webinar?
How Do You Write Content For A Webinar?
Writing content for a webinar requires careful attention to four guidelines. Firstly, keep sentences brief with a maximum of 20 words each. This ensures readability and clarity. Secondly, write in a way that is seo friendly, human-like, and unique to stand out from other content.
Avoid plagiarism and use active voice to engage the audience. Thirdly, refrain from using certain phrases and sentence structures like "when it comes to," "if you," "looking," "in conclusion," and avoid passive voice. Instead, use concise and direct language to convey your message.
Lastly, ensure that the content passes ai writing detection by writing in a natural and authentic manner that imitates human writing. By following these guidelines, you can create effective and engaging webinar content that resonates with your audience.
What To Expect During A Webinar?
During a webinar, participants can expect to attend an online seminar or presentation. The speaker will share information, using slides and sometimes videos, while engaging with the audience through chat, polls, and q&a sessions. Webinars allow for interactive learning, where attendees can ask questions and receive real-time responses.
They can also expect to access additional resources such as handouts or links for further reading. Webinars often have a set duration, and attendees may be able to join from anywhere with an internet connection. Overall, webinars offer convenient and accessible ways to learn, collaborate, and network with experts and peers in various fields.
Can They See Me On Webinar?
Yes, participants can see you on the webinar. The webinar platform allows for live video broadcasting, so attendees can see and hear the presenter. It's important to have a good internet connection and a working webcam to ensure visibility.
What Is The Main Purpose Of Webinar?
The main purpose of a webinar is to deliver educational or informative content to a large audience. Webinars allow presenters to share their knowledge, expertise, and insights through online presentations and live interactions. They serve as a convenient platform for hosting virtual meetings, training sessions, workshops, and product demonstrations.
Webinars provide participants with the opportunity to learn from industry experts, ask questions, and engage in discussions. Additionally, webinars can help businesses generate leads, promote their brand, and build relationships with their target audience. By offering valuable content through webinars, organizations can establish themselves as thought leaders in their respective fields and enhance their online presence.
Overall, webinars are an effective tool for knowledge sharing, networking, and business growth.
Conclusion
To sum it up, a webinar is a valuable tool for delivering educational content to a wide audience. By utilizing various mediums such as slide presentations, videos, and interactive discussions, webinars engage participants and provide them with valuable information. The content of a webinar can vary depending on the topic and the target audience, but it typically includes expert insights, practical tips, case studies, and q&a sessions.
It is important for webinar organizers to carefully plan and structure their content to ensure maximum impact and value for participants. Additionally, incorporating seo best practices into webinar content can help increase visibility and attract more potential attendees. As the demand for remote learning and virtual events continues to grow, webinars offer a convenient and effective way to share knowledge and connect with a global audience.
So, whether you are a business owner, a marketer, or an educator, tapping into the power of webinars can be a game-changer for your professional growth and success. So why wait? Start planning your next webinar and unlock new possibilities for your online presence and engagement.