The future of iot is promising and will revolutionize various industries with its connectivity and automation capabilities. In the coming years, iot will expand its reach and impact in sectors such as healthcare, transportation, agriculture, and smart cities, enhancing efficiency, productivity, and convenience.
The iot ecosystem will continue to evolve, with advancements in technology, data analytics, and artificial intelligence driving its growth. The potential of iot lies in its ability to gather and analyze real-time data, enabling informed decision-making and creating a more connected and responsive world.
As iot becomes more integrated into our daily lives, it will create opportunities for innovation, economic growth, and a more efficient and sustainable future.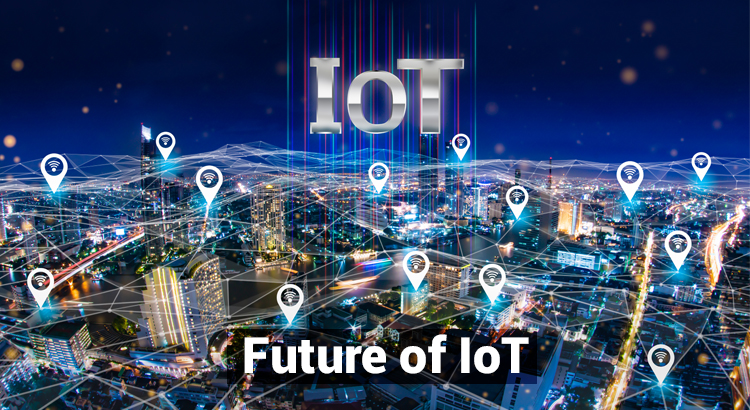 Credit: www.infoholicresearch.com
The Impact Of Iot On Various Industries
The future of iot: the impact of iot on various industries
Connected devices and the internet of things (iot) have revolutionized the way we interact with technology. With the ability to connect and exchange data, iot is transforming industries across the board. From healthcare to manufacturing, businesses are embracing iot to increase efficiency, improve decision-making, and enhance customer experiences.
In this section, we will explore how iot is transforming industries and provide examples of iot applications in different sectors.
How Iot Is Transforming Industries
The integration of iot technology is reshaping traditional industries, creating new opportunities and driving innovation. Here are some ways in which iot is transforming industries:
Enhancing efficiency: Iot enables real-time monitoring and automation, optimizing operations and reducing costs.
Improving decision-making: Iot provides access to vast amounts of relevant and accurate data, empowering businesses to make informed decisions.
Streamlining processes: Iot enables automation and connectivity, reducing manual intervention and streamlining workflows.
Enhancing customer experiences: Iot allows businesses to offer personalized services and solutions, creating unique customer experiences.
Examples Of Iot Applications In Different Sectors
Iot applications are revolutionizing various industries, offering immense potential for growth and transformation. Here are some examples of iot applications in different sectors:
Healthcare:
Remote patient monitoring: Iot devices enable healthcare professionals to monitor patients remotely, ensuring prompt intervention and personalized care.
Smart medical devices: Iot-powered medical devices, such as insulin pumps and smart inhalers, improve patient management and treatment outcomes.
Asset tracking: Iot solutions assist healthcare providers in tracking and managing medical assets, optimizing inventory management and reducing costs.
Manufacturing:
Predictive maintenance: Iot sensors collect data on equipment performance, allowing manufacturers to predict maintenance needs and avoid costly downtime.
Supply chain optimization: Iot-enabled tracking devices provide real-time visibility into the supply chain, improving inventory management and reducing wastage.
Quality control: Iot sensors monitor production processes, ensuring consistent quality and facilitating early detection of defects.
Retail:
Smart shelves and inventory management: Iot-enabled shelves monitor inventory levels, sending real-time updates to store managers and preventing stockouts.
Personalized marketing: Iot devices capture customer data and preferences, allowing retailers to offer personalized recommendations and targeted promotions.
Smart checkout systems: Iot-powered checkout systems streamline the payment process, enhancing customer convenience and reducing waiting times.
Transportation:
Fleet management: Iot solutions track vehicle location, performance, and fuel consumption, optimizing fleet operations and reducing maintenance costs.
Intelligent traffic management: Iot sensors gather real-time traffic data, enabling authorities to manage traffic flows and reduce congestion.
Connected cars: Iot technology in cars enables features like remote diagnostics, navigation, and entertainment systems, enhancing the overall driving experience.
Remember, the future of iot holds endless possibilities, with industries reaping the benefits of increased efficiency, improved decision-making, and enhanced customer experiences. As iot continues to evolve, businesses must embrace this transformative technology to stay competitive in the digital era.
Iot And The Future Of Smart Cities
How Iot Is Revolutionizing Urban Infrastructure
The internet of things (iot) has the potential to transform the way our cities function, making them more efficient, environmentally friendly, and livable. By connecting various devices and systems through a network, iot enables data collection, analysis, and automation that can greatly improve urban infrastructure.
Here are some key ways in which iot is revolutionizing urban infrastructure:
Smart traffic management: Iot technology can be used to collect real-time data from sensors embedded in roads and traffic signal systems. This data can then be analyzed to optimize traffic flow, reduce congestion, and enhance road safety.
Efficient waste management: With iot, waste management systems can be intelligently monitored and optimized. Smart bins equipped with sensors can automatically notify waste collection services when they are full, reducing overflowing bins and improving the overall efficiency of waste collection.
Energy conservation: Iot-enabled smart grids can monitor energy consumption patterns and adjust energy distribution accordingly, ensuring efficient utilization of resources. Additionally, smart street lighting systems can adjust lighting levels based on factors such as ambient light and human presence, leading to significant energy savings.
Water management: Iot sensors can be deployed to monitor water usage and detect leaks in urban water supply systems. By promptly identifying and addressing leaks, water wastage can be minimized, leading to more sustainable use of this precious resource.
Benefits And Challenges Of Implementing Iot In Smart Cities
Implementing iot in smart cities comes with its own set of benefits and challenges. Let's take a closer look:
Benefits:
Improved quality of life: Iot-enabled smart cities can offer enhanced convenience, comfort, and safety for residents. From optimized transportation systems to smart homes and advanced healthcare services, iot can greatly enhance the overall quality of life in urban areas.
Efficient resource management: Through iot, cities can optimize resource consumption, whether it's energy, water, or waste. This leads to cost savings, reduced environmental impact, and improved sustainability.
Enhanced safety and security: Iot-based surveillance systems and emergency response mechanisms can help in quickly identifying and responding to potential threats. From monitoring public spaces to detecting and mitigating natural disasters, iot can significantly improve the safety and security of smart cities.
Challenges:
Privacy and data security: The widespread use of iot devices means an abundance of data being collected and transmitted. It is crucial to ensure that appropriate measures are in place to protect individual privacy and secure sensitive information from unauthorized access.
Interoperability and standardization: As iot devices and systems come from various manufacturers, compatibility and seamless integration can be a challenge. Standardization efforts are crucial to ensure interoperability and prevent vendor lock-in.
Scalability and infrastructure requirements: Implementing iot in smart cities requires significant investment in infrastructure, including robust networks and cloud computing capabilities. Additionally, scaling up iot systems to cater to a growing population can be complex and costly.
Overall, while the implementation of iot in smart cities presents challenges, the benefits it offers in terms of improved efficiency, resource management, and quality of life outweigh the hurdles. With careful planning, collaboration, and a focus on cybersecurity, iot has the potential to shape our urban infrastructure positively.
The Role Of Iot In Healthcare
In today's tech-driven world, the internet of things (iot) has found its place in nearly every aspect of our lives. One area where iot has tremendous potential is the healthcare industry. By seamlessly connecting devices, sensors, and patients, iot applications in healthcare have the power to revolutionize patient monitoring and improve overall health outcomes.
Let's explore some of the key ways that iot is transforming the healthcare landscape:
Iot Applications In Healthcare:
Smart wearable devices: Wearables like fitness trackers, smartwatches, and even biosensors embedded in clothing have become commonplace. These devices collect valuable data about an individual's health and lifestyle, enabling healthcare providers to monitor vitals, detect irregularities, and provide personalized care.
Remote patient monitoring: Iot allows for remote monitoring of patients outside of the traditional healthcare setting. Connected devices can track and transmit real-time data such as blood pressure, heart rate, glucose levels, and more. This data can be monitored by healthcare professionals, enabling timely interventions and personalized treatment plans.
Medication adherence: Iot-enabled pill dispensers and smart medication bottles can help patients adhere to their prescribed medication schedules. These devices can send reminders and notifications to patients and caregivers, ensuring that medications are taken correctly and on time.
Telehealth and virtual care: Iot facilitates remote consultations and virtual care through telehealth platforms. Health professionals can monitor patients' conditions remotely, offer virtual consultations, and even conduct virtual surgeries using robotics. This technology is especially crucial for patients in rural or underserved areas who may have limited access to healthcare services.
Hospital management and asset tracking: Iot devices can aid in tracking medical equipment, managing inventory, and optimizing hospital workflows. Real-time location tracking of assets such as medical devices, beds, and wheelchairs ensures efficient utilization and availability when needed.
Improving Patient Monitoring And Health Outcomes With Iot:
Iot in healthcare holds immense potential for improving patient monitoring and health outcomes. By leveraging connected devices and advanced analytics, healthcare providers can:
Enhance early detection and diagnosis: Iot-enabled devices can continuously monitor patients' vital signs and detect anomalies in real-time. This proactive approach enables early intervention and timely treatment, potentially preventing serious complications.
Enable personalized treatment plans: With iot, healthcare professionals can gather comprehensive data on patients' health, lifestyles, and symptoms. This data can be analyzed to develop personalized treatment plans that address individual needs, leading to better health outcomes.
Increase patient engagement and self-management: Iot devices empower patients to take charge of their health by providing them with real-time data and personalized feedback. This promotes self-management and enables patients to make informed decisions about their health and lifestyle choices.
Reduce hospital readmissions: Through remote patient monitoring and proactive care, iot can help reduce hospital readmissions. Timely interventions and personalized healthcare management outside of the hospital setting can prevent complications and improve patient recovery.
The future of iot in healthcare looks promising. As technology continues to advance, we can expect even more innovative applications that will transform the way healthcare is delivered. By integrating iot into healthcare systems, we can improve patient outcomes, enhance efficiency, and ultimately create a healthier world for all.
Advancements In Iot Security
The Need For Robust Security In Iot Devices
The internet of things (iot) is rapidly evolving, connecting devices and enabling seamless communication between them. However, with this increased connectivity comes the need for robust security measures to protect sensitive data and prevent malicious attacks. Ensuring the security of iot devices is crucial to safeguarding privacy, maintaining data integrity, and mitigating potential risks.
Here are some key aspects highlighting the need for strong security in iot:
Vulnerabilities in iot devices: Iot devices often rely on outdated or insecure protocols, making them susceptible to cyber threats. Attackers can exploit these vulnerabilities to gain unauthorized access and compromise the devices, posing substantial risks to individuals and organizations.
Data privacy concerns: Iot devices collect vast amounts of data, including personal and sensitive information. The improper handling or unauthorized access to this data has severe implications for privacy. Robust security measures are necessary to encrypt data, enforce access controls, and protect against unauthorized use or breaches.
Potential impact of attacks: Iot devices are connected to critical systems, such as power grids, healthcare devices, or transportation infrastructure. A security breach in such systems can lead to catastrophic consequences. To prevent disruptions and ensure public safety, it is imperative to implement stringent security measures in iot devices.
Growing threat landscape: As iot technology evolves, so do the methods employed by hackers. With the rapid proliferation of connected devices, the attack surface expands, making it more challenging to mitigate threats. Iot security needs to adapt and stay ahead of emerging risks by implementing robust protection mechanisms.
Innovations And Developments In Iot Security Technology
Recognizing the importance of securing iot systems, various advancements are being made in the field of iot security technology. These developments aim to enhance the resilience of iot devices against cyber threats and provide effective solutions to address emerging security challenges.
Here are some notable innovations in iot security:
Secure communication protocols: Iot security technologies now include secure communication protocols such as mqtt (message queuing telemetry transport) and https (hypertext transfer protocol secure). These protocols incorporate encryption and authentication mechanisms to ensure the confidentiality and integrity of data exchanged between iot devices and associated platforms.
Device authentication and authorization: Implementing robust authentication mechanisms, such as two-factor authentication or biometric recognition, helps ensure that only authorized devices can connect and communicate within an iot ecosystem. Additionally, fine-grained authorization enables granting specific privileges to devices based on their roles and responsibilities.
Blockchain for iot security: Blockchain technology provides a decentralized and tamper-proof mechanism for securing iot systems. By leveraging blockchain, iot devices can securely share data, authenticate transactions, and establish trust among participating nodes. This innovation adds an additional layer of security and enables transparent and immutable audit trails.
Ai-powered threat detection: Artificial intelligence (ai) and machine learning (ml) algorithms are being employed to detect anomalies and potential security breaches in iot networks. These algorithms can analyze large volumes of data in real-time, enabling proactive threat detection and identification of abnormal behaviors within iot systems.
Firmware and software updates: Regular updates to iot device firmware and software are crucial for addressing known vulnerabilities and patching security loopholes. Over-the-air (ota) updates make it convenient to deploy security patches and ensure that iot devices remain protected against the latest threats.
Security by design: The principle of security by design emphasizes the integration of security measures throughout the entire lifecycle of iot devices. By considering security from the initial design phase, manufacturers can proactively identify and mitigate potential security risks, ensuring a more secure and resilient iot ecosystem.
The future of iot security lies in a combination of robust security measures, innovative technologies, and proactive approaches against emerging threats. As the iot landscape evolves, it is crucial to prioritize security to safeguard privacy, protect critical systems, and foster trust among users.
Iot In Agriculture And Environmental Sustainability
The future of iot holds great potential in various industries, with agriculture and environmental sustainability being one of the key areas benefitting from these advancements. By utilizing iot technologies, precision agriculture can be achieved, leading to improved efficiency, reduced resource consumption, and increased yields.
Additionally, iot solutions present opportunities to promote sustainable practices in agriculture, contributing to environmental preservation and long-term sustainability.
Utilizing Iot For Precision Agriculture:
Smart sensors and devices enable farmers to monitor and gather real-time data on various environmental factors, such as temperature, humidity, soil moisture, and crop health.
This data can be analyzed to make informed decisions regarding irrigation, fertilization, pest management, and overall crop management.
Automated systems can be implemented to control irrigation, adjust environmental conditions, and administer precise amounts of pesticides or fertilizers based on the specific needs of each crop.
Gps tracking systems and drones can be used to monitor and assess field conditions, identifying areas that require attention and facilitating targeted interventions.
With iot, farmers can remotely monitor and manage their operations, reducing the need for physical presence and potentially saving resources and time.
Promoting Sustainable Practices Through Iot Solutions:
Iot technologies enable better water management by providing accurate and real-time data on soil moisture levels. This data can be used to optimize irrigation schedules, reducing water waste and conserving this valuable resource.
Precision agriculture through iot can minimize the use of pesticides and fertilizers by delivering them only when and where needed. This reduces the negative impact on the environment and human health, while still ensuring optimal crop growth.
Iot-enabled systems can facilitate the implementation of integrated pest management strategies, which focus on biological and environmentally friendly controls, rather than relying solely on chemical interventions.
Monitoring and tracking environmental factors with iot can help identify and mitigate risks, such as climate change impacts, extreme weather events, or disease outbreaks, thus providing early warnings and proactive measures.
Iot technology can optimize energy consumption in agriculture by automating and regulating energy-intensive processes, reducing wastage, and promoting the use of renewable energy sources.
The future of iot in agriculture and environmental sustainability is promising. By utilizing iot for precision agriculture and promoting sustainable practices, we can achieve improved efficiency, reduced resource consumption, and enhanced environmental stewardship. With continuous advancements in iot technologies, the potential for positive change in the agriculture sector is vast, making it a crucial aspect of the iot revolution.
The Role Of Artificial Intelligence In Iot
Combining Ai And Iot For Advanced Analytics And Decision-Making
When it comes to the future of iot, the integration of artificial intelligence (ai) is set to play a crucial role. The synergy between these two groundbreaking technologies has the potential to revolutionize various industries, enabling advanced analytics and smarter decision-making processes.
By harnessing the power of ai, iot devices can gather, analyze, and interpret data in real-time, paving the way for unprecedented advancements. Here's how ai is enhancing the capabilities of iot:
Data aggregation and analysis: Ai algorithms can process large volumes of data collected by iot devices, allowing businesses to gain valuable insights. By combining data from multiple sources, ai can identify patterns, detect anomalies, and provide accurate predictions to drive efficient decision-making.
Automation and optimization: Through ai-powered machine learning, iot devices can learn from past experiences, adapt to new situations, and optimize processes. This enables businesses to automate routine tasks, reduce errors, and improve operational efficiencies. Ai algorithms can also identify bottlenecks and suggest optimizations for enhanced performance.
Predictive maintenance: Ai algorithms can analyze real-time data from iot sensors to predict when equipment or machinery is likely to fail. By detecting early warning signs of potential failures, businesses can proactively schedule maintenance, preventing costly downtime and ensuring uninterrupted operations.
Personalized user experiences: Ai can analyze user behavior and preferences, allowing iot devices to deliver personalized experiences. From smart home assistants that learn your routines to wearable devices that provide tailored health recommendations, ai enhances iot devices' ability to adapt and cater to individual needs.
Enhanced security: Iot devices connected to ai-powered systems can leverage advanced cybersecurity measures. Ai algorithms can quickly detect and respond to potential threats, monitoring network traffic and identifying anomalies in real-time. This proactive approach to security helps protect sensitive data and minimize vulnerabilities associated with iot devices.
Enhancing Iot Devices With Ai-Powered Capabilities
Ai has the potential to transform the capabilities of iot devices, unlocking new levels of functionality and intelligence. Here are some ways in which ai enhances iot devices:
Real-time decision-making: Ai algorithms can process and analyze data in real-time, allowing iot devices to make informed decisions without human intervention. This enables faster response times and more efficient operations.
Natural language processing: By leveraging ai capabilities, iot devices can understand and respond to human voice commands. Natural language processing technologies enable seamless interaction with intelligent iot devices, making them more user-friendly and intuitive.
Contextual awareness: Ai algorithms can interpret data in context, enabling iot devices to understand the environment in which they operate. This contextual awareness enhances the device's ability to provide relevant and timely information or take appropriate actions.
Machine vision: Ai-powered image recognition and computer vision technologies enable iot devices to 'see' and interpret visual information. This opens up possibilities for applications such as smart surveillance systems, augmented reality, and visual quality inspections.
Smart recommendations: Ai algorithms can analyze user data to provide personalized recommendations. In the context of iot devices, this can include suggesting energy-saving tips, recommending products or services based on user preferences, or even predicting future needs.
The integration of artificial intelligence and iot holds tremendous promise for the future. By combining ai and iot, businesses can unlock advanced analytics, real-time decision-making, enhanced automation, and personalized experiences. This powerful synergy has the potential to drive innovation, efficiency, and transformative changes across various industries, shaping the future of iot.
The Future Of Iot In Consumer Electronics
Iot'S Impact On Everyday Consumer Devices
With the rapid advancement of technology, the internet of things (iot) has become a revolutionary concept that is transforming various industries, including consumer electronics. Everyday devices that we use, such as smart tvs, wearables, and home appliances, are now being integrated with iot capabilities.
This not only enhances the functionality of these devices but also provides users with a seamless and connected experience. Let's explore the impact of iot on everyday consumer devices and the potential trends and innovations that lie ahead.
Iot'S Impact On Everyday Consumer Devices:
Connected and smart devices: Iot has enabled everyday consumer devices to become more connected and intelligent. These devices can now communicate with each other, gather data, and adapt to user preferences. For example, smart home devices can be controlled remotely through mobile apps, allowing users to adjust temperature settings or even turn on appliances before arriving home.
Enhanced user experience: Iot-enabled consumer electronics offer an enhanced user experience by simplifying various tasks. For instance, voice-controlled speakers like amazon echo or google home allow users to ask questions, play music, or control other smart devices effortlessly. This integration of iot technology has made consumer electronics more intuitive and user-friendly.
Data collection and analytics: Iot devices gather vast amounts of data that can be analyzed to gain valuable insights. This data can help companies understand consumer behavior, preferences, and usage patterns. For instance, fitness trackers collect data on heart rate, sleep patterns, and exercise routines, providing individuals with personalized health and wellness recommendations.
Efficiency and convenience: Iot has brought about increased efficiency and convenience in everyday consumer devices. For instance, home automation systems can optimize energy usage by automatically adjusting lighting or temperature settings based on occupancy and time of day. This not only saves energy but also enhances comfort and convenience for users.
Improved safety and security: Iot-enabled consumer devices have also improved safety and security measures. For example, smart door locks and security cameras connected to iot networks provide homeowners with real-time monitoring and remote access. This allows for better control and peace of mind, especially when away from home.
Potential Trends And Innovations In Iot-Enabled Consumer Electronics:
Increased integration and interconnectivity: As iot continues to evolve, we can expect to see an increased integration and interconnectivity of consumer electronics. This means devices like smartphones, wearables, and home appliances will seamlessly communicate with each other, creating a more interconnected ecosystem.
Artificial intelligence and machine learning: The combination of iot and artificial intelligence (ai) holds great potential for consumer electronics. Ai-powered devices can learn user preferences, adapt to individual needs, and become more intelligent over time. For example, smart home assistants can anticipate user needs and automate various tasks based on past behavior.
Edge computing: With the exponential growth of iot devices, the need for real-time data processing is becoming crucial. Edge computing brings computation and data storage closer to the source, reducing latency and enabling faster response times. This technology can greatly benefit iot-enabled consumer electronics, especially in applications that require low latency, such as autonomous vehicles or remote healthcare monitoring.
Enhanced personalization: Iot enables personalized experiences based on user preferences and behavior. Consumer electronics can use data collected from iot devices to tailor content, recommendations, and settings to individuals. This level of personalization enhances the overall user experience and meets individual needs more effectively.
Sustainability and energy efficiency: As environmental concerns continue to rise, iot-enabled consumer electronics are also focusing on sustainability and energy efficiency. Devices can track energy usage, optimize resource consumption, and provide users with actionable insights to reduce their carbon footprint. This trend aligns with the growing demand for eco-friendly solutions.
The future of iot in consumer electronics looks promising. The integration of iot technology is revolutionizing everyday devices, making them more connected, intelligent, and convenient. With potential trends like increased integration, artificial intelligence, edge computing, enhanced personalization, and sustainability, the possibilities for iot-enabled consumer electronics are endless.
As technology continues to advance, we can expect to see innovative solutions that will further improve our everyday lives.
Iot And Big Data Analytics
The future of iot is a topic that has generated a lot of interest and speculation. With the rapid growth of connected devices and the internet of things (iot), there is no doubt that the future holds immense potential for this technology.
One area where iot is set to make a significant impact is in the field of big data analytics. By combining the power of iot with advanced analytics techniques, businesses can unlock valuable insights and drive significant value. In this section, we will explore how iot and big data analytics complement each other and the benefits they offer.
Leveraging Big Data In Iot Applications:
Data collection at scale: Iot devices generate a vast amount of data, which can be collected and analyzed to gain valuable insights. This data can include information about device performance, user behavior, environmental conditions, and much more.
Real-time analytics: With iot devices continuously collecting data, businesses can leverage real-time analytics to gain immediate insights and make informed decisions. This capability enables proactive monitoring, predictive maintenance, and faster response times for critical events.
Predictive analytics: By analyzing historical iot data, businesses can uncover patterns and trends that can help them predict future outcomes. This predictive capability can be useful in a range of applications, such as demand forecasting, anomaly detection, and quality control.
Operational efficiency: Iot and big data analytics can help organizations optimize their operations by identifying inefficiencies and bottlenecks. By analyzing iot data, businesses can gain a deep understanding of their processes and make data-driven improvements.
Personalization and customer insights: Iot data can provide valuable insights into customer behavior and preferences. By analyzing this data, businesses can deliver personalized experiences and tailor their offerings to meet individual customer needs.
Extracting Insights And Driving Business Value Through Iot Data Analysis:
Improved decision-making: Iot data analysis can provide businesses with real-time insights and actionable information, enabling better decision-making. By understanding the patterns and trends in iot data, organizations can make data-driven decisions that drive efficiency, cost savings, and improved outcomes.
Enhanced customer experiences: By analyzing iot data, businesses can gain a better understanding of customer preferences, behaviors, and pain points. This understanding allows organizations to personalize experiences, offer targeted recommendations, and address customer issues proactively.
Optimal resource allocation: Iot data analysis helps organizations optimize the allocation of their resources. By identifying patterns and trends, businesses can allocate resources more efficiently, reducing waste and maximizing productivity.
New revenue streams: Iot data analysis can unlock new revenue streams for businesses. By analyzing iot data, organizations can identify opportunities for product innovation, develop new service offerings, and create value-added experiences for customers.
Competitive advantage: Embracing iot and leveraging big data analytics can provide organizations with a competitive edge. By harnessing the power of iot data analysis, businesses can gain insights that their competitors may not have, enabling them to make strategic decisions and differentiate themselves in the market.
The future of iot lies in its integration with big data analytics. By leveraging the massive volume of iot-generated data and applying advanced analytics techniques, businesses can extract valuable insights and drive significant business value. The combination of iot and big data analytics has the potential to revolutionize industries, improve decision-making, enhance customer experiences, and create new revenue opportunities.
As we move forward, organizations that embrace this technology and harness its capabilities will have a significant advantage in a connected and data-driven world.
The Evolution Of Iot Connectivity
With the continuous advancement of technology, the future of iot (internet of things) holds great promise. One of the key factors driving this growth is the evolution of iot connectivity. As more devices become connected and intelligent, it is vital to have reliable and seamless connectivity options.
In this section, we will explore the current and emerging connectivity options for iot devices, as well as how improvements in iot connectivity can enhance integration and communication.
Current And Emerging Connectivity Options For Iot Devices:
Cellular networks: Utilizing cellular networks, such as 4g lte and upcoming 5g technology, enables iot devices to connect and communicate over long distances. This option is suitable for devices that require widespread coverage and high mobility.
Wi-fi: A popular choice for local connectivity, wi-fi provides fast and reliable internet access within a limited range. It allows iot devices to connect to the existing wi-fi networks in homes, offices, and public spaces, facilitating seamless integration and data transfer.
Bluetooth: Bluetooth, particularly bluetooth low energy (ble), is ideal for connecting nearby iot devices. It consumes minimal power, making it suitable for battery-operated devices like wearables and sensors. Bluetooth is commonly used for short-range communication and data transfer.
Zigbee and z-wave: These wireless technologies are specifically designed for low-power iot devices and applications. They offer reliable and secure connectivity, making them suitable for smart home devices like lights, thermostats, and security systems.
Lpwan (low-power wide-area network): Lpwan technologies such as lorawan and nb-iot provide long-range connectivity with low power consumption. These networks are suitable for iot devices that require low data rates but extended coverage, such as smart agriculture, asset tracking, and city-wide deployments.
Improving Iot Connectivity For Seamless Integration And Communication:
Edge computing: By bringing computing power closer to iot devices, edge computing reduces latency and enhances data processing capabilities. It allows iot devices to perform some computations locally, improving response time and efficiency.
Mesh networks: Mesh networks enable iot devices to communicate with each other directly, without relying on a centralized hub or wi-fi router. This peer-to-peer network structure enhances reliability, scalability, and coverage, making it suitable for large-scale deployments.
Network slicing: Network slicing is a technique that allocates dedicated virtual networks for different iot applications and services. It allows each slice to have different characteristics, such as latency, bandwidth, and security, tailored to specific iot device requirements.
Security enhancements: With the increasing number of connected devices, ensuring robust security is crucial. Improvements in iot connectivity include stronger encryption protocols, authentication mechanisms, and firmware updates to protect iot devices and data from potential cyber threats.
Interoperability standards: To improve integration and communication between different iot devices and platforms, standardized protocols and apis (application programming interfaces) are essential. Organizations like the open connectivity foundation (ocf) and the allseen alliance are working towards establishing interoperability standards for seamless device connectivity.
The evolution of iot connectivity opens up endless possibilities for innovation and collaboration across various industries. The combination of different connectivity options and advancements in technologies like edge computing and mesh networks will undoubtedly shape the future of iot, enabling a more connected and intelligent world.
Ethical And Privacy Considerations In The Iot Era
The future of iot holds immense potential for transforming the way we live and interact with technology. However, as with any technological advancement, ethical and privacy considerations become increasingly important. In this section, we will explore two key areas of concern: balancing data collection and individual privacy rights, and ensuring the ethical usage of iot technology.
Balancing Data Collection And Individual Privacy Rights
Privacy concerns: With the proliferation of iot devices, there is a growing concern about the extensive collection of personal data. The sheer amount of information being collected raises questions about the safeguarding of individual privacy rights.
Data security: As iot devices gather and transmit vast amounts of data, it is crucial to ensure robust encryption and secure storage to protect against unauthorized access and potential breaches.
Consent and control: It is essential to establish clear guidelines regarding data collection, storage, and usage, empowering individuals to have control over their personal information and giving them the ability to provide informed consent.
Data anonymization: To address privacy concerns, organizations should adopt techniques such as data anonymization, stripping personally identifiable information from collected data while retaining its value for analysis and insights.
Transparent data practices: Organizations must adopt transparent data practices, providing clear information about what data is being collected, how it is being used, and with whom it is being shared.
Ensuring Ethical Usage Of Iot Technology
Minimizing bias: It is crucial to ensure that iot technologies and their algorithms are developed without inherent biases that could lead to discriminatory outcomes. Ethical considerations should be integrated into every stage of development to prevent unfair treatment.
Responsible data usage: Organizations utilizing iot data must implement guidelines and policies that prioritize responsible and ethical use of the data. This includes using the data for legitimate and beneficial purposes and refraining from activities that may harm individuals or communities.
Informed consent and transparency: Users should be provided with clear and concise information about the data that will be collected, how it will be used, and the potential risks involved. Transparent communication and consent mechanisms are necessary to establish trust between users and iot providers.
Accountability and regulation: Governments and regulatory bodies play a crucial role in ensuring ethical iot usage. Implementing regulations and guidelines can help hold organizations accountable for any unethical practices and ensure the protection of individual rights.
Ethical decision-making frameworks: Developing frameworks that guide ethical decision-making in iot design and usage can help ensure that technology is used in a way that upholds societal values and respects the rights of individuals.
As the iot continues to evolve, it is essential to address ethical and privacy considerations in order to build a future that prioritizes individual rights, data security, and responsible usage. By striking a balance between data collection and privacy rights and ensuring ethical practices, we can harness the potential of iot technology while ensuring its benefits are shared by all.
Overcoming Challenges For Widespread Iot Adoption
The future of internet of things (iot) is full of immense possibilities and opportunities. As this technology continues to evolve, overcoming challenges for widespread iot adoption becomes crucial. In this section, we will explore how addressing interoperability and standardization issues, along with tackling cybersecurity threats in the iot ecosystem, can pave the way for a seamless and secure future.
Addressing Interoperability And Standardization Issues:
Interoperability refers to the ability of different devices and platforms to communicate and work together effectively. Standardization plays a significant role in establishing uniformity across iot systems. Here's how these challenges can be addressed:
Developing common protocols and open standards: Adopting widely recognized protocols allows iot devices to communicate with each other seamlessly.
Implementing iot middleware platforms: Middleware solutions act as intermediaries, enabling interoperability between different devices and systems.
Encouraging collaboration among stakeholders: Industry collaboration helps in establishing universal standards and guidelines for iot deployment.
Tackling Cybersecurity Threats In The Iot Ecosystem:
As the number of interconnected devices continues to grow, cybersecurity becomes a critical concern. Protecting the iot ecosystem from cyber threats requires a proactive approach. Here are some strategies to consider:
Implementing robust authentication and encryption mechanisms: Strong authentication and encryption protocols ensure secure communication between devices and protect against unauthorized access.
Regular security updates and patches: Manufacturers should provide timely updates and patches to address vulnerabilities and protect iot devices from evolving threats.
Conducting security audits and risk assessments: Regular assessments help identify potential vulnerabilities and risks, allowing for timely mitigation measures.
Educating users and stakeholders about cybersecurity best practices: Raising awareness about cybersecurity risks and promoting responsible iot usage is essential to safeguard the ecosystem.
Addressing interoperability and standardization issues as well as tackling cybersecurity threats are crucial steps towards widespread iot adoption. By establishing common protocols, encouraging collaboration, implementing robust security measures, and promoting awareness, we can create a future where the iot is secure, interconnected, and accessible to all.
The possibilities are limitless, and the foundation for this technology's success lies in resolving these challenges.
Frequently Asked Questions Of What Is The Future Of Iot?
What Is Iot And How Does It Work?
Iot, or the internet of things, refers to the network of interconnected devices that can share data via the internet. These devices, ranging from everyday objects like smartphones and smartwatches to appliances, vehicles, and even entire cities, use sensors and connectivity to collect and exchange data.
This enables automation, remote control, and enhanced efficiency in various domains.
What Are The Potential Applications Of Iot?
Iot has a wide range of applications across industries. It can be employed in smart homes, healthcare systems, transportation networks, industrial automation, agriculture, and energy management. The potential uses of iot are virtually limitless and continue to expand as technology advances.
How Will Iot Impact Our Daily Lives?
Iot will revolutionize our daily lives by introducing increased convenience, efficiency, and connectivity. Smart homes will enable remote control of appliances, while connected healthcare devices will allow for remote monitoring of health conditions. Transportation will become more efficient, and cities will be able to optimize resource usage, making life easier and more sustainable.
What Are The Security Concerns Associated With Iot?
While iot offers numerous benefits, security concerns are a critical aspect to consider. With an increased number of devices connected to the internet, the potential for cyberattacks and data breaches grows. Proper security measures, such as strong encryption, authentication protocols, and regular software updates, must be implemented to safeguard against these threats.
What Challenges Does Iot Face In Its Future Growth?
Iot faces challenges such as interoperability between various devices and platforms, ensuring data privacy and protection, managing the vast amount of data generated, and addressing the potential impact on job markets due to automation. Overcoming these challenges will be crucial for iot's future growth and widespread adoption.
How Will 5G Impact The Future Of Iot?
The deployment of 5g networks will significantly impact the future of iot. With its higher bandwidth and lower latency, 5g will enable faster data transmission, more devices to be connected, and increased reliability for iot applications. This will unlock new possibilities in areas such as autonomous vehicles, augmented reality, and industrial automation.
Conclusion
The future of iot is undoubtedly promising, with endless possibilities for connectivity and innovation. As technology continues to advance at a rapid pace, iot devices will become even more integrated into our everyday lives. From smart homes to self-driving cars, the internet of things will revolutionize the way we live, work, and interact with the world around us.
With the expansion of 5g networks, iot will only become more powerful and efficient, ensuring faster and more reliable connections. As more companies and industries embrace iot, we can expect to see improvements in areas such as healthcare, agriculture, transportation, and manufacturing.
However, as the iot ecosystem grows, there will also be challenges to overcome, such as ensuring security and privacy. Nonetheless, the future of iot holds immense potential for transformation and progress, making it an exciting field to watch and be a part of.
Embrace the possibilities and get ready for a future where everything is interconnected.