A webinar is called so because it combines the words "web" and "seminar" to refer to an online seminar conducted over the internet. Webinars have become a popular method of online communication and education due to their convenience and accessibility.
In today's digital age, the internet has transformed various aspects of our lives, including how we connect and educate ourselves. Webinars leverage the power of the web to bring people together in virtual spaces for seminars, workshops, presentations, and trainings.
These online events enable participants to join from anywhere in the world, eliminating the need for physical travel and allowing for greater flexibility in scheduling. The word "webinar" accurately describes this type of online gathering, emphasizing its connection to the web or internet. Whether it is a business conference, educational lecture, or a training session, webinars provide an innovative and efficient way to engage with a wide audience and share valuable knowledge and information.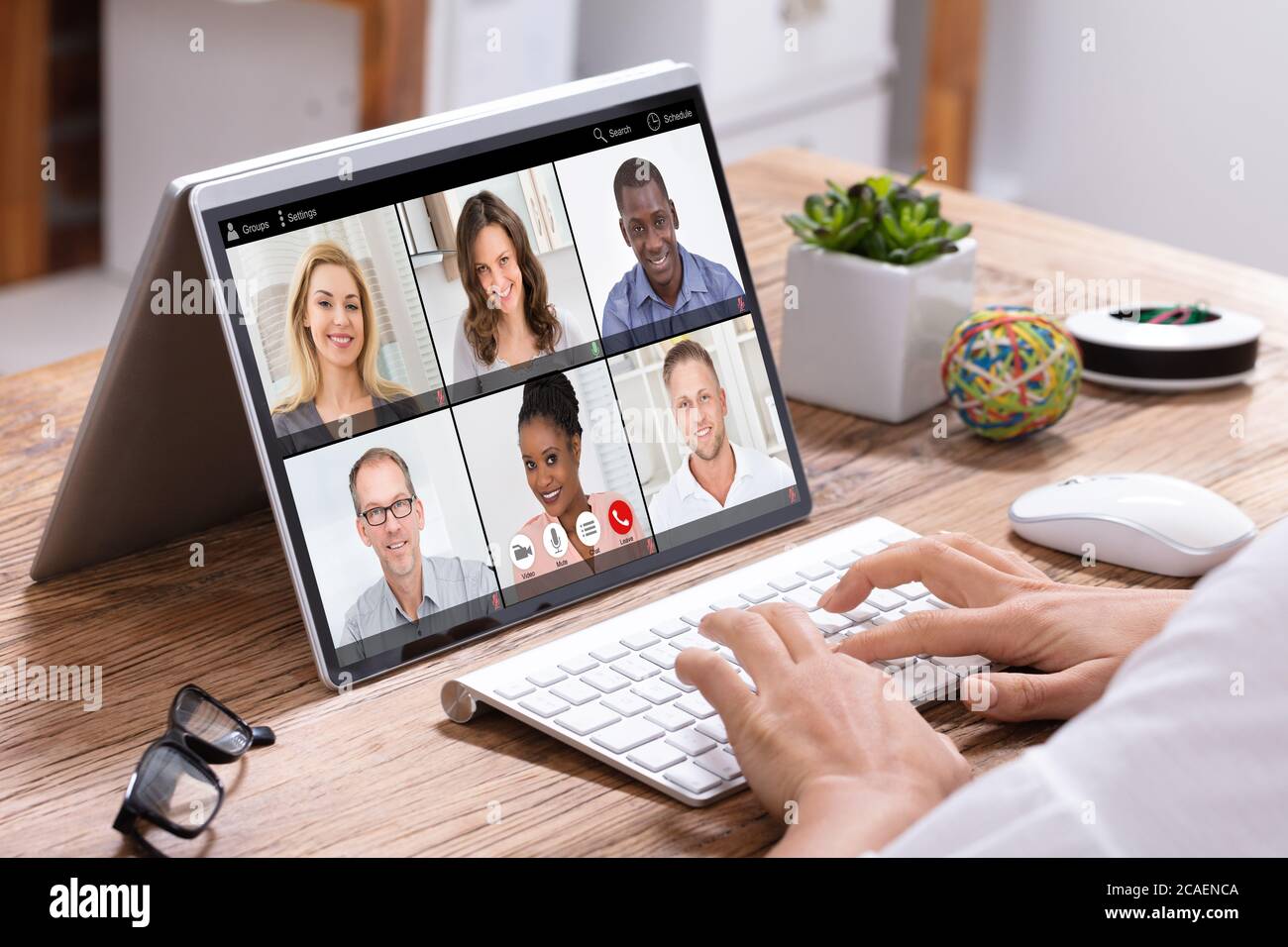 Credit: www.alamy.com
Why The Term "Webinar" Was Coined
The term "webinar" was coined to describe online seminars conducted over the web. It originated due to the need for a concise and catchy name to represent this new form of virtual learning. Early usage and popularization of webinars played a significant role in the term's evolution.
As more people started to host and attend webinars, the term gained recognition and became widely accepted. Several factors led to the coinage of "webinar," including the rising popularity of internet technology, the need for remote collaboration, and the increasing demand for flexible learning opportunities.
Over time, the term "webinar" has become synonymous with online presentations, training sessions, and interactive virtual events. Its simplicity and association with the web make it easily understandable for both tech-savvy individuals and those new to online learning.
Understanding The Webinar Concept
A webinar is a term that blends "web" and "seminar," indicating its online nature. Webinars are virtual events where participants interact and learn about various topics. These interactive sessions serve the purpose of disseminating knowledge, sharing expertise, and promoting engagement.
Webinars offer distinct characteristics that set them apart from other forms of communication. One key characteristic is their real-time element, allowing participants to join and interact live. They provide a convenient platform for hosting presentations, workshops, training sessions, and product demonstrations.
The benefits of hosting webinars are numerous. They enable businesses to reach a wider audience, generate leads, build brand credibility, and foster meaningful connections with attendees. Moreover, webinars offer flexibility and convenience, as participants can join from anywhere in the world with an internet connection.
Overall, webinars have become a valuable tool for effective communication, engagement, and knowledge sharing in the digital age.
The Significance Of "Web" In Webinar
The term "webinar" has a direct connection to the internet, as implied by the word "web. " Webinars leverage web-based technologies to facilitate interactive online presentations, fostering discussions among participants. This internet-dependent platform eradicates geographical barriers, enabling global reach and accessibility for anyone with an internet connection.
Enabled by the internet's widespread availability, webinars offer a convenient way for individuals and organizations to connect with a diverse audience worldwide. Whether it's sharing educational content, conducting virtual conferences, or hosting training sessions, the internet plays a pivotal role in making webinars an efficient and inclusive communication tool.
With just a few clicks, participants can engage in real-time interactions, expanding the possibilities of knowledge exchange and collaboration beyond physical boundaries. By embracing web-based technologies, webinars have revolutionized the way information is shared and disseminated in our digital era.
The Role Of "Seminar" In Webinar
The term "webinar" is derived from the blending of the words "web" and "seminar. " Seminars have a long-standing history as educational gatherings where individuals come together to discuss a specific topic. With the rise of the internet, seminars adapted to the online environment, giving birth to webinars.
They maintain the interactive nature of a traditional seminar while incorporating digital tools to enhance engagement. The historical context and meaning of seminars set the foundation for webinars, as they provide a platform for knowledge sharing and networking. Webinars bring people from different locations together, breaking the barriers of physical distance.
By incorporating interactive elements such as live chats, q&a sessions, and polls, webinars foster active participation and enable attendees to connect and learn from each other.
Webinar Vs. Other Virtual Communication Methods
Webinars, as the name suggests, are a combination of the words "web" and "seminar. " They are a popular virtual communication method that offers many advantages over other methods like video conferences and online meetings. Webinars are distinct from webcasts and web conferences as they are designed for specific use cases where they truly shine.
Unlike other virtual communication methods, webinars are highly interactive, allowing participants to engage in real-time discussions, polls, and q&a sessions. Additionally, webinars often have a structured agenda and are typically led by an expert in the field. With their ability to connect people from different locations and deliver valuable content, webinars have become an integral part of online learning, training, marketing, and business communication strategies.
They offer a convenient and cost-effective way to reach a larger audience and share knowledge effectively. So, the next time you participate in or host a webinar, remember its unique features that set it apart from other virtual communication methods.
The Journey Of Webinar From Niche To Mainstream
Webinars have quickly become a popular form of communication. From niche to mainstream, their growth has been remarkable. Various industries and sectors have embraced webinars as a valuable tool for training, marketing, and connecting with a global audience. The widespread adoption of webinars can be attributed to several factors.
Firstly, their convenience and accessibility have made them appealing to businesses of all sizes. Additionally, webinars provide an interactive platform that engages participants and encourages knowledge sharing. Furthermore, the cost-effectiveness of webinars compared to traditional in-person events has been a driving force behind their popularity.
As technology continues to advance, webinars are likely to remain a prevalent means of communication in the digital age.
Exploring Alternatives To The Term "Webinar"
"webinar" is a term widely used to describe online events, but it is interesting to explore alternative names. Over the years, various terms have emerged to replace or augment the use of the term "webinar. " These include terms like virtual meeting, online seminar, digital conference, live streaming lecture, and interactive web broadcast.
Each of these terms has its own pros and cons, and it may be worth evaluating them to determine which best suits your needs. However, despite the existence of these alternatives, "webinar" has remained the preferred term in the digital realm.
Its prevalence can be attributed to its simplicity, familiarity, and widespread recognition among both presenters and attendees. So, why is it called a webinar? The answer lies in its longevity and ability to become a household term in the realm of online events.
Frequently Asked Questions For Why Is It Called Webinar?
Where Did The Term Webinar Come From?
The term "webinar" originated from the combination of two words: "web" and "seminar. " It refers to a seminar or presentation conducted over the internet using video conferencing technology. This form of communication allows participants to join remotely using their computers or mobile devices.
The concept of webinars emerged alongside advancements in technology and the growing popularity of online meetings and conferences. It offers a convenient way for businesses, educational institutions, and other organizations to share information, deliver presentations, and interact with their audience in real-time, regardless of geographical constraints.
Webinars have become an essential tool for hosting virtual events, training sessions, product demonstrations, and various educational purposes. With its flexibility and accessibility, webinars have revolutionized the way people connect, learn, and collaborate in the digital age.
Is A Webinar Just Listening?
A webinar is not just about listening. It goes beyond that. A webinar allows participants to actively engage in the session. While listening is an important aspect, attendees can also ask questions, participate in polls, and engage in discussions. This interactive format makes webinars a valuable tool for learning and collaboration.
Participants can share their opinions, seek clarification, and contribute to the conversation. So, a webinar is not a passive experience where you just sit and listen, but an opportunity to actively participate and make the most of the knowledge and expertise being shared.
Who Coined The Term Webinar?
The term "webinar" was coined by combining the words "web" and "seminar. " It was first used in the late 1990s to describe online interactive presentations or conferences. The purpose of a webinar is to connect people virtually and provide a platform for sharing information, conducting training, or delivering presentations.
Webinars have become increasingly popular due to their convenience and effectiveness in reaching a larger audience without the need for physical presence. They are commonly used by businesses, educational institutions, and organizations for various purposes such as marketing, sales, education, and collaboration.
The term "webinar" has since become widely accepted and is now a commonly used word to describe these online events.
Do You Have To Show Your Face On A Webinar?
No, showing your face on a webinar is not mandatory, but it can be beneficial. Some webinars allow participants to join without showing their faces and instead use their names or avatars. This can provide privacy for those uncomfortable being on camera.
However, showing your face can help in building trust and connection with the audience. It allows for better engagement and interaction, as you can use facial expressions and body language to convey your message effectively. It also helps the audience to relate to you as a person, rather than just a voice.
Ultimately, the decision to show your face on a webinar depends on your comfort level and the goals of the webinar.
Conclusion
Webinars have become a popular method of online communication and learning due to their convenience and accessibility. The term "webinar" is a combination of "web" and "seminar," emphasizing the fact that these events take place over the internet and provide an interactive experience for participants.
With the rise of technological advancements and the need for remote communication, webinars have become an essential tool for businesses and individuals alike. They offer a cost-effective way to reach a wide audience, share knowledge, generate leads, and gather valuable feedback.
Webinars also provide opportunities for networking, collaboration, and engagement. By understanding the origins and meaning behind the term "webinar," we can appreciate the significance of this medium in connecting people and fostering knowledge sharing. So next time you participate in or host a webinar, remember the roots of this word and the impact it has on the way we communicate and learn in the digital age.