Will AI Replace Journalists?-A billion Dollar question now with the advent of AI writers, Anchors, and even news presenters. The optimistic fact is that AI will not replace journalists completely, but it will augment their work and improve efficiency. In today's digital era, ai technology is playing a significant role in journalism, automating processes such as data collection, analysis, and fact-checking.
AI is not expected to replace journalists or eliminate jobs. Instead, AI is expected to take over a portion of reporters' current tasks. The issue of whether AI will replace journalists has been debated, with some sources stating that AI is improving, not taking journalists' jobs, while others believe that AI will replace journalists. For example, as to the new tool for journalists, Google has said that its AI tools are meant to help journalists, not replace them. For instance, AI-enabled tools could assist journalists with options for headlines or different writing styles
With ai, journalists can focus more on investigative reporting, storytelling, and providing insights. As ai continues to advance, it will complement journalists' work by streamlining tasks, enhancing accuracy, and enabling faster information dissemination. Additionally, ai tools like natural language processing and machine learning can assist in content creation, identifying trends, and personalizing news delivery.
While the future of journalism may involve ai integration, human journalists will remain crucial in providing context, critical thinking, and ethical decision-making in reporting the news.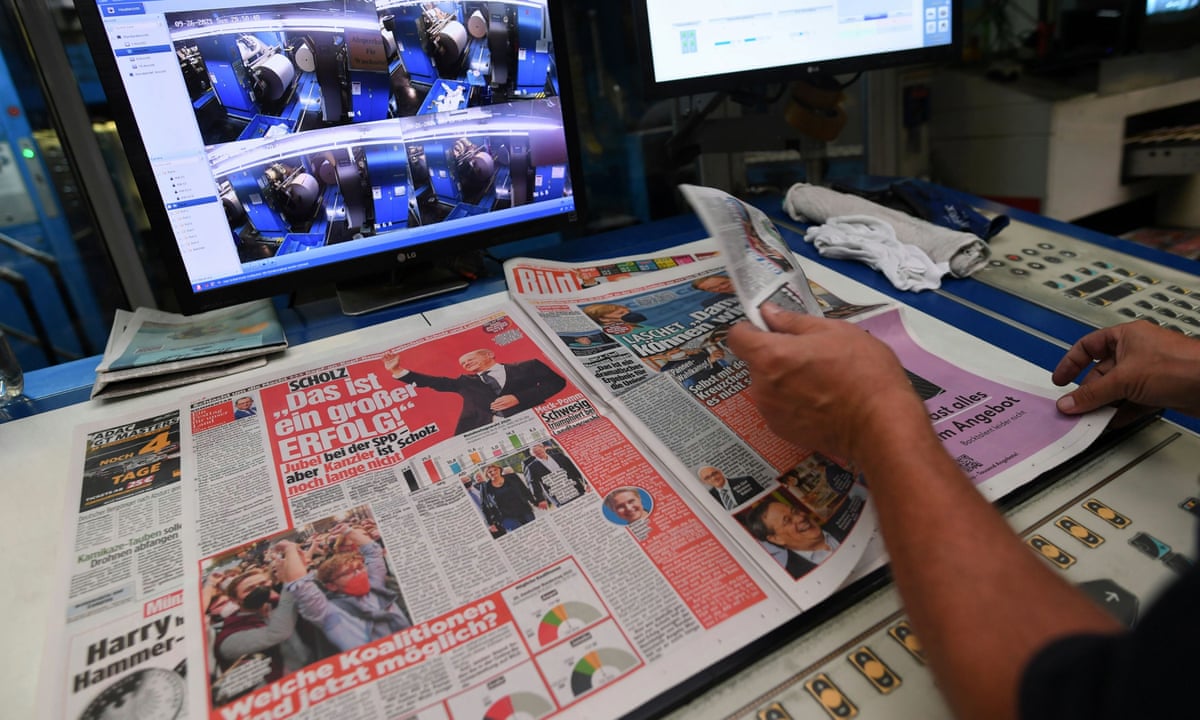 Credit: www.theguardian.com
The Rise Of Ai In Journalism
Artificial intelligence (ai) has significantly impacted various industries, transforming how they operate and innovate. Journalism is no exception to this technological revolution. As ai continues to advance, it is revolutionizing the field of journalism, offering new possibilities for news creation and delivery.
In this section, we will explore ai's impact on the journalism industry and the role it plays in news creation.
Ai'S Impact On The Journalism Industry
Greater efficiency: Ai-powered tools and algorithms can automate time-consuming tasks like fact-checking, data analysis, and transcription, allowing journalists to focus on more in-depth reporting.
Enhanced accuracy: Ai can assist in analyzing large volumes of information and detecting patterns, helping journalists identify potential story angles and make informed decisions based on reliable data.
Personalized news consumption: Ai-driven news platforms enable personalized content delivery based on users' interests, preferences, and browsing behavior, providing a tailored news experience.
Real-time insights: With ai-powered tools, journalists can access real-time data, monitor social media trends, and gather insights, helping them report on breaking news and evolving stories more effectively.
Journalism augmentation, not replacement: While ai can automate certain tasks, it cannot replace the critical thinking, investigative skills, and human touch that journalists bring to their work. Ai serves as a valuable tool for journalists to enhance their reporting capabilities.
The Role Of Ai In News Creation
Automated content generation: Ai-powered news writing algorithms can generate news stories in a fraction of the time it takes for a human journalist, especially for data-driven reports, financial updates, or sports recaps.
Data-driven reporting: Ai enables journalists to analyze vast amounts of data quickly, helping them uncover trends, correlations, and insights that can shape their reporting and provide more comprehensive coverage.
Natural language processing: Ai technology can process and understand human language, enabling automated news summarization, translation, and sentiment analysis, streamlining news consumption for wider audiences.
Fact-checking and verification: Ai tools can assist journalists in fact-checking information, detecting misinformation, and verifying the accuracy of sources, ensuring more reliable and trustworthy news reporting.
Engaging storytelling: Ai can augment journalists' storytelling abilities by providing creative suggestions, generating interactive visuals, and enhancing multimedia content to captivate readers and viewers.
Ai's rise in journalism brings both opportunities and challenges. While ai has the potential to streamline news creation processes, improve accuracy, and personalize news delivery, it should be seen as a tool to augment journalistic capabilities rather than a replacement for human journalists.
The future of journalism lies in the symbiotic relationship between ai and human expertise, where technology empowers journalists to create better, more impactful stories for their audiences.
Pros And Cons Of Ai In Journalism
Will Journalism Be Replaced By Ai?
The rapid advancement of artificial intelligence (ai) has sparked debates about its potential impact on various industries, including journalism. While some argue that ai could revolutionize news reporting with its efficiency and accuracy, others express concerns about the limitations and drawbacks of relying solely on technology.
In this section, we will explore the pros and cons of ai in journalism, highlighting both the advantages and disadvantages of this evolving field.
Advantages Of Ai In News Reporting:
Enhanced speed and efficiency: Ai algorithms can quickly process vast amounts of information, enabling journalists to access news updates and generate content at an unprecedented pace.
Automated data analysis: Ai-powered tools can efficiently analyze complex data sets and identify trends or patterns that could otherwise go unnoticed. This can assist journalists in uncovering valuable insights and presenting information in a more comprehensive manner.
Fact-checking and verification: Ai algorithms can aid in fact-checking by cross-referencing information from multiple sources within seconds, reducing the risk of disseminating false or misleading news.
Personalized news delivery: Ai algorithms can learn users' preferences and interests, enabling news organizations to deliver customized news content tailored to individual readers, enhancing the overall user experience.
Language translation and transcription: Ai-powered language processing capabilities facilitate multilingual journalism by automatically translating articles or transcribing interviews, bridging language barriers and expanding the reach of news globally.
Disadvantages And Limitations Of Ai Journalism:
Lack of human intuition and context: Ai technology may struggle to interpret nuances, understand cultural context, or differentiate between satire and factual news. This could potentially lead to biased or inaccurate reporting.
Ethical concerns: Journalistic decisions often require moral judgment and empathy, qualities that ai lacks. The intervention of human journalists is crucial to navigate sensitive or ethically challenging topics with the necessary thoughtfulness and understanding.
Limited investigative and creative skills: Ai algorithms mainly rely on existing data to generate news stories, limiting their ability to conduct investigative journalism or come up with original ideas. Human journalists are better equipped for in-depth investigations and creative storytelling.
Dependence on data quality: As with any technology, the accuracy and reliability of ai systems are heavily dependent on the quality of the data they are trained on. Inaccurate or biased input can compromise the integrity of ai journalism.
Job displacement concerns: The automation of certain journalistic tasks could result in job losses within the industry, potentially leading to a decline in the diversity and quality of news coverage.
Balancing Human Expertise And Ai Technology:
To harness the full potential of ai in journalism, it is essential to strike a balance between the capabilities of ai technology and the expertise of human journalists. By collaborating with ai systems, journalists can leverage the efficiency and analytical power of ai algorithms while retaining their unique abilities to analyze complex situations, interpret emotions, and ask critical questions.
This collaboration between humans and machines has the potential to enhance news reporting by combining the strengths of both parties.
While ai has the potential to streamline news reporting and revolutionize the way we consume information, it is not without its limitations. Ai journalism should be approached as a complementary tool to human journalism, rather than a complete replacement. By understanding the advantages and disadvantages of ai in journalism and maintaining a balance between technology and human expertise, we can navigate the evolving landscape to ensure the integrity, accuracy, and ethical standards of news reporting.
Ethics And Accuracy In Ai Journalism
Ensuring Ethical Use Of Ai In Reporting:
Ai-powered journalism has gained significant attention in recent years, but it also raises concerns regarding ethics and accuracy. As ai becomes more integral to journalism, it is crucial to address these challenges and ensure the ethical use of ai in reporting.
Here are a few key points to consider:
Transparency: The development and use of ai algorithms in journalism should be transparent to maintain accountability and public trust. Publishers and news organizations must disclose when ai-generated content is used.
Bias detection and mitigation: Ai systems can inadvertently perpetuate or amplify biases present in the data used to train them. Regular evaluation and monitoring of ai systems can help identify and address any biases, ensuring fair and unbiased reporting.
Privacy and data protection: Ai-powered journalism often relies on massive amounts of user data. It is essential to handle this data with utmost care and adhere to strict privacy regulations to protect individuals' information.
Accountability: While ai systems can automate various reporting tasks, human oversight and accountability remain integral. Journalists and editors should have a clear understanding of how ai is utilized and be responsible for the accuracy and ethical implications of the content.
Challenges In Maintaining Accuracy With Ai-Generated News:
While ai has the potential to streamline news production processes, maintaining accuracy in ai-generated news poses several challenges. Here are the key points to consider:
Source verification: Ai systems can quickly gather information from various sources, but verifying the credibility and reliability of those sources remains essential. Incorrect or biased information can spread rapidly if not thoroughly fact-checked.
Contextual understanding: Ai algorithms may struggle to grasp the nuanced context in certain news stories, leading to inaccurate or misleading interpretations. Human journalists play a crucial role in providing context and ensuring accurate reporting.
Real-time events: Ai algorithms often rely on existing data and patterns, making them less effective in reporting on rapidly developing news events. Human journalists can quickly adapt, verify, and report on breaking news, ensuring accuracy and timeliness.
Unintentional errors: Ai algorithms are not immune to errors. They can produce inaccurate or misleading content, particularly when dealing with complex or ambiguous information. Human journalists are essential in identifying and rectifying these errors.
The Role Of Human Journalists In Fact-Checking:
While ai algorithms can aid in news production, human journalists remain instrumental in fact-checking and ensuring accuracy. Here are the key points:
Cross-referencing and verification: Human journalists have the expertise to cross-reference information from multiple sources and verify its accuracy. Fact-checking ensures that news stories are reliable and devoid of misinformation.
Contextual understanding: Journalists are skilled at understanding the context of news stories, detecting potential biases, and providing comprehensive analysis. This context enhances the accuracy and depth of reporting.
Critical thinking: Human journalists possess critical thinking skills necessary to evaluate information critically and assess its credibility. These skills help in identifying inaccuracies or misleading content that ai algorithms may overlook.
Editorial judgment: Journalists exercise editorial judgment, making the final call on what information should be included or excluded from a news story. This gatekeeping role ensures accuracy and ethical reporting.
While ai technology has the potential to revolutionize journalism, ethical considerations and accuracy remain significant challenges. Ensuring transparency, addressing biases, maintaining privacy, and upholding accountability are essential for the ethical use of ai in reporting. Human journalists continue to play a crucial role in fact-checking, context-setting, and ensuring accuracy in an era increasingly influenced by ai-generated news.
Ai Journalism Vs. Human Journalism
Artificial intelligence (ai) has rapidly transformed various industries, and journalism is no exception. With the rise of ai-powered news writing, there is an ongoing debate about whether it will replace human journalism altogether. In this section, we will compare the quality of ai news with human-written news, explore the unique value of human storytelling and analysis, and discuss the potential for collaboration between ai and human journalists.
Comparing The Quality Of Ai News With Human-Written News
Ai journalism has made impressive strides in recent years, with algorithms generating news stories quickly and efficiently. However, it is crucial to evaluate the quality of ai-written news and compare it to human journalism. Here are some key points to consider:
Efficiency and speed: Ai journalism excels in terms of speed and efficiency, enabling news stories to be generated within seconds. This is particularly beneficial when reporting on breaking news or delivering real-time updates.
Data-driven reporting: Ai algorithms can quickly analyze vast amounts of data and generate reports based on trends and patterns. This data-focused approach can provide accurate and unbiased information.
Consistency and objectivity: Ai-written news is often more consistent and objective, as algorithms adhere to a predefined set of rules and guidelines. This can reduce the risk of biases and ensure that news is presented in a fair and impartial manner.
The Unique Value Of Human Storytelling And Analysis
While ai journalism offers efficiency and objectivity, human storytelling and analysis bring a unique dimension to news reporting. Here's why human-written news still holds significant value:
Context and emotion: Human journalists possess the ability to contextualize news events and convey emotions through their writing. They can provide historical context, personal anecdotes, and human interest stories that ai algorithms may overlook.
Investigative reporting: Investigative journalism requires skills such as conducting interviews, accessing confidential sources, and analyzing complex information. These are areas where human journalists shine, as their ability to ask critical questions and follow leads is unmatched.
Critical thinking and subjectivity: Human journalists bring their own perspectives and experiences to their work, resulting in diverse storytelling and analysis. They can provide subjective viewpoints, opinions, and expert insights that ai algorithms may struggle to replicate.
Collaboration Potential Between Ai And Human Journalists
Rather than viewing ai as a replacement for human journalists, a promising approach is to explore collaboration between the two. Here are some potential areas where ai and human journalists can work together:
Automation and fact-checking: Ai algorithms can assist human journalists by automating certain tasks, such as fact-checking and data analysis. This allows journalists to focus more on in-depth reporting and storytelling.
Enhanced efficiency: Ai tools can help journalists gather information, summarize data, or even identify emerging trends. This can save time and make the news-gathering process more efficient.
Personalization and recommendation: Ai algorithms can analyze user preferences and provide personalized news recommendations. Human journalists can then curate and enhance these recommendations based on their expertise and understanding of the audience.
While ai journalism offers speed, efficiency, and objectivity, human journalism remains invaluable for its storytelling abilities, investigative skills, and subjectivity. By embracing collaboration between ai and human journalists, we can harness the strengths of both and ensure the delivery of high-quality news to a diverse and engaged audience.
Impact Of Ai On Newsroom Dynamics
Changes In Journalist Roles And Responsibilities
In the ever-evolving landscape of journalism, ai technology has undoubtedly made its mark. As newsrooms embrace these advancements, significant changes are underway in terms of journalist roles and responsibilities:
Automated content creation: With the help of ai, news articles can now be automatically generated. Journalists are no longer solely responsible for crafting every piece of news content. However, their role has shifted to overseeing and curating this generated content.
Data analysis and interpretation: Ai can collect and analyze vast amounts of data, providing valuable insights. Journalists are now expected to leverage this data to uncover deeper stories and trends, transforming them into meaningful narratives for their audiences.
Verification and fact-checking: While ai can assist in fact-checking, journalists still play a crucial role in ensuring accuracy and credibility. They are responsible for verifying information and sources, ensuring that the news presented to the public is reliable and trustworthy.
Ethical considerations: Ai introduces new ethical challenges in journalism, such as bias in algorithms and deepfake technology. Journalists must navigate these complexities, addressing ethical concerns and upholding journalistic integrity.
The Need For Upskilling In An Ai-Powered Newsroom
As ai becomes more integrated into newsroom dynamics, journalists must adapt and acquire new skills to thrive in this evolving landscape:
Understanding ai technology: Journalists need to familiarize themselves with ai and its capabilities to effectively leverage its potential in their reporting. This includes understanding ai algorithms, data analysis, and natural language processing.
Data journalism skills: With ai's ability to analyze vast amounts of data, journalists need to develop skills in data journalism. This involves acquiring proficiency in data visualization, data mining, and statistical analysis, enabling them to uncover compelling stories within complex datasets.
Curation and editorial oversight: As ai generates automated content, journalists must develop strong curation and editorial skills. They become the gatekeepers, ensuring that the ai-generated content aligns with journalistic standards and meets the needs and expectations of their audiences.
The Future Of Collaboration Between Journalists And Ai Technology
While ai has changed the journalism landscape, it is not meant to replace journalists. Instead, a collaborative relationship between journalists and ai technology is emerging:
Enhanced research and information gathering: Ai can assist journalists in conducting research and gathering information faster and more comprehensively. This collaboration allows journalists to access relevant data quickly, enabling them to produce richer and more informed news articles.
Automated tasks: Ai can streamline routine tasks in newsrooms, such as transcription, data analysis, and content distribution. This frees up journalists' time, allowing them to focus on higher-value tasks like investigative reporting and storytelling.
Augmented storytelling: Ai-powered tools can enhance journalists' storytelling capabilities. For example, natural language processing can help identify compelling narratives within data, enhancing journalists' ability to engage readers with powerful stories.
As journalists adapt to working alongside ai, collaboration becomes essential, augmenting their skills and amplifying their impact in the field of journalism. The future lies in a harmonious partnership between humans and ai, where journalists utilize ai technology's potential while maintaining their critical role as storytellers and gatekeepers of information.
Trust And Credibility In An Ai News Landscape
Building Trust In Ai-Generated News
In today's rapidly evolving technological landscape, the rise of ai-powered journalism raises a crucial question: will traditional journalism be replaced by ai? While this debate is ongoing, it is important to consider the role of trust and credibility in an ai-driven news environment.
Building trust with readers is crucial for the success of ai-generated news.
Transparency: Providing transparency in the ai algorithms used to generate news is essential. When readers understand how news is sourced and curated by ai, it enhances trust and credibility.
Editorial oversight: Human editors play an integral role in ensuring the quality and accuracy of ai-generated news. Employing human oversight helps in fact-checking, bias reduction, and maintaining ethical standards.
Ethical guidelines: Establishing clear ethical guidelines for ai journalism is imperative. This includes defining clear boundaries for what ai can and cannot do, ensuring responsible sourcing, avoiding plagiarism, and adhering to journalistic principles.
Verification processes: Implementing rigorous verification processes is essential to ensure the accuracy and credibility of ai-generated news. Fact-checking algorithms and human intervention can be used to verify sources and information.
Error management: While ai algorithms strive for accuracy, errors can occur. Having a robust mechanism to identify and rectify errors promptly will help in maintaining trust with the audience.
User feedback: Encouraging user feedback and engagement can enhance trust. Allowing readers to flag inaccuracies and providing mechanisms for corrections demonstrate a commitment to journalistic integrity.
Challenges In Ensuring Credibility In Ai Journalism
While ai journalism has immense potential, there are several challenges that need to be addressed to ensure its credibility and trustworthiness.
Biased algorithms: Ai algorithms are trained on historical data, and if the data itself contains biases, it can be reflected in the generated news. Efforts must be made to identify and minimize biases in order to maintain objective reporting.
Unreliable sources: Ai can scour the internet for information, but not all sources are reliable. Ensuring that ai algorithms are trained to prioritize credible sources is crucial.
Deepfake and misinformation: The rise of deepfake technology poses a significant challenge to ai journalism. Efforts should be made to develop algorithms that can detect manipulated content and prevent the spread of misinformation.
Lack of context and analysis: Ai-generated news can be limited in providing context and analysis. This aspect is crucial in journalism, and efforts should be made to strike a balance between ai-generated reports and expert analysis to provide a holistic understanding of news events.
Continual learning and improvement: Ai algorithms should be constantly adapted and refined to enhance accuracy, while also addressing biases and limitations. Ongoing improvement is essential to maintain credibility in ai journalism.
Building trust and ensuring credibility in an ai news landscape is crucial to the success and acceptance of ai-generated news. Transparency, human oversight, ethical guidelines, verification processes, error management, and user feedback are key components in achieving this goal. However, challenges such as biased algorithms, unreliable sources, deepfake technology, contextual limitations, and continual learning must be addressed to maintain credibility and successfully integrate ai into journalism.
Ai Journalism In Different Fields
Ai journalism is a rapidly evolving field that has raised important questions regarding the future of traditional journalism. While some fear that ai may replace human journalists, others argue that it can enhance their capabilities. In this section, we will explore the impact of ai journalism in different fields, including politics and elections, financial reporting, and sports reporting and analysis.
Ai Journalism'S Impact On Politics And Elections
Ai algorithms can analyze vast amounts of data and provide valuable insights into political trends and voter preferences.
Automated news writing enables the rapid dissemination of news updates and real-time coverage of political events.
Ai can help fact-check claims made by politicians, increasing transparency and accountability.
Natural language processing allows ai to generate personalized political news content for individual readers.
Ai-powered chatbots can engage with users, answering questions and providing information on political issues.
Ai-Generated Content In Financial Reporting
Ai algorithms can process complex financial data more quickly and accurately than humans.
Automated financial reports can be generated in real-time, allowing for faster decision-making by investors.
Ai can analyze market trends and patterns to predict future financial developments.
Natural language generation can produce written financial summaries, providing concise and easy-to-understand information for the general public.
Ai can identify anomalies or potential risks in financial data, assisting in fraud detection and prevention.
Ai'S Role In Sports Reporting And Analysis
Ai algorithms can compile and analyze sports statistics, generating detailed reports and performance analysis.
Automated match summaries can be generated instantly, providing quick updates for sports enthusiasts.
Ai-powered virtual assistants can answer queries related to sports events, team information, and player statistics.
Machine learning algorithms can predict the outcome of sports matches based on historical data and current team performance.
Ai-powered cameras and sensors can capture and analyze player movements, providing valuable insights for coaching and training purposes.
As ai continues to evolve, it is clear that it has the potential to revolutionize journalism across various fields. While human journalists are still essential for investigative reporting and subjective analysis, ai can complement their work by processing vast amounts of data, generating real-time updates, and providing personalized news experiences.
Ai journalism is not about replacing human journalists, but rather about leveraging technology to enhance their skills and capabilities.
Future Outlook: The Coexistence Of Ai And Journalism
The rapidly advancing technology of artificial intelligence (ai) has raised concerns about the future of journalism. Will ai eventually replace human journalists altogether? While ai has undoubtedly made significant advancements in journalism, the future looks more like a coexistence of ai and human journalists, each with their unique strengths and roles to play.
Potential Advancements In Ai Journalism Technology
Ai has the potential to revolutionize the field of journalism, offering several key advancements:
Automated news writing: Ai can generate news articles based on data, statistics, and pre-defined templates, allowing for quicker and more efficient news production.
Enhanced data analysis: Ai algorithms can analyze vast amounts of data, identify patterns, and provide valuable insights for journalists to craft more compelling stories.
Personalized news delivery: Ai-powered news platforms can tailor news content to individual readers, providing them with relevant and engaging stories based on their preferences and interests.
The Evolving Role Of Journalists In An Ai-Dominated Industry
While ai can automate certain aspects of news production, it cannot replicate the unique skills and qualities that human journalists bring to the table. Journalists will continue to play a crucial role in an ai-dominated industry:
Investigative reporting: Ai can gather and process data, but it cannot replace the human intuition and investigative prowess required for in-depth investigative reporting.
Ethical decision-making: Journalists are responsible for maintaining ethical standards in reporting, ensuring accuracy, fairness, and accountability. Ai lacks the moral judgment and context necessary for these decisions.
Storytelling and analysis: Human journalists excel at storytelling, bringing complex issues to life and providing insightful analysis. Their ability to connect with readers on an emotional level is a powerful advantage.
The Importance Of Journalistic Principles In The Age Of Ai
While ai can automate many aspects of news production, it is essential to uphold journalistic principles to ensure the integrity and credibility of journalism:
Accuracy and fact-checking: Journalists must ensure that ai-generated news is factually accurate, free from biases or misinformation. Fact-checking remains a vital responsibility.
Transparency and accountability: It is crucial to disclose the involvement of ai in news production and provide transparency about the sources and methodologies used.
Human oversight: The involvement of human journalists in overseeing ai-generated content is necessary to maintain quality, verify information, and ensure adherence to journalistic standards.
The future of journalism is not an either-or scenario between ai and human journalists. Instead, it will be a coexistence where ai technology enhances news production but cannot entirely replace the unique skills and qualities that human journalists bring to the table.
Upholding journalistic principles and human oversight will remain indispensable in the age of ai. So, while ai may transform journalism, the role of journalists will continue to be vital in providing accurate, insightful, and ethical news to the public.
Frequently Asked Questions Of Will Ai Replace Journalists?
Will Ai Replace Journalists?
Ai has the potential to automate certain aspects of journalism, such as data analysis and content generation. However, human journalists bring creativity, empathy, and critical thinking skills that ai cannot replicate. The role of ai in journalism is more likely to be that of a powerful tool assisting journalists rather than completely replacing them.
How Does Ai Impact Journalism?
Ai can improve the efficiency of journalism by automating tasks like fact-checking, data analysis, and news aggregation. It can also help personalize content and create more engaging experiences for readers. However, there are concerns about ai's potential bias and its impact on job security for journalists.
What Are The Benefits Of Ai In Journalism?
Ai can analyze vast amounts of data in seconds, identify patterns, and generate insights that would take humans much longer to accomplish. It can also automate repetitive tasks, allowing journalists to focus on more in-depth reporting and storytelling. Ai's ability to personalize content can enhance readers' experience and engagement.
Is Ai A Threat To Journalists' Jobs?
While ai might automate certain tasks traditionally performed by journalists, it is unlikely to completely replace them. Ai still lacks the creativity, intuition, and ethical judgment that human journalists possess. Instead, ai can enhance journalists' work, enabling them to be more efficient and discover new angles for their stories.
How Can Journalists Utilize Ai?
Journalists can utilize ai to analyze data, fact-check information, and generate content. It can help them uncover trends, identify potential stories, and enhance the accuracy of their reporting. Ai can also assist in audience engagement by personalizing content and recommending relevant articles to readers.
Embracing ai as a tool can improve journalists' workflow and storytelling abilities.
Can Ai Write News Articles?
Yes, ai can write news articles to some extent. However, the current capabilities of ai-generated content are limited and lack the nuanced understanding and contextual knowledge that human journalists provide. Ai-generated content may be useful for simple news updates or automated reports, but human journalists' expertise is still essential for producing in-depth, investigative journalism and storytelling.
Conclusion
In a rapidly advancing technological landscape, the question of whether ai will replace journalists looms large. While ai has made significant strides in areas like automation and data analysis, the complexity of journalism and the human element it brings cannot be underestimated.
Journalism is a combination of investigative skills, critical thinking, empathy, and the ability to connect with an audience on a deeper level. While ai can assist in tasks like data collection and analysis, it lacks the emotional intelligence and intuition necessary for telling compelling stories.
Furthermore, the ethical implications of ai-generated content raise concerns about accuracy, objectivity, and accountability. Ultimately, ai can enhance the work of journalists by streamlining processes and providing valuable insights, but it cannot replicate the creativity, adaptability, and ethical decision-making that human journalists bring to the table.
Journalism remains a human-driven profession that requires the unique qualities of human writers and will continue to do so in the future.